Project Management Software

Project management software overview
Uniting your team and preparing them to work as a unit is integral to your projects' success. But without proper project management software, you may be doubling your efforts instead of optimizing them. Think of all the time you've spent juggling spreadsheets and managing your overflowing inbox. With the right project management software, you can be more strategic with your resources.
There are two types of project management software designed for managing work more efficiently: work management/collaboration tools and personal productivity tools.
Individual project management software
For one person who needs lightweight, web-based software to manage their projects, individual project software is a great fit.
It possesses fewer features than more comprehensive project management solutions but is also suitable for managing a project portfolio. If you need a trial or require only basic project management solutions, this is a good place to start.
Collaborative project management software
Collaborative project management software is a perfect option for large teams that need a low-tech solution for their project. It allows all team members to access, view, and collaborate on project tasks easily.
While it also works for smaller teams, it may be insufficient for large teams with diverse projects happening concurrently. Team productivity can suffer if members cannot collate and link data from different projects.
Integrated project management software
A unified, integrated project management solution works best for companies with a large project portfolio or different teams for various projects. It provides a centralized database of information, digital assets, and workflows that can be accessed by different team members based on their requirements.
Users have permission-based access to data and information across projects with an intuitive dashboard. Teams can outline task dependencies, track time, schedule tasks, and collaborate using the built-in messaging functionality.
Project management tools can vary from team to team, but most are computer programs that help users plan, execute, and manage projects in one centralized virtual location.
You can use project management software for any of the following: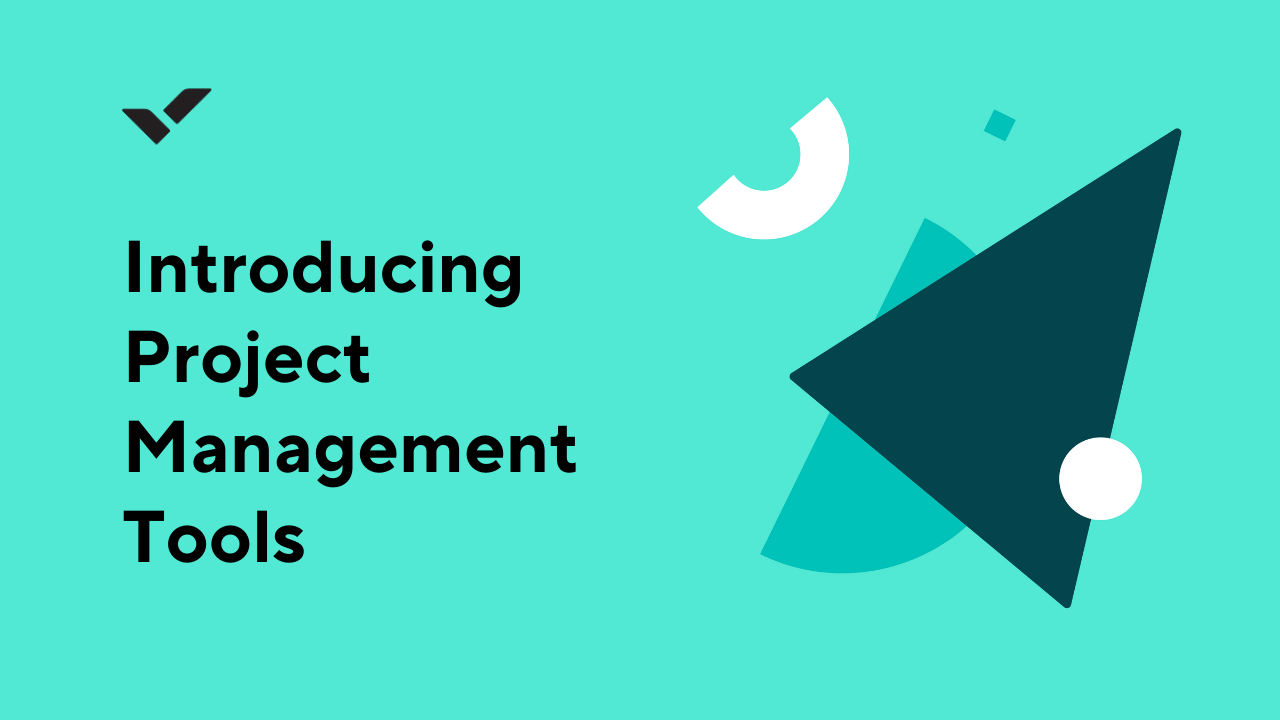 Who should use project management tools?
Anyone that manages projects can benefit from project management software. Even if you don't run formal projects or have the title of "project manager," project management software can still be useful.
Many companies that don't run formal projects use software to plan, organize, track, monitor, and execute their work.
These tools come in many different forms, just like projects themselves. For instance, some of your plans may be simple processes that only involve you and another person, while others can take multiple teams months (or even years) to complete. Here are three kinds of tools that can help manage tasks and teamwork.
A. Real-time instant messaging tool
A tool that allows people to talk or video chat with remote colleagues in real-time is essential for any business. You need to hear your colleagues in meetings, and it's even better if you can see them too (because, as we all know, non-verbal communication is just as important in these situations).
There is intense competition in the instant messaging market. Slack, Zoom, Google Hangouts, Skype, Chatter, and Facebook Messenger dominate the field alongside a growing number of mobile-first applications.
B. Knowledge base tool
Imagine a place to store your team's combined wisdom, accessible by all members via a searchable database. You can accomplish this with knowledge base tools like internal blogs or wikis (something Wrike can do very well). These tools enable you to document processes and record expertise or best practices to share with the team, so the information is accessible to all.
C. File-sharing tool
To work collaboratively, you will need a way to share files easily.
You could attach files to emails, but it's highly discouraged since it often leads to problems and wasted time. File-sharing tools allow you to easily save, sync, and share files with your team. Many options are available, including Box, Dropbox, OneDrive, and Google Drive — all of which integrate directly with Wrike. If you use Wrike, you can easily attach files from these services to your tasks.
Personal productivity tools
The average worker is distracted every 11 minutes. It can be challenging to fight off interruptions and focus solely on work, which is why many turn to helpful productivity tools. Productivity apps can kill alerts and notifications, force you to focus on one browser tab at a time, drown out the office (or home office) noise around you, and organize your work. We've listed 10 useful tools here: 10 Free Productivity Apps for Getting Things Done
However, many organizations find that these tools are not flexible enough to suit every type of project. Solely using email and group messaging for project management leads to lost information, document versioning issues, and a lack of clarity on prioritization and task dependencies. Here is where project management software comes in.
Amazing Online Productivity Resources for Procrastinators
5 Reasons Why Your Team Isn't Getting Stuff Done
3 Notorious Productivity Killers and How to Fight Them
50 Productivity Tips to Boost Your Brainpower
16 Simple Motivation Tips to Get More Done
Should We Have This Meeting?
4 Weird Ways to Trick Yourself into Being Productive
5 Inspiring Productivity Tips from the Book Manage Your Day-to-Day
Email Management: 10 Clever Tricks to Hit Inbox Zero
Productivity Hacks Turn Procrastination Into Action
Why use project management software?
Managing a project without proper software is possible, but it will increase the risk of errors and inefficiencies in the process. Project management software allows for ease of visibility and collaboration.
While it is possible to use spreadsheets for project tracking, it requires a lot of time and effort. Manually updating spreadsheets increases the risk of errors. For the rest of the team to see the update, the spreadsheet has to be re-saved and re-uploaded to a central location.
Other issues project managers can have with spreadsheets are:
Multiple versions of the same file existing, leading to confusion over which is the most accurate and up to date
Trouble syncing information so people can work together in real-time
Potential security issues due to spreadsheets being uploaded and downloaded multiple times in multiple places
Difficulty in recording developments and updates promptly
Project management software will help you overcome all these issues.
Here are 15 additional reasons why people choose to use project management software:
You can easily create new projects and tasks from old files and templates
Modifications to existing projects and tasks are automatically updated on any linked tasks, dependencies, and other variables in real-time
You can build reports and dashboards to help you visualize project performance
There is less risk of losing your progress than with manual tracking methods
Stakeholders can view real-time progress and reports
Seeing everything in one place gives you a clearer picture of the project's overall health
You can set up alerts to notify you of new or overdue tasks
Learnings and documentation from previous projects can be stored in one centralized location
You can integrate applications like Dropbox, OneDrive, and Google Drive for increased efficiency
You can coordinate tasks and automate workflows so team members know when to begin their work
How Spreadsheets Are Costing You Time and Money
Most Wanted Project Management Software Features: GetApp Report
How Successful Teams Use Project Management Software
Cloud Project Management Software vs. Online File Storage: What's the Difference?
Why (and How) a Small Business Chooses Project Management Software
What are the benefits of project management software?
Project management software is beneficial for all companies that manage projects, regardless of organizational size or industry. The software provides project planning and resource management capabilities that anyone can use, including businesses that don't run formal projects.
Any company that needs an effective method for estimating, planning, tracking, delivering, and billing for their services can benefit from adopting project management software. It allows you to create, implement, and manage efficient and optimized processes for your team and business.
Here are three of the key benefits of implementing project management software:
Centralization
Project management software creates a central workspace and knowledge base for your team. Centralization makes it easier to track tasks and projects, reducing confusion and inaccuracy.
This visibility improves the planning and estimating of future projects. Time logs allow you to review past projects and predict how long specific tasks will take, helping you to calculate billable hours. You can also use this information to determine whether potential projects will be profitable.
Project software also reduces the labor and time required to track and compile data manually. With manual methods such as spreadsheets, there's always the risk of human error, delays in updates, and having multiple versions of the same file. With software, you can easily maintain a single source of the truth.
Coordination
Project management software can help teams coordinate tasks and automate the workflow. It notifies team members when they need to start work, which reduces delays and the need for go-betweens.
Project management software also provides insight into progress, roadblocks, and success. The number one benefit of project software for small businesses is time-tracking. Seeing where every minute goes helps small business owners identify and remove bottlenecks. This functionality also allows for the early identification of delays and issues.
Without a centralized base for coordination and knowledge sharing, you and your team can fall victim to misplaced documents, miscommunication, and guesswork around responsibilities and progress. Project management software ensures that quality doesn't suffer and tasks take no longer than necessary.
Communication
Streamlined communication is one of the most significant benefits of project management software. Businesses are relying more than ever on remote teams, contract workers, and freelancers. It's becoming increasingly important that companies can effectively communicate with team members in the office and beyond.
With cloud-based project management software, virtual teams and stakeholders can log in to your central workspace from anywhere, at any time. This 24/7 connection enables you to communicate across countries and time zones easily.
Project management software provides all key parties with instant access to updates, progress reports, and project notifications no matter where they are. Stakeholders will never again have to wait for someone to email them a stale report. One centralized hub lets everyone leave feedback on tasks, eliminating lengthy, hard-to-follow email threads.
Process standardization
As the number of projects increases, teams have to repeat many activities, workflows, and processes. Project management software helps in automating and standardizing these tasks.
For example, if a new team member needs to be onboarded, they can review the software's workflows and quickly catch up with the team's way of doing things.
Stakeholders often make project requests in different formats or from various sources. With versatile project software, teams can standardize the project request form and set up alerts for its receipt. Every time a new feature request comes in, it will be automatically sent to the identified stakeholders and come in a standard format.
Processes and workflows can be standardized, organized, and stored in a database known as a process management wiki.
Budget management
Wellingtone's project management report states that 27% of projects overshoot their defined budgets. So, staying within budgets is a priority for project teams.
One of the top benefits of project management software is its ability to keep teams updated about project data, resource utilization, milestone progress, and budget. Incorporate project software that allows you to review past project budgets and expenses to make accurate estimations. Robust project tools also have built-in features that send alerts or notifications if a particular task exceeds its prescribed budget.
When stakeholders ask budget-related questions, you can use the project software to generate customized reports that meet their decision-making needs.
Pipeline forecasting
Focusing resources on the right tasks is a crucial skill that project teams need to master. Successful project managers use pipeline forecasting to establish and track the flow of project progress, review, and execution.
Since companies may have a portfolio of projects in progress, they need a clear view of everything from strategy to delivery. A well-defined pipeline outlines the logical steps towards implementing a project effectively.
With project software, teams get real-time data to optimize resources across competing projects and review upcoming demands before accepting new work requests. They can sequence work based on dependencies and priorities.
Your team can forecast risks, identify top-priority projects, and manage workflows smoothly with project management software.
Industries that benefit most from project management software
A company's capacity to sustain, grow, and profit depends on the efficiency with which it manages its projects.
When the number of projects increases, teams need stable and dependable project management software to help manage them.
From IT to marketing, law, and event management, all kinds of organizations benefit from using project management software. Let's take a look at a few industries and how project management software can work for them:
A versatile project management solution is a key component of a marketing agency's toolkit.
Marketing project management helps teams take on every action — including collaborating on digital assets, centralizing communication, assigning tasks, or tracking campaign progress.
Using project management software with personalized dashboards, marketing teams can monitor social channels, get a 360-degree view of all campaigns, and track results for each client.
2. Construction
Construction projects for roads, rail, buildings, utilities, or other structures can take weeks, months, or even years to complete. Every construction team lays down its goals, plans tasks, creates estimates, and controls its costs.
All construction projects, such as commercial, residential or industrial, can benefit from using construction management software.
With a reliable project data source, teams can access accurate information, automate repeatable actions, and work more efficiently.
3. IT
While project management benefits most industries, it is a game changer for IT. IT projects can vary widely in their design, scope, and scale.
However, every IT project goes through the five common project stages — initiation, planning, execution, monitoring, and closure. These are the essential steps required to turn an idea into a finished product.
IT project management software allows teams to use Kanban boards, Gantt charts, customized reports, and personalized dashboards to manage risk, scope creep, and frequently evolving client needs.
4. Law
Many law firms manage their operations with simple spreadsheets and physical document management systems. However, not keeping up with digital transformation can cost them time and money.
Legal project management solutions help teams organize paperwork, meet business goals, and make their clients happier.
With all legal data, contracts, and information stored in a centralized database, teams can securely and accurately prepare for vital negotiations, court trials, or company audits. Project management software can help legal teams streamline their workflows, automate tasks, organize legal contracts in one place, and prioritize their work.
With the rapid adoption of online events and the return of offline conferences, having event management software is a no-brainer for events professionals.
Project management software helps to plan, organize, and execute successful events, whether a small, in-person event, a sold-out concert, or a webinar with global attendees.
From registration, ticketing, analytics, billing, and floor planning, this software is designed to support all pre- and post-event activities.
Organizing attendee information, collecting payments, and curating sponsor details becomes a breeze with event software. It can also be easily integrated with other software for customer relationship management, marketing automation, payment gateways, or accounting and finance.
6. Engineering
Engineering projects can be complex. Teams must adapt to change and stay within defined schedules and budgets, whether they are managing civil, chemical, electrical, mechanical, aerospace, or environmental engineering projects.
Engineering project management software lets teams define project scope and work on milestones in collaboration with other stakeholders. You can optimize your workflows with premade templates for project schedules, complex projects with phases, and tools such as Gantt charts.
How to select the best project management software
There are many types of project management software on the market, but choosing the right one for you and your team is critical. Here are some questions to ask when assessing project management software options:
Will my team use it?
Can multiple departments use it?
Does it support transparency and clear communication?
Is it flexible?
Can you generate custom reports?
Does it easily (and securely) allow for external communication/users?
Does it integrate with other tools we use?
One of the most important things to think about when selecting your software is your long-term strategy. Getting your team familiar and comfortable with project management software takes time and resources. You'll want to make sure you're choosing one that can grow and adapt with your team, not limit it.
When should you invest in project management software?
It makes sense to invest in project management software when you see deadlines missed, processes falling apart, and miscommunication occurring — but at that point, it may already be too late. After all, by the time you've gotten to that stage, you're already suffering the adverse effects.
For best results, you should invest in software before it becomes critical. While it can be difficult to predict when you're about to outgrow more rudimentary tools, like spreadsheets, here are three signs that it's time to invest.
Growth
A significant factor in your decision to invest in project software is the rate of growth your business is currently undergoing. If your projects and teams are growing in size or number, you will likely need project management software. Communication gets more difficult as teams grow and disperse geographically. You may also need to adopt new ways of collaborating, such as asynchronous communication, which is more difficult without the proper tools.
Project management software is also beneficial when planning to scale your business. If you're taking on larger, more complex projects, you will need to adopt more robust project management tools. Growing your business requires the automation of repetitive administrative tasks. Without the means to efficiently work as you grow, you'll needlessly waste money and effort.
Processes also get more complicated as you grow, so having a tool to manage all the pieces and stakeholders is vital. You don't want to miss critical project tasks or overlook any issues — this can be the difference between a project's success and failure.
Agility is also essential as your company evolves. It's natural to need to change processes and methodologies, and project management software can support you throughout with minimal rework and no loss of historical data.
Interdependency
In small companies, employees may work individually or in small co-located groups. This changes as businesses get larger and more diverse, and the complexities and need for collaboration increase.
Even when your organization is not growing, changes in functional structures or physical locations can signal the need for project management software. Communication and integration become more challenging if you start employing contractors or remote workers.
An increase in external partnerships with stakeholders such as vendors, suppliers, and customers may also add complexity to your projects. For instance, if you undertake a project that requires one subcontractor to complete 35% of the work, management and oversight can quickly become difficult without the right software and processes in place.
Efficiency
Without project management software, employees spend more time doing manual tasks like entering data into spreadsheets. Not only does this take more time upfront, but it also increases the likelihood of rework due to errors and misplaced data.
Project management software reduces the need for manual and repetitive tasks, freeing up your team for more analysis and big-picture planning. This functionality also helps ensure they aren't overloaded and that people are engaged and happy.
After all, people tend to be more fulfilled in their jobs when they're doing something of value, rather than completing small, repetitive tasks over and over. Nobody's happy when their spreadsheet crashes, and they lose the report they spent the last three hours poring over.
If your team members are struggling more and more with increased workloads and simple tools crumbling under the weight of large and complex files, it's time to invest in project management software.
How much does work management software cost?
The price of project management software, or work management software as it's sometimes called, varies. Factors include:
The software vendor: Costs can vary widely across companies.
The software functionality: Not all software solutions come with the same features. For example, a vendor may offer a basic package as well as a more advanced solution.
The size of your business: Project management software costs vary depending on the number of users and the volume of storage space required.
Most project management software vendors offer several different packaging options, separated by business size or add-on features. Check out the top software providers and review their pricing to see which package meets your needs.
There are plenty of free project management software options on the market, but these often come with hidden costs. Many free options do not offer training and support, which means you'll need to spend more on implementing and maintaining the system than you would with a paid solution.
There are also the costs of not having project management software. As we talked about in the last section, without project management software, you'll increase both the time spent completing tasks and the chance of errors, which costs you money.
Project management software makes communication and collaboration effortless. And when you consider that poor collaboration and communication can cost your company up to $62.4 million per year, even the most expensive project management software starts to look very affordable.
Key features when selecting a project management software
Your team may need a tool with some specific features as they adopt project management workflows. Here are a few things to look for:
Real-time collaboration: Project management software should allow for real-time collaboration between team members and stakeholders. Users should be able to access and make changes to the system at the same time.
Sharing and storing documents: Your project management software should allow you to store and share documents, providing a knowledge repository for your projects.
Cost management: Your software should help you track and report costs as well as monitor for potential overruns.
Reporting: Customizable reports and dashboards allow for real-time reporting. You should be able to filter and format based on the criteria that are important to you.
Ease of use: If the system is too complicated, your team won't want to use it.
Template creation: You should be able to create and customize templates so that you're not building each project and activity from scratch.
Warning flags: The system should trigger alerts or warnings when things go off track, such as when an activity is late.
Scheduling: You'll want a software system that allows you to create a schedule baseline and monitor your actual schedule against it.
Time management: Actual time worked will need to be tracked in the system to monitor progress and manage both labor costs and resources.
Resource allocation: You should be able to assign resource roles (i.e., accountant) and individual people (i.e., John Doe) tasks in the system.
Customization: The software should be flexible enough to adapt to both your organization's various projects and processes as well as your team's way of working.
Controls and governance: While versatility is essential, a system also needs to have sufficient controls and restrictions to ensure data is secure and approvals are tracked and recorded.
Integration capability: The software should integrate with other business systems, such as your financial management system.
Unique calendars: You will want to have calendars that can be changed to reflect your working days and hours and updated to reflect any shutdown periods or vacations.
50 key project management software features
Most Wanted Project Management Software Features: GetApp Report
Greater Visibility with New and Improved Dashboards
Create, Find & Use the Right Files Faster with Wrike
So Long, Silos! 5 Tools Marketers Should Centralize via Work Management
GetApp & FinancesOnline Rank Wrike as the Best Project Management Software
Conclusion
Project management software can provide significant benefits and cost savings for your business. If you're ready to experience all the advantages of project management software that's simple yet powerful, make sure to choose a tool that's worth your investment.