Show Your Teams' True Value with Online Employee Time Tracking Software
Wrike's time tracking software enables teams to improve their planning and resource management and focus on billable work.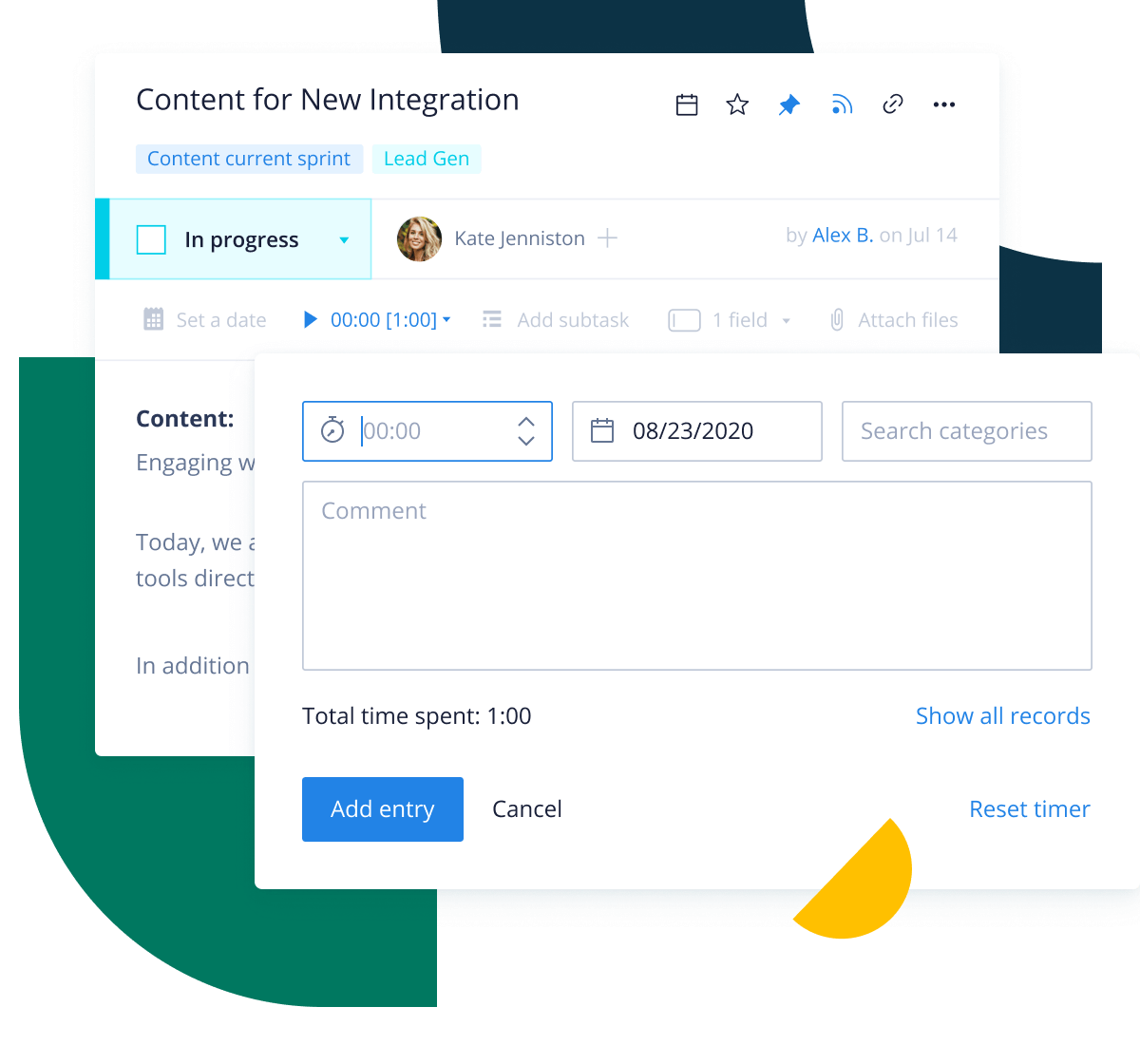 Boost revenue with time tracking software
Our trusted time tracking software helps teams automatically log worked hours, create and lock timesheets, and focus on billable hours. Use Wrike's advanced employee time tracking software to improve task visibility and project process and streamline projects to avoid potential delays.
Increase accountability
Our time tracking software gives an accurate view of the time spent on projects, and lets you compare with planned hours.
Streamline your forecasting
By knowing how much time your team actually spends on tasks, forecasting is quicker and more accurate.
Simplify reports and invoices
Track time manually or with a timer and report on billable hours. Then sync with your finance systems quickly for easy invoicing.
Time tracking software to maximize resources
Wrike's time tracking project management gives you 100% visibility on where your team's time and effort goes every day. The result? Better planning, more time spent on billable work, and fewer missed deadlines.
Here's what our online time tracking software gives you.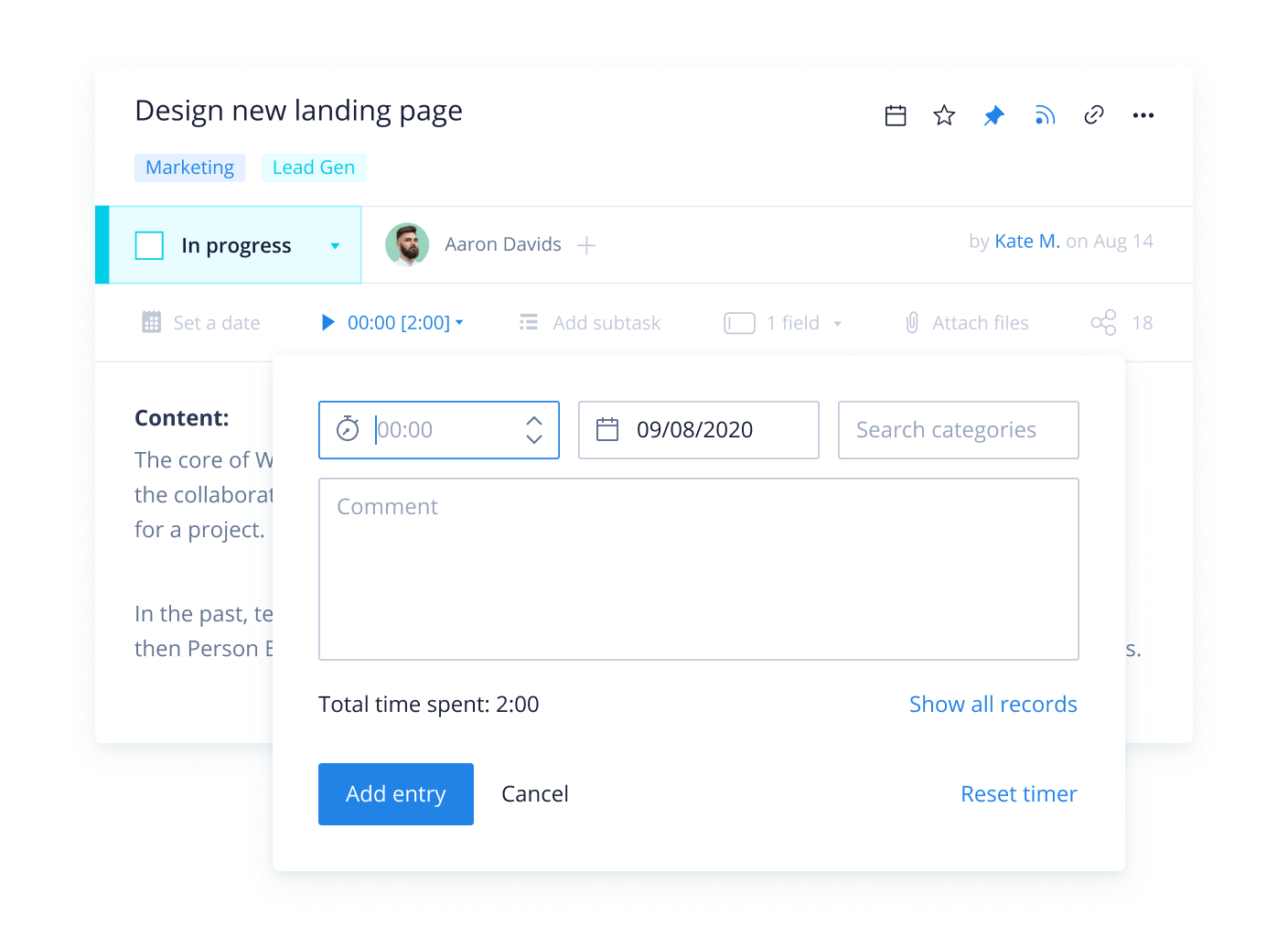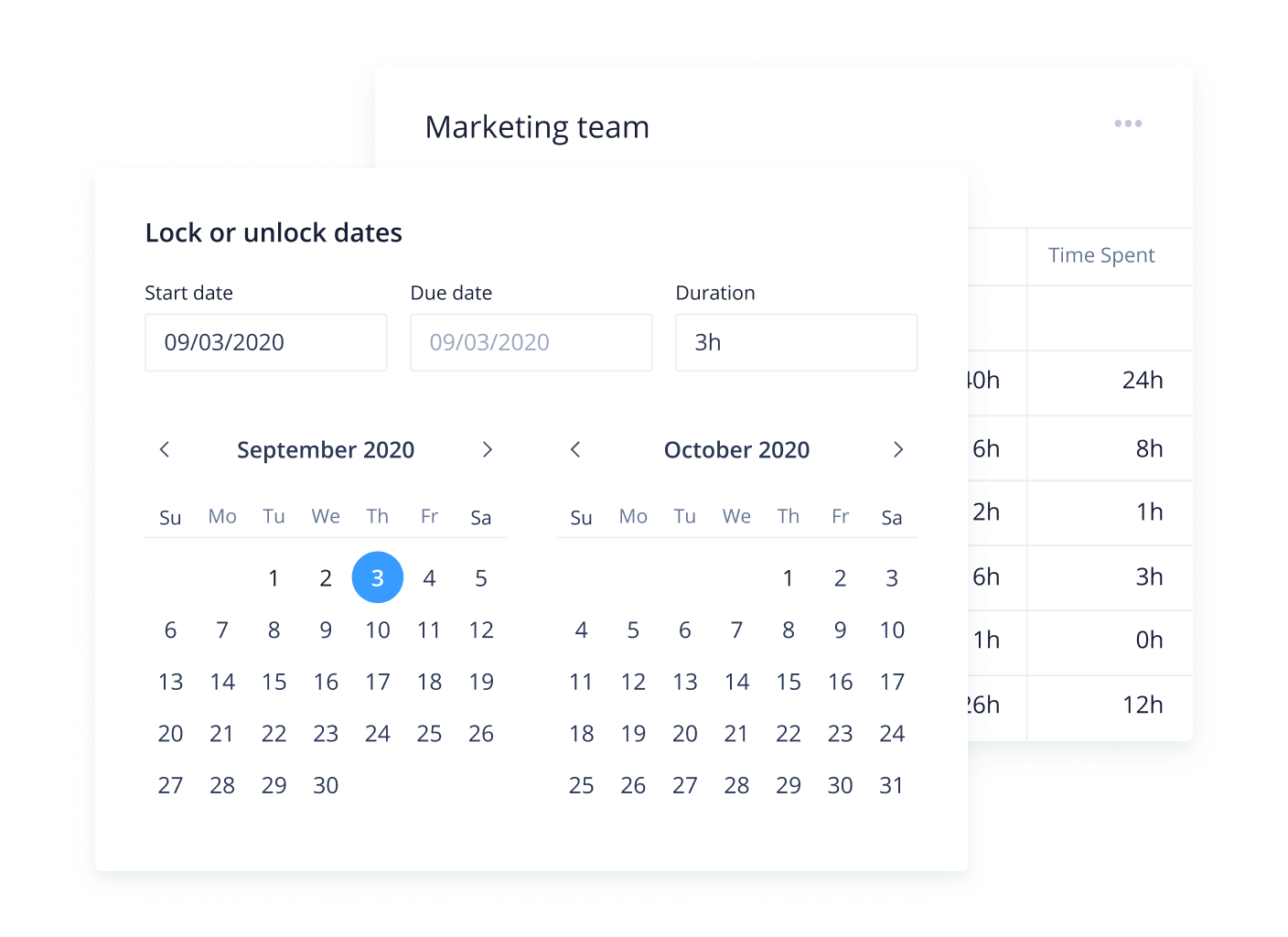 "Wrike really facilitates that cross-departmental collaboration. [Their time] isn't billable. We don't charge each department, but it's a way to keep track of what resources we give to each department."
"One of the biggest gains was the time tracking feature. Most of what we do is fixed rate. It's given us good tracking and information on what we've done in the past and how to price properly."
"I just refer back to the timesheets to get a quick idea of who is best at, say producing collateral. Then when new collateral comes in, it's an easy decision as to who is going to work on it."
Complement time tracking software with these tools
Wrike's time tracking software is just one powerful feature to keep teams on the same page. Collaborate better and make projects seamless with these advanced tools to add to our project management software with time tracking.
Simplify your priorities
Divide your projects into smaller chunks with Kanban boards, intuitive Gantt charts, and automation-powered templates.
Collaborate from anywhere
Help your teams to do their best work even when separated with trusted work management they can log into from anywhere.
Keep your calendar connected
Wrike's intuitive shared team calendars automatically sync with tasks, so you're always up-to-date.
Be more Agile
Plan your most successful sprints yet with automatic task organization, intuitive Gantt charts, and powerful templates.
Maximize your resources
Allocate tasks more accurately and manage resources more effectively with Wrike's trusted resource management software.
Improve teams' alignment
Wrike's work management for enterprise helps to eliminate silos and ensure all efforts help to achieve organizational goals.
Work smarter with time tracking software
Trusted employee time tracking software
Yes, but once you start a timer on another task, the timer on the previous task will pause automatically.
Yes, Wrike's time tracking software enables you to filter any timesheets by week and by team members.
Yes, Wrike's time tracking software allows you to click reset on a task's timer whenever you need to.
Yes, Wrike's time tracking software lets you check the timesheets of anyone in your organization, increasing transparency.