Wrike's mission is to make
teams insanely productive
Wrike makes day-to-day work easier, more transparent and efficient for thousands of companies
About Us
Wrike is the collaborative work management platform used by high-performance teams around the world.
Customers
18,000+
organizations and
+2M
Users
The Wrike platform brings out the best in startup, SMB, and Enterprises teams by giving them a single digital workplace with all the tools, features, and integrations they need to manage, automate, and complete their very best work at scale.
Global presence
Worldwide HQ in San Jose, CA Offices in San Diego, CA; Dublin, Ireland; Melbourne, Australia; and St. Petersburg, Russia
Wrike was founded in 2006 and has over 700 employees around the world committed to helping organizations align team effort and work with their most important business objectives, create new efficiencies, and drive results.
Achievements
Wrike is frequently recognized by top analysts and awards programs for achievements in work management, project management and business growth
2015, 2016, 2017, 2018
Fastest Growing Companies in North America
2018
Commercial Innovator of the Year
2018
Customer Experience Award for Complete Software and Service Experience
2016, 2018
Leader in Collaborative Work Management Tools for the Enterprise
2018
Customers' Choice for Project Portfolio Management Worldwide
Wrike's expansion represents exactly the kind of innovation startup the city is working to attract. San Diego has the talent for high-tech and infrastructure for high-growth businesses.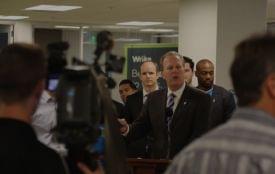 Careers @ Wrike
Join our team and help change the way people work
We've built a market-leading product that's making work easier for thousands of teams around the world. We're bringing more passionate Wrikers on board, focusing on building and promoting from within.
Join our team