Tools
What are project management tools?
Project management tools are specially designed to assist an individual or team in managing their projects and tasks effectively. The term "PM tools"' usually refers to project management software you can either purchase or use for free online.
In today's fast-paced business environment, project management has become a critical component for organizations to ensure success. Effective project management involves planning, organizing, and managing resources to achieve specific goals within a defined timeline. However, managing projects manually can be challenging, time-consuming, and lead to errors. Project management software has emerged as a solution to these challenges, providing a wide range of features and functionalities.
In this article, we'll take an in-depth look at project management tools, exploring what they are, the different types available, and their benefits. Additionally, we will offer insights into how to choose the right tool for your business and tips for making the most out of your projects.
What are the 11 best project management tools?
1. Wrike
Wrike is an award-winning work management platform, used by more than 20,000 companies and 2.4m people in over 140 countries. With a suite of tools for everyone from project managers to marketing heads, Wrike is the first choice for teams, departments, and organizations in every industry and field.
Pros and cons
Wrike is packed with an unrivaled range of features, including built-in resource planning, time-tracking, and budgeting features that help modern teams do more with less. It has long pioneered the benefits of automation and AI, helping customers save time and resources as well as predict project risks, generate expansive reports, and prioritize automatically.
There can be a learning curve to get the most out of the platform's higher layers of features and capabilities. However, most customers feel that it's worth the investment in terms of time, as these more nuanced and complex features allow companies to scale and grow exponentially, from within the same platform.
Key features
Kanban board task management: Access a real-time task management dashboard for quick and easy collaboration. The Kanban board will illuminate your pipeline and make all progress transparent. You can also plug in real-time updates for each individual card.
Customizable Gantt charts: One of Wrike's most popular features, the Gantt chart helps you visualize your due dates and monitor project progress in real time. Zoom out to get a broad overview of your projects' progress, or zoom in so you can better manage team workloads.
Real-time analytics: It's more important than ever for organizations to analyze their health on an ongoing basis, allowing them to pivot fast when needed. Wrike's powerful analytics provide valuable insights into company-wide performance. Issue real-time reports in seconds.
Integrations
Wrike has more than 400 app integrations so customers can seamlessly move between the platform and their other favorite apps such as Google Drive, Google Calendar, Slack, and more. It also offers built-in Adobe CC and DAM integrations, so users can create, edit, and publish directly from Wrike.
Pricing plans
Free - $0
Team - $9.80 per user/month (billed annually)
Business - $24.80 per user/month (billed annually)
Enterprise - Custom pricing for large teams (billed annually)
Pinnacle - Custom pricing for teams with complex needs
Customer ratings and reviews
Customers feel that Wrike's interface is intuitive, with natural workflows that allow them to visualize and manage their projects effectively. One of the biggest mentioned benefits is the ability to update in real time, which allows for easy and enjoyable collaboration between teams.
It has a Capterra rating of 4.3/5 (2,400+ customers).
Support
Wrike offers an exceptional level of support, with award-winning assistance that scales with your business. Help is available 24/7 with upgradeable support packages to cater for organizations of varied needs. There is also a large library of in-depth guides, articles, and eBooks on how to maximize Wrike's wide range of features to deliver productivity, efficiency, and increased revenue for all.
To see the full range of Wrike features available, visit the website here.
2. Asana
Asana is one of the more popular project management software platforms available. Built for businesses of many sizes, this multifaceted tool combines file storage, project roadmaps, dashboards, and more in one attractive interface.
Pros and cons
Asana is an all-in-one project management platform that offers various work organization features, resource management tools, and an attractive interface.
However, it does lack advanced proofing abilities, as well as the ability to easily set up strong governance across the account. Users with complex projects might find that the platform struggles to accommodate their needs.
Key features
Workflow Builder: Asana's Workflow Builder feature is a visual tool that allows users to create custom workflows and connect team members.
Strategic goals: With strategic goals in Asana, project managers can provide direction to teams and set up metrics to track performance along the way.
Gantt charts: These are among the most attractive ways to view resources, deadlines, and overall work progress.
Integrations
Asana has more than 200 app integrations for customers to continue using favorite apps such as Google Drive, Google Calendar, Slack, and more.
Pricing plans
Basic - $0
Premium - $13.49 per user/month (billed monthly)
Business - $30.49 per user/month (billed monthly)
Enterprise - Custom
Customer ratings and reviews
In various reviews, Asana customers are positive about the ease in which they can keep team members informed and up to date with project information. Some customers are unsure about the interface, which can be hard to read and understand at times.
It has a Capterra rating of 4.5/5 (12,000+ customers).
Support
While Asana does have a variety of support options, there is no phone support or live chat available, which makes it challenging to get fast answers. While training is provided, some users report that it's not as comprehensive as it could be, with slow responses to 'how-to' tickets.
Visit the website here
3. Monday
Monday.com is a popular project management software option that includes various templates and tools to optimize operations and help your teams work toward higher productivity levels. The software displays a lot of information for teams, but key data can get overlooked in long chains of events.
Pros and cons
Monday.com is among the top choices for project managers because it has an easy-to-use UX and a full suite of project management features including automations, customizable dashboards, and a library of templates.
However, the spreadsheet-like display can get quite cluttered, with important information at risk of getting overlooked. It also has no native proofing features, nor analytics advanced enough for many complex organizations.
Key features
Custom dashboards: Monday.com allows users to create custom dashboards and view project information from different angles. With these dashboards, project managers and team leaders can assess progress at a glance based on real-time data from timelines and budget information.
Automations: Monday.com offers powerful automation features to streamline work processes. Tasks can be set up with automatic reminders close to due dates, and team leaders can create 'if this, then that' scenarios to speed up progress.
Pre-built templates: Users can take advantage of Monday.com's library of 100 different templates to kick-start projects fast, ensure uniformity and high standards across the organization, and create repeatable processes for common tasks.
Integrations
While Monday.com has fewer integrations than some other competitors, it still syncs with the most commonly sought-after apps including Google, Slack, Salesforce, and more.
Pricing plans
Individual - $0
Basic - $30 per month (billed monthly)
Standard - $36 per month (billed monthly)
Pro - $60 per month (billed monthly)
Enterprise - Custom
Customer ratings and reviews
The reviews are largely positive, as customers appreciate how easy it is to navigate in Monday.com, as well as communicate and collaborate. Some spoke of finding the layouts challenging to follow, as information is difficult to track across multiple projects or tasks.
It has a Capterra rating of 4.6/5 (3,800+ customers).
Support
While Monday does offer support to its users, it's challenging to find a human to talk to; there is no inbound phone line, and callbacks are only available for billing-related questions or queries.
Visit the website here
4. Adobe Workfront
Adobe Workfront is generally favored by marketing teams as a project management solution. It still has a wide variety of features, though, which helps to justify its relatively expensive price tag. This is particularly true of enterprise-sized organizations that need more complex capabilities.
Pros and cons
Packed with all the major project management features the average team would need, Adobe Workfront offers Gantt charts, reporting functions, and advanced dashboards as well as the strong proofing and asset management capabilities you'd expect from an Adobe product.
Some users are reporting, however, that the latest UX isn't quite delivering on ease of use and enhanced collaboration. This can lead to limited adoption among new users, who might default to existing tools. In addition, their DAM function is buggy, which can cause a delay in publication.
Key features
Scenario Planner: Workfront's Scenario Planner is a good tool to help predict and prepare for various situations. You can create scenarios and run outcomes to evaluate potential responses.
Strategic goal-setting: This feature helps teams set distinct, measurable goals for teams to deliver. This helps to ensure alignment as work progresses.

Detailed dashboards: Stay in control with dashboards that allow instant access into the organization or team's workflow. Track overall goals or individual projects easily.
Integrations
Adobe Workfront is part of the very well-known and respected Adobe group. This means that it facilitates seamless integration with most of its sister platforms, including Creative Cloud. However, it does offer a very limited amount of other third-party integrations.
Pricing plans
Select - Based on quote
Prime - Based on quote
Ultimate - Based on quote
Customer ratings and reviews
While many customers are fans of Workfront's powerful analytics and collaboration tools, others feel that it lacks additional tools that can help with advanced project management.
It has a Capterra rating of 4.4/5 (1,300+ customers)
Support
Adobe Workfront has a standard support package, but it's only available five days a week, without any help on holidays. In addition, a lack of a free trial means that users can't experience and test the platform before they sign up.
Visit the website here
5. Smartsheet
Based on the traditional spreadsheet model, Smartsheet is one of the more visual project management platforms available. It draws on cloud-based spreadsheets and automated workflows to offer project and task management features and benefits.
Pros and cons
Smartsheet is rich in technical functionality, with advanced tools and complex capabilities that will serve larger organizations quite well.
A downside is that there might be a steep learning curve for users who don't have extensive familiarity or knowledge of spreadsheets. Its add-ons can also become quite expensive.
Key features
Automated workflows: With Smartsheet, you automate your workflows with repeatable blueprints to make delivery more streamlined, accurate, and fast.
Content management: Smartsheet offers content management tools such as progress dashboards, automated alerts, and resource management tools.
Detailed dashboards: Visualize all your project information, team workflow, and organizational goals via data-rich dashboards.
Integrations
Smartsheet has more than 100 integrations, as well as additional options via Zapier and Automate.io.
Pricing plans
Free - $0
Pro - $9 per user/month (billed monthly; max 10 users)
Business - $32 per user/month (billed monthly; minimum 3 users)
Enterprise - Custom
Customer ratings and reviews
For many customers, Smartsheet helps them create forms and apply workflows quickly and efficiently. However, others find that they're limited in many of the same ways they would be using Excel or Google Sheets — while paying more for the privilege.
It has a Capterra rating of 4.5/5 (2,900+ customers).
Support
Smartsheet does offer extensive training and detailed how-to guides for its more complex capabilities, but there is no phone chat or live chat function available.
Visit the website here
6. Jira
Jira is part of the Atlassian Group now, but it originated as a software development solution many years ago. Since then, it has developed into an umbrella platform that includes Jira Software, Jira Core, and Jira Work Management, all of which combine to offer work management assistance for teams of every size.
Pros and cons
If you're familiar with the Jira family, you'll be comfortable using the interface, as well as importing and exporting data with ease. It's also customizable, which helps teams to tailor their workspace to suit their business processes.
However, it can't support Waterfall methodology, only Agile. It also doesn't have built-in resource planning, proofing, and project reporting, which might be limiting for some teams. Its pricing also puts it among the more expensive options available.
Key features
Dashboard view: Jira's dashboards help users to plan projects, measure progress, and track due dates at a glance. They're also shareable, for updating colleagues.
Unique search functionality: Jira uses its Query Language and specific filters to make it easier and more efficient to search for tasks and projects.
Customizable work request forms: By tailoring request forms, teams can adapt their intake to make it more streamlined, with less over-and-back questions and faster delivery.
Integrations
Because of its multiple sister sites, Jira makes it easy to integrate with other parts of the Atlassian Group.
Pricing plans
Free - $0 per user/month
Standard - $7.75 per user/month (billed monthly; on average)
Premium - $15.25 per user/month (billed monthly; on average)
Enterprise - Custom
Customer ratings and reviews
Jira fans appreciate its wide range of integrations and report that it's great for issue management. However, these advanced functions can be difficult to learn for some users, particularly if they're not from IT backgrounds or aren't experienced with these tools.
It has a Capterra rating of 4.4/5 (13,200+ customers).
Support
Jira is strong on support because of its original ticket-based model. It also offers extensive training and additional resources for users to get to grips with the more complicated aspects of its platform.
Visit the website here
7. ClickUp
ClickUp is a well-known project management software solution that works well for most sized teams, including those operating in remote environments. It has all the standard management features that support the planning, organization, and management of various tasks.
Pros and cons
ClickUp is an all-in-one project management solution with accessible pricing and all the tools most teams need, including workflow automation, Gantt charts, and resource management features.
However, it's also quite buggy, with a relatively high level of downtime. This could frustrate teams working on tight deadlines. Its proofing and approval features are also limited when compared to other similar platforms.
Key features
Document hub: Centralize all your internal documents, wikis, and FAQs to build a knowledge base that can help to accelerate and smooth the onboarding process.
Checklists: Break down tasks into bite-size activities in a list to kick projects off faster, identify roadblocks quicker, and monitor progress more effectively.
Mind maps: Plot out projects and tasks visually, so that everyone can see the underlying strategy and understand their role in achieving the goal.
Integrations
ClickUp is strong on integrations, with connections between all the major third-party apps including Slack, Google Calendar, Outlook, HubSpot, and more.
Pricing plans
Free Forever - $0
Unlimited - $9 per user/month (billed monthly)
Business - $19 per user/month (billed monthly)
Business Plus - $29 per user/month (billed monthly)
Enterprise - Custom
Customer ratings and reviews
Customers appreciate how ClickUp allows them to capture client feedback and track various tasks and projects. However, a common issue raised is how notifications can sometimes flood users' dashboards and email.
It has a Capterra rating of 4.7/5 (3,600+ customers)
Support
ClickUp doesn't have any phone support, which might be challenging for some users. While email responses and other resources are available, it doesn't have a user community, which can be a helpful way for new customers to learn best practices.
Visit the website here
8. Microsoft Project
Microsoft Project is part of the ubiquitous Microsoft brand, trusted by millions around the world. It was designed to combine many of the project management functionality of other sister brands in one platform. It's well recognized as a strong performer for single projects, although not as popular when it comes to multiple ongoing projects.
Pros and cons
Microsoft Project offers a robust set of tools for modern teams, including Gantt charts, grid views, and boards as well as various resource management features that help to manage tasks and teams.
Microsoft Project works best alongside other MS products such as Outlook, Teams, and SharePoint to properly collaborate and work cross-functionally. This can be frustrating for people looking for an all-in-one single platform solution.
Key features
Interactive dashboards: It does require an integration with Power BI, but the ability to view overall project and individual progress status fast with interactive dashboards is a bonus.
Gantt timeline view: Scan for upcoming due dates, roadblocks, or progression with the ever-popular Gantt view.
Budget tracking: While only optimized for individual projects, this handy feature allows you to keep control of expenditure, staying on budget and on time.
Integrations
As you might expect, Microsoft Project is very strong on integrations with other parts of the Microsoft ecosystem, but less so with other third-party apps. It does, however, allow connections to Slack, Google Calendar, Outlook, HubSpot, and more.
Pricing plans
Project Plan 1 - $10 per user/month
Project Plan 3 - $30 per user/month
Project Plan 5 - $55 per user/month
On-premises solutions are priced differently
Customer ratings and reviews
Customers are happy with Microsoft Project's ability to help them manage even the most projects well. Others believe it to be costly, especially as it requires additional licenses to access other key tools, such as the Office suite.
It has a Capterra rating of 4.4/5 (1,700+ customers).
Support
Microsoft Project requires an investment in terms of time when onboarding, but help is at hand with training, FAQs, and a community resource hub. There is also the option to open a ticket with the Microsoft Admin center and larger accounts can upgrade to paid on-premises support.
Visit the website here
9. Basecamp
Basecamp is an easy-to-use platform particularly beneficial for small teams seeking project management functionality that includes scheduling, collaborating, and monitoring features.
Pros and cons
Basecamp is a very straightforward option, with pricing that's based on requirements, not users, which will attract some smaller teams or growing companies. Because of its simplicity, it's also relatively easy to navigate and learn, so it has a short learning curve.
At scale, Basecamp may lack the more complex features required for cross-functional collaboration between growing teams. While it does have a 'Line-Up' feature, there are limited ways to view work, unlike other products with customizable Gantt charts, Kanban boards, table views, and more.
Key features
To-do lists: Visualize your workloads quickly and break down complex projects with a to-do list for each project, complete with separate notes and attachments.
Message boards: Stay in constant communication in dedicated boards, helping teams to work together to progress a particular project.
Project scheduling: This function helps users to ensure they don't miss key deadlines. Create due dates, track progress, spot roadblocks, and integrate with calendars to stay up to date.
Integrations
While not offering as broad a range as some other software solutions available, Basecamp does allow for integrations with many third-party apps that have extra software development, project management, and reporting capabilities.
Pricing plans
Basecamp - $15 per user/month
Basecamp Pro Unlimited - $349 per month (billed monthly; unlimited users)
Customer ratings and reviews
Customers enjoy Basecamp as a kind of digital hub for them and their teams to centralize their work and collaborate to complete projects. Some customers do report being confused by the interface though, with a failure to deliver key messages between teams.
It has a Capterra rating of 4.3/5 (14,100+ customers)
Support
While Basecamp has no phone support option, it does state that it will get back to enquiry-form questions within four minutes. It also has extra resources such as tutorials and help guides.
Visit the website here
10. Trello
Trello is one of the earliest Kanban-based tools. It still allows for simple project visualization and effective drag-and-drop task management. It's familiar to many people, allowing for easy sharing and collaboration, even among external users.
Pros and cons
Trello makes task management almost fun, with attractive boards and an easy-to-use interface that make it excellent for optimizing team-based productivity.
However, it's limited in terms of organization-wide project and portfolio management features, so if you need to strategize or plan from a high level, you might be better suited to a more comprehensive project management software option.
Key features
Kanban boards: Trello is one of the best-known Kanban board tools, with an attractive interface and easy drag-and-drop functionality.
Custom cards: Tailor task cards by customizing with due dates, comments, and more to make sure everyone on the team can see what's needed fast.
Workflow automation: Create automated flows between cards that help to streamline intake and accelerate delivery.
Integrations
Trello has more than 200 ready-to-go integrations with Google, Slack, and more of the most-mentioned work management tools available.
Pricing plans
Free - $0
Standard - $6 per user/month (billed monthly)
Premium - $12.50 per user/month (billed monthly)
Enterprise - $17.50 per user/month (billed annually)
Customer ratings and reviews
Many customers praise Trello's straightforward Kanban task management and ease of use. For some customers, Trello can be awkward compared to other project management tools.
It has a Capterra rating of 4.5/5 (22,500+ customers)
Support
Trello does offer support via email, but it's only available during normal business hours (Monday to Friday). There is also a community forum, though, which may be helpful for new users to find common fixes and best practices.
Visit the website here
11. Zoho Projects
Zoho Projects is part of the Zoho suite of tools, which includes a CRM, recruitment system, and sales platform — all mainly targeted at the real estate industry. Ideal for current Zoho users, it provides a project management solution that allows data to be synced easily between the various tools.
Pros and cons
The software specializes in task management and automation, allowing project managers to oversee projects and team members to collaborate on individual tasks.
Adding data to multiple custom fields can prove difficult with the lack of a multi-select option, and code often appears alongside the data.
Key features
Blueprint: A popular function, blueprints let you map out complicated tasks and set them up to move along the pipeline, with automatic approval notifications.
Issue management: Easily identify and flag issues in your work with issue management features. Add custom views to highlight the most important or time-sensitive bugs to address.
Gantt charts: Create visual project management charts to identify and assign critical tasks with baselines to ensure consistent progress.
Integrations
While it doesn't allow for as many integrations as other options, Zoho does offer access to the most-needed software including Google and Microsoft.
Pricing plans
Free - $0 up to 3 users
Premium - $5 per user/month (billed monthly)
Enterprise - $10 per user/month (billed monthly)
Customer ratings and reviews
Customers praise how the software helps teams break down tasks and its suitability for more technical projects. Some customers noted that adding data could be cumbersome, with no multi-select option and lines of code appearing alongside data.
It has a Capterra rating of 4.3/5 (320+ customers)
Support
While telephone support is not available for Zoho Projects, users can access help via an email-only function. There is also a wide range of resources including a knowledge base, FAQs, and tutorials.
Visit the website here
Introducing project management tools (video)
We've put together a great video that'll help you learn everything you need to know about PM tools, including their key features, benefits, and top tips on how to use them well.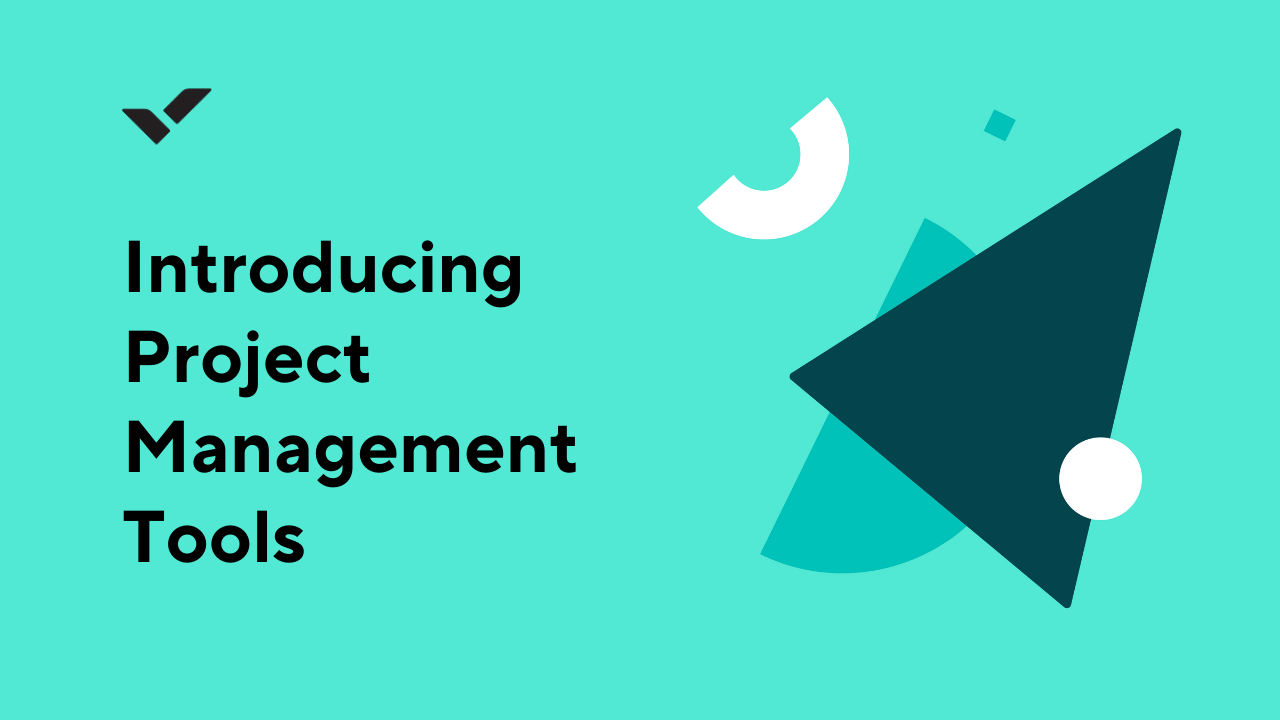 How to choose a PM tool: A step-by-step guide
We know it's not easy to select the right project management software among dozens of choices. If you're the person tasked with this role, you'll be facing the dual challenge of finding the perfect option and persuading the relevant stakeholders to proceed to purchase.
It helps if you break down the process into manageable steps like this:
Get a clear understanding of your company's needs and processes
Define the features and functionalities required by your teams
Appoint a buying committee
Research the various tools and platforms available, while paying close attention to customer success stories, available support, and security features.
Take advantage of free trials to test these tools and gather feedback on the experience
Share your findings with leadership teams to get executive buy-in
Purchase and implement the chosen platform and package
Set up a scheduled review in which you identify any challenges or opportunities
It's important not to rush these steps, as buying project management software involves much more than a financial investment.
There is a time cost in terms of training, onboarding, and achieving organizational buy-in. While a solution such as Wrike is easy to get started within minutes, it also contains layers of additional features and capabilities that can be accessed as a company grows and its needs become more complex.
Another key factor to consider is security. A major attraction to good project management software is the ability to centralize all your data in one place, offering a single source of truth that is immensely valuable. However, every organization has a responsibility to safeguard colleague, client, and customer data against ongoing threats. This means you will need to trust your chosen platform's security functions — make sure you choose one with the highest levels of protection available.
Bear in mind, too, that the platform you choose will need to fit cleanly into your existing ecosystem, or else teams will end up wasting valuable time jumping from one platform to another, with all the challenges this can involve. Wrike offers more than 400 integrations, which means it can co-exist with all your favorite tools, offering seamless transition between the platform and various supporting apps such as Google Calendar, Slack, or the Microsoft Office suite.
What to look for when choosing a project management tool
While there are many solutions on the market, the best web-based project management tool for your organization will depend on a few factors:
1. Number of users
How many people will be using the project management platform? The ideal platform will offer suitable options for both budding startups and scaling enterprises. For example, Wrike offers four different pricing plans as well as a free option, making it the perfect choice for every type of team.
2. Pricing structure
Can you try the tool first? Is there a free option for smaller teams? With Wrike, the answer to both is yes. You can try our software free for two weeks and smaller teams can avail of our tailored Team plan.
3. Key features required
Project management platforms offer a variety of features but you need to ensure your chosen one provides solutions to your specific pain points. We will cover the top features that a platform should have in the section below.
4. Scalability
Maybe your team is small now but what if you experience exponential growth? Can your project management platform evolve alongside your needs? With Wrike, you have the flexibility to grow your teams and expand your feature set without changing solutions.
5. Ease of use
Is your chosen project management app easy to implement? Will your team be able to use it right away? Additionally, more complex needs require more learning. If you decide to expand, will your team be able to adapt to new features easily? Wrike is both suitable for beginners as well as users who require more complex functionality.
Answering these questions will help you narrow down your options to find the best project management software for your business.
Top features of a great project management tool
Teams that manage large company projects juggle lots of different tasks, from approving content to compiling reports on project performance. Implementing project management software that can keep up with their unique needs will help make their jobs much easier.
The best project management tools offer the following features:
Task management give you the ability to create and assign task lists, add due dates, and monitor progress. This functionality is often displayed on a Kanban board.
Resource allocation helps you to oversee team member availability to assess who has the capacity to take on new tasks.
Collaboration incorporates features such as real-time communication, live editing, and @mentions to ensure team members can collaborate effectively.
Project planning give you the ability to build and customize your project plan with key milestones and task dependencies, usually highlighted on a Gantt chart.
Budgeting will enable you to estimate project costs and monitor expenses to ensure you don't overspend.
Some project management platforms enable users to generate reports automatically so you can easily visualize project performance.
Customization offers the ability to tailor your project management software to your unique needs. This can incorporate your interface, team workflows, and request forms.
Multiple app integrations mean you can streamline your tasks and work from one single platform.
Mobile apps enable remote, hybrid, or on-site employees to work on the go, ensuring you never miss important updates.
A key element of modern resource management, built-in time tracking tools help to ensure accurate planning and trusted billing.
Customizable request forms
Make sure you get all the information you need from the get-go by customizing request forms to suit your work intake.
Automate workflows and task assignments to make your processes smoother and more efficient, helping to accelerate delivery.
Built-in proofing and approval tools help to accelerate delivery, making sure no time is lost awaiting feedback or edits. The ideal platform allows teams to collaborate in real time.
The right project management platform will clear the way for your team, allowing you to focus on strategic planning and company goals.
Wrike offers all these features and more. Whether you're an agency or an in-house team, a startup or a large corporate enterprise, you can consolidate your processes in a central digital hub where you can streamline communication, share information, and get performance insights at a glance. See for yourself with a two-week free trial.
Why do companies need project management software?
The events of the last couple of years — the COVID-19 pandemic, the Great Resignation, and the "Year of Efficiency" — have proven beyond doubt that companies need powerful tools to survive these tumultuous times.
Without a robust software solution that unites teams, streamlines processes, and centralizes work, companies are losing valuable time every day. We call this the Dark Matter of Work and the cost is devastatingly high:
13.7

Hours per week wasted by knowledge workers due to unstructured work, lack of visibility into project progress and lack of tracking

$16.5k

Average annual cost of wasted time for a single knowledge worker

89

Working days per year wasted by knowledge workers

$52m

Annual cost of wasted time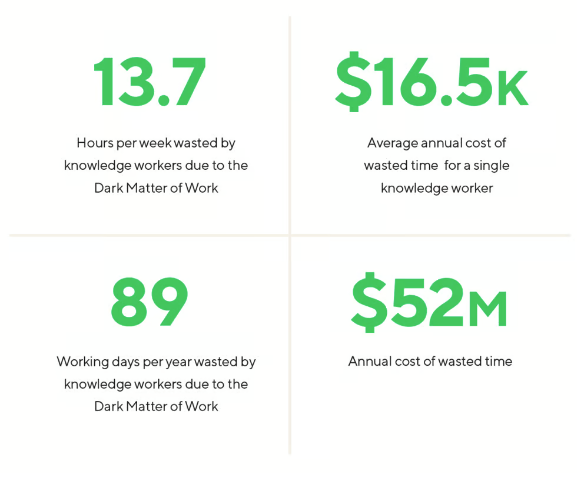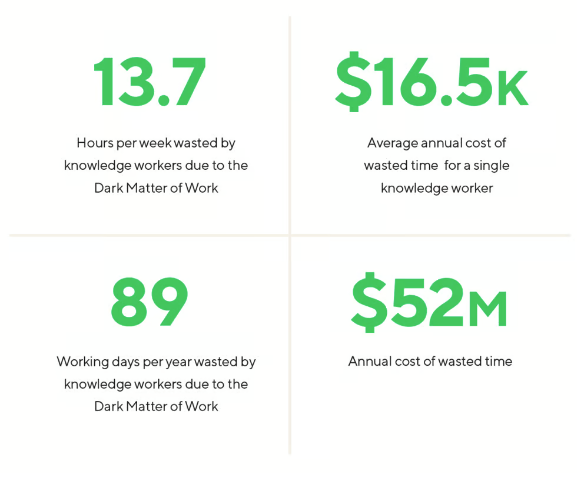 If companies are to reclaim this time and these resources, they will need project management software that delivers:
Enhanced efficiency: The best project management platform will help your teams avoid roadblocks, automate tedious tasks, and deliver their work faster than ever.
True versatility: Every organization is different, so your software should be, too. Make sure you can tailor your workspaces and adapt your processes with a bespoke solution.
Lightning-fast speed: Who has time for lags? Modern solutions should load fast, update changes as they happen, and ensure the highest levels of uptime on the market.
360° visibility: You can't afford to be left out of the loop. Any good work management platform will allow you to view all your work in macro and micro format as needed.
Advanced technology: The age of AI is upon us, and companies hoping to thrive in this environment will need a future-proofed solution with cutting-edge AI features.
Wrike offers all of this and more in one powerful platform. That means one straightforward cost, one method of communication, and one location for all your data. It can help to boost visibility, align teams, eliminate wasted efforts, and deliver results faster than ever before. It's the key to unlocking future success, even in the most challenging of times.
Additional reading
To learn more about how project management software works and how it can save your organization time and effort, check out our expert posts:
FAQs
What is a project management tool?
A project management tool is a type of software that's designed to assist an individual or team in managing and organizing their projects and tasks. You can usually use this software for free or for a fee, and it's often available as a platform or in-browser application.
What are some project planning tool features?
Project management tools can include the following features:
Planning/scheduling

: PM tools allow you to plan and delegate work in one place with tasks, subtasks, folders, templates, workflows, and calendars.

Collaboration:

Email should not be your only form of communication. With project or work management tools, you can build a better way of working with your team — assign tasks, add comments, organize dashboards, and proof or approve changes.

Documentation:

Avoid missing or outdated files with file management features that allow for editing, versioning, and storing files.

Evaluation:

Track and assess productivity and growth through resource management and reporting.
What are program management tools?
A program management tool is similar to a project management tool, save for a few key differences. Before we consider the comparisons of project management software and tools, let's first compare programs and projects.
Projects typically have clear start and end dates, with short-term goals that lead to tangible outcomes or deliverables. Constraints such as cost, resources, budget, and time all factor into a project's feasibility. Meanwhile, programs are composed of several interconnected projects that, when combined, achieve a long-term business objective. Project managers oversee individual projects, and program managers supervise groups of projects, focusing on a larger goal.
Program management tools need advanced features to track projects at a higher level and see how each project interacts with the others. These tools can include:
Flexible work views

Cross-functional resource management

Dashboards

Reporting

Gantt charts

Timesheets



So, to recap our project management software comparison: project planning tools help you organize individual projects, while program management tools track several interacting projects that work toward a larger, long-term business goal.
How can a project management tool help your company?
The right project management tool has the power to transform the way you work. They can benefit your productivity, your profit margin, and your teams' overall efficiency.
They can usually be divided into these categories:
Real-time instant messaging tools

Knowledge-based tools

File-saving tools
Traditionally, organizations used older tools such as spreadsheets, whiteboards, or emails to track projects, but the remote era has demonstrated that these are out of date. Modern teams need solutions that can update automatically and in real time, across multiple departments and locations.
Project management tools can help projects with powerful features like:
The right project management tool can drastically improve centralization, coordination, and communication. It can also deliver real, tangible savings to organizations at a time when they need to cut costs and boost productivity. In fact, the Project Management Institute has found that organizations that invest in proven project management practices waste 28 times less money.
Imagine a world where you can deliver these types of savings, improvements, and revenue drivers. That world is possible with Wrike.
Sign up for a free two-week trial today to see for yourself why Wrike is the only project management solution you need.