Commission Tracker Template
Create an organized system for tracking commissions with our commission tracker. Increase leads and new business rates.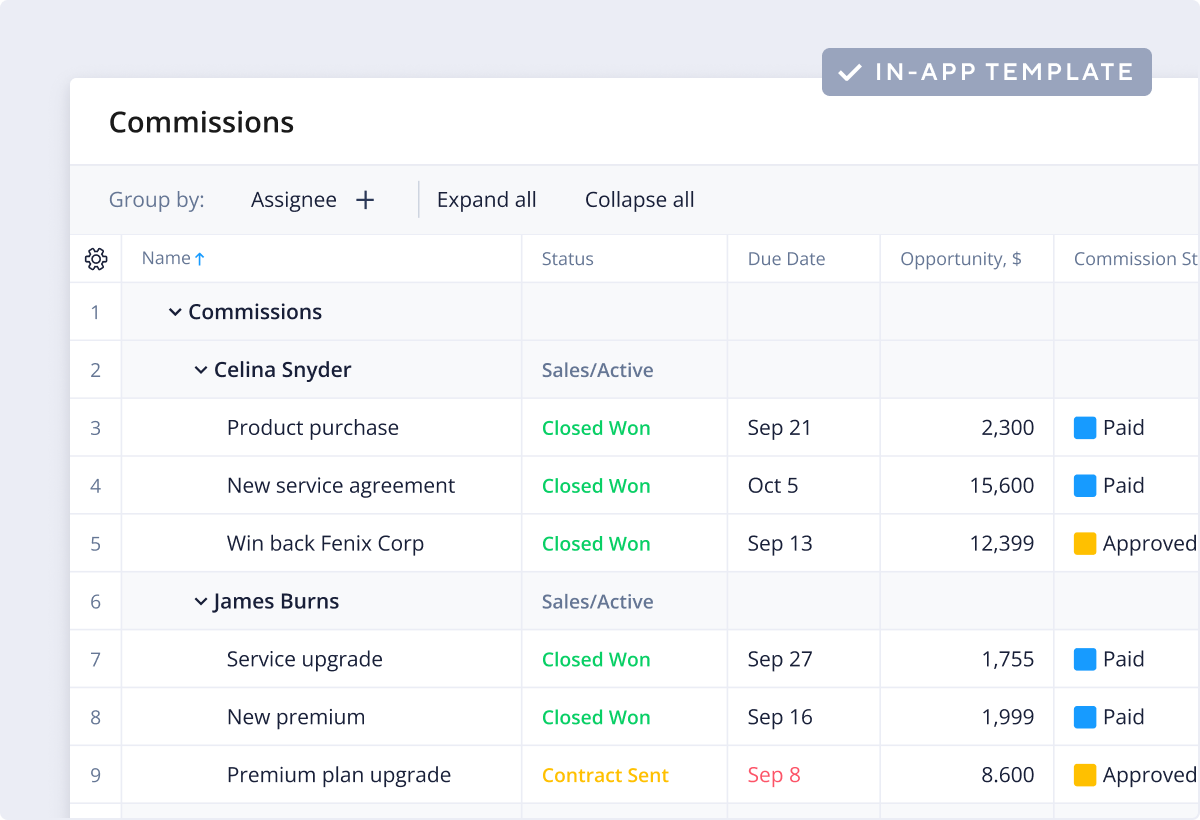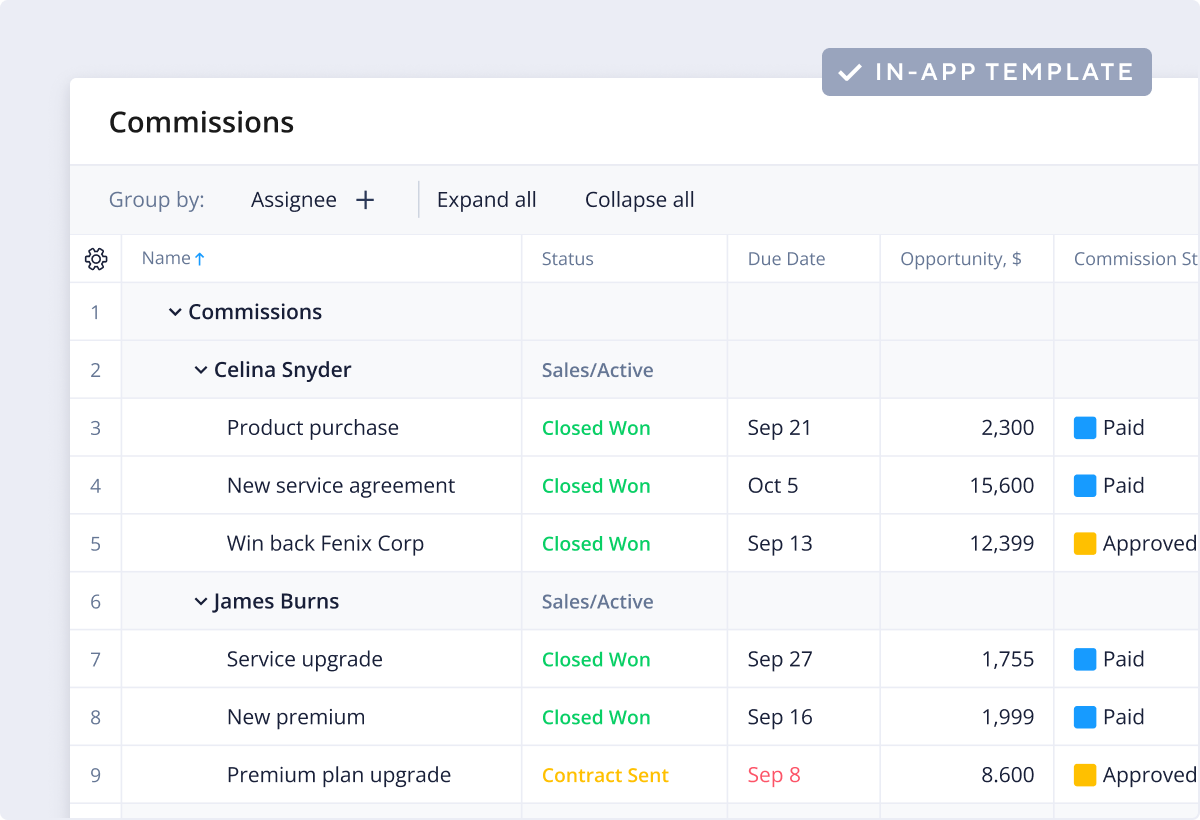 #commission templates
#commision tracker
#commission tracker template
#commission templates
#sales commission tracker
#commission tracking
Make accurate payments with ease
When team members earn different commission rates, it can be difficult to track them and ensure they receive accurate payments.
Save time calculating commission payments for multiple staff members with the customizable commission template from Wrike.
Do you ever struggle with:
Monitoring different commission rates for each deal?
Making accurate calculations for future commission payments?
Ensuring team members receive payments promptly?
Eliminate these obstacles with Wrike's commission tracking template.
Input each team member's unique commission rates to make calculations easier
Use the sales commission tracker to calculate how much each team member has earned
Export your commission template and send it straight to payroll to ensure payments are made on time
Why you need this commission tracker template
Make accurate payments

A reliable commission tracking process is vital in making sure each team member is paid accurately each month. Avoid errors by calculating payments against unique commission rates.

Gain detailed insights
Our sales commission tracker gives you insight into your team's rates over time. Assess team members' performance to determine what adjustments need to be made.

Reduce workloads

Calculating commission payments can be time-consuming, but Wrike's commission template keeps the information you need in one place. Simply find the employee and the template will calculate their rate.

Jump-start your lead process with Wrike
How to use the commission tracker template in Wrike
Is there confusion in payroll because commission details aren't communicated? Are employees becoming frustrated because they're not getting paid according to their commission rates?
Wrike's commission tracker template will help you collect and organize the data you need to ensure employees are paid based on each specific rate.
Commission-based teams need versatile software that allows them to keep track of their sales process from start to finish. Without a single place to store commission information, payments can be missed or paid incorrectly.
Wrike's commission tracker template will supply your team with a central location for all relevant information. The commission tracker template provides the perfect solution for teams that need to keep track of important details.
Step 1: Collect information with a request form
Having a streamlined process for logging deal information and rate details is critical for a commission-driven team. Wrike's pre-built request form will help you collect key information and organize it into a task. When you're looking for commission details on a particular deal, simply search for that task, and you'll have the information at your fingertips.
Step 2: Note progress with a custom workflow
As a deal moves through the pipeline, keep track of its progress with a custom workflow. Mark new business leads with status tags like "Contact Made," "Negotiation Started," "Closed Won," "Lead Lost," and more. You can also customize your workflow to suit your team's exact terminology.
Step 3: View commission status with dashboards
Whether you want to see a particular team member's commission status at a glance or need to know which commissions are likely to be paid in the next 30 days, use the dashboard view to get the updates you need without sending repeated emails.
Make Wrike work for you
Are you interested in how Wrike can improve other areas of your business by reducing workplace complexity and streamlining chaos? Our robust features include:
And that's not all. Every element of Wrike's powerful platform can be tailored to your team's needs. Customize request forms, generate useful analytics, and collaborate in real time — all with Wrike.
Streamline your commissions system with Wrike
Yes, the commission tracker template is free and available to existing Wrike Business, Wrike Enterprise, and Wrike Pinnacle customers.
It's simple, just enter your business email to start a free trial if you don't already have a Wrike subscription.
Any team that needs to track or monitor commissions and associated payments can benefit from this commission tracker template.
The commission tracker template helps you track specific commission rates for each team member and can easily be changed with a few clicks.