Merger and Acquisition Template
Wrike's easy-to-use merger and acquisition (M&A) template helps you connect, simplify, and maximize every deal, every time.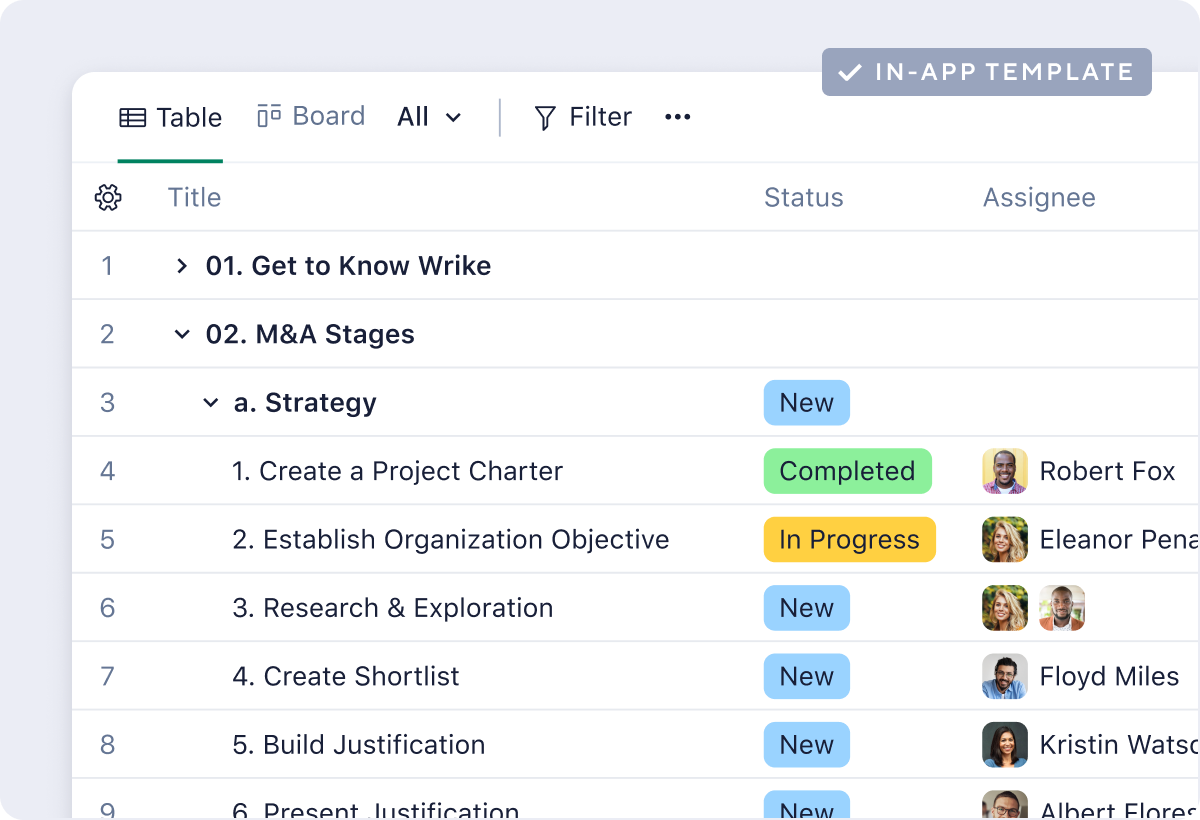 An end-to-end M&A solution

The merger and acquisition process can be complex, involving diverse teams and multi-stage pipelines. It doesn't have to be though, with manageable phases, proven processes, and a tried-and-tested template.
Wrike offers the solution you've been looking for. Our complete merger and acquisition template is ideal for teams who want to centralize, organize, and streamline their entire end-to-end M&A process. This template will take you from strategic planning, through due diligence, and onto post-merger integration.
Why you need the merger and acquisition template
Explore Wrike's powerful M&A features today and learn how you can make corporate development easier and more efficient than ever before.

Defined strategy

This template helps M&A teams organize, streamline, and visualize merger and acquisition strategies, objectives, theses, and criterias from day one.

Advanced visibility
Get a 360° view of your merger and acquisition process. Use dashboards to monitor task progress, identify bottlenecks, and adjust due dates as needed.

Rapid reporting

Keep everybody in the loop with once-off or scheduled reports including status updates, detailed infographics, and advanced insights.

Simplify the entire M&A process
Free 14-day trial. Easy setup. Cancel any time.

What's included in this template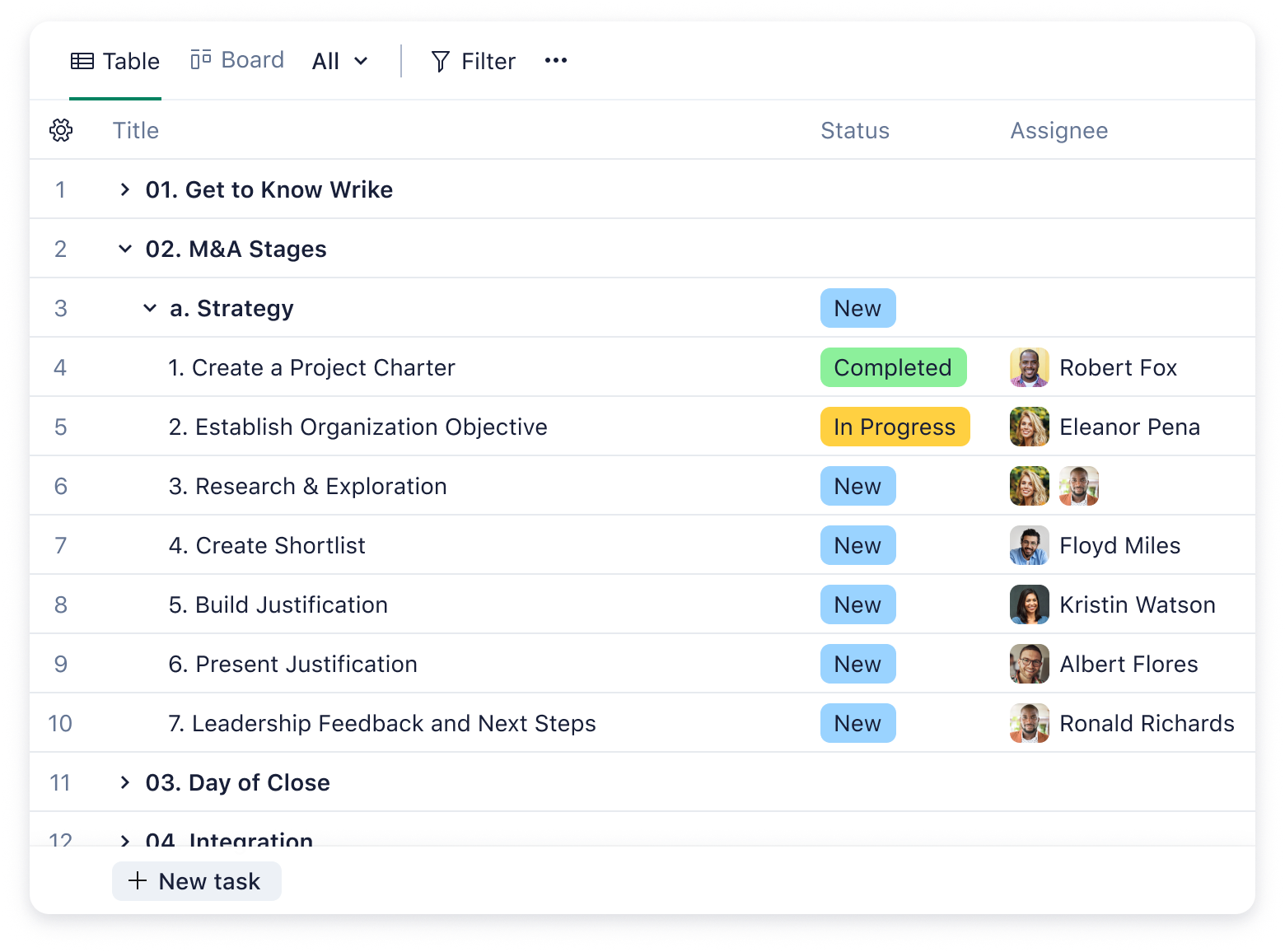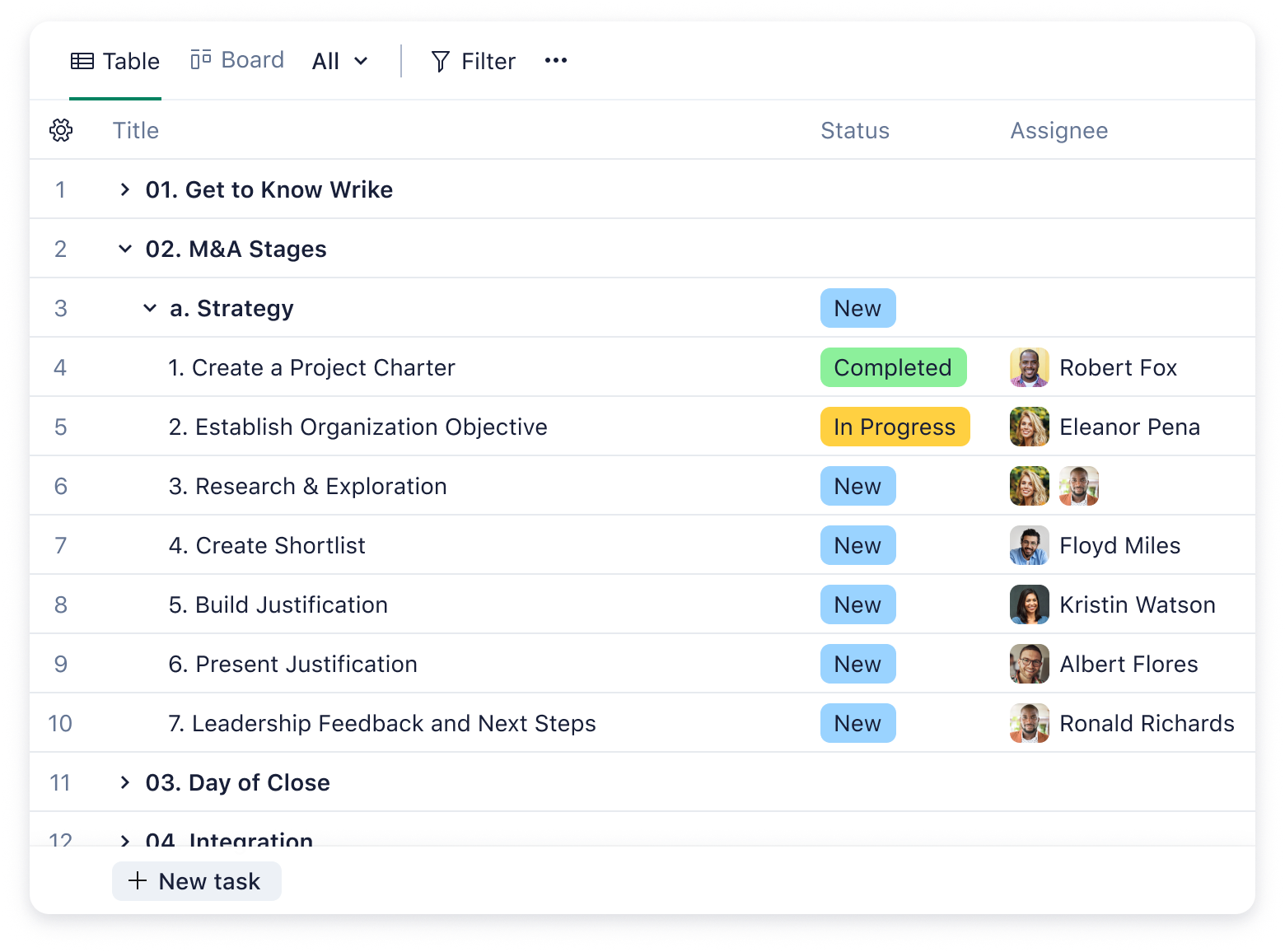 The benefits of Wrike's merger and acquisition template

Wrike's merger and acquisition template can help you manage multi-stage workflows, collaborate on complex tasks, and centralize all your data in one secure platform.
It comes with:
Pre-filled customizable M&A stages

Individual steps to complete for each stage

A list of key features for added value

Customizable statuses such as 'New' and 'Completed'
Achieve stress-free M&A success
Free 14-day trial. Easy setup. Cancel any time.

This template helps you break complex M&A processes into manageable stages, with pre-filled steps that'll guide you from strategy to integration success.
Your entire organization can benefit from Wrike merger and acquisition support, including executive leadership, PMO teams, and legal and human resource departments.