Client Contact List Template
Keep a record of your customers and their contact details with our client list template.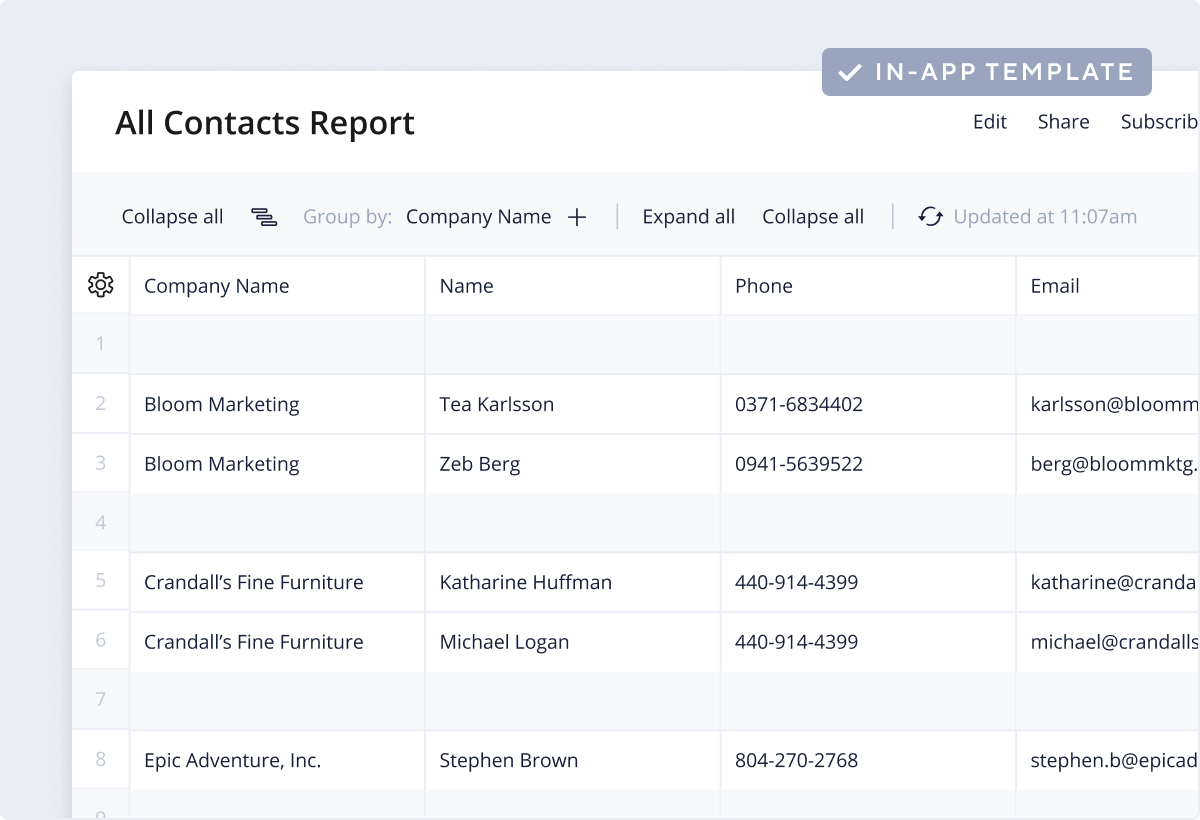 #clientlist
#clientcontactlist
#clientbooktemplate
#customerlist
Standardize client information efficiently
A growing business needs an effective way of managing client information. Our customizable contact list template helps you collect, store, and manage your customer contact list as you build your customer base, send invoices, and track payments.
Do these obstacles sound familiar?
There is no single location to store contact details for clients
Client contact information isn't updated regularly
Team members can't collaborate on client lists
Eliminate these issues with Wrike's client contact list template.
Store and maintain customer information
Update client contact details easily and quickly
Collect accurate client information from various team members
Why you need this client list template
Inconsistent client details
Our customer contact list template allows team members to fill in a customizable request form to collect critical client information.
Limited customer base
Having an accurate client roster template helps develop and maintain your customer base. Use this template to see your client list grow alongside your business.
Missed or late payments
Wrike's client book template can be used to track upcoming and delayed payments, as well as link in other business templates to streamline additional processes.
Quickly access client contact information
How to use the contact list template in Wrike
The client list template in Wrike helps you collect the contact information you need, organize your client database, and update it quickly when necessary.
Wrike's client list template includes powerful features. You can:
Input or collect client details with request forms
Store and organize client contacts within folders
Generate lists with customizable reports
Wrike's client list template is easy to use. The template has three simple steps to get you started:
Step 1: Customize your required fields
Each organization will have different client contact detail requirements. With our client list template, you will first determine the details you want to collect for each client, then add as many as you need.
Step 2: Create your request form
Ensure your organization collects information consistently with the customizable request form in our client list template. Create drop-down menu options or blank fields for simple client contact information entry.
Step 3: Create client contact reports
When you need to contact a client, use the All Contacts or Primary Contacts report, which pulls contact details for that company and gives you the details you need immediately.
Make Wrike work for you
Want to know how else Wrike can help? Wrike's powerful project management software can streamline your processes, improve progress, and unify your team in a single platform. Our powerful features include:
Wrike is designed to help you work in a way that suits your team. Each feature is highly customizable to meet the needs of any project, team, or organization.
Resources for professional services teams
Organize your client contact list with Wrike
The client list template is used to collect, store, manage, and update client contact information in an easy-to-use, streamlined way.
The client list template helps organizations collect the client information they need and keeps it in a single location that all team members can access.
Any organizations that need to store and use client contact information can benefit from the client list template in Wrike.