Creative Request Form Template
Wrike's creative project request form helps kick off projects faster and eliminates repetitive admin work.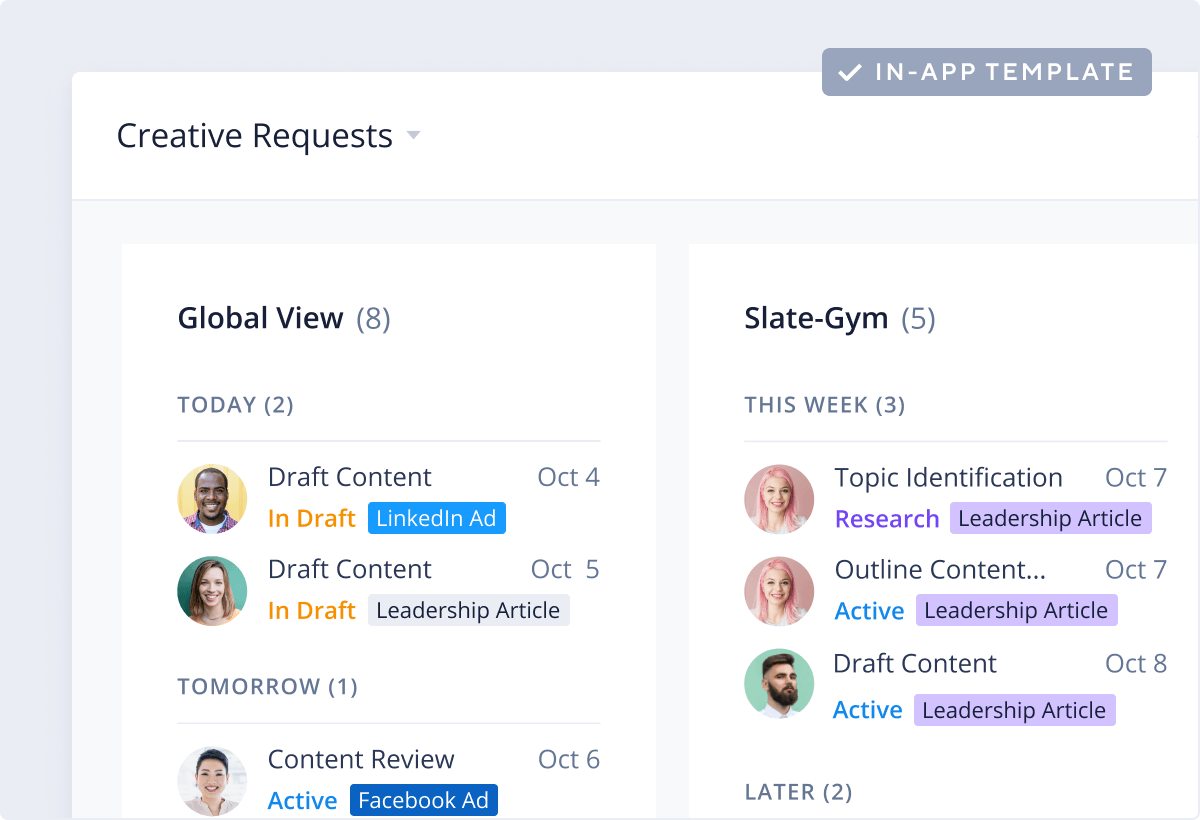 #creative request form
#creative project request form
#design request form template
Sort requests and launch projects faster
Is your inbox overflowing with requests for your creative team? Inefficient workflows can take up even more time, slowing your creative process down.
Team members find it difficult to manage too many requests via email, messaging platforms, and meeting notes
Information comes in pieces, making it impossible to start the creative process on time
Feedback isn't effectively communicated, resulting in missed deadlines
Eliminate these obstacles with Wrike.
Centralize your intake with our creative project request form so you can better understand what work needs to be completed
Categorize tasks by priority, so you can start and finish all of your projects on time
Give your team more detailed feedback with our design request form template, which will create opportunities to make future improvements
Why you need this creative request form template
Missed details
Avoid confusion and miscommunication by gathering important details at the start. Our design request form template ensures the brief requirements are outlined in full, so there's no need to waste time requesting more information.
Disorganized workloads
With our creative project request form, you can centralize your incoming requests and better prioritize your workload. Then share this template with other stakeholders so your creative team can monitor their request pipeline.
Incorrect priorities
Categorize your creative work and display them in preset folders with Wrike's creative request form. It can be tailored to display which requests are new and need to be addressed, which are internal, and which have upcoming deadlines.
Bring creative projects to life
How to use the creative request form in Wrike
Are you swamped with creative requests on Slack, email, and at the water cooler? Is your team missing deadlines or struggling to prioritize important requests?
Wrike's creative request form template will help you tame your overflowing inbox and prioritize requests.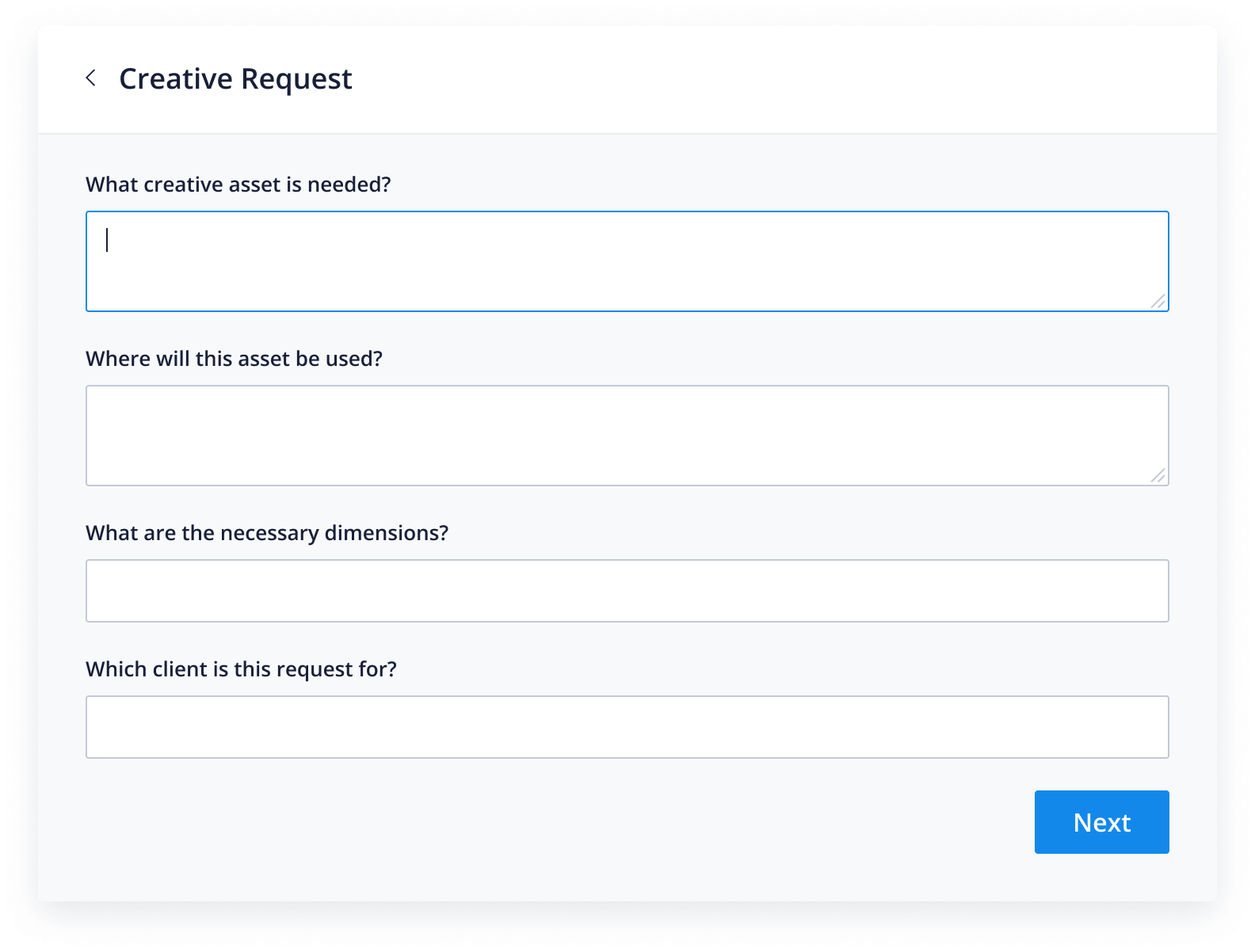 Creative teams are often overwhelmed with requests for their input, from designing graphics to illustrating a blog post to creating video content for a new campaign. With a barrage of requests landing in their inboxes every day, it can be difficult to understand priorities, start, and finish work on time.
This creative request form template will provide the perfect solution to receive, organize, prioritize, and complete all of your creative requests.
Step 1: Streamline intake
Start by sharing the customizable creative request form with those who regularly request your services or input. The request form will ensure you receive the correct details to start work on the request without having to ask for more information.
Step 2: Prioritize workloads
The custom request form will help you understand the urgency for each request, which will allow you to prioritize it based on your team's availability. Use the dashboard view to organize your own requests with ease.
Step 3: Accelerate approvals
Once your creative work is complete, accelerate the feedback process using Wrike's in-app proofing tools. Encourage faster approvals with automated alerts that remind stakeholders to approve work in a timely manner.
Make Wrike work for you
Want to know how Wrike can help other areas of your work? Wrike's versatile work management software has a range of powerful tools to help you take creative projects to the next level. Our customizable features include:
Wrike can be tailored to suit any project, team, or organization. Personalize your action plans and design your workspace to match your team's processes.
Resources for creative teams
Empower creative teams with Wrike
The creative request form template is used to help creative teams receive, organize, prioritize, and complete requests.
The creative request form template is designed to help creative teams streamline their processes, no matter what size the team. Requests can be placed into folders for easy organization.
Wrike's creative request form template has a range of features to get you started, including a customizable request form and workflows, folders, and dashboards.