Daily Task Tracker Template
Set clear and achievable goals with a daily task manager so you can finish your day feeling fulfilled.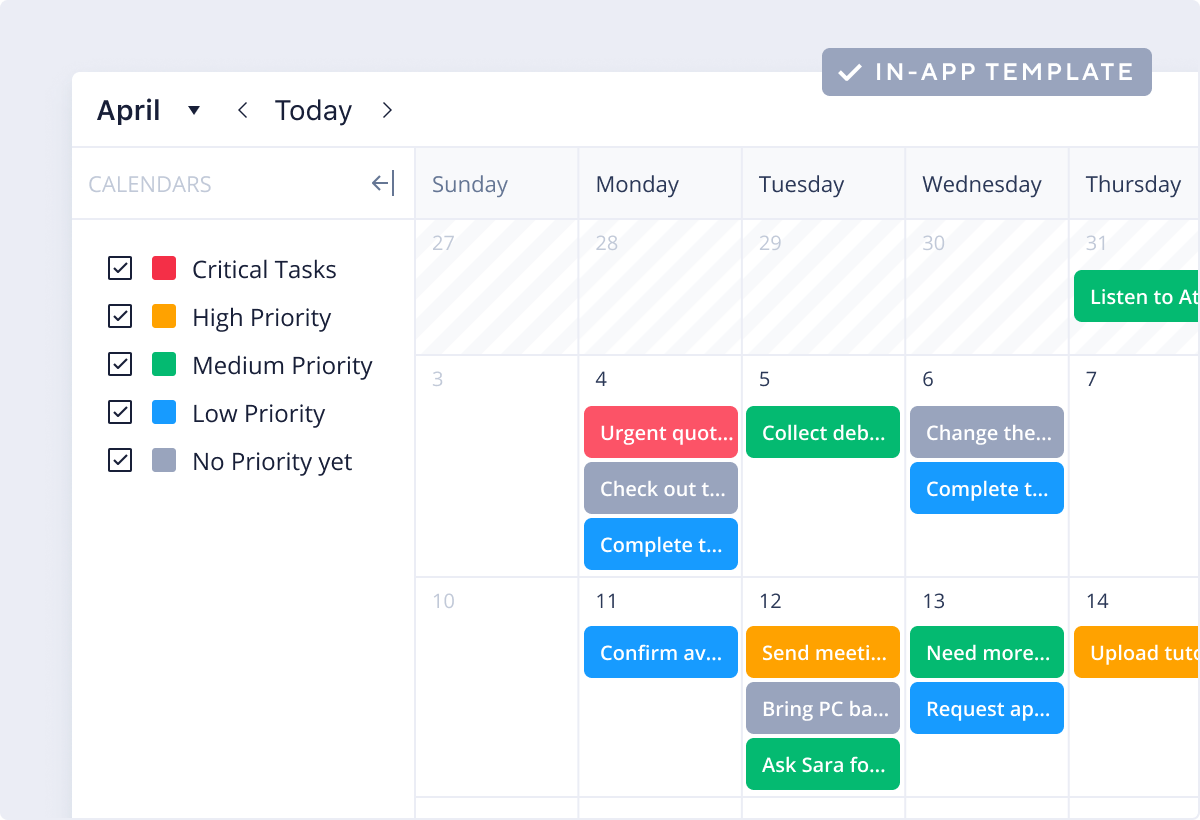 #dailytasktemplate
#dailytasktracker
#dailytaskmanager
#dailytrackertemplate
#dailyactivitiestracker
Organize your day effectively
With so many tasks to juggle at work, it can be hard to achieve everything you'd hope to in your working day. With the daily activities tracker from Wrike, you can set achievable goals that can be ticked off throughout the day.
Do you have issues with:

Forgetting tasks?
Meeting deadlines?
Switching off?
Eliminate these obstacles with Wrike.
Make lists of all your tasks so you can refer to your template and never forget a responsibility again
Input individual deadlines for all of your tasks so you can prioritize your workload and ensure everything is submitted on time
Set achievable goals for each day so you can switch off from work when those tasks have been completed
Why you need the daily task tracker template
Disorganized tasks
Categorize, prioritize, and list your daily tasks in a way that works best for you and your workload. With Wrike's daily task template, you can set reminders for each task.
Poor clarity
Our daily tracker template gives you a full perspective of your entire workload so you can see the big picture while also breaking tasks down into small sections.
Lack of collaboration
You can share your personalized daily task tracker with others in your team so they can add items to your list and get updates on your progress.
Set goals, achieve results
How to use the daily task tracker template
This template guide demonstrates how to utilize the daily task tracker in just a few steps.
Access the daily task tracker through a request form
Track task progress and statuses through holistic dashboards
Step 1: Create a new task
You'll need to create a new task to fill your task tracker with. Head over to your request forms via the green '+' button at the top right of your dashboard, and access the daily task tracker form. Fill it out with the necessary details, including the task title, urgency level, due date, and any additional notes for context.
Step 2: Locate and view tasks
Once the task is created, it will be automatically sorted into the appropriate task priority folder, along with any additional information and context you added.
Tasks can also be viewed through each of the following visualization tools:
Task Report: An easy way to keep track of all your tasks in a list according to task priority and deadline details
Task Dashboard: A better way to visualize tasks through individual dashboards according to priority and completion status. This is also particularly useful for organizing tasks that have uncertain priority levels upon creation, as they'll be sorted and viewable in a 'Priority Not Assigned' section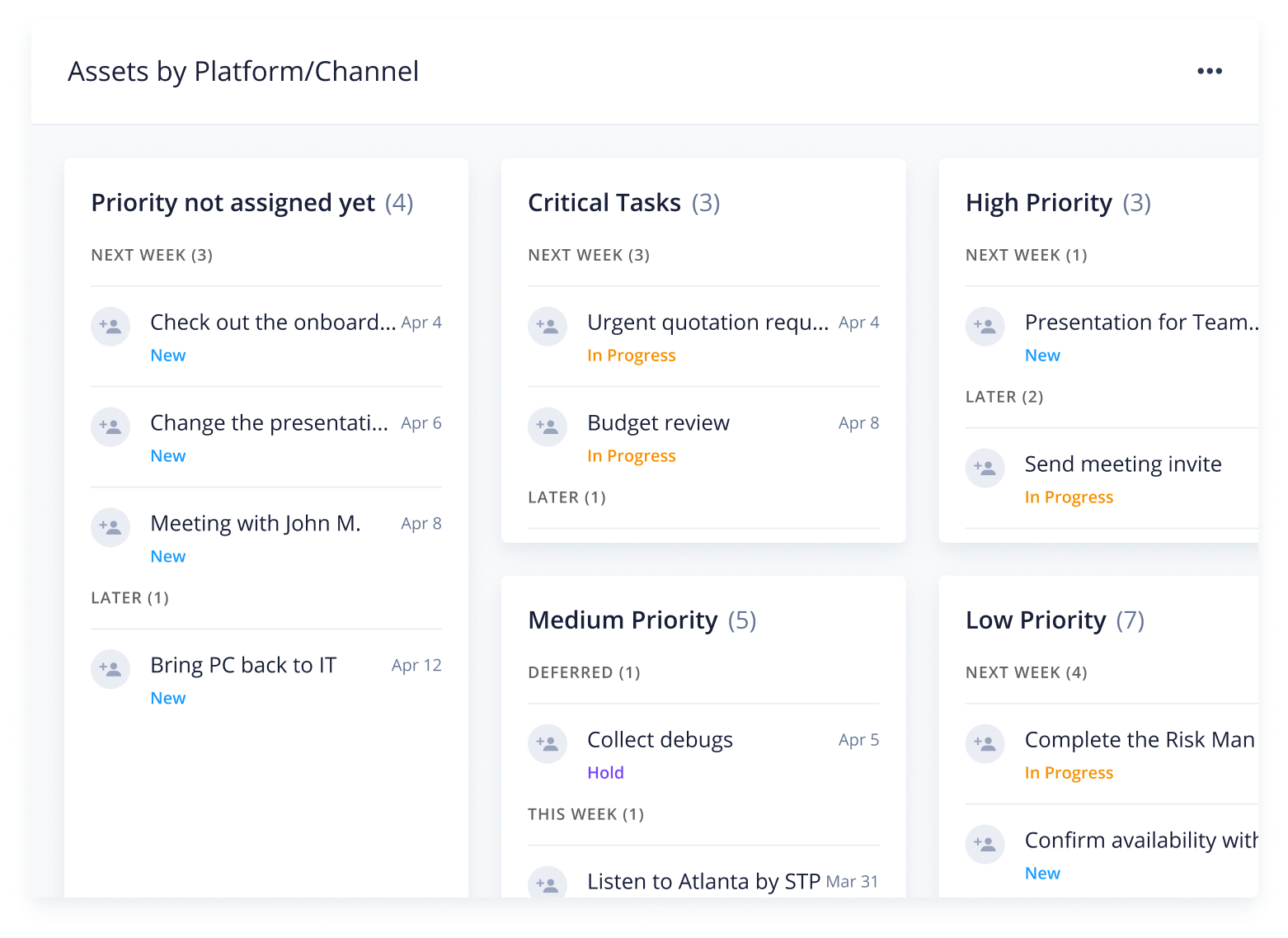 Task Calendar: Layered visibility across a calendar of priority tasks being tracked. This is an easy and ideal way to keep track of tasks based on deadlines
Step 3: Streamline workflows and resources
Now equipped with a way to better organize, visualize, and prioritize your daily tasks, you can easily streamline the way you work and acquire a more holistic view of what you need to get done each day.
Make Wrike work for you
Check out these additional features and discover new and better ways to work.
Wrike is infinitely customizable to fit your team's unique workflow and collaborative needs. Streamline processes, establish visibility, and do your best work with Wrike today.
Workflow and task management resources
Streamline your daily workflow with Wrike
Any individual can benefit from the daily task template, which helps them better plan, prioritize, and execute tasks on a day-to-day basis.
Enter your business email linked to your Wrike account to gain instant access to this template.
Yes, the daily task tracker template is free and users with access include those on Wrike Business, Wrike Enterprise, and Wrike Pinnacle.