Business Goals Template
Use Wrike's business goal-setting template to set clear objectives and simplify your internal strategic planning.
Clarify your company vision
To run a successful business, you need to establish cohesive goals with defined targets. Whether you're new to executive-level planning or just need to recharge your existing strategy, a ready-made template can take the pain out of the process.
You should consider using a business goal-setting template if:
Your teams struggle to understand the bigger picture
Your department heads find it difficult to break broad goals down into actionable tasks
You don't know how to measure progress across multiple departments
With Wrike's company goals template, you can:
Ensure every team member is aligned when it comes to overarching business objectives
Create individual tasks and assign responsibility for each goal
Track project milestones and view team progress at a glance
Why you need the business goals template
Clear objectives
Get your projects off to the best possible start by solidifying targets before you commence tasks. Use Wrike's business goals and objectives template to refer to your original intentions and eliminate confusion across your teams.
Effective communication
Assign tasks to individuals to avoid ambiguity when it comes to responsibilities. Build a simple folder structure with a smart tagging system for maximum clarity. Share reports to communicate results instantly to stakeholders.
Cohesive collaboration
Wrike's company goal-setting template enables you to tie individual OKRs to overall business goals. That way, team members fully understand what they're working towards and can make better-informed decisions.
Outline company OKRs with ease
How to use the business goal-setting template
Wrike's business goals template has plenty of in-built features to kick-start your strategic planning and get your teams on the path to success.
Here's a quick overview of how to manage this template's key functionalities: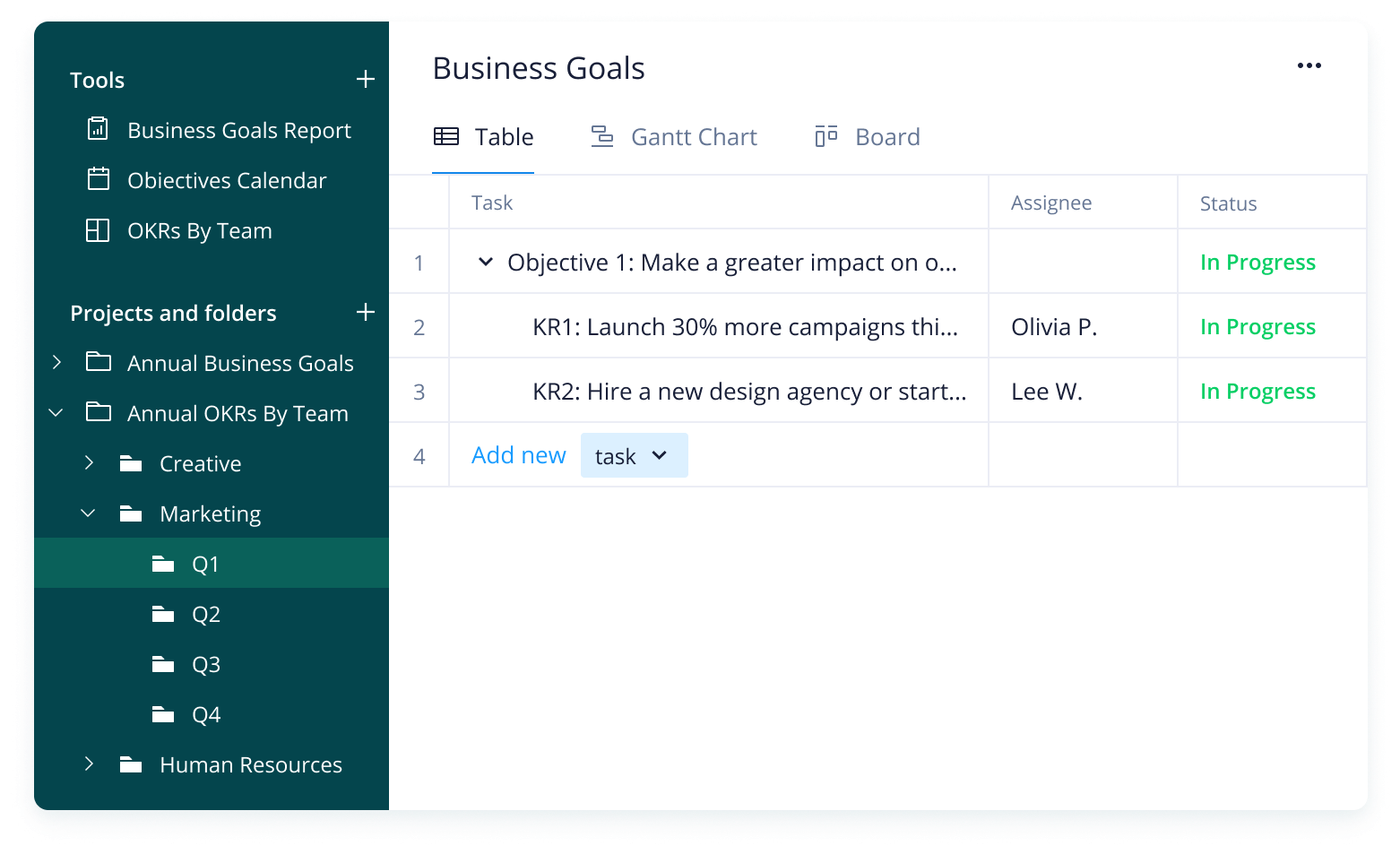 Wrike's company goal-setting template simplifies every element of the OKR process, meaning you can spend less time on admin and more time on results.
Setting the template up is simple — all you need to do is follow these three steps.
Step 1: Personalize your goals
The business goals template includes two ready-made folders: "2022 Business Goals" and "2022 OKRs By Team."
In the first one, you'll find sample projects and tasks. The second one contains suggested folders for each department, including Human Resources, Marketing, and Operations. Tweak these folders to personalize them for your company.
Step 2: Track team progress
The "Business Goals" report pulls in information from the "2022 Business Goals" folder — that way, you can easily track the status of tasks, as well as assignees and due dates.
You can also monitor progress at a departmental level with the "2022 OKRs by Team" dashboard. Customize the widgets to match your organizational structure.
Step 3: Visualize your schedule
Wrike's company goals template includes a pre-built calendar for tracking business objectives by week, month, and quarter. OKRs are categorized by department, and each one is color-coded.
Use this calendar to match individual goals to their relevant teams and ensure they align with the company vision.
Explore more with Wrike
Our business goal-setting template has everything you need to outline, track, and achieve company OKRs, but there are additional features that could be useful for your teams.
Browse Wrike's software to discover other intuitive tools that can help your organization manage project timelines and boost productivity.
Wrike can be tailored to fit your company's specific needs. Take a tour of our versatile platform to experience the true power of enterprise-level software.
Resources for your business
Learn how Wrike's software can help you organize team tasks, communicate company goals, and realize your overall vision.
This eBook is full of tips for your project management office, including three key areas to focus your efforts when creating business objectives.
Arvig's number one goal with Wrike was to gain full visibility into team workflows — find out how they achieved that and more.
Ready to start the goal‑setting process?
This template enables your business to clearly map out company goals and align them with OKRs for multiple teams and departments.
Wrike's company goal-setting template includes a pre-built report, calendar, and dashboard, as well as suggested folders, projects, tasks, and subtasks.
This template is ideal for company leaders who want to consolidate their business goals and OKRs and ensure that teams are working towards the same vision.