Basic Terminology
What Is a Project Management Framework?
Smart project management has become a crucial discipline for organizations striving to achieve their objectives. At the core of this discipline lies a project management framework, a structured approach that provides a roadmap for your projects.
But what exactly is a project management framework, and how does it contribute to project success? In this article, we will look into project management frameworks in detail, exploring their key components, benefits, and examples.

Before we begin, you can unlock a free trial with Wrike to manage all project management frameworks in one platform.
What Is a Project Management Framework?
A project management framework consists of the processes, tasks, and tools used to take a project from start to finish. It encompasses all the key components required for planning, managing, and governing projects.
The project management framework can be broken into three parts:
1. Project life cycle
This is the cycle a project goes through from beginning to end. It consists of five phases:
Initiation: This is where you define what the project actually is. You can outline your objectives in a project charter and identify any potential risks.
Planning: In this phase, you list all the project tasks in a detailed roadmap. Estimate how long each one will take, create deadlines, and add assignees.
Execution: Put the plan into action. Teams commence work on project tasks and align their schedules to achieve key deliverables.
Monitoring and controlling: Project managers oversee progress by tracking team performance, creating reports, and readjusting priorities if necessary.
Closure: The final phase incorporates the results achieved when all project tasks are completed. A project manager will analyze these results and plan the next steps.
2. Project control cycle
The control cycle is the process of monitoring and controlling the project.

3. Tools and templates
Project plans, project management reports, and risk logs are common tools and templates for managing projects.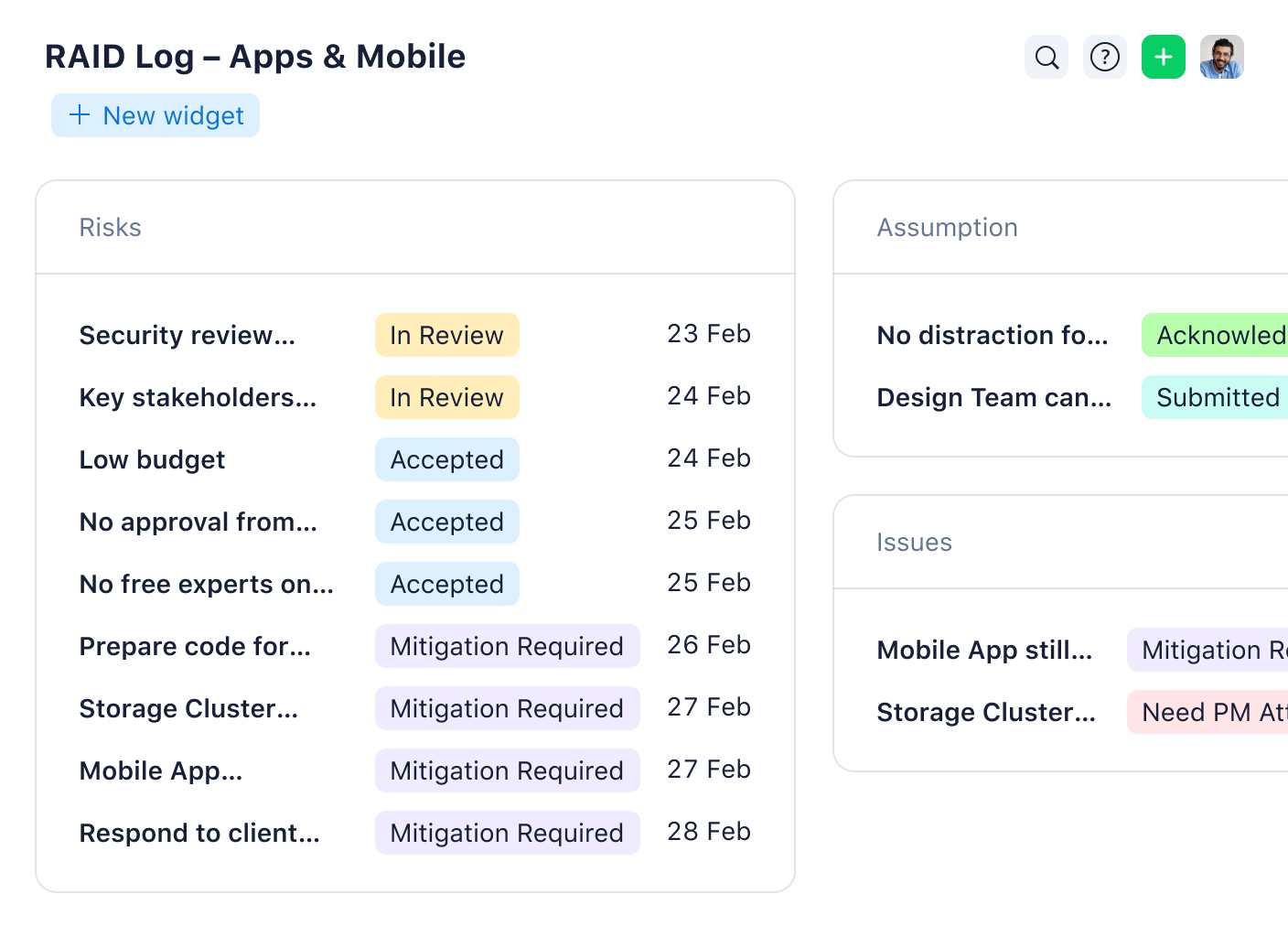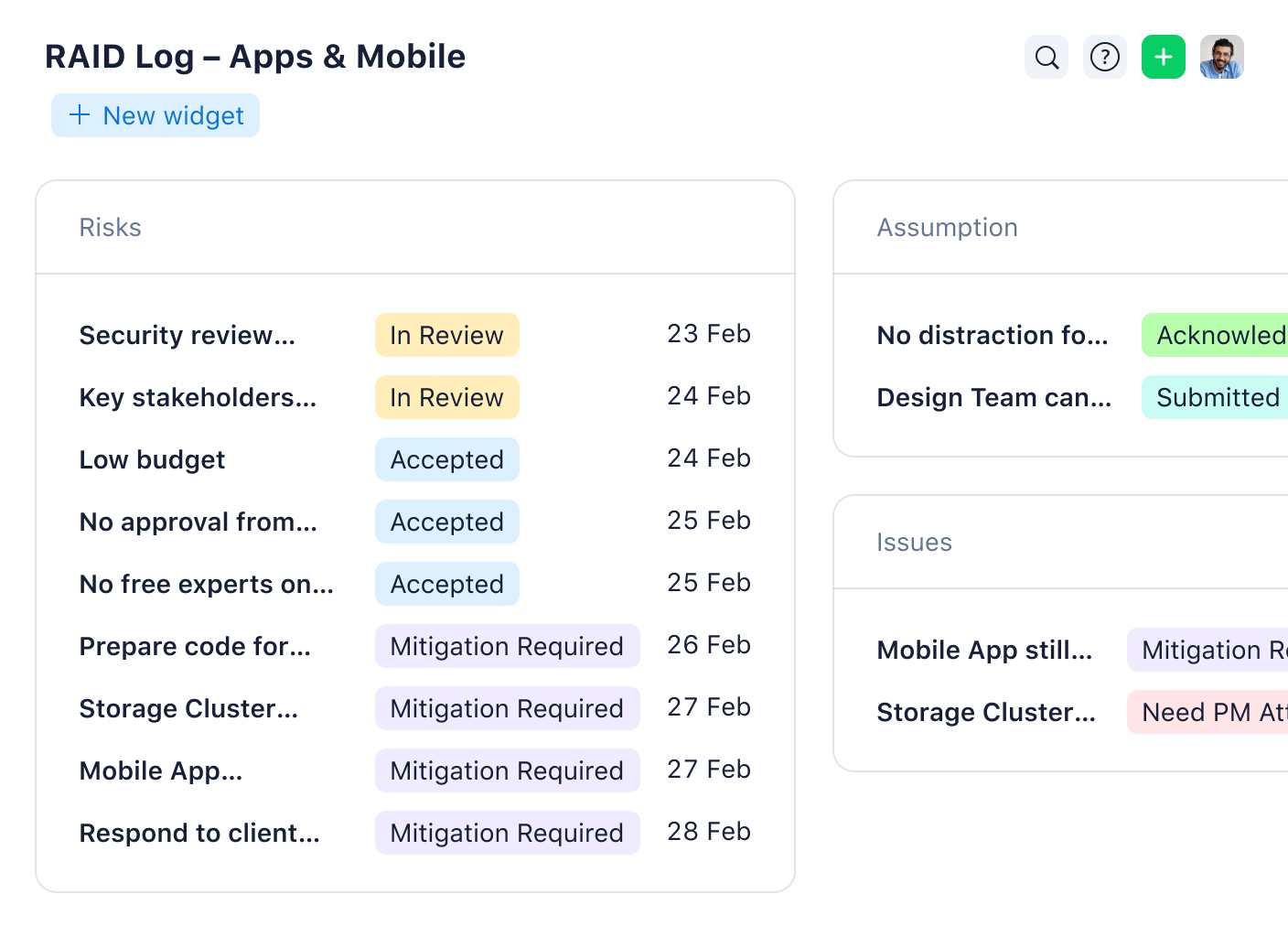 Project framework examples
There are many project management frameworks you can choose to use.
Here are six of the most common ones:
How to choose a project management framework
One single framework does not work for all projects, which is why so many of them have been created over the years. When deciding which framework is best for your project, consider the following:
If your industry, technology, or product is fast-changing, an adaptable framework such as XPM or Scrum is recommended.
If the project deliverable is not well defined and is intangible (such as software), a sprint-based approach (such as Scrum) may work best.
If the project is well-defined and stable, planning it out in its entirety decreases risks. Therefore, PRINCE2 or Waterfall should work best.
Frameworks may be chosen based on what your organization and stakeholders are familiar with. If your company has never completed an XPM project before, introducing one may be difficult.
The priorities of your stakeholders will impact your framework. If waste is a critical concern, a lean framework may be chosen.
Frameworks are designed to be flexible and adapt to a project's needs. It may be that you will end up borrowing pieces of separate frameworks as the circumstances of your project change.
Set your path to success with the right framework

What are the benefits of following a project management framework?
A framework in project management can be a useful toolkit for project managers and teams alike, enabling them to adapt and apply best practices to each situation. According to Parallel, when a framework is in place, team members are more capable of handling unforeseen changes in a project.

Some other benefits of project management frameworks include:
Consistency: With a project management framework, processes are consistent across the organization. This allows for greater precision in planning projects and setting deadlines.
Clarity: A framework clearly lays out all project tasks and the tools needed to complete them, meaning there is no confusion when teams get to the execution stage.
Simplification: When large projects are broken down into smaller tasks, it is easier for project managers to delegate tasks and teams to tackle the workload.
Optimization: A project management framework can help managers assess how much time and money is spent on each project. This enables them to successfully allocate and optimize resources for future projects.
Communication: By meeting regularly with teams as outlined in their chosen framework, project managers can effectively communicate with colleagues and boost information flow.
Who outlines project management frameworks?
A project manager chooses the framework for their team. As the person who oversees all project progress, they know best how their colleagues work and are, therefore, best suited to choosing a project management framework that matches the team's working style. The project manager will outline the framework to be followed, host regular meetings in line with this methodology, and monitor progress to ensure it is the right project management framework to achieve key deliverables.
Build your project management framework with Wrike
By implementing a well-defined framework, organizations can enhance collaboration, improve efficiency, and mitigate risks. However, navigating the complexities of project management requires the right tools and technology. This is where Wrike comes into play.
Wrike offers a comprehensive suite of features designed to align with various project management frameworks, including Scrum and Waterfall. With Wrike's intuitive interface, customizable workflows, real-time communication, and robust reporting capabilities, businesses can build a project management framework that truly suits their team's needs.
Want to explore more? Embrace the power of Wrike and breathe new life into your projects today.