Advanced Terminology
How to Write a Project Management Report
A project management report is a summary overview of the current status of a project. It is a formal record of the state of a project at a given time. The exact form and details may vary depending on your company and project management office requirements. Many businesses have their own project management report templates their project managers adhere to.
Depending on the size and complexity of your projects, a project management report may be required weekly or monthly. It is provided to all project stakeholders to help keep them up to date with the progress of the project and any pressing challenges it may be facing.
Project management reports are useful for all sorts of different types of projects across a variety of industries. For example:

A marketing project manager could provide a regular project status report to the entire organization so they can keep tabs on how the company rebrand is progressing




A software development team might use resource reports to effectively plan a sprint and ensure they have the resources they need




An executive might present a project risk report to the company's board of directors to get guidance and help navigating potential issues and roadblocks




A project manager could use a

project performance report

to monitor the project budget, schedule, and success metrics, and share that crucial information with leaders




A leadership team could use a time tracking report to understand how the team's time is being used and how the team could become more efficient
That's only the beginning. There are numerous types of project management reports that can be used for an assortment of project goals and scenarios.
Most project management reports are single-pagers but may have appendices or links to more information for stakeholders who wish to delve into the details. However, project reporting can be much more in-depth in some companies and circumstances.
But regardless of the specific report, the point remains the same: Project management reports are intended to provide a clearer understanding of a project — whether it's only getting started, in progress, or just wrapped up.
Project management reports are as unique as projects themselves.
Whether you're creating a one-page report or a comprehensive one, Wrike is the must-have tool for project planning, monitoring, and reporting.
What is included in a project management report?
As you figure out how to prepare a project report, you're bound to have one big question: What should you include?
The information you include in your project management report will largely depend on the type of project, the scope of the project, your organizational processes, as well as your goal in generating a project report in the first place.
Understanding and appropriately allocating project resources will likely require more detail and a far more comprehensive report than providing a straightforward status update. And in general, more complex projects typically require more complex project reports.
With that said, there are some standard elements that apply to project reports across nearly every industry, organization, and type of project. Whether you need them all or only a few, here are some key characteristics to consider when creating your own project report.
Identifying project information
Think of this as the "basics" of your project. While it might seem like overkill to include it in every single project report you create, doing so (ideally, near the top of your report) gives people the necessary context they need about the project before reviewing the report.
You're essentially laying the groundwork for them, which is especially important for people who might not be privy to every single report or who only need to be kept updated at a high level. They aren't as close to the project, so they likely require regular refreshers.

Project name:

Give your project a name to quickly and easily identify it. Resist the urge to get too creative — instead, name your project something instantly recognizable and intuitive (for example, "CompanyXYZ Website Revamp").



Project number (if it has one):

If your company uses project numbers or any other identifying code, include that on each report as well.



Name of project manager:

If and when people have questions after reviewing the report, this means they can quickly understand their best point of contact for more information.

Project sponsor(s):

Your project sponsor is the person (or people) at the senior leadership level that's providing resources and overall support for the project. For many people, it's easy to confuse this person with the project manager. So, listing the sponsor on each report provides clarity about those roles.



Start date of the project:

Timing matters for projects. Including the project's start date at the top of the report helps people instantly glean how long the project has been progressing and how much time has already been invested.

Expected end date:

Projects don't stretch into eternity (at least, they shouldn't). Including the project's anticipated end date with the start date means people can understand the overall timeframe of the project.



Customer name and information:

If you work in professional services or any industry where you're doing work for customers, the customer's name and other identifying details should be included on the project report. That helps ensure accuracy in reporting and also makes file management a little easier.

Date the project report is released:

Particularly for long projects, you could generate many reports throughout the process — maybe even dozens of them. Dating each project report means you can maintain a paper trail and ensure those reports are easy to refer back to and make sense of in the future.
Key metrics of project success
Exactly what metrics you report on will depend on the intention of your overall report. For example, a project risk report will dedicate much more space and detail to potential threats to the project while a project status report will focus far more on the tasks that have been completed and what's still left to do.
It's important to include some project success metrics in each report you generate. Much like the basic identifying project information, it's helpful context for any team members or stakeholders who review the report.

Think of it almost like the project's highlight reel. It's a quick rundown of project performance that should be included at the beginning of your report (after the identifying information) or at the very end, depending on your report formatting.
Schedule progress against plan:

Is the project ahead of or behind schedule? How far ahead or how far behind? This helps people understand a more realistic timeline as well as how much time is left for the project.



Current cost versus budget:

Is the project under budget or over? How much over or under? It can also be helpful to include a few notes or bullet points about how the budget or project plan will be adjusted or managed moving forward, particularly if you've already experienced severe overages.



Current scope compared to plan:

Has the project scope changed since the project began? If so, how? Understanding how the scope evolves throughout the project will make it easier for everyone to manage resources and expectations.



Planned versus actual resourcing:

Are any

resources

missing or overallocated? How will you secure or reallocate resources moving forward?



Overview of risks:

Are there any high risks that need to be managed?



Current quality findings:

Has quality testing been done? Were there any issues?
Additional information to include
Project change management:

This is usually an update of any pending and approved change requests for the project.

Actions taken:

This provides a high-level summary of key actions taken and decisions made since the last project report. It can also include accomplishments, such as

milestones

recently met.

Decisions required:

If there is a crucial decision that needs to be made, this is the right place to share it, whose decision it is, and when it's due. An example could be sponsor approval for the

project management plan

.

Upcoming milestones:

Deliverables due soon and milestones approaching are communicated here.

Task lists:

This is a list of all the tasks to be completed to deliver the project successfully. Task lists should have the start and end dates of the included tasks.



Types of project management reports
Below is a list of the most important project management reports you may need to track and report on your project status.
Time tracking reports
Time tracking reports show what projects your team members are spending time on. This helps you improve project management and communicate adequately with stakeholders about a project's progress. Time tracking reports provide useful data to improve scheduling and resource management and boost revenue, especially in professional services agencies and companies.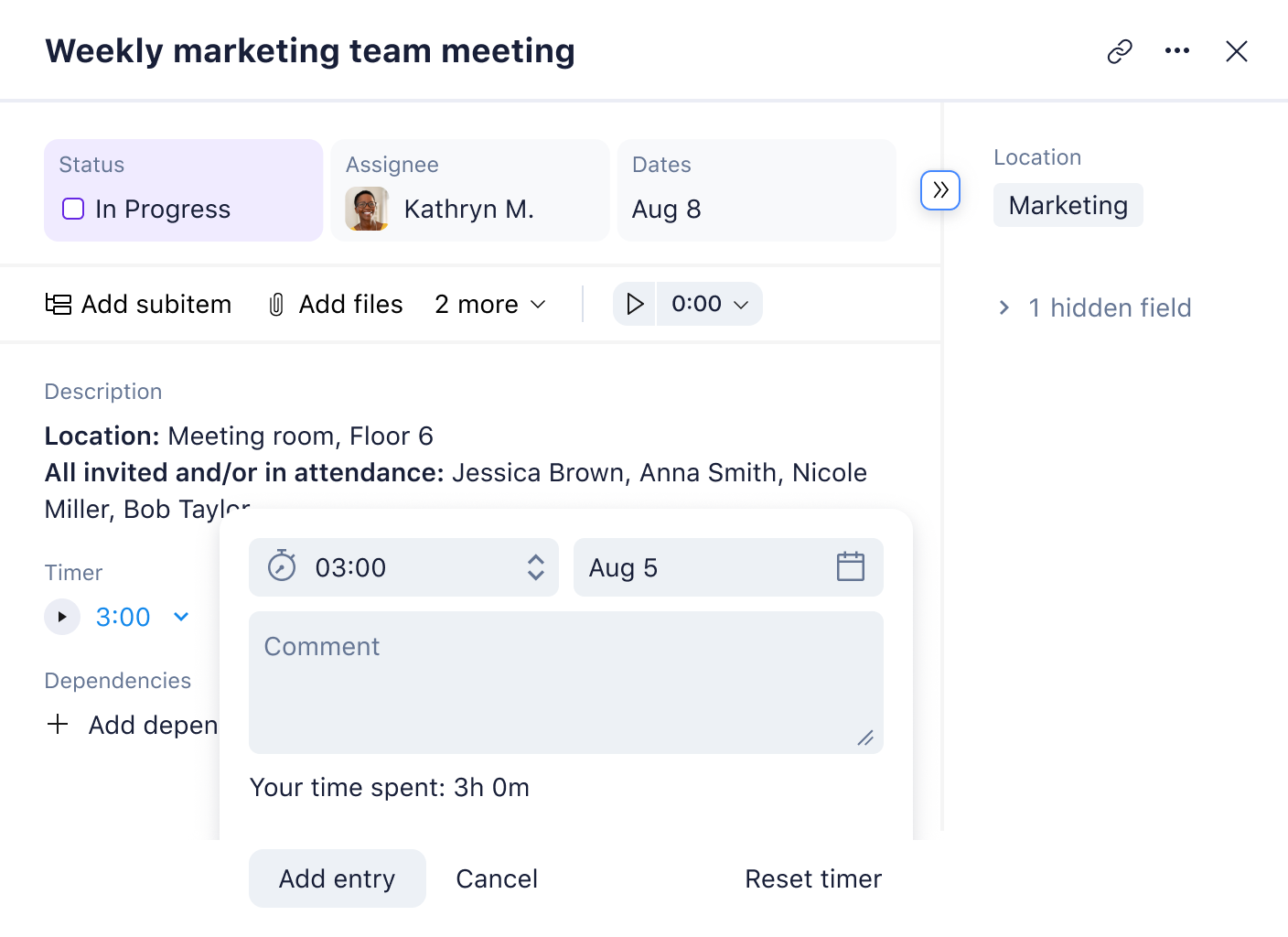 Project status reports
Project status reports communicate how a project is progressing within a specific period. This helps to keep stakeholders updated on the project's progress and any emerging issues with cost, scope, schedules, or risks. You can easily compare a project status report to the project baseline or project plan to assess how well it is doing. Project status reports typically include the work that's been completed, a summary of the project's costs and schedule, a plan for what is to follow, and any issues and risks.
Project health reports
Project health reports provide a snapshot of the status of a project. This helps to share how well or poorly a project is doing. Project health reports show what's been done, what's on schedule, and what's overdue. They make it easy to communicate to team members and stakeholders about the overall health of a project. A project health report makes it obvious if you've stayed on track or deviated far from the project plan. It brings to the forefront the most important tasks to tackle to get a project back on the intended path. Different teams and companies may have unique ways of organizing their own project health reports.
Project risk reports
Project risk reports identify and categorize risks in a project based on their severity and likelihood of happening. This helps prioritize issues and eliminate harmful risks before they cause irreparable damage or project failure. Project risk reports communicate problems to stakeholders so they can take action. The goal of project risk reports is to catch and identify project risks before they occur.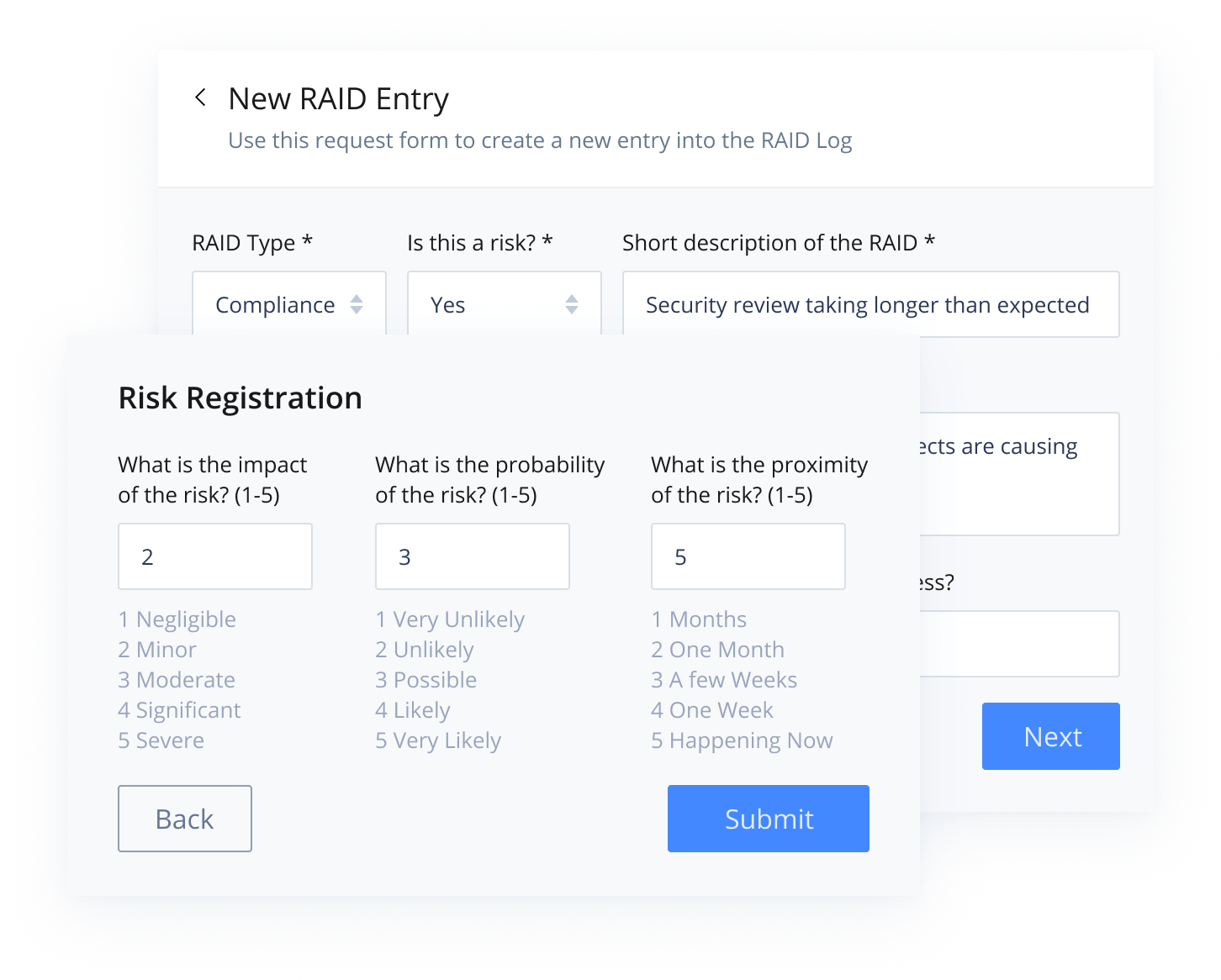 Variance reports
Variance reports show how a project has deviated from the project plan or baseline. This helps compare how a project is doing with the project plan and reduce any chances of project failure. With a variance report, project teams can monitor actual and planned performances and ensure they are on track with the project scope, costs, and schedules. This helps mitigate risks and implement change management procedures where necessary. Variance reports also aid in planning for future projects.
Resource reports
Resource reports are helpful for managing available resources and planning a successful project. You can use them to adjust workloads and make decisions to make the project workflow more efficient and effective. Resource reports take costs, schedule, and scope of work remaining into consideration to make the best resourcing decisions for the project and team. It's easy to see how much team members have on their plate and redistribute work to achieve the desired results and complete the project.
How often should you report on projects as a manager?
There's no set cadence for your project reports. However, when determining how often you should send a project report to the team or other stakeholders, here are a few important elements to think through:
How long is the project's timeline?

For a project that spans many months, reporting daily would be overkill. But for a project that only spans a week or two, a quick daily report could be warranted. The duration of your overall project is one of your most important considerations when figuring out how often to create and share project reports.

What are client or stakeholder expectations?

Are you creating deliverables for clients that expect frequent communication? Or have stakeholders expressed that they'd like regular weekly updates? Keep in mind that being a project manager is ultimately a service position, so you'll need to consider other people's needs, expectations, and preferences in terms of reporting cadence.



How much has the project changed?

Whether the project scope has ballooned, broader organizational goals have shifted substantially, or the team recently achieved a significant project milestone, major and consequential changes to the project almost always warrant a report and an update to stakeholders — even if it's not your "regularly scheduled" time to send one.
If you still feel unsure about how often to report on projects, have a conversation with the project team and any relevant stakeholders to get their insights on a cadence that would keep them informed without making them feel overwhelmed.
Tips for effective project reporting
When writing a project management report, it is essential to keep the following in mind:
Be concise and share results and outcomes: Don't focus on details your stakeholders don't need to know. Try to use bullet points, not paragraphs. If you create a 10-page document every week, no one is likely to read it. Plus, you won't have time to manage the actual project.
Understand your audience: Make sure the project report is not too technical and avoid jargon. Otherwise, your stakeholders won't be able to understand it.
Provide context: Don't just say a deliverable will be two weeks late. Share how it will impact the rest of the project and what actions are being taken to resolve it. Stakeholders need to know how significant the problem truly is.
Be clear about any asks: If you require your stakeholders to do something, make sure you explicitly mention who is responsible, what they are responsible for, and when it needs to be done.
Make it visual: Use project management software that offers project management report templates. This allows stakeholders to quickly identify which projects are struggling and what areas they are struggling with before reading further into the project report. Executives may receive dozens of project management reports (or more) every week, so making your project reports easy to read is crucial.
Project management report example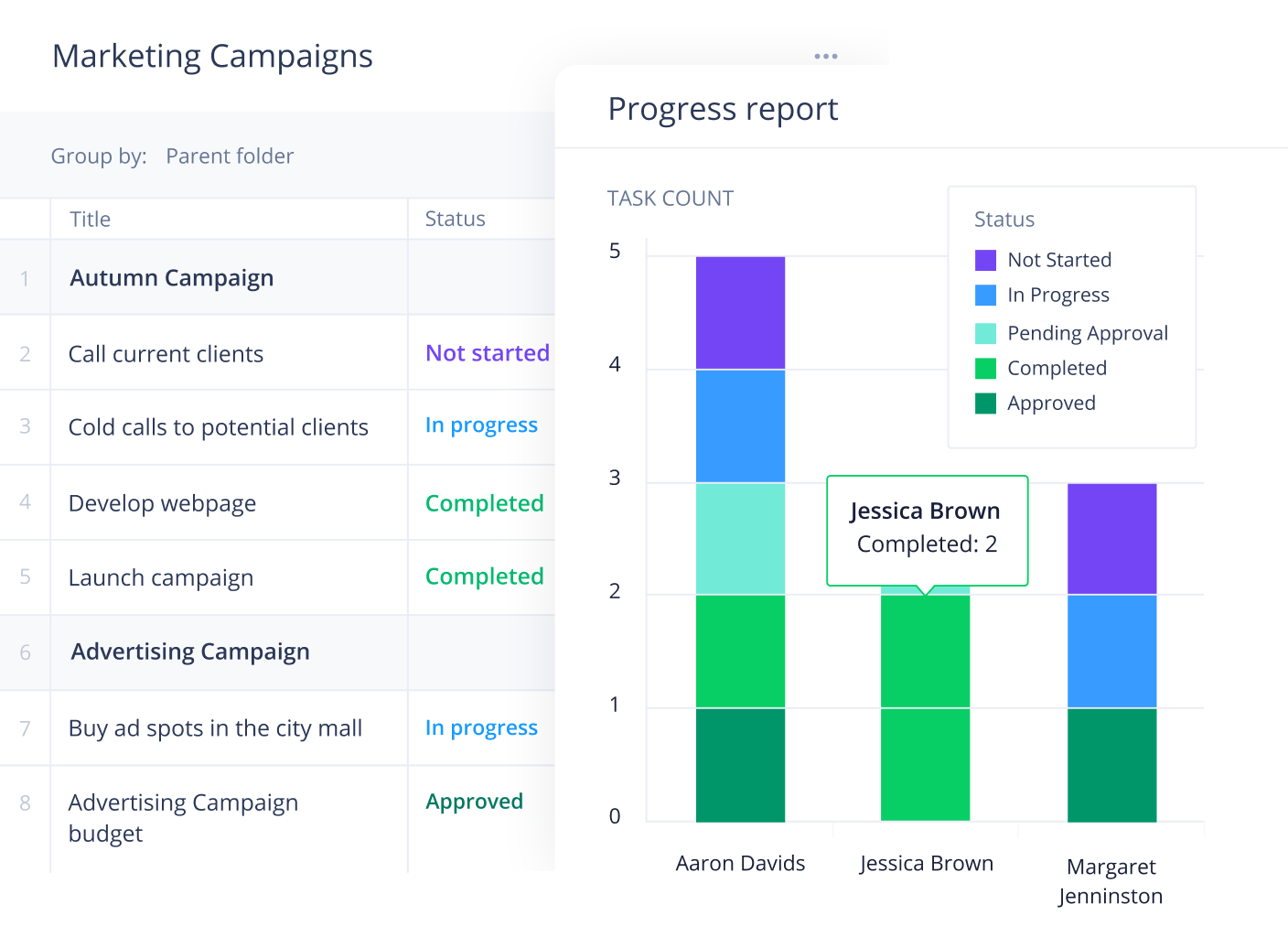 How can Wrike help you with project management reports?
Learning how to write a management report for your projects might seem daunting, but using the right software can make all the difference in the reporting process — whether you're reporting on a small project or are tasked with enterprise project management.
Wrike has all of the features you need to make every type of project a success, including reports. These reports are completely customizable and make it easy to gather all of the data you need from your tasks and projects and generate a helpful summary that you, your team, and all of your stakeholders can easily understand.
No more combing through spreadsheets or scrolling through endless email threads to find and compile the information you need. Wrike will gather your project-related information right from the source and save you all of the mundane and tedious work that's usually synonymous with reporting.
And if you're tired of reports being lost, misfiled, or even hitting the recycling bin after a cursory glance, Wrike makes storage and management of your reports easy too. You can access and view all reports created by or shared with you by simply clicking "Reports." It's painless to find the information you need and you also have the peace of mind that you can always refer back to those reports in the future.
Ready to jump in with project reporting that's more helpful and less of a hassle? Get started with a two-week free trial of Wrike today and see how simple project management reports can be.