Project Closure Template
A project closure template gives recognition that a project has been completed while allowing you to assess each phase.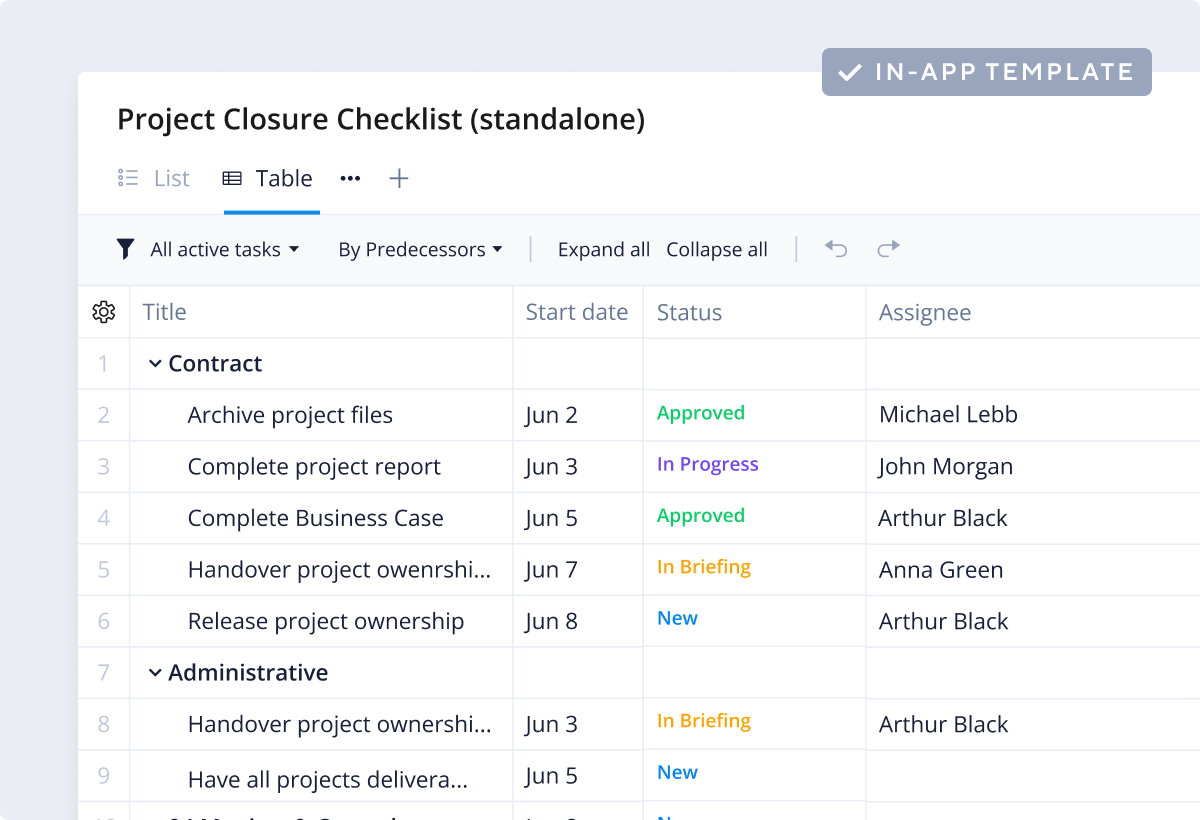 #project closure
#project closeout
#project sign off
#project closure checklist
Communicate the closure of your project
As your project nears completion, use our project closeout template to wrap up every facet, review all documentation, release project resources, and authorize the final handover to operational staff. Deliver more projects on time and within budget while avoiding the following issues:
Lack of project governance
No documented closeout process
Not enough visibility during project closeout
With Wrike's template, eliminate these obstacles and enjoy:
Custom fields and workflows
An organized, step-by-step project signoff procedure
A comprehensive project closeout checklist
Visual dashboards that summarize each task's progression
Why you need a project closure template
Poor traceability
Expedite your closeout process so you can reflect on and record the successes and learning moments of your project.
No cohesive checklist
Maximize your efficiency and get a sense of closure with an itemized list based on proven best practices.
You rely on manual programs
Act on follow-up tasks using a centralized hub with built-in automation, ensuring your projects get completed without delay.
Efficient project closeouts start here
How to use the project closure template
Too many organizations fail to meet their projects' original goals, stay within budget, and deliver projects on time. Since governance is the most critical success factor for organizational success, a closure checklist is imperative to ensure that proper completion of administrative, project, and portfolio data can be shared across teams. With Wrike's project closeout checklist template, you can: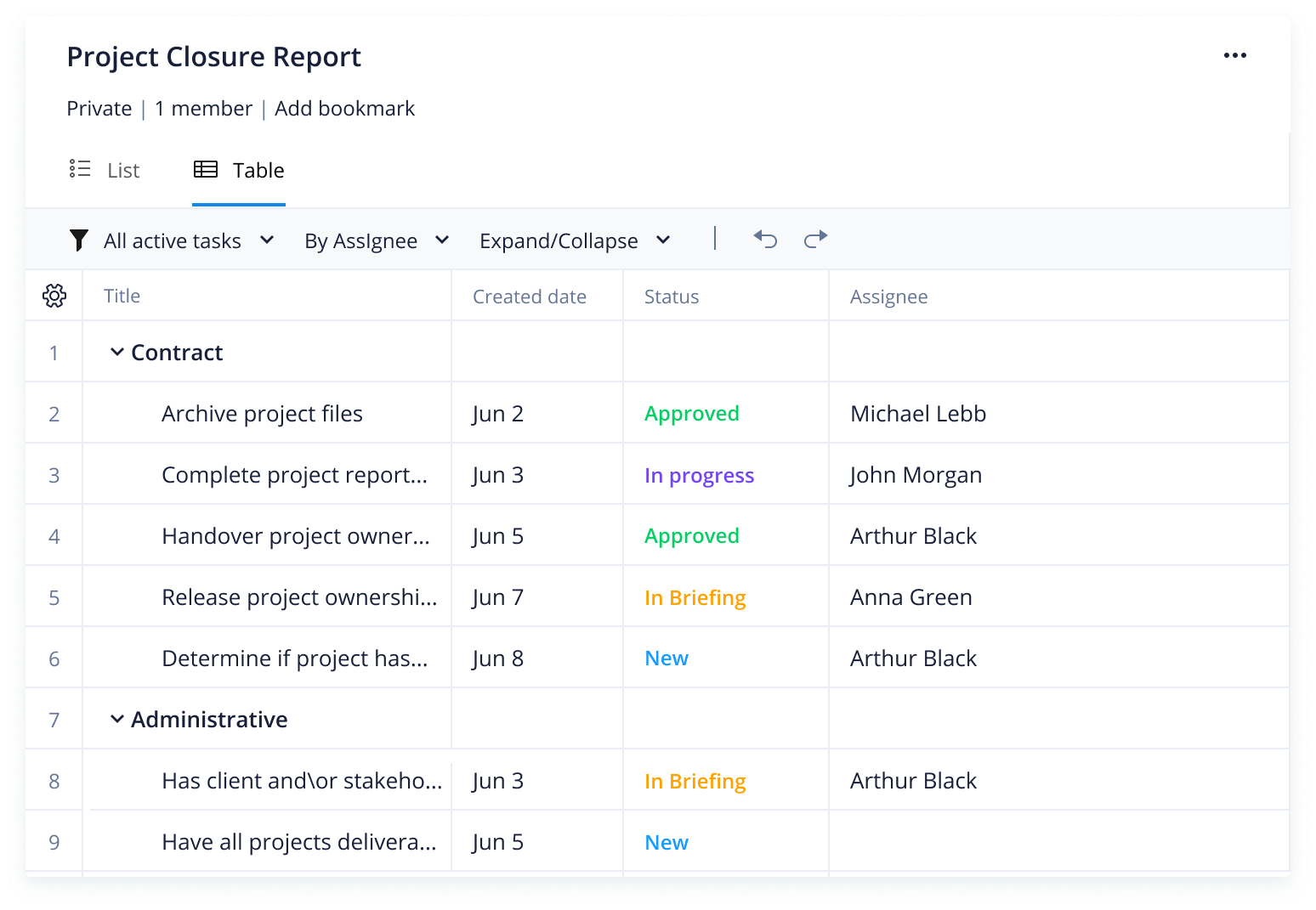 Wrike's project signoff template includes three primary components: a checklist, dashboard, and report.
Step 1:
Locate the checklist blueprint, which includes pre-labeled folders and tasks that detail the required action items along with a custom workflow. The blueprint is customizable to how your team works, too.
Step 2:
See the various phases of the project closure checklist and the items' status in an organized Kanban-style dashboard.
Step 3:
Get a visual, high-level view by pulling a report and seeing the items of the closure checklist.
Make Wrike work for you
Our project signoff template provides you everything necessary to close out programs efficiently while keeping all stakeholders updated.
Here are some other Wrike features that empower you to work smarter, enhance collaboration, and increase project visibility:
Our collaborative work management (CWM) solution is the most robust and intuitive platform for client-side PMOs and internal IT teams. Experience the Wrike difference today.
Siemens case study
Learn how Siemens used Wrike to standardize and automate their project delivery process on a global scale.
Future of Work eBook
Get practical solutions on how Wrike can resolve the top five PMO pain points in the remote work era.
Walmart Canada case study
Discover how Walmart Canada automated processes, improved project governance, and increased portfolio visibility.
Close out projects faster with Wrike
The template works best for client-side PMOs and internal IT teams within any size organization looking to increase their efficiency when closing out projects or programs.
Manual programs such as Microsoft Word are less collaborative, plus the checklist is built based on proven best practices. With Wrike, you get enhanced collaboration features such as online proofing, cross-tagging, visual dashboards, and more.
The template is free and users with access include those on Wrike Business, Wrike Enterprise, and Wrike Pinnacle.