Have you ever been blindsided
by
surprise issues that derail your projects? You're not alone. According to Wrike's
201
5
Work Management
S
urvey
, 31% of respondents sa
y
that final deadlines
often
shift due to unexpected changes
.
Unexpected changes are to be expected in projects,
which is why
it's
crucial
to plan accordingly
. It's easy to lose track of the big picture and get derailed by an issue you did not anticipate. Trying to prevent these issues can feel like looking for a needle in a haystack
—
especially if you lack
the right tools.
Wrike's new Report Templates help project managers and team members instantly pinpoint problems so you can resolve them on the spot. Here are five ways Report Templates can help keep your projects from failing:
Unassigned Tasks

: Quickly find and assign new work

.

Overdue Tasks

: Reschedule or reassign tasks already overdue

.

Overloaded Team Members

:

R

e

distribute

work across your team

.

Poor Visibility:

R

eview work with at-risk status and take action

.

 

Forgotten Projects

:

D

on't forget a project! Check upcoming deadlines. 

 
Gain Instant Visibility with 5 New Report Templates
Instantly pinpoint common issues that derail projects with
these five
n
ew Report Templates
: 
active tasks by assignee, overdue tasks by assignee, weekly project status, projects dues this month, and unassigned tasks.
 .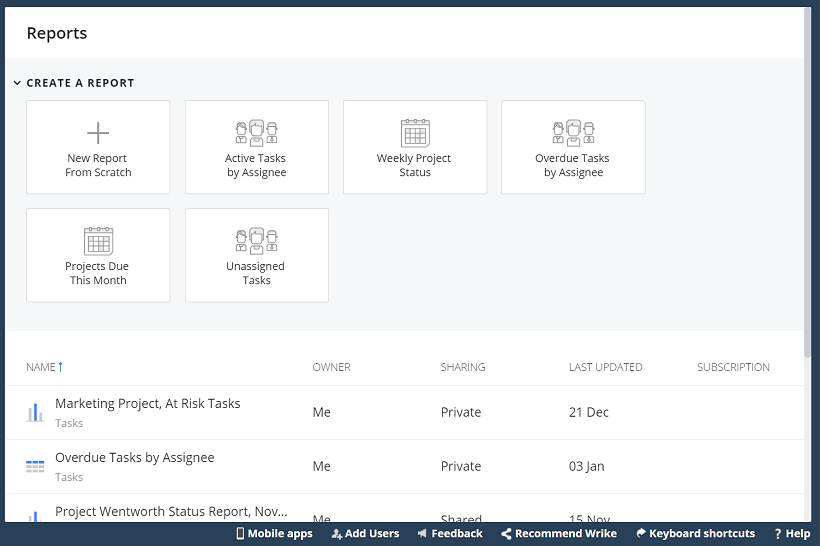 Edit
/
Build Custom Reports from Scratch
Now you can quickly edit a report from a template, adding customized filters and groupings.
You
can still build a report from scratch using our 4-step wizard.
 . Share Reports with Teams
&
Schedule Regular Notifications
Share reports with teams, clients
,
or stakeholders
so they can
provide updates
and
feedback at any time. They can also subscribe to scheduled inbox and email notifications to view reports
regularly
. Start a
free trial
of Wrike
today
or j
oin an
upcoming webinar
to learn
more. Reports are available in Wrike's Business and Enterprise versions.