Marketing OKRs: How to Set Them
Goal Setting
Marketing OKRs: How to Set Them
What's the secret sauce for a thriving organization? Measuring the performance of your team and aligning departmental and individual goals to the overall business strategy.
But it's not always easy to quantify the immediate success of all teams. Fortunately, using a goal-oriented approach such as objectives and key results (OKRs) helps you create goals that fit your needs and highlight the impact of your team.
The OKR framework has helped drive success for well-known organizations like Google and The Gates Foundation. It's a relatively straightforward methodology made famous by John Doerr that is split into two parts:
Objectives: What you and your team want to achieve
Key results: Measurable outcomes that indicate when you've achieved your objective
OKRs are similar to key performance indicators (KPIs). However, KPIs are goals that are typically used for work that's already in progress, whereas OKRs are more ambitious, assertive visions.
For some teams, such as marketing, you might not see results immediately because success is built over time through multiple actions and long-term strategies. That's where OKRs come into play.
The OKR framework creates alignment, encourages and increases engagement, and allows your team to flaunt their hard-earned results. We've rounded up some background on OKRs, including what they are, how to set them, and tips for tracking them over time.
Pro tip: Wrike's powerful work management solution acts as a centralized hub for all your team's work, including OKRs. Working in Wrike, you can:
Consolidate new work requests and launch built-out projects in seconds
Speed up approvals
Optimize team resources and lower burnout
Enjoy project visibility from beginning to end
Monitor project progress using visual, interactive dashboards
Access real-time data and report on results
Furthermore, you can integrate the OKR framework into your organization with Wrike's pre-made OKR template.
What are OKRs?
OKRs are high-level, overarching goals you can measure with results. Think of OKRs like a north star — something that your team can strive toward as a group.
An example would be: "Publish five tier-one customer case studies from our primary ICPs by end of Q1."
Of course, there are many steps that go into producing case studies, but those intermediate tasks and milestones aren't included in the top-level OKR. At the end, the decision is more objective because it's a "Yes, we met the goal" or "No, we didn't reach the goal."
Wrike's OKR template
If you're new to OKRs, it may be daunting or confusing on how to begin, but the process doesn't need to be a chore. Starting with a template is your best option (especially when you can tie your goals to all your current and future projects in a work management solution like Wrike).
Wrike's template will help you format OKRs and monitor progress to ensure projects stay on track, both in the short and long term. Some other benefits include the ability to:
Organize individual, team, or company OKRs with folders
Track progress with dashboards
Engage automation rules, workflows, and custom fields
Tailor your team's workload with custom item types
This template has multiple custom item types to get you started, including objectives, key results, action items, and deliverables.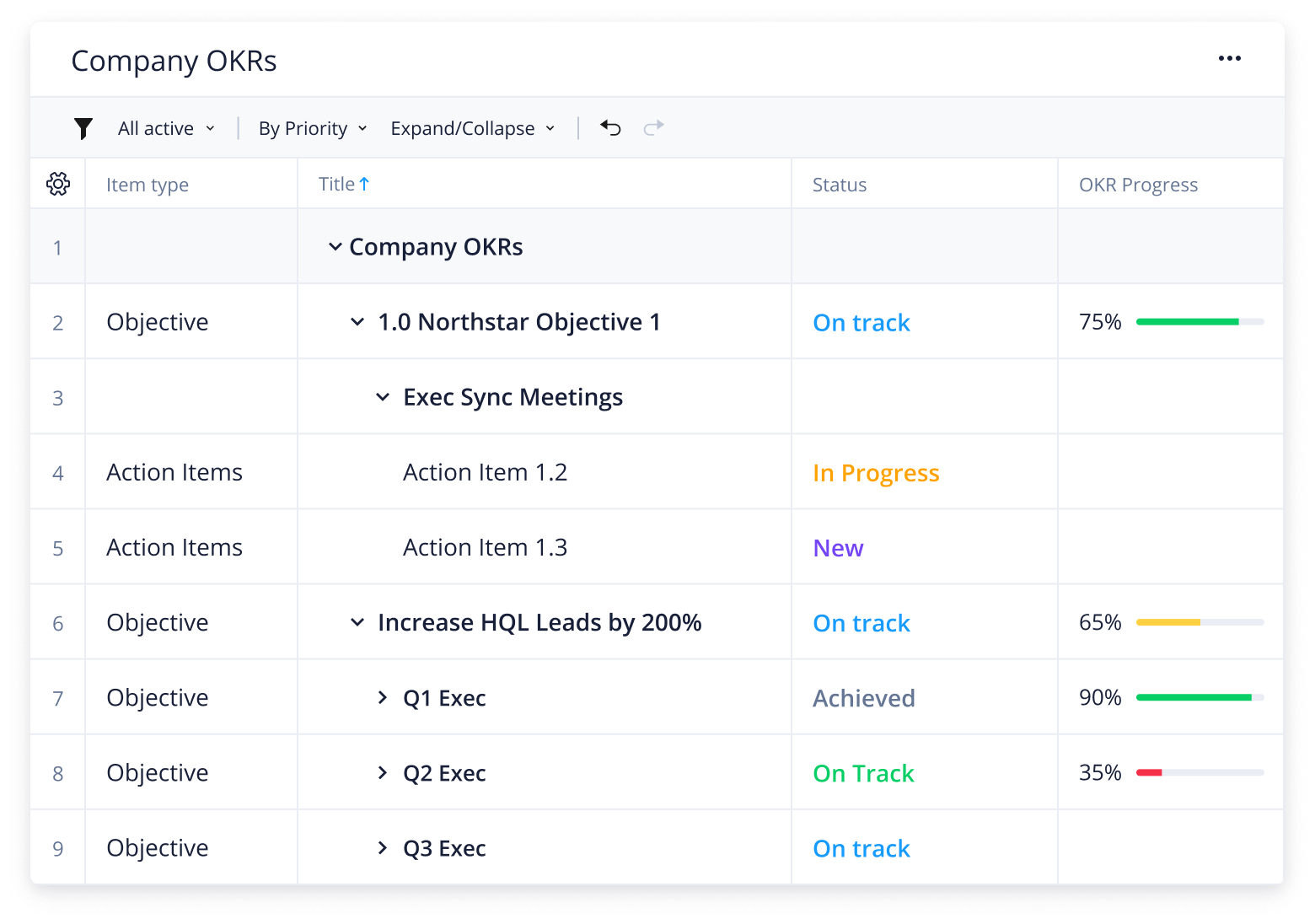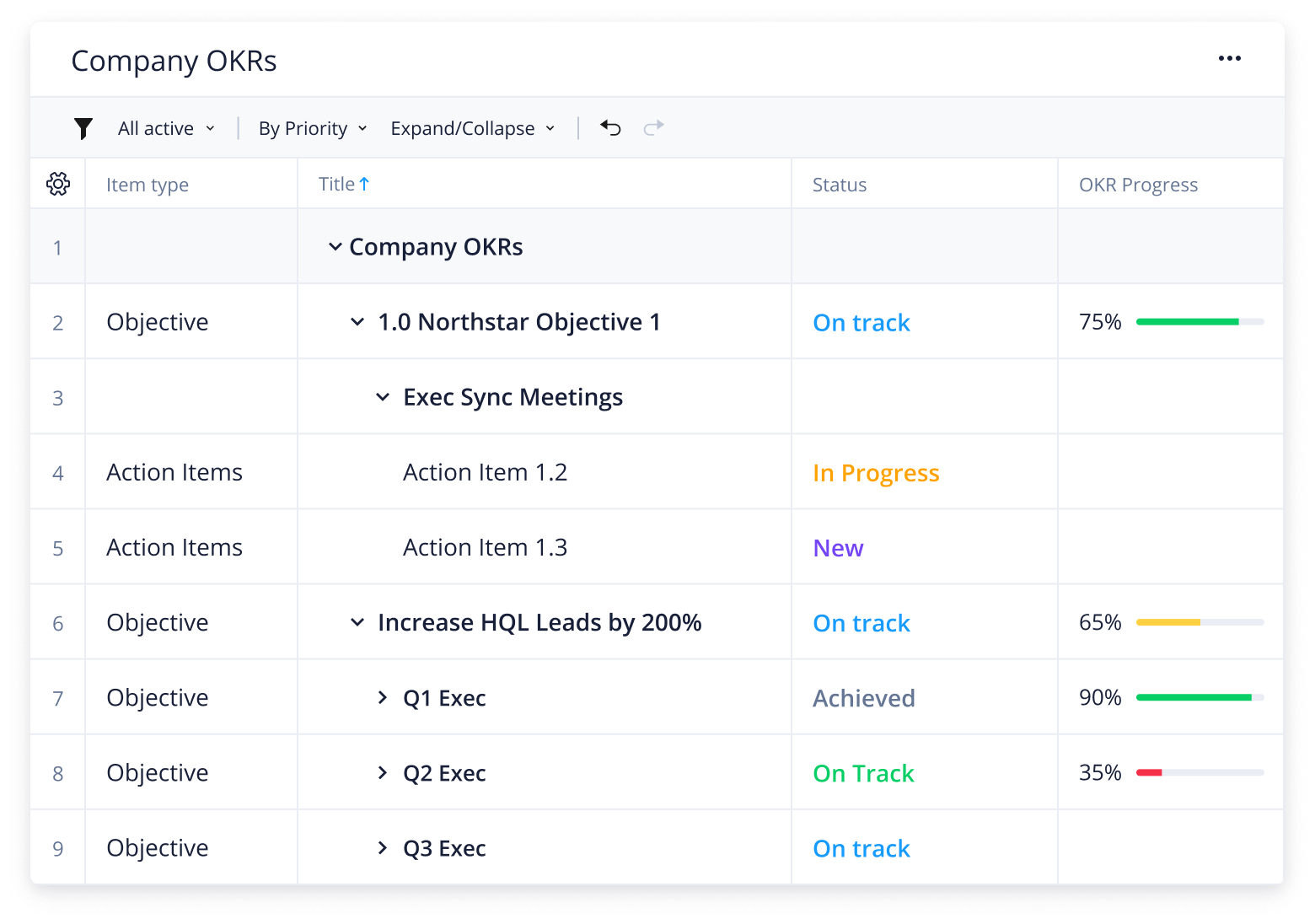 How do you set OKRs?
OKRs are powerful, and setting them is fairly simple. Be aware that there are various types you can work toward. Before we dive into different examples, here are a few tips and tricks to help you map out your own:
Keep your objectives ambitious, transparent, and motivating. Don't get into the nitty-gritty when setting your objectives. Go big and bold with your aspirations, and make sure all key stakeholders are aware of the agreed-upon goals. A good rule of thumb is to stick with three to five objectives. It's enough to be ambitious, but not so many that it's overwhelming.
Make sure your key results are measurable. That's how you'll know you're making progress toward fulfilling the objective. Your key results need to be tangible in some way. These are actionable steps to move you towards achieving the goal. Set three to four key results per each objective.
Set and follow a quarterly OKR planning schedule. OKRs work well when planned quarterly, so be sure to set the cadence and stick to it. Quarterly planning provides an opportunity to review and adjust OKRs where needed.
Those tips are helpful regardless of what type of OKR you're setting. But now, let's dig a little deeper into some different types of marketing OKRs.
What are marketing OKRs?
Think of your objectives as the desired outcome you want to achieve and the key results as the milestone markers that will get you across that desired outcome finish line.
A marketing OKR is a goal-setting framework focused specifically on driving your marketing efforts. With so many different components to marketing and various outcomes behind campaigns and marketing strategies, these OKRs can help ensure you are getting your desired results.
Whether you're focused on products, content, social media, SEO, or any other branch of marketing, this framework will help you make a focused plan for achieving your marketing goals. From inbound leads to conversion rates, different metrics can define success.
Let's take a closer look at what Marketing OKRs mean for different areas of marketing.
Product marketing OKRs
What it is: A goal related to your products and services and how you'll successfully grow these aspects of your business.
Maybe you're launching a new product and revising your go-to-market strategy to help reposition the organization. Or perhaps your team has been tasked with focusing on a new feature that's being added to an existing product. Maybe you're looking to gauge user satisfaction for your organization's services. Product marketing OKRs should have your offerings and clients in mind.
Content marketing OKRs
What it is: A goal related to creating, publishing, and distributing your content.
Does your organization have a blog? How about a client-facing newsletter? Or a podcast? Or frequent webinars? Content marketing OKRs will help your team focus on creating valuable content that serves your audience and makes them want to learn more about your offerings.
Social media marketing OKRs
What it is: A goal that highlights your social media channels and audience engagement on the platforms.
Whether your organization is all about Twitter, Facebook, LinkedIn, partnering with social media influencers, or any social media marketing strategy in between, these OKRs emphasize growing the awareness of your brand and connecting with your audience and potential customers.
SEO OKRs
What it is: A goal that drives your company's rankings in search engine results pages (SERPs).
It's no secret that your organization's visibility somewhat depends upon your SEO efforts. An effective SEO strategy can breed several benefits for your business, which is why setting SEO OKRs are valuable.
None of these are inherently more important than others, and most marketing teams will set OKRs in a few (or even all) of these categories to execute a well-rounded marketing strategy. Don't worry — we'll share some examples of each of these types of goals a little later.
How do you agree on marketing OKRs with clients?
Not only are OKRs useful for your internal marketing team, but if you work in an agency, they can also help you set standards and metrics for success with your clients.
Campaign managers know the drill all too well — your client wants to run a campaign and is looking for drastic results, like a 200% increase in site traffic from a couple of optimized blog posts.
To combat unrealistic expectations and maintain the sanity of your agency team, you can set OKRs with your clients that help achieve their company goals but don't over-promise results that will overwhelm your team.
The best way to agree with your clients is to understand their business needs, the metrics you'll be working to improve, and the intended goal with the current campaign. With this information in mind, you can set your team's objectives with manageable key results.
Be sure to analyze the campaign once it's over to further show your team's value-add and the return on investment (ROI), even if it means the key result improvements are less drastic than anticipated.
How to track marketing OKRs
You can track marketing OKRs in a spreadsheet, through email chains, or in a performance management system. But to effectively manage and track your OKRs in a centralized place, using a robust software tool is your best bet.
With a collaborative work management platform like Wrike, you can set and track your OKRs, monitor and celebrate your marketing team's performance, and adjust your marketing strategies based on real-time results.
Wrike offers all of the features you need, including:
Collaboration capabilities so you can plan with your team in real time
Customizable dashboards to keep track of progress
Progress updates for quick visuals on the work your team is doing
Real-time performance data for campaign management with clients
An OKR template to help you get started
Marketing OKR examples
Now that we have covered what OKRs are, and how to set and track OKRs, it is time to go deeper into relevant examples.
We will introduce marketing OKR examples for different roles to get you headed in the right direction and ensure success.
Product marketing OKR examples
Objective: Develop marketing message for a new product release
Key results:
Conduct 25 client user-testing sessions to test the new product
Select five new channels to share product advertisements on during the release
Present the product pitch to 15 client groups along with a free trial of the product
Objective: Increase our total number of paying customers
Key results:
Convert 30% of free trial users to premium subscribers
Offer free reporting functionality for users who convert within the quarter
Provide a monthly analytics analysis at half cost to new premium subscribers
Content marketing OKR examples
Objective: Improve blog content and quality to boost readership
Key results:
Increase the total number of blog subscribers from 3,000 to 10,000
Increase leads generated by blog posts by 10%
Publish four new blog posts per week
Objective: Boost email marketing efforts
Key results:
Boost eBook download rate by 15% via clickthrough in the newsletter
Increase newsletter open rate by 10%
Optimize email subscription page onsite with 12 new keywords
Social media marketing OKR examples
Objective: Increase social media engagement on Twitter
Key results:
Increase the total number of followers by 15%
Identify and engage with 50 thought leaders through direct messaging
Increase posting frequency to four times per day
Objective: Engage with audience members across all active social media channels
Key results:
Spend two hours per week engaging with our audience
Host five giveaways, including free trial subscriptions
Highlight two top clients per month across our social media channels to showcase success stories
SEO OKR examples
Objective: Boost organic website traffic
Key results:
Increase the number of monthly website visitors from 8,000 to 18,000
Decrease homepage bounce rate from 40% to 28%
Improve website loading speed by 30% for higher user interaction
Objective: Improve our website's SEO rating
Key results:
Identify five keywords and achieve first-page placement in search results for the relevant landing page
Add 20 new referral links
Increase referral traffic by 15%
Establishing OKRs can help you and your team achieve peak performance
Setting goals is important, but simply stating an objective is a lot like drawing out the finish line for a marathon and then telling your team to run as fast as they can. That's bound to lead to frustration, burnout, and maybe even an unfinished race.
Instead, using OKRs not only gives each of your team members greater clarity on what they're trying to achieve but also helps them understand how they're progressing toward that finish line.
Set them for your own team, and watch as they hit targets and complete projects with less stress and more confidence.