OKRs: The Ultimate Guide to Objectives and Key Results
This article was created with the assistance of an AI engine. It has been reviewed and revised by our team of experts to ensure accuracy and quality.
Setting Goals with OKRs
As you know by now, one factor in professional and personal success is goal setting. Although many goal setting frameworks exist, an increasingly popular one is objectives and key results, or OKRs. In this article, we:
Provide an in-depth look at different aspects of OKRs, including their history, benefits, and key components

Explore how to set, implement, and monitor OKRs

Offer examples, templates, and case studies so you can start using this framework for your own goals
If you're looking to integrate the OKR framework into your organization, you can try Wrike's OKR template for free.
What are OKRs?
OKRs are a goal setting framework that helps organizations define priorities, track progress, and get everyone on the same page. OKRs aim to get all the members of an organization focused on its critical priorities.
In this framework, objectives are the strategic goals you want to achieve. These high-level objectives are broad and inspiring.
Key results are specific, measurable, time-bound outcomes that indicate progress toward the objectives. Key results are typically set at the company, team, and individual levels for consistency throughout the organization.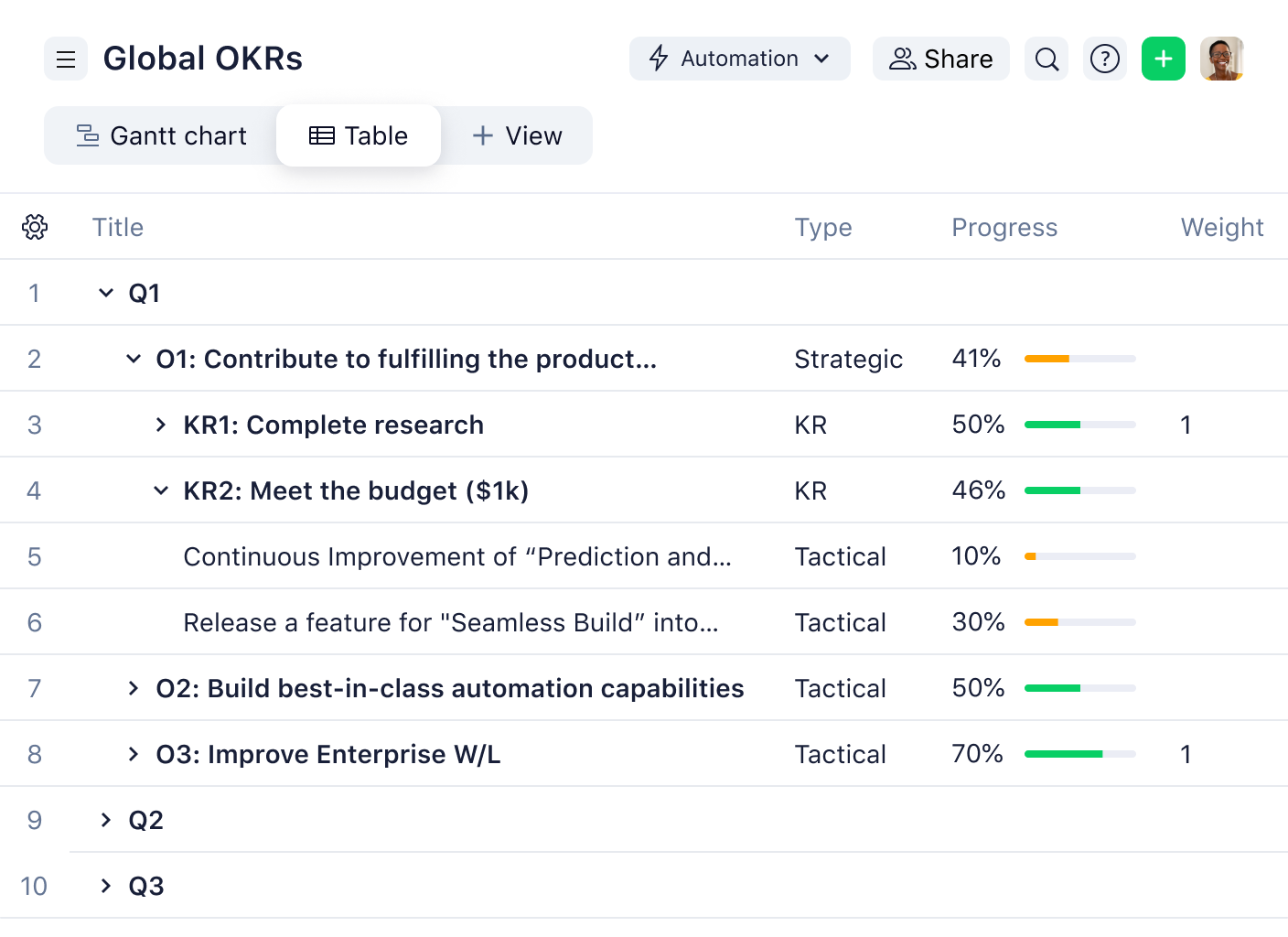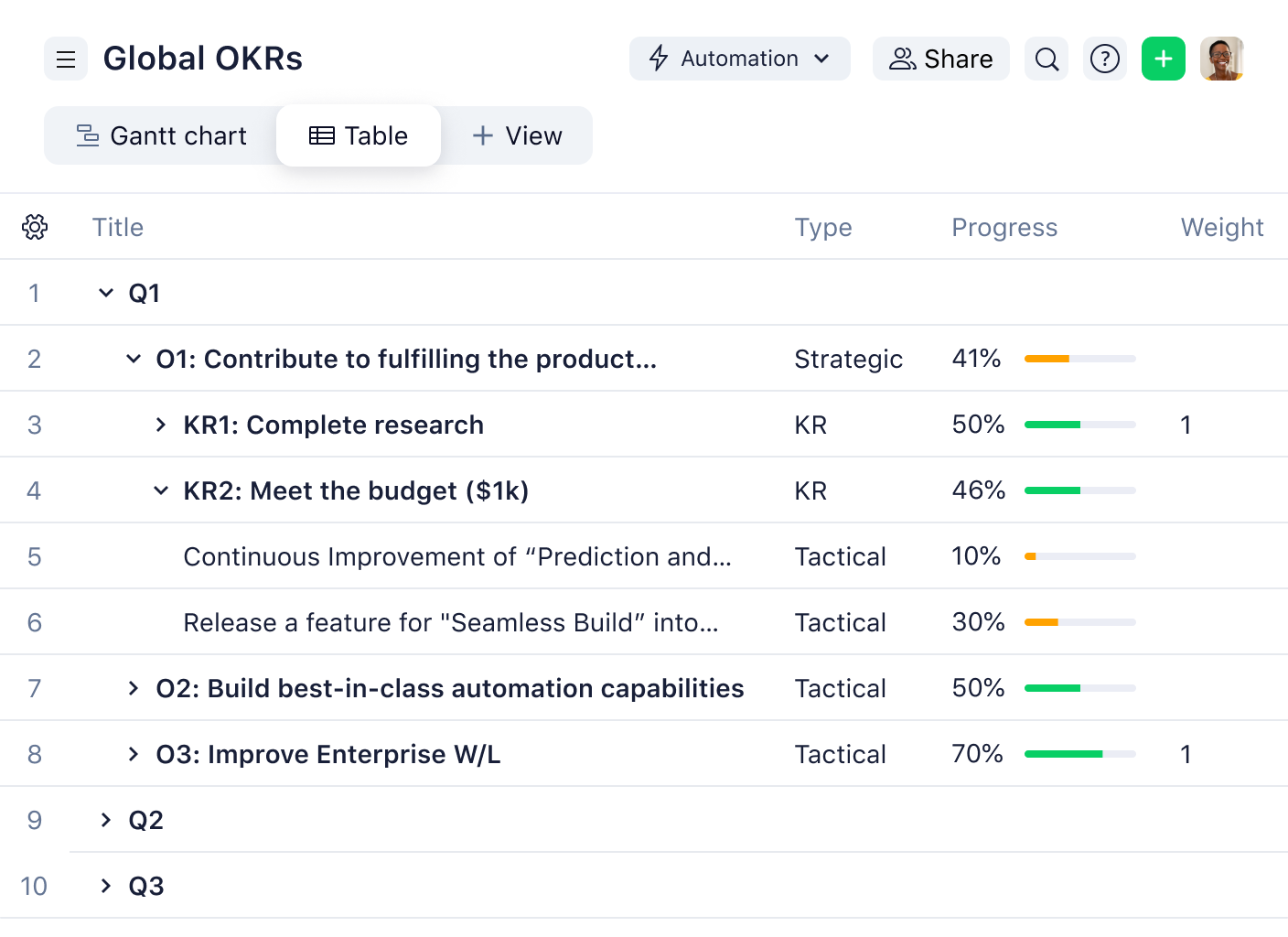 History of OKRs
The OKR framework was developed by Andy Grove, former CEO of Intel, in the 1970s. Grove introduced the concept in his book, "High Output Management," where he described OKRs as a simple yet powerful way to motivate teams around a common set of objectives.
In the 1990s, John Doerr, a former Intel employee and venture capitalist, introduced OKRs to Google's co-founders, Larry Page and Sergey Brin. Since then, the framework has been adopted by many leading technology companies and startups, including LinkedIn, Twitter, and Uber.
Benefits of implementing OKRs
Implementing the framework benefits organizations in many ways, as described below.
Improved alignment:

OKRs steer everyone in the organization toward the same strategic goals, creating a sense of unity

Increased focus:

By identifying the most important objectives, OKRs enable teams and individuals to concentrate on what matters most

Enhanced communication:

OKRs promote transparency and collaboration by providing a common language for discussing progress and challenges

Greater agility:

The cadence of OKR setting and review helps organizations respond to changing circumstances

Heightened engagement: When employees understand how their work contributes to broader organizational objectives, they're more likely to be engaged and motivated
Key components of OKRs
The full OKR framework actually consists of three main components: objectives, key results, and initiatives. (So why not OKRIs? Or even OKRA, which sounds far more fun? Your guess is as good as ours.)
Objectives
Objectives are the high-level strategic goals that an organization, team, or individual wants to achieve by a certain time. These goals should be clear and inspiring, and set a course for the organization. Objectives typically are qualitative and resonate with the organization's mission and values.
Key results
Key results are the quantitative outcomes (typically expressed as numbers or percentages) that indicate progress toward the stated objectives. They should be specific and time-bound, much like SMART goals, to provide a clear metric for success. Key results make it easy to assess progress and determine whether the objective has been met.
Initiatives
Not always included as a formal component of the OKR framework, initiatives are the practical steps that connect high-level goals to the day-to-day activities of the organization. Initiatives may take the form of projects or even one-off actions.
OKR alignment and cascading
A critical aspect of the OKR framework is alignment and cascading, which threads objectives throughout the organization. The alignment and cascading process typically involves three levels: the company, the team, and the individual.
Company-level OKRs
Company-level OKRs are the strategic goals set by the leaders. Company OKRs should be aligned with the mission, vision, and long-term objectives. These goals help guide the overall direction of the organization and serve as a reference point for setting team and individual OKRs.
Team-level OKRs
Team-level OKRs are the goals set by teams or departments to define their priorities. Team-level goals should be aligned with the company-level goals to help the team contribute to those goals.
Individual-level OKRs
Individual-level OKRs are the goals set by individual employees, often in collaboration with their managers. These goals should be aligned with both the company- and team-level goals so the individual's work can contribute to the success of both entities.
Individual-level OKRs give employees a sense of purpose within the company and promote personal growth and development.
OKR cadence: Choosing the right timeframe
Choosing the right timeframe, or cadence, for your OKRs is essential. Different organizations may adopt different OKR cadences, depending on their specific needs and circumstances. Three common cadences are described below.
Annual OKRs
Annual OKRs are the long-term strategic goals and priorities of an organization, a sort of high-level roadmap directed by the organization's mission and vision.
Quarterly OKRs
Quarterly OKRs are shorter-term goals that break down the annual goals and priorities into more manageable objectives. These quarterly OKRs allow the organization to adapt to changing circumstances throughout the year.
Monthly OKRs
Monthly OKRs are even shorter-term goals that further break down the quarterly goals. These allow organizations to quickly respond to new opportunities or challenges and are particularly useful for fast-paced or rapidly changing industries.
How to set OKRs: A step-by-step guide
To create strong OKRs, employees at all levels of the organization need to collaborate. This section presents you with a step-by-step guide to writing OKRs.
1. Identify the organization's strategic priorities: Begin by reviewing the company's mission, vision, and long-term objectives to identify the most critical priorities for the upcoming OKR cycle.
2. Define company-level OKRs: Based on these strategic priorities, set high-level objectives and associated key results for the organization.
3. Cascade goals to teams and individuals: Next, engage teams and individuals in setting their own OKRs, ensuring that they align with the company-level goals.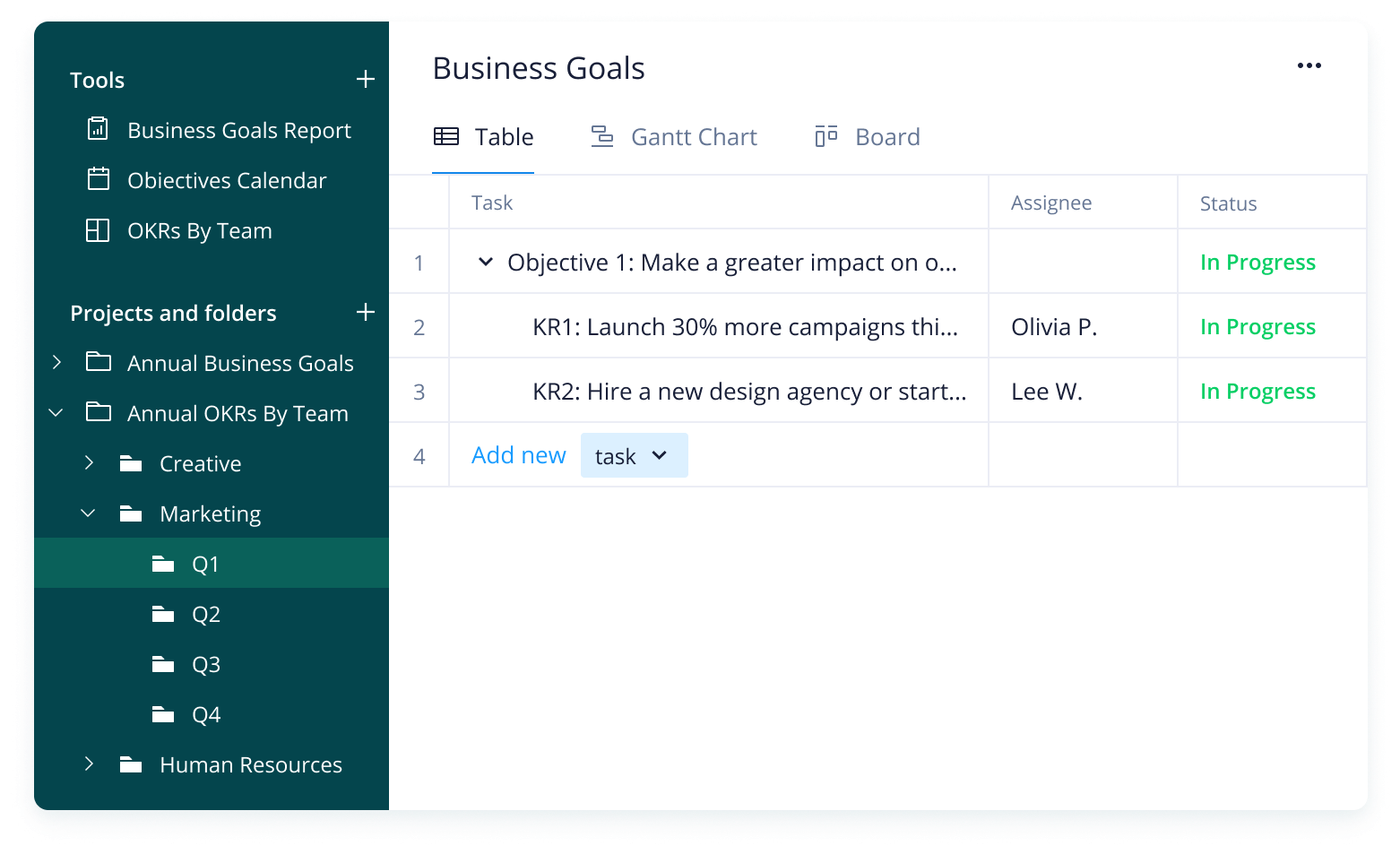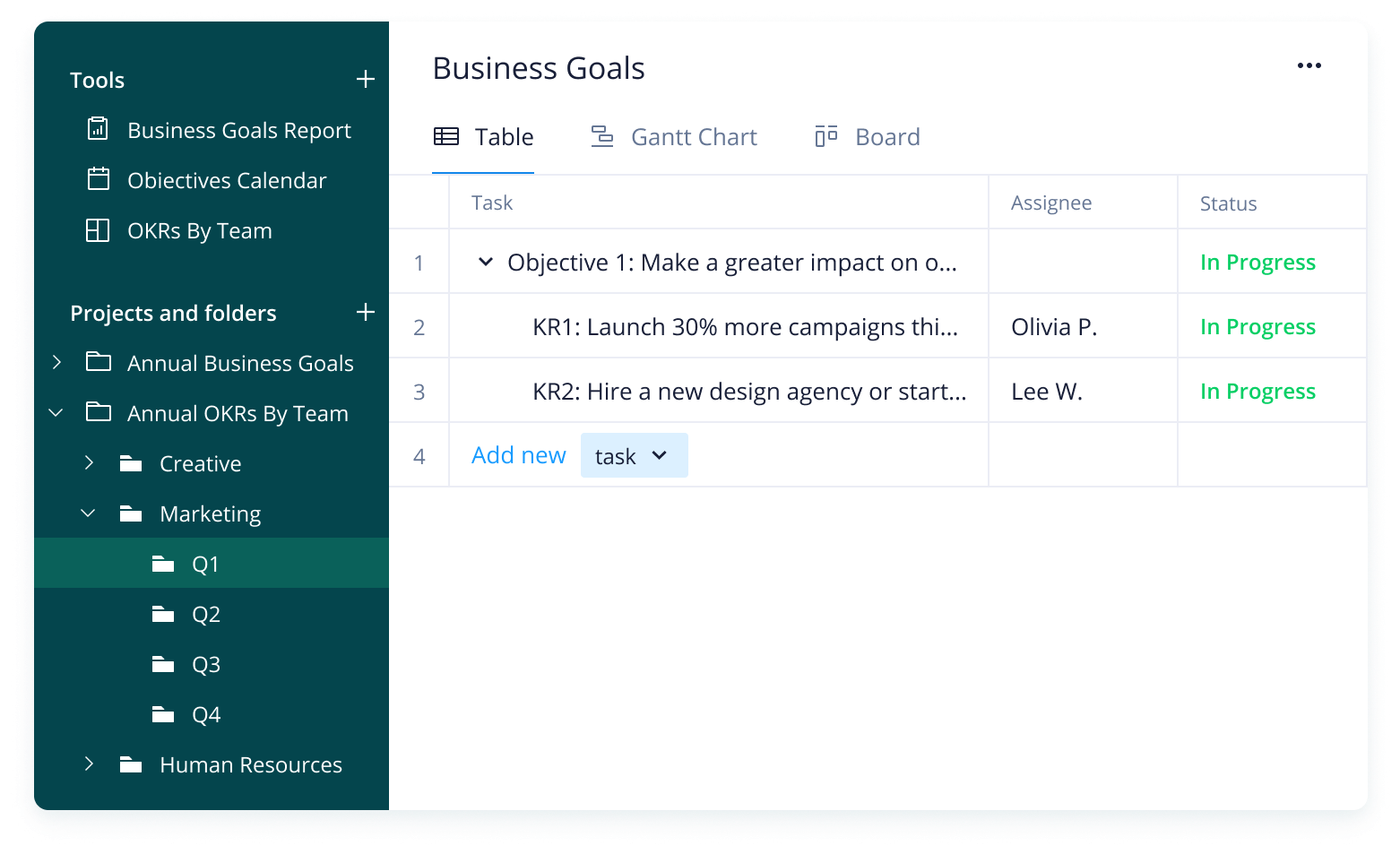 OKR template
An OKR template can help you organize and document your organization's objectives and key results. A simple OKR template includes a few sections, detailed below.
Objective: A clear, inspiring, and actionable statement of the goal to be achieved
Key results: One to three specific, measurable, and time-bound indicators of progress toward the objective
Initiatives: A list of actions or projects that will achieve the key results
This template can be used for company-level, team-level, and individual-level goals.
Wrike's pre-built OKR template
Wrike's collaborative work management platform offers a pre-built OKR template that simplifies the process of setting, tracking, and managing your organization's goals. The template provides a structured approach to creating and organizing your goals, making it easy for teams to collaborate.
With Wrike's pre-built template, you can start streamlining your goal setting process today.
Easily create and manage objectives and key results for your entire organization

Assign owners and collaborate on OKRs across departments and teams

Track progress and visualize performance in real time

Keep everyone in your organization accountable
OKR examples
To help illustrate the framework in practice, let's look at some good examples of OKRs for various roles and departments within an organization.
OKRs for sales
Objective: Increase sales revenue by 25% in Q2

Key result 1: Close 8 deals worth a combined total of $750,000

Key result 2: Increase the average deal size by 10%

Key result 3: Improve the sales conversion rate by 7.5%
OKRs for marketing
Objective: Increase website traffic by 20% in Q3

Key result 1: Generate 12,000 unique visitors per month through organic search

Key result 2: Increase social media referrals by 25%

Key result 3: Launch a new content marketing campaign that generates a total of 3,000 additional visitors
OKRs for finance
Objective: Improve cash flow management and reduce expenses by 15% in Q4

Key result 1: Decrease accounts receivable outstanding by 12 days

Key result 2: Implement a new expense tracking system and reduce expenses by 15%

Key result 3: Increase cash reserves by $250,000
OKRs for customer service
Objective: Improve customer satisfaction and loyalty

Key result 1: Increase customer satisfaction (CSAT) score by 20% by the end of the quarter

Key result 2: Reduce average response time for customer inquiries by 30% within three months

Key result 3: Implement a new customer feedback system and achieve a 25% response rate by the end of the year
OKRs for human resources
Objective: Enhance employee engagement and retention

Key result 1: Achieve an employee engagement score of 90% on the annual survey

Key result 2: Reduce employee turnover rate by 35% by the end of the fiscal year

Key result 3: Launch a new employee onboarding program and achieve an 87% satisfaction rate from new hires within six months
OKRs for software engineering
Objective: Improve software quality and development velocity

Key result 1: Reduce the number of high-priority bugs by 45% within three months

Key result 2: Increase the percentage of code covered by automated tests from 66% to 89% by the end of the quarter

Key result 3: Shorten the average time from code commit to production deployment by 25% within six months
OKRs for product management
Objective: Increase product adoption and user satisfaction

Key result 1: Launch a new product feature that achieves a 33% adoption rate among the user base within three months

Key result 2: Improve net promoter score by 12 points by the end of the quarter

Key result 3: Conduct 8 customer interviews per month to gather feedback and inform product roadmap prioritization
OKRs for PMO
Objective: Optimize project management processes and outcomes

Key result 1: Achieve an on-time project completion rate of 89% within the next six months

Key result 2: Reduce the average project budget variance by 12.5% by the end of the year

Key result 3: Implement a new project management software, achieving 100% adoption among project managers within three months
Tips for successfully implementing OKRs
To successfully implement the framework in your organization, consider the following tips.
Involve employees in the goal-setting process:

Engage employees at all levels in setting and refining their own OKRs.

Regularly review and adjust goals:

Schedule regular check-ins to review progress toward OKRs. Adjust as needed to respond to new opportunities or challenges.

Be transparent and open about objectives:

Encourage open communication about OKRs, progress, and challenges.

Keep goals manageable and focused:

Limit the number of OKRs for each individual or team to ensure focus and prevent overwhelm.

Celebrate success and learn from failures:

Recognize and celebrate achievements. Treat setbacks as opportunities for learning and improvement.
Common challenges and how to overcome them
Implementing the OKR framework can present certain challenges — three in particular.
Lack of alignment:

Ensure that all goals are designed to achieve the organization's strategic priorities. There should be a clear line of sight from company-level to individual-level goals.

Resistance to change:

Train employees on OKRs so they understand the framework and know how to use it.

Overemphasis on metrics:

Although key results should be measurable, not everything that matters can be measured, and not everything that can be measured matters. Use good judgment when setting key results.
Monitoring and adjusting OKRs
Schedule periodic check-ins, such as weekly or monthly meetings, to review progress toward OKRs and discuss any challenges or opportunities that have arisen. During these check-ins, be prepared to adjust objectives, key results, or initiatives to ensure continued support of the organization's strategic priorities.
When adjusting goals, consider the following factors:
Changes in the external environment:

New opportunities, threats, or market conditions may mean you'll need to adjust your OKRs.

Internal changes within the organization:

Restructuring or new leadership may require a reassessment of your OKRs.

Progress toward objectives and key results:

If significant progress has been made toward an objective, it may be appropriate to set a new, more ambitious objective. Conversely, if an objective is proving too challenging, it may be necessary to revise the objective or key results to make them more achievable.
Case studies: Successful implementation of OKRs
To further illustrate the power of the framework, let's explore some real-life case studies of organizations that have successfully implemented this goal setting framework.
Google
As we mentioned above, Google is perhaps the most prolific example of a company that's successfully adopted OKRs. Since the early 2000s, Google has used OKRs to align and focus its teams around the company's most critical priorities. This goal setting framework has played a significant role in helping Google become one of the world's most valuable companies.
LinkedIn
LinkedIn has also adopted OKRs to drive growth and innovation. By setting ambitious objectives and measurable key results, LinkedIn has been able to maintain its position as a leading platform for professional networking, career development, and talent acquisition.
Intel
Intel, the company where it all started, has continued to use the OKR framework to maintain its competitive edge in the rapidly evolving technology industry. OKRs have helped Intel focus on its most important strategic priorities to stay relevant in a highly competitive market.
Implement the OKR framework with Wrike
You know by now that OKRs are a powerful goal setting framework for helping organizations of all sizes align, focus, and engage their teams around shared objectives. By implementing the framework and regularly monitoring and adjusting goals, organizations can significantly improve performance.
Wrike is an excellent platform for setting and tracking OKR goals. Wrike's dedicated OKR template allows users to define measurable objectives, set key results that determine progress toward those objectives, and assign owners and deadlines to each key result.
Additionally, Wrike's customizable dashboards provide a clear visual of the progress toward each objective, making it easy to identify any potential roadblocks and adjust your approach accordingly.
Wrike also offers advanced reporting and analytics capabilities, allowing users to track progress and measure success against defined OKRs.
If you're ready to create your own OKRs, look no further than Wrike.