Department Objectives: How to Set Them
This article was created with the assistance of an AI engine. It has been reviewed and revised by our team of experts to ensure accuracy and quality.
Introduction to Department Objectives
In today's fast-paced and competitive business environment, setting department goals is critical for getting ahead of the game. Department goals encourage employees to perform better individually and coordinate their efforts to benefit the company.
This article explores:
The importance of department goals
Tips for setting worthwhile goals
Examples of goals for various departments
Strategies to overcome common challenges
Before we dive into department goals, unlock a free trial with Wrike to kick-start your goal setting journey.
The importance of department goals
Department goals are essential because they:
Align each department's efforts with the organization's objectives

Help teams prioritize tasks and allocate resources efficiently

Provide direction and focus for the department

Encourage collaboration and teamwork

Serve as an objective tool for performance evaluation
Key considerations in setting department goals
When setting department goals, consider the following factors: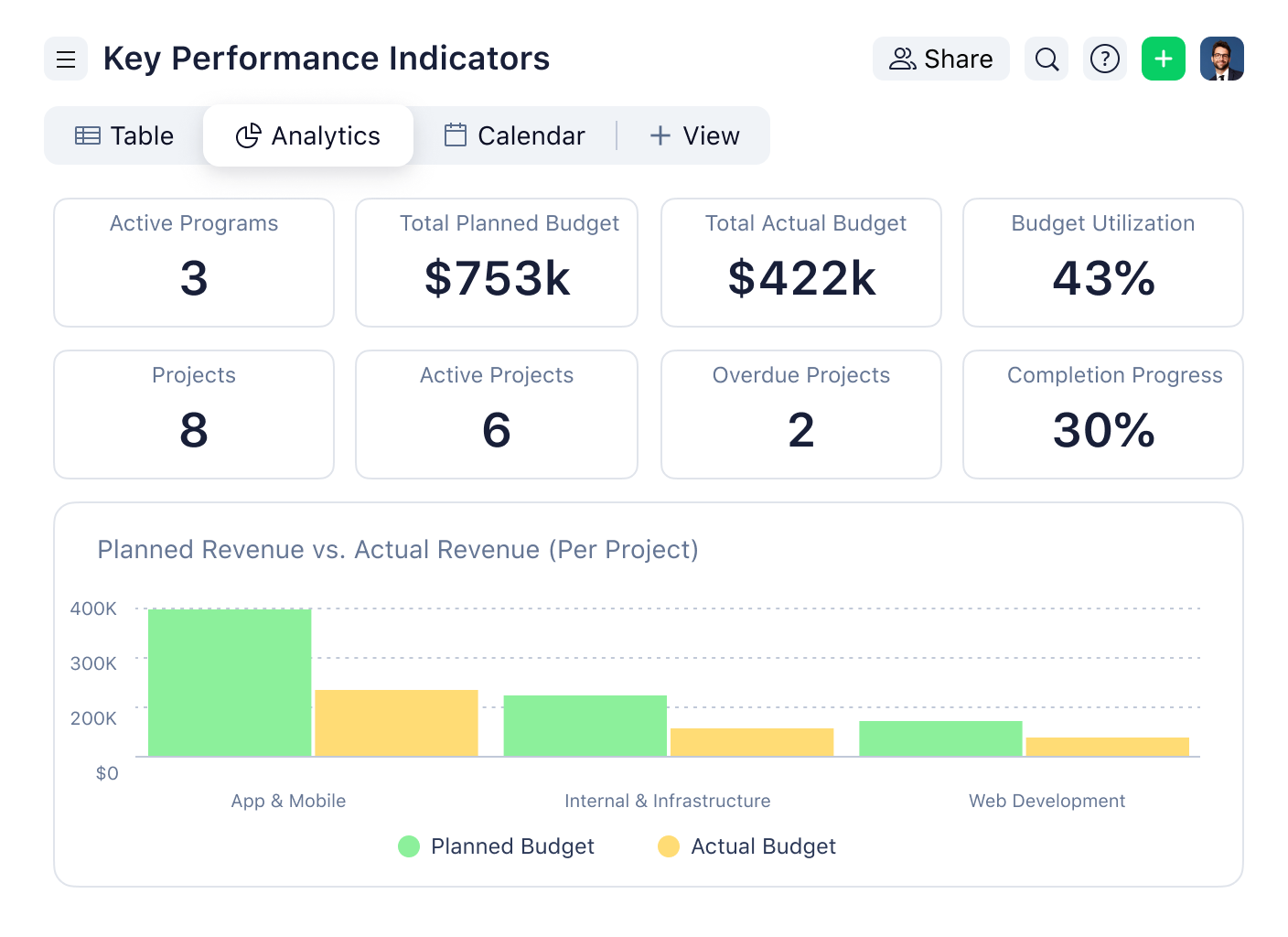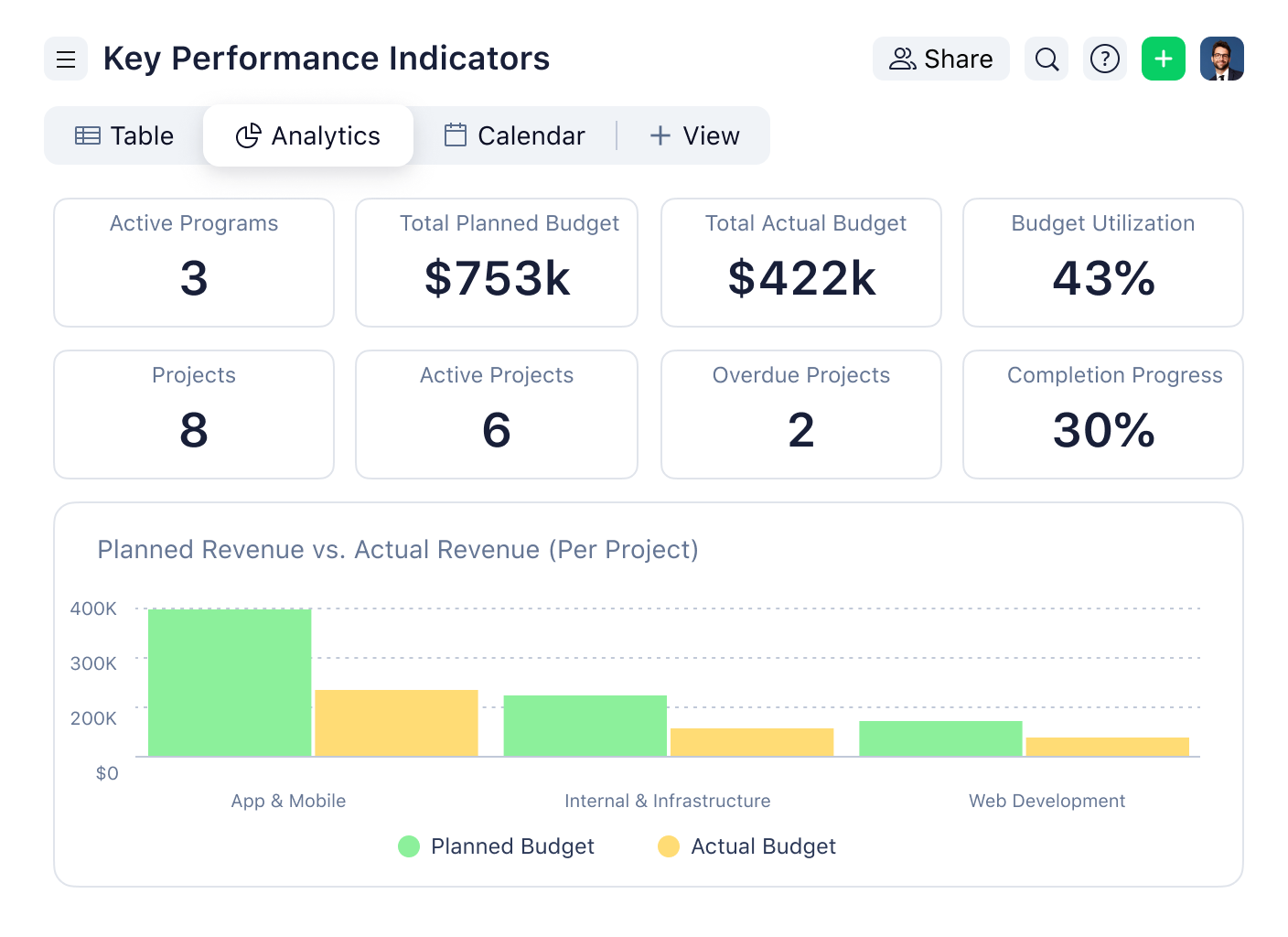 Resource availability:

Consider the budget, personnel, technology, and time available to the department, and set realistic goals that can be achieved within these constraints

Employee skills and expertise:

Set goals that make the most of employees' strengths and offer opportunities for growth and development
Tips for setting department goals
Ready to create your own? Setting department goals can be accomplished by following these four steps:
Involve department members

in the goal setting process so they'll have a sense of accountability for achieving the goals

Set SMART goals

with clear targets that you can easily track and evaluate

Clearly communicate department goals

to all team members, making sure each understands their roles and responsibilities in achieving them

Monitor progress and adjust as needed

to allow for timely course corrections and to keep the goals relevant and achievable
Achieve goals across all departments

Department goal examples
You know the saying "Different strokes for different folks"? It applies to your company departments too.
Department goals can look quite different for each department, even though such goals should always tie into both the organizational objectives and individual goals. The examples below illustrate this more clearly.
Sales department goals
Increase quarterly revenue by 12.5%

Improve lead-to-customer conversion rate by 23%

Expand into three new markets by the end of the year
Marketing department goals
Increase website traffic by 35%

Generate 450 new leads per month

Improve social media engagement by 33%
Finance department goals
Reduce operating expenses by 7.5%

Maintain a cash reserve of at least six months' worth of expenses

Improve the accuracy of financial forecasts by 20%
Human resources department goals
Reduce employee turnover rate by 15%

Fill open positions within 21 days of posting

Increase employee engagement scores by 25%
Customer service department goals
Improve customer satisfaction ratings by 33%

Reduce average response time to customer inquiries by 40%

Implement a new customer feedback system by Q2
IT department goals
Improve system uptime to 99.999%

Implement a new cybersecurity strategy by the end of Q4

Complete the migration to a new cloud infrastructure within three months
Cascading department goals to individual goals
To match department goals with individual goals, follow these steps:
Break down department goals

into tasks or simple projects. In this way, individual goals automatically contribute to the department goals.

Assign individual goals to team members based on their role, their expertise, and the department's objectives. Ensure that the goals are SMART and that expectations are made clear.

Regularly review progress

toward individual goals, providing feedback and support as needed. Adjust goals as required to ensure they remain relevant.

Recognize and reward employee achievement

to make goals a natural part of the company and department culture.
By cascading department goals into individual SMART goals, you help each team member understand their unique contribution to a common purpose. Cascading also lets your department track its progress more effectively.
Example of cascading department goals
Let's say a sales department wants to increase revenue by 25% within the next quarter. Here's how this department goal could be cascaded into individual goals for team members:
Sales manager
Develop and implement a new sales strategy by the end of April

Provide weekly coaching and feedback to sales reps to improve their sales skills

Monitor and evaluate the progress of each sales rep on a biweekly basis
Sales rep A
Increase the number of qualified leads by 12.5% each month

Convert 33% of qualified leads into customers by the end of the quarter

Attend weekly sales coaching sessions and apply learned techniques to improve sales performance
Sales rep B
Increase the average deal size by 20% within the next quarter

Maintain a closing ratio of 35% or higher throughout the quarter

Participate in product training to improve knowledge and sales pitches
Challenges and tips for department objectives
This isn't to say that setting and achieving department goals is always easy. Below are some common challenges and solutions:
Challenge: Lack of alignment
Solution: Tie department goals to organizational objectives
Challenge: Insufficient funds or other resources
Solution: Allocate resources appropriately and set realistic expectations
Challenge: Overly ambitious goals
Solution: Involve team members in the goal setting process so they fully understand what's expected of them
Challenge: Inadequate communication
Solution: Encourage employees to communicate openly and work together
Challenge: Resistance to change
Solution: Provide ongoing support, feedback, and recognition to motivate and engage employees
Set and achieve departmental goals with Wrike
Setting departmental goals increases the likelihood of corporate success, and Wrike is a powerful platform for accomplishing this task. With Wrike, department heads can easily define and communicate specific goals to their teams, breaking them down into actionable tasks and subtasks.
Wrike also enables seamless collaboration, allowing team members to contribute their insights and expertise in real time, ensuring that the goals are comprehensive and realistic. Use @mentions, app integrations, and online proofing to provide clarity and accountability throughout the goal setting process.
Additionally, Wrike's Kanban boards, Gantt charts, and dashboards allow departments to visually monitor their progress and make adjustments where required.
Long story short, if you need to create departmental goals, you need Wrike.