Goal Setting Theory and Frameworks
This article was created with the assistance of an AI engine. It has been reviewed and revised by our team of experts to ensure accuracy and quality.
An Introduction to Goal Setting Frameworks
Goal setting is an essential component of wise business planning and management. By establishing clear, measurable, and achievable objectives, your team can create a roadmap to success, prioritize resources, and stay motivated.
In this article, we provide an overview of popular goal setting frameworks and guide you in choosing the best approach for your organization. Before you dig in, unlock a free trial with Wrike — the most powerful solution for setting goals and incorporating relevant goal setting frameworks into your business strategy.
Goal setting theory: The foundation of effective goal setting
Goal setting theory was first introduced in the late 1960s by American psychologist Dr. Edwin Locke and expanded upon by Dr. Gary Latham in the 1990s. The theory is based on Locke's research on motivation as it relates to goal clarity and goal challenge. Latham worked with Locke to expand on the latter's findings, exploring the roles of goal commitment, feedback, and task complexity in driving performance and motivation.
Goal setting theory has been widely adopted in various industries and sectors, including business, education, sports, and healthcare. The framework has been applied to organizational settings ranging from small startups to large global corporations, as well as to individual performance and personal development.
Key elements of goal setting theory include:
Goal clarity:

Locke found that clearly defined goals are more effective than vague or ambiguous ones. Specific goals provide a target to aim at and help individuals focus on what needs to be accomplished.

Goal challenge:

Locke also found that challenging goals are more motivating than easy ones are and lead to better outcomes. When goals are challenging, they push individuals to develop new skills, think creatively, and persevere in the face of obstacles.

Goal commitment:

The more committed a person is to a goal, the more likely they are to achieve it. That's because higher commitment is associated with greater effort and persistence. Commitment can be influenced by factors such as the perceived importance of the goal, self-efficacy, and support from others.

Feedback:

Regular feedback on progress toward goals helps individuals stay on track, adjust their efforts, and maintain motivation. Feedback can come from various sources, including oneself, peers, and supervisors.

Task complexity:

When tasks are complex, individuals may require additional time, resources, or support to achieve the desired outcome.
In short, groups and individuals that incorporate the principles of goal setting theory into their goal setting practices are more likely to achieve success. The theory's emphasis on clarity, challenge, commitment, feedback, and task complexity provides a solid foundation for developing goals that lead to real change.
An overview of popular goal setting frameworks
Various goal setting frameworks have been developed to help organizations create useful goals. The following sections outline the key features and benefits of each framework.
SMART goals
SMART stands for specific, measurable, achievable, relevant, and time-bound. This framework ensures goals have a set deadline and are clear, realistic, and aligned with organizational priorities. SMART goals are easy to understand and help create a tangible target for team members.
Objectives and key results (OKRs)
An OKR is a goal setting framework that focuses on defining objectives (high-level goals) and corresponding key results (measurable outcomes). OKRs encourage alignment and collaboration, ensuring all team members are working toward the same objectives. This framework has been adopted by numerous successful companies, including Google and LinkedIn, so you can be sure it's a smart option for yours.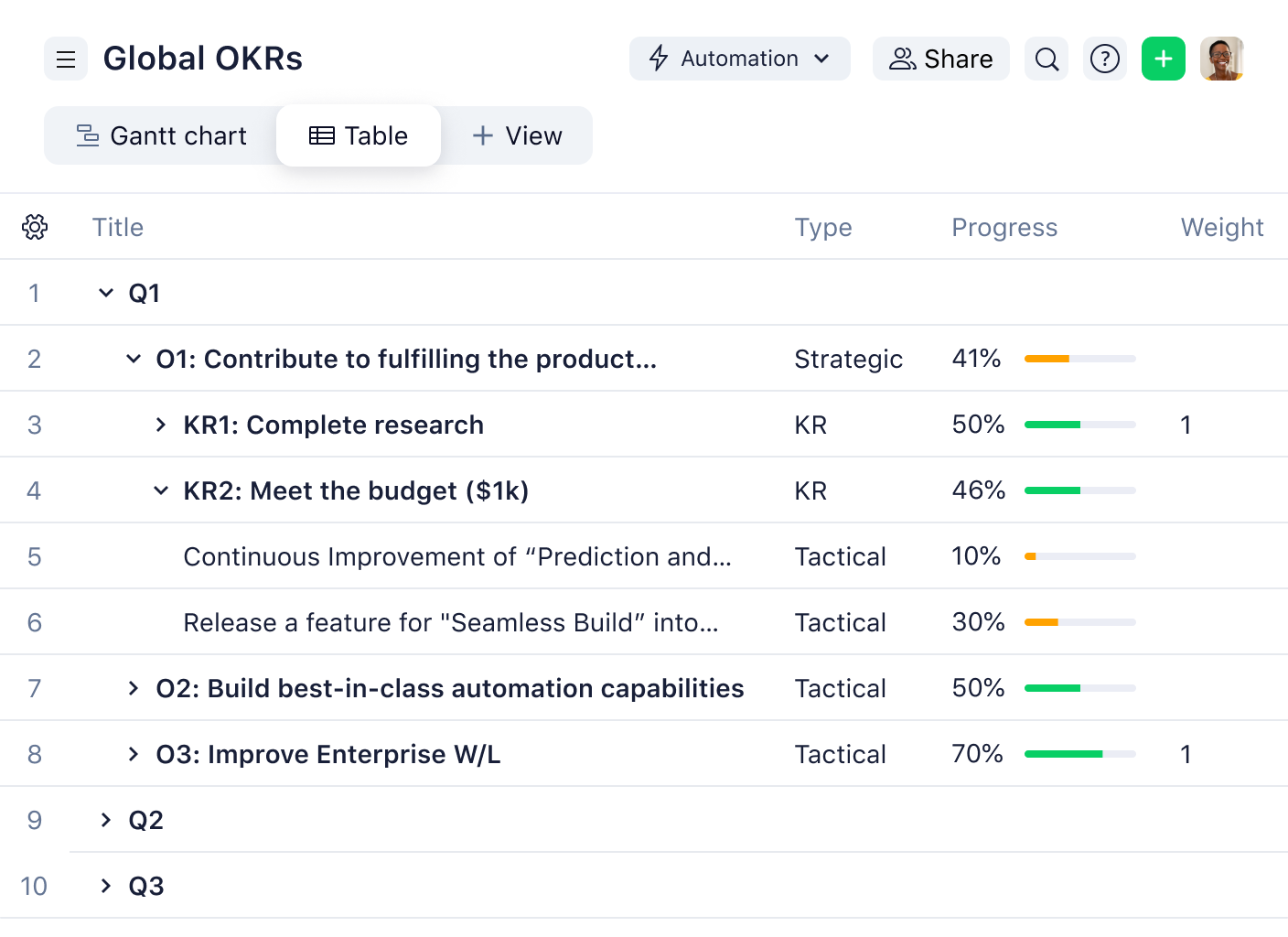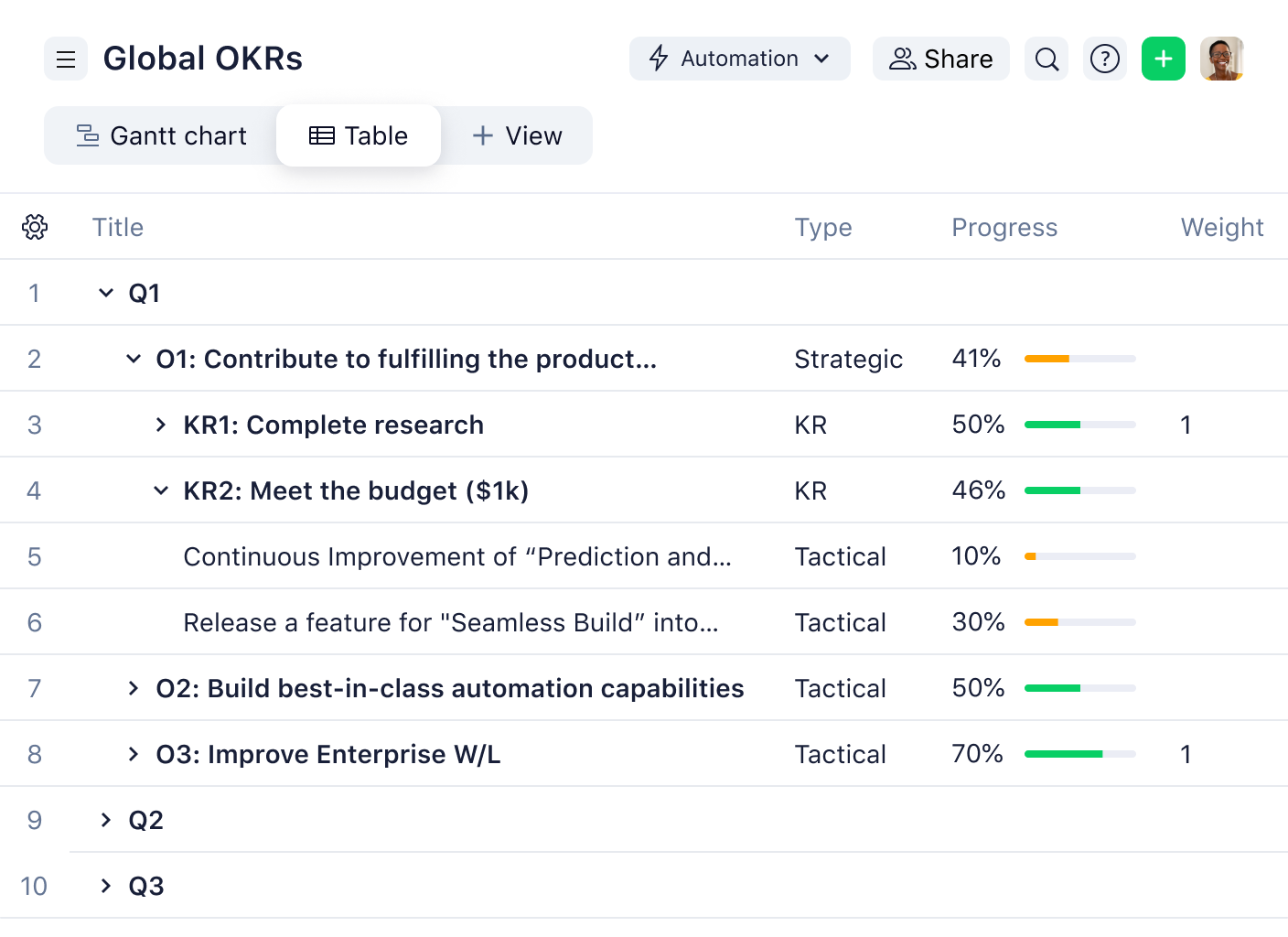 Key performance indicators (KPIs)
Mentioned frequently alongside OKRs, KPIs measure the success of an organization, team, or individual in achieving specific goals. KPIs provide a clear focus on performance and help identify areas for improvement. Examples of KPIs include revenue growth, customer satisfaction, and employee retention.
Balanced scorecard
The balanced scorecard is a performance management metric that considers four perspectives: financial, customer, internal processes, and learning and growth. This approach ensures an even focus on short-term and long-term objectives, emphasizing both financial and non-financial measures.
Management by objectives (MBO)
The MBO framework involves setting specific, measurable goals with employees. MBO promotes employee engagement, motivation, and personal development by aligning individual goals with organizational objectives — so everyone feels part of the team.
The golden circle
Leadership expert Simon Sinek's golden circle framework focuses on defining an organization's "why" (purpose), "how" (process), and "what" (product or service). By starting with the purpose, organizations can create meaningful goals that inspire employees.
The 4DX framework
Not to be confused with a cinematic experience, the four disciplines of execution (4DX) framework emphasizes focus, leverage, engagement, and accountability. 4DX helps organizations achieve their most important goals by prioritizing critical tasks, measuring progress, and fostering a culture of accountability.
Big hairy audacious goals (BHAG)
BHAGs are long-term, visionary goals that aim to inspire organizations to achieve extraordinary results. BHAGs challenge organizations to think big and set ambitious targets, pushing them to innovate and grow. Plus, it's a lot of fun to say.
Backward goals
Don't be fooled by the name. Backward goal setting involves first defining the desired result and then working backward to identify the steps and milestones needed to achieve that outcome. This approach helps organizations create a clear roadmap for success, ensuring all tasks and resources are aligned with the ultimate goal.
One-word goal setting
One-word goal setting is a simple yet impactful framework that involves choosing a single word to represent the overall theme or focus for the organization. This word serves as a guiding principle, helping to unify team efforts and create a shared understanding of the organization's priorities.
Locke and Latham's five principles
The five principles, derived from Locke and Latham's goal setting theory, emphasize the importance of goal clarity, challenge, commitment, feedback, and task complexity. These principles can be applied to any goal setting framework to improve performance.
Tiered goals framework
The tiered goals framework involves breaking down overarching organizational goals into smaller, more manageable ones at all levels. This approach helps create a clear line of sight between individual tasks and the overall mission.
Beyond SMART (BSQ) framework
The BSQ framework builds on the SMART approach, adding three additional criteria: bold, simple, and quantified. Bold goals are ambitious and challenging. Simple goals are easy to understand and communicate. And quantified goals are measurable and trackable.
Objectives, goals, strategies, and measures (OGSM)
OGSM is a strategic planning tool that ensures a comprehensive approach to goal setting. This framework considers not only the desired outcomes but also the specific strategies and tactics required to achieve them.
Goal pyramid
The goal pyramid is a visual tool for organizing and prioritizing goals at various levels within an organization. By arranging goals in a hierarchical structure, the goal pyramid helps teams visualize the most important objectives at a glance.
Streamline your goal setting process in one platform

How to choose the right goal setting framework for your business
Selecting the most appropriate goal setting framework for your organization depends on your industry, organizational culture, size, and strategic priorities.
Consider the following when choosing a framework:
Assess your organization's current performance and identify areas for improvement

Determine the level of complexity and granularity required for your goals

Evaluate the level of employee involvement and collaboration desired

Consider the ease of implementation and adaptability of the framework
Implementing your chosen goal setting framework
So, you've chosen the right goal setting framework for your organization. What now? Simply follow these steps to implement it:
Communicate the chosen framework and its benefits to your team

Train employees and managers on the framework and its application

Align the framework with your organization's mission, vision, and values

Develop goals using the selected framework, involving employees in the process

Monitor progress regularly and provide feedback to employees
Monitoring and adjusting your goal setting approach
To get the most out of your chosen goal setting framework, you'll want to monitor and adjust your approach as needed. Regularly review your goals, your progress, and the framework's suitability for your organization. Consider any changes in the business environment, organizational priorities, or employee feedback, and adjust your goals and framework accordingly.
Implement goal setting frameworks with Wrike
You've probably gotten the hint by this point: Selecting and implementing the right goal setting framework leads to success. By choosing a framework that aligns with your organization's unique needs and priorities, you can create clear, attainable goals that engage employees. Remember to monitor and adjust your goal setting approach regularly as changes arise.
Wrike is a collaborative work platform that lets your team set and track goals in real time. You can also implement goal setting frameworks in Wrike. Features such as custom dashboards and Kanban boards allow for seamless communication and alignment among team members. Wrike's automation capabilities can also help streamline workflows and reduce the time and effort required to manage and monitor goals.