SMART Goals: An Ultimate Guide With Examples
This article was created with the assistance of an AI engine. It has been reviewed and revised by our team of experts to ensure accuracy and quality.
Introduction to SMART goals
Let's take a deep dive into the specifics of goal setting. One widely used approach to goal setting is the SMART criteria, which can help your team create well-defined, realistic, and practical objectives.
In this article, we:
Delve into the concept of SMART goals

Explore the benefits of using them

Provide a step-by-step process for creating them

Share a SMART goals template

Offer examples across various industries

Provide tips for implementing SMART goals and overcoming common challenges
Before we begin, try Wrike's pre-built and customizable business goals template to set and track your SMART goals. Unlock a free trial today to kick-start your goal setting process.
What are SMART goals?
SMART goals share five key characteristics: specific, measurable, achievable, relevant, and time-bound. This approach to goal setting helps groups and individuals create clear, practical goals that are more likely to succeed. SMART is a popular framework for developing defined goals that are aligned with broader organizational priorities.
Let's look at each of the components of SMART goals in detail.
Specific
A specific goal is well defined and easy to understand. It provides details about what's to be achieved and removes any ambiguity. Specific goals answer the who, what, where, when, and why questions, ensuring that everyone involved understands the expectations.
To create a specific goal, provide as much detail as possible about the desired outcome. Note the actions and resources needed to achieve it. Consider the following questions when evaluating the specificity of a goal:
Who is responsible for achieving this goal?

What exactly needs to be accomplished?

Where will the actions to achieve the goal take place?

When is the deadline for achieving the goal?

Why is this goal important to the organization?
Here's a good example of a specific goal: Increase website traffic by 25% within the next quarter by implementing a targeted content marketing and SEO strategy.
Contrast this with a bad example of a specific goal: Improve website performance.
Measurable
A measurable goal has metrics or indicators you can use to track progress and assess success. By making a goal measurable, you create a crystal-clear method for evaluating whether the goal has been achieved. Measurable goals help teams stay focused and accountable for their performance.
To create a measurable goal, identify the specific metrics you'll use to track progress and determine success. Ask the following questions when determining the measurability of a goal:
How will progress toward this goal be tracked?

What metrics or indicators will be used to assess success?

Can the progress be quantified or measured objectively?

Is there a clear method for determining when the goal has been achieved?

How will the results be reported and evaluated?
Good example: Decrease the average time spent resolving customer support tickets by 15% within the next six months.
Bad example: Enhance customer support efficiency.
Achievable
An achievable goal is realistic and attainable, taking into account the available resources, constraints, and timeframe. Setting achievable goals helps team members stay motivated because they can envision the steps required to reach the goal.
To create an achievable goal, consider the resources available, the potential challenges, and the timeframe for achieving the goal. You'll have to strike a balance between setting ambitious goals and keeping them realistic.
Here are the questions to ask when evaluating the achievability of a goal:
Are the required resources available, or can they be acquired?

What are the constraints or potential issues?

Is the timeframe for achieving the goal realistic?

Have similar goals been achieved successfully in the past?

Is it an attainable goal yet ambitious with the given resources and timeframe?
Good example: Grow the company's annual revenue by 10% within the next fiscal year by expanding into two new markets and launching three new products.
Bad example: Double the company's annual revenue within the next six months.
Relevant
A relevant goal relates to overarching company priorities and contributes to the overall success of the organization. By setting relevant goals, you help your team concentrate its efforts in the right areas.
These questions will help you determine if a goal is relevant or not:
How does this goal align with the organization's mission, vision, and strategy?

Will achieving this goal help the organization succeed?

Are there any potential negative consequences or trade-offs associated with pursuing this goal?

Are team members and stakeholders committed to and invested in the goal?
Good example: Improve employee engagement by implementing a quarterly team building event and monthly one-on-one meetings between managers and employees.
Bad example: Increase the number of social events held at the office.
Time-bound
A time-bound goal has a specific deadline, creating a sense of urgency and accountability. By setting a deadline, you ensure there's a clear endpoint for evaluation. Time-bound goals help maintain momentum, as team members can see the finish line and work toward it.
To create a time-bound goal, establish a clear and realistic timeframe for achieving the goal. The deadline should be ambitious enough to create a sense of urgency but also allow enough time to accomplish the goal.
Ask yourself the following questions:
What is the deadline for achieving the goal?

Is the timeframe realistic, considering the resources and constraints?

Does the deadline create a sense of urgency and encourage focused effort?

How will progress be tracked throughout the timeframe?

Are there any potential problems that could impact the deadline?
Good example: Launch the new e-commerce website by August 31st, ensuring all critical features are implemented and tested.
Bad example: Develop a new e-commerce website in the future.
By aligning your goals with the SMART criteria, you increase your odds of success. Specific, measurable, achievable, relevant, and time-bound goals provide a solid foundation for growth, helping teams stay focused as they work toward their targets.
Why use SMART goals?
Following the SMART goal framework is, well, a very smart idea. That's because SMART goals offer several benefits for organizations and individuals alike. These include:
Improved clarity:

SMART goals are goals that everyone can understand and work toward

Enhanced focus:

By providing a breakdown of actionable steps, SMART goals encourage focus on achieving them

Increased motivation:

Setting achievable and time-bound goals helps maintain motivation because progress can be tracked and smaller successes can be celebrated along the way

Better alignment:

When goals are relevant and aligned with organizational priorities, efforts can be concentrated on the right areas

Greater accountability:

Measurable goals make organizations and individuals accountable for their progress and performance
Although SMART goals offer many benefits, they also have some limitations:
Oversimplification:

The SMART framework sometimes oversimplifies complex goals, removing nuance and possibly glossing over important aspects of a goal

Inflexibility:

Rigid adherence to the predefined structure of SMART goals may limit employee creativity and innovation

Overemphasis on short-term objectives:

The time-bound nature of SMART goals can sometimes over-focus on short-term achievements at the expense of long-term strategic planning
How to create SMART goals: A step-by-step process
TL;DR? No worries — we've broken down how to create SMART goals into seven easy steps:
1. Identify the goal: Start by determining what you want to achieve
2. Make it specific: Clearly define the goal, ensuring it answers the who, what, where, when, and why questions
3. Set measurable criteria: Identify the metrics and indicators you'll use to track progress and assess success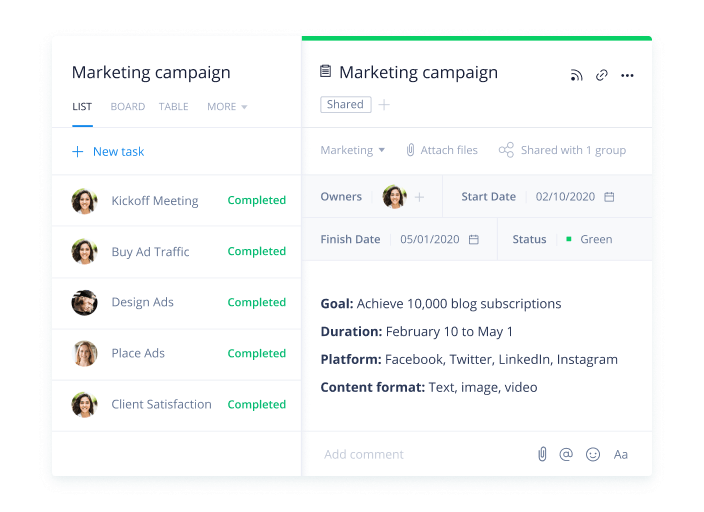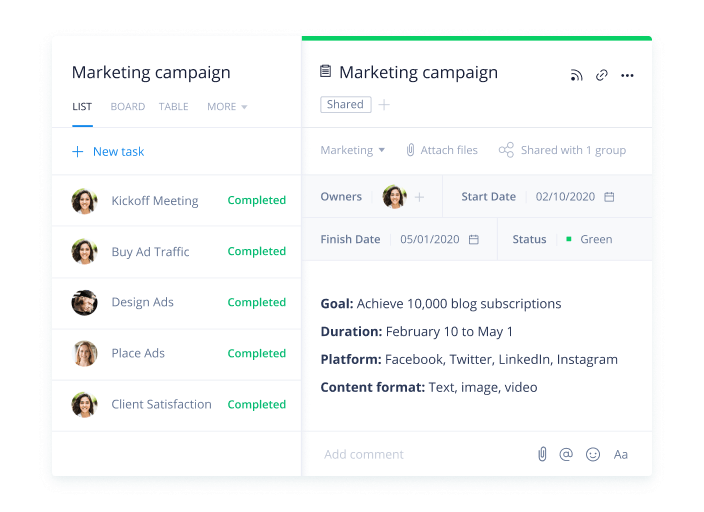 4. Ensure it's achievable: Consider the available resources (e.g. time, workforce) to confirm that the goal is realistic and attainable
5. Align with organizational priorities: Make sure the goal is relevant and contributes to the overall success of the organization
6. Set a deadline: Establish a timeframe for achieving the goal
7. Communicate the goal: Share the SMART goal with team members and stakeholders to ensure everyone is aware and aligned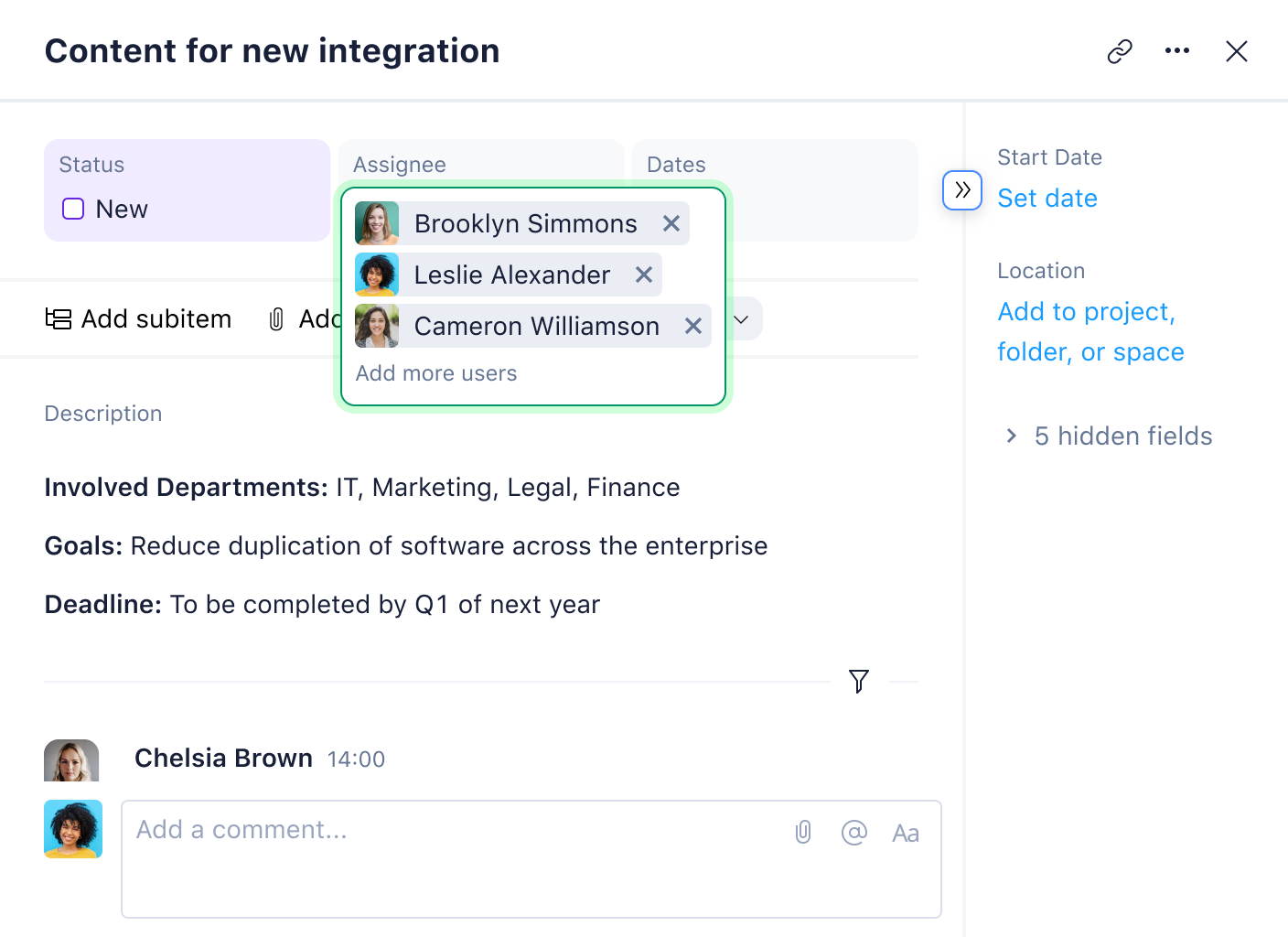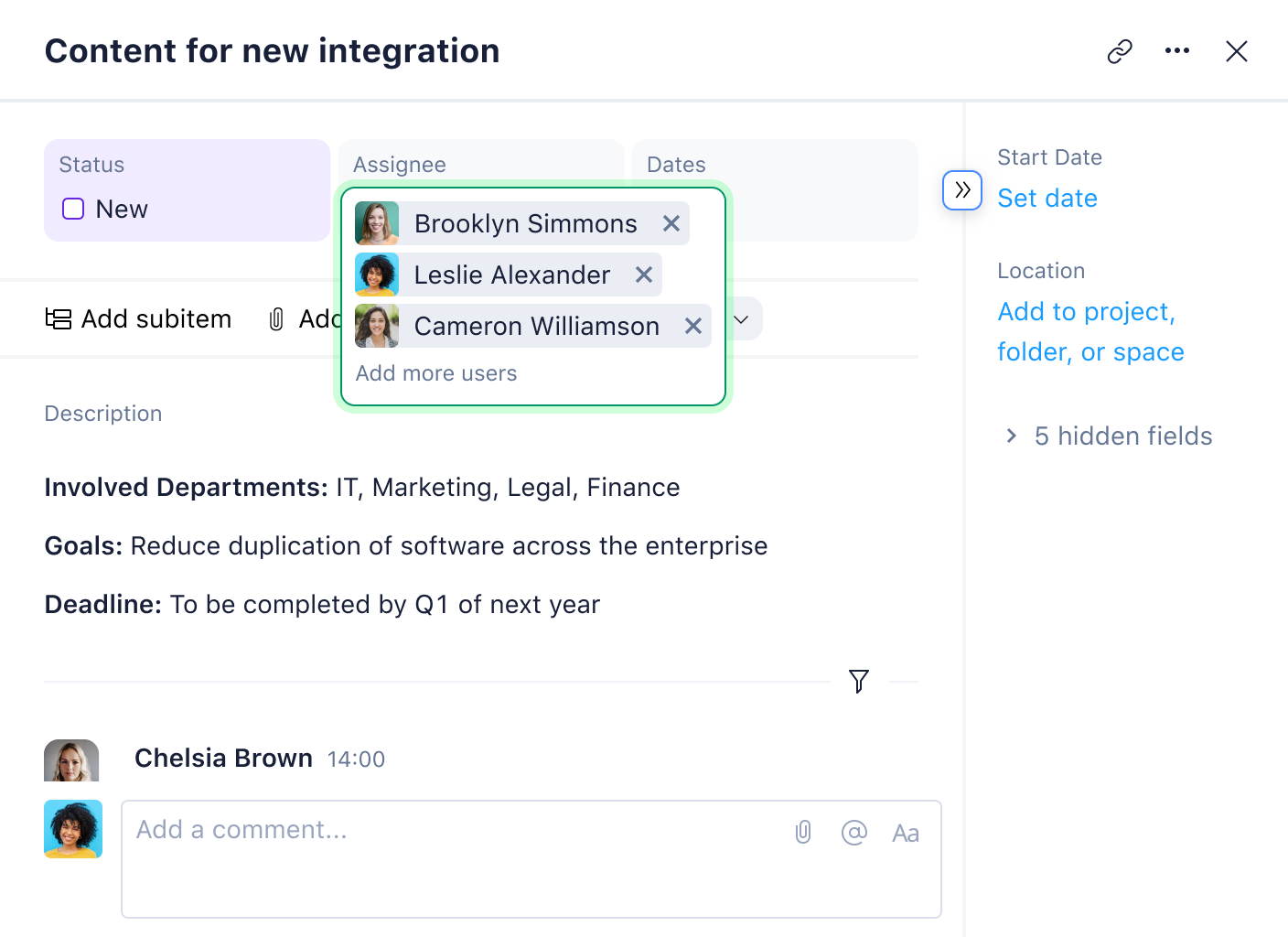 SMART goals template
Need to save some time without cutting corners? You can use a SMART goals template to streamline the goal setting process and ensure all criteria are met. The template below provides a simple structure for creating a SMART goal.
Goal: [Overall objective]
Specific: [Clearly defined goal addressing the who, what, where, when, and why]
Measurable: [Metrics and indicators used to track progress]
Achievable: [List resources, constraints, and timeframe]
Relevant: [Alignment with organizational priorities]
Time-bound: [Deadline for achieving the goal]
SMART goals examples
The following examples illustrate SMART goals across various industries and functions.
SMART goal for sales
Increase the number of qualified leads by 20% within the next quarter by implementing a targeted content marketing campaign (including TikTok, Instagram, etc.) and sales outreach strategy (including targeted emails).
SMART goal for marketing
Improve website conversion rate by 15% within the next six months by optimizing the user experience (e.g., improved interface), refining calls-to-action, and conducting A/B testing.
SMART goal for finance
Reduce operating expenses by 10% over the next fiscal year by streamlining processes (e.g., moving all teams to one work platform), renegotiating supplier contracts, and implementing cost-saving measures.
SMART goal for customer service
Achieve a customer satisfaction rating of 90% or higher within the next three months by improving response times, providing additional training to staff, and implementing a customer feedback system. You can also encourage longtime customers to leave positive Google reviews.
SMART goal for human resources
Decrease employee turnover rate by 25% within the next year by introducing employee engagement initiatives (e.g., team days out, free swag for employees who participate in group events), offering competitive compensation packages, and providing opportunities for professional development.
SMART goal for professional services
Increase billable hours by 15% within the next two quarters by optimizing project management processes (e.g., cutting manual tasks that can be automated), improving resource allocation, and offering targeted training programs.
SMART goal for project managers
Complete a software implementation project within the allocated budget and a six-month timeframe, achieving all defined milestones and delivering the desired outcomes for the client (the latter can be achieved with regular client communication, ensuring you know what they actually want).
SMART goal for PMO
Improve project success rate by 30% over the next 18 months by implementing standardized project management methodologies, enhancing communication (e.g., with real-time messaging apps), and providing ongoing training to project managers.
SMART goal for software engineers
Increase code quality and reduce the number of bugs by 50% within the next quarter by implementing code reviews, using automated testing tools, and attending refresher training on best practices in software development. Some companies use regular phishing tests to make sure employees don't get complacent when it comes to security.
Tips for successfully implementing SMART goals
To ensure the success of SMART goals in your organization, consider the following tips:
Communicate:

Make all team members and stakeholders aware of the SMART goals

Foster collaboration:

Encourage team members to work together toward achieving goals
Monitor progress:

Regularly track progress against the "Measurable" criteria and adjust the approach as needed

Celebrate achievements:

Recognize successes along the way and offer small rewards to boost engagement

Learn from setbacks:

Analyze any challenges or setbacks and use those insights to improve future goal setting efforts
Monitoring and adjusting SMART goals
To keep your SMART goals relevant, you'll want to monitor them regularly and adjust them if required. Here are some steps to follow:
Schedule regular progress reviews:

Set up periodic meetings to review goal progress with relevant stakeholders. This can be done weekly, monthly, or quarterly, depending on the goal's nature and deadline.

Assess goal performance:

During progress reviews, evaluate the performance against the established metrics and indicators. Determine if the goal is on track, ahead of schedule, or behind schedule.

Spot areas for improvement:

Is the goal off-track? Are obstacles hindering progress? Identify the root causes and develop action plans to address these issues.

Make adjustments as needed:

Based on the progress review findings, you may need to adjust your goal, timeline, or strategies. This may involve revising the goal to make it more achievable or reallocating resources to better support the goal.

Communicate changes to stakeholders:

Ensure that any adjustments made to SMART goals are communicated clearly to all relevant stakeholders, keeping everyone informed and on the same page.
Case study
Google: Google has been known to use SMART goals alongside its OKR framework. In 2008, Google set a SMART goal to reduce its environmental impact by increasing its data center efficiency. The company achieved its goal of achieving a power usage effectiveness (PUE) of 1.12, which is considered a best-in-class result for data centers. The achievement of this goal resulted in substantial energy and cost savings for the company.
Make the most of SMART goals with Wrike
So, it's safe to say that SMART goals are a powerful framework for creating clear, practical objectives that drive success. Implementing SMART goals across various industries and functions can help your organization enhance focus, motivation, and alignment — and, most importantly, get results. Done right, SMART goals can be a valuable tool to have in your arsenal.

Wrike is an excellent solution for keeping all your SMART goals in one place. With the business goals template, you can easily set SMART goals. Once the goals are set, Wrike's time tracking feature enables teams to monitor their progress in real time, ensuring they achieve their goals within the designated timeframe.

Teams can also visualize their progress through customizable dashboards and automated reports, making it easier to identify areas that require attention and adjust their approach accordingly.