Organizational Objectives: How to Set Them
This article was created with the assistance of an AI engine. It has been reviewed and revised by our team of experts to ensure accuracy and quality.
Introduction to Setting Organizational Objectives
No business can survive, let alone thrive, without setting and meeting objectives. Organizational objectives show a company what it needs to do and how to tell if those things are being done. By defining its objectives, a company creates a roadmap to success and a sense of purpose for employees.
In this article, we discuss:
The importance of organizational objectives

The process of setting objectives

How to cascade company goals down to individual goals

Challenges that can hinder the implementation of objectives
Looking for a powerful platform that helps you set and track your organizational objectives? You can grab a free trial with Wrike today.
Why are organizational goals important?
Organizational goals are critical because they:
Provide a defined sense of direction and purpose for the entire organization

Align the efforts of different departments and teams according to timeframes, ensuring everyone works toward common goals

Act as a basis for measuring performance and evaluating progress

Help managers allocate resources and prioritize tasks

Motivate employees by creating a sense of accomplishment
Both short-term and long-term objectives can span financial, operational, and other aspects of a business. Although specific goals may vary according to the size of a company, in general, any company will find setting organizational objectives useful.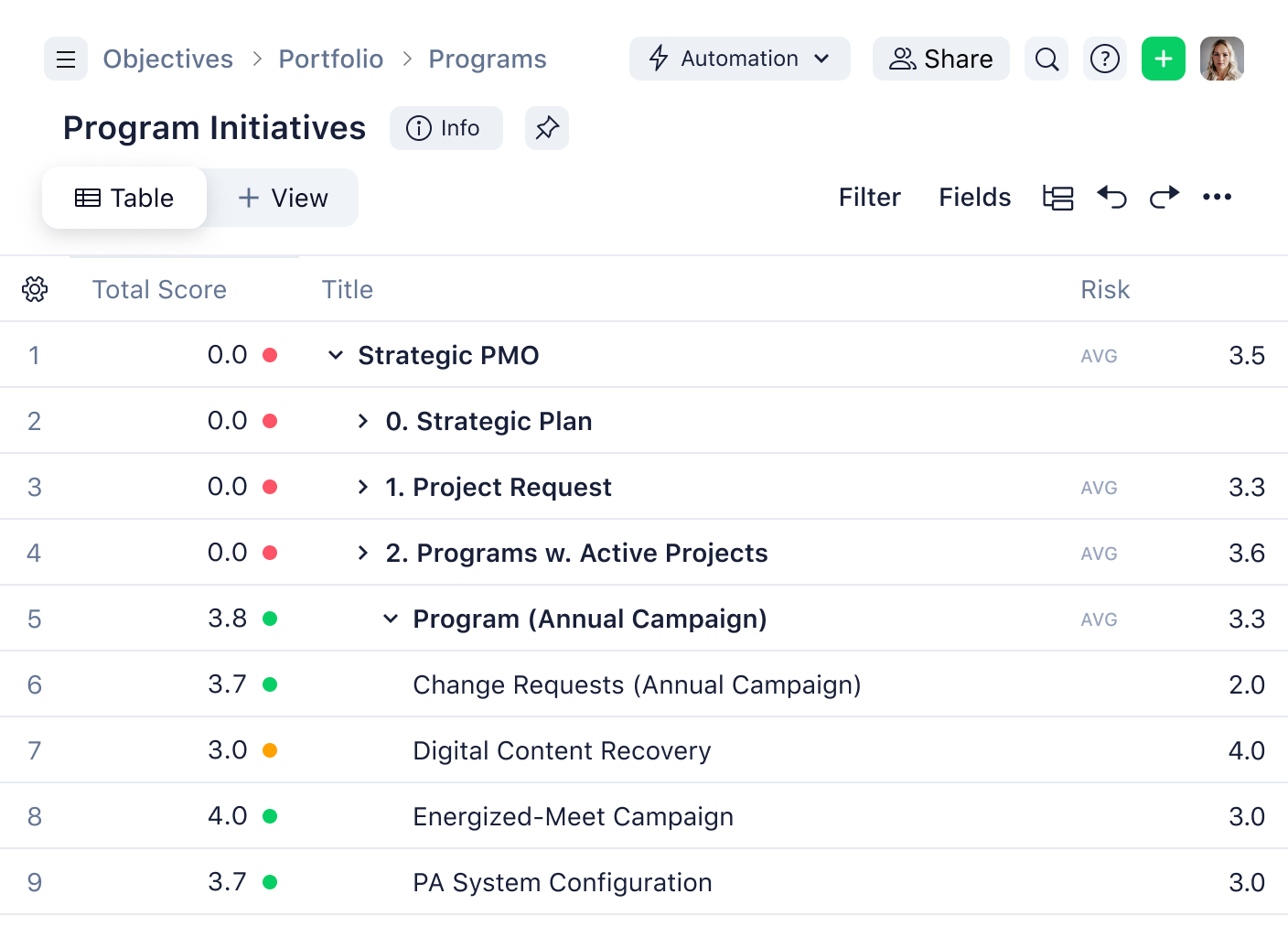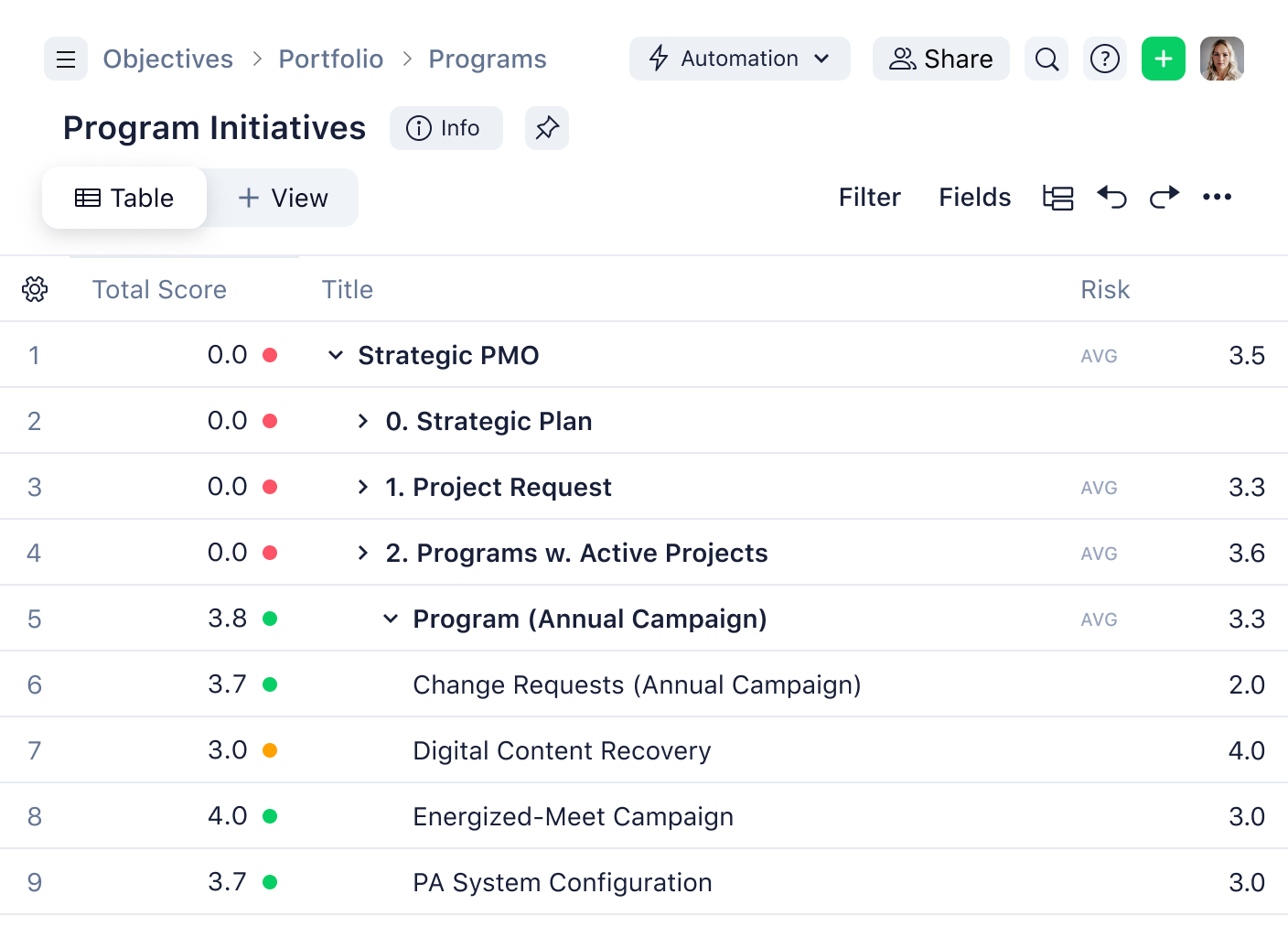 How to set organizational goals
Not surprisingly, organizational objectives should line up with the organization's vision and mission. Having employees, managers, and executives participate in setting long-term goals ensures their buy-in. This collaborative approach generates more realistic objectives because stakeholders can provide valuable insights and identify potential challenges based on their experience.
Once objectives are set, it's essential to communicate the official goals across the organization. Clear communication ensures that everyone is aware of the goals and their role in achieving them, creating a sense of shared responsibility.
Keep track of your organizational goals and visualize progress

How to cascade organizational objectives to individual goals
Cascading, or breaking down, high-level organizational objectives guarantees that everyone in the organization is working toward the same ends. The following step-by-step approach shows you how to cascade organizational objectives:
Break down organizational goals and objectives: Smaller, more manageable departmental or team goals show each department or team how they can contribute
Involve department heads and team leaders:

Have higher-ups set subgoals based on the organization's priorities and communicate the subgoals to their teams

Set individual goals: Team leaders should help each individual set relevant SMART goals that take into account the employee's role, skills, and areas of expertise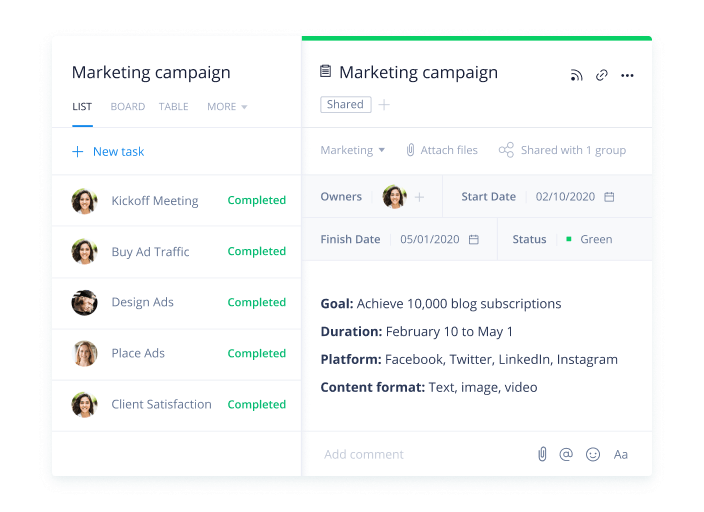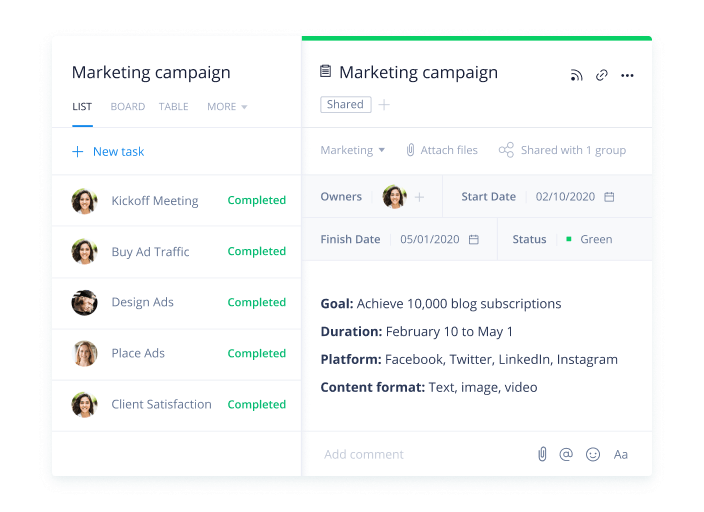 Regularly review and adjust goals:

Take changes in the business environment or new opportunities into account

Provide support and resources:

Help employees achieve their individual goals by supplying what they need to succeed
A practical example of cascading an organizational objective
Let's say you work at a software development company that wants to increase its annual revenue by 25%. Here's how you could cascade this objective down to individual goals.
Break down the organizational objective into departmental goals
Sales: Increase the number of new contracts by 12.5%

Marketing: Boost lead generation by 33%

Customer service: Increase customer satisfaction by 40% according to customer support survey results
Involve department heads and team leaders
Encourage managers to work with their teams to develop strategies for achieving their respective departmental goals.
Set individual goals
Give sales reps specific targets for closing new deals

Make marketing specialists responsible for implementing campaigns to generate a certain number of leads

Ask customer service representatives to reach out to existing clients to see if they're satisfied with the product and resolve potential issues
Review and adjust goals
Conduct monthly or quarterly reviews to assess progress and adjust individual goals as needed.
Provide support and resources
Invest in sales training programs and marketing automation tools to help teams achieve their individual goals.
By cascading organizational objectives down to individual goals in this way, you could get all employees working together to increase annual revenue by 25%.
Challenges in setting and achieving organizational objectives
It's not all plain sailing, however. Organizations may face several challenges in setting and achieving objectives:
Unrealistic expectations:

Setting impossible goals can lead to disappointment and demotivation

Poor communication:

Inadequate communication of objectives can cause confusion and waste resources

Insufficient resources:

Organizations may struggle to achieve objectives if they lack funding, personnel, or equipment

Resistance to change:

Employees may resist new objectives that involve significant changes to their roles or responsibilities
Tips for successfully implementing organizational objectives
How can you overcome the above challenges and successfully implement organizational objectives? Consider the following tips:
Involve stakeholders in the goal setting process

Set SMART goals

Communicate objectives clearly and consistently throughout the organization

Allocate sufficient resources and support

Provide regular progress updates and adjust goals if required

Encourage employees to take ownership of their goals

Offer training and support to help employees adapt to new objectives and overcome obstacles

Celebrate milestones and recognize the importance of individual employee performance
Set and cascade organizational goals with Wrike
Now it's time to put those tips into action.
Organizational objectives guide the activities of a company and the efforts of its employees. When organizations set SMART goals that reflect the organization's vision and mission, and cascade them to individual goals, success isn't far off.
Wrike's platform helps companies select major objectives and break them down into actionable projects and tasks. The platform serves as a central hub where goals can be documented, assigned, and tracked throughout the organization.
Through pre-built templates, clear visualization, progress tracking, and real-time collaboration features, goal alignment is a breeze with Wrike. Whether you're talking about large-scale initiatives or day-to-day tasks, Wrike empowers companies to cascade their organizational goals and achieve success — every single time.