Goal Setting Templates: What, Why, and How?
This article was created with the assistance of an AI engine. It has been reviewed and revised by our team of experts to ensure accuracy and quality.
Introduction to Setting Goals with Templates
It's no secret that goal setting helps teams and individuals stay focused on the company's objectives. But goal setting templates, which are a great way to record and manage goals, are a lesser-known aspect of goal setting. This article discusses:
The importance of goal setting templates

The different types of templates available

How to choose and customize the right one for your needs
Want to kick-start your goal setting with customizable templates as well as powerful dashboards that show all your goals? Unlock a free trial with Wrike today.
What is a goal setting template?
A goal setting template is a document that helps people and groups manage their goals in a structured way. Such a template serves as a roadmap for achieving desired outcomes.
A goal setting template typically includes the following elements:
Goal title:

A brief description of the goal to be achieved

Objective:

A more detailed statement of what needs to be accomplished and the desired outcome

Timeframe:

The period within which the goal should be achieved

Criteria:

The SMART criteria that'll be used to define and assess the goal's progress

Action steps:

A list of what's needed to achieve the goal, including a clear sequence of steps, responsible parties, and deadlines

Resources:

A list of the money, people, equipment, and materials needed to achieve the goal

Progress tracking:

A method for evaluating progress toward the goal, such as milestones, KPIs, or other metrics

Notes/comments (optional):

Additional information, insights, or reflections related to the goal
A goal setting template can be used in various contexts:
Personal goal setting

Professional development

Project management

Organizational strategy
In short, a goal setting template increases the likelihood of achieving a desired outcome.
Types of goal setting templates
From free goal setting worksheets to scorecards, many templates are available to help you set and achieve your goals. We discuss four of them below.
SMART goal templates
A SMART goal template helps you create goals that are specific, measurable, achievable, relevant, and time-bound.
A typical SMART goal setting template includes prompts to guide you through each SMART criterion. Check out this example:
Specific
Describe the goal in detail.
_____________________________________________
What do you want to do?
_____________________________________________
Why is this goal important?
_____________________________________________
Measurable
How will you measure progress?
_____________________________________________
What metrics or indicators will you use?
_____________________________________________
What is your target?
_____________________________________________
Achievable
Is the goal realistic and attainable?
_____________________________________________
What resources or support will you need?
_____________________________________________
What potential obstacles might you encounter? How will you overcome them
_____________________________________________
Relevant
How does this goal pertain to your broader objectives or mission
_____________________________________________
Does this goal contribute to your overall success?
_____________________________________________
Are you the right person or is your team well suited to achieve this goal
_____________________________________________
Time-bound
When do you want to achieve this goal?
_____________________________________________
What is your deadline for reaching the goal?
_____________________________________________
Are there any milestones or checkpoints along the way?
_____________________________________________
Simply fill these blanks and you'll have a well-defined SMART goal that can help you decide what to do to reach your objective.
OKR templates
An OKR template helps you to define clear objectives and identify the key results that indicate progress toward achieving those objectives. A typical OKR template is organized in a simple, easy-to-follow format that encourages alignment.
Once you've filled out each section of the template, you should have an actionable set of objectives and key results to guide your efforts.
You can also start your OKR journey with Wrike's pre-built OKR template and customize it according to your needs. Remember to review and update your OKRs regularly to keep them relevant to your organization's priorities.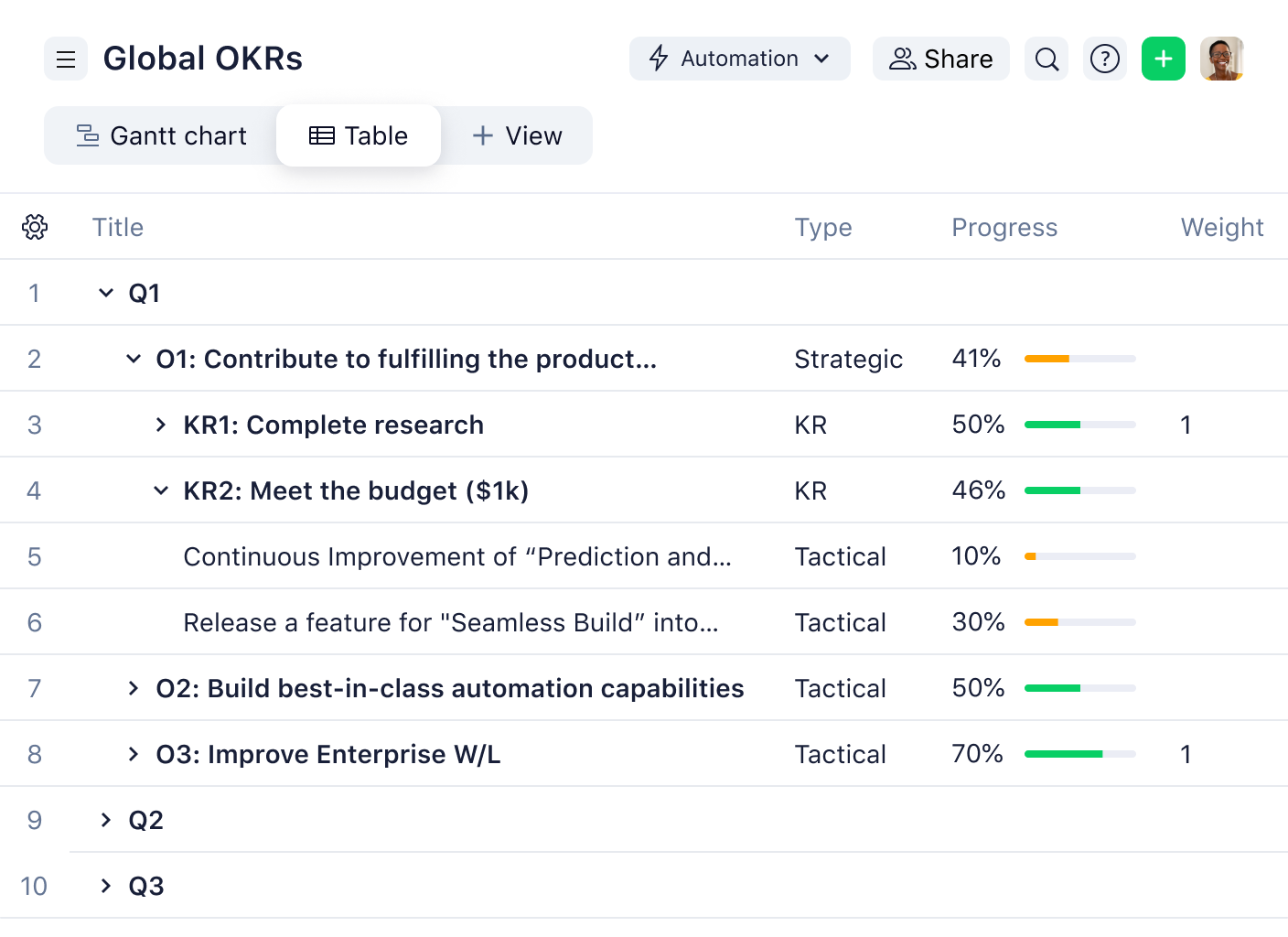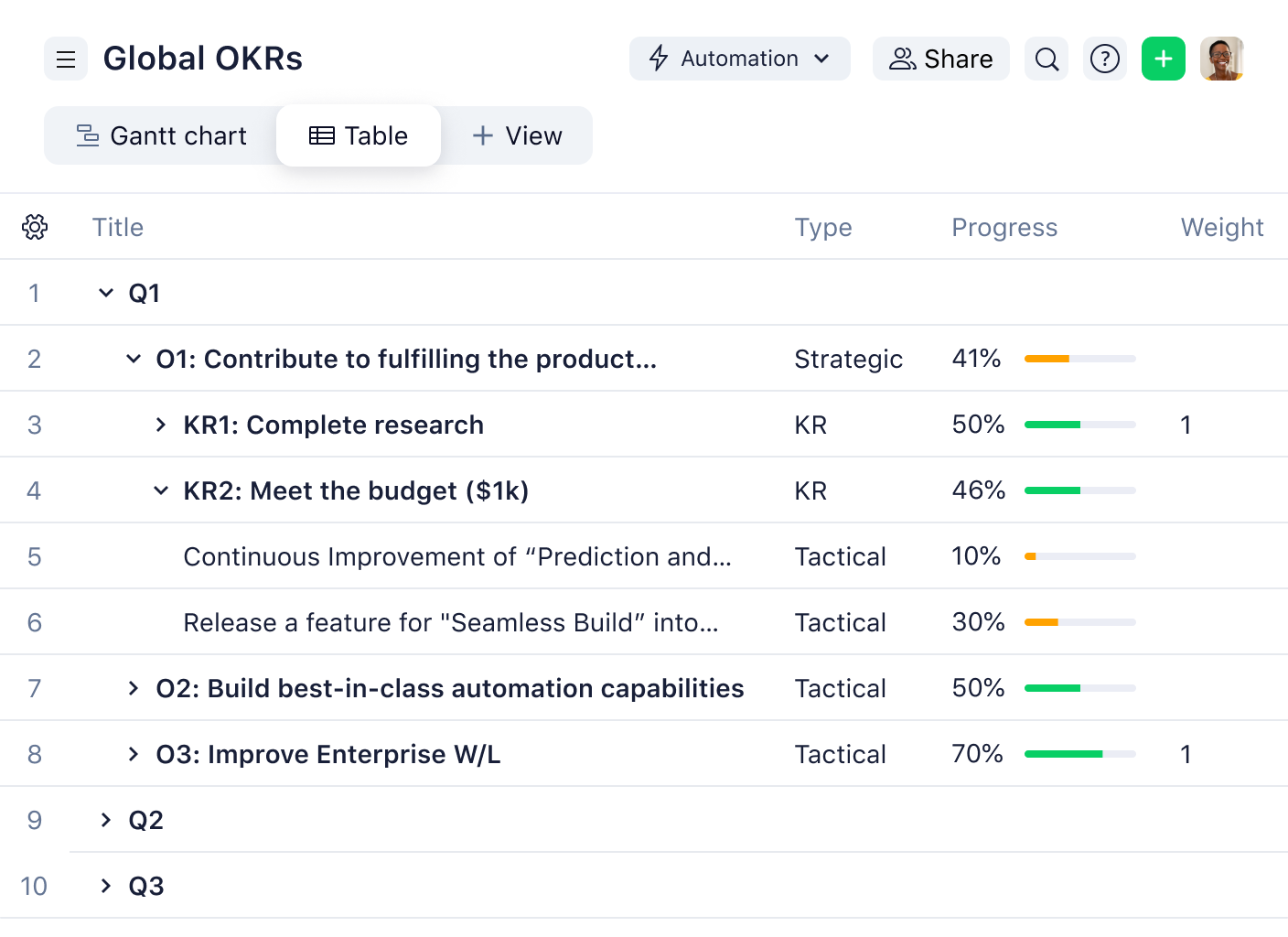 KPI dashboard template
A KPI dashboard template offers a visual representation of your organization's most important performance metrics so you can oversee progress and spot areas for improvement. A well-designed KPI dashboard template should be clear, easy to understand, and focused on the key data that drives your business.
Here's an example of what a KPI dashboard template might look like:
Dashboard title: [Give your dashboard a descriptive title, such as "Sales KPI Dashboard" or "Marketing Performance Dashboard"]
Timeframe: [Specify the period for the data displayed, such as "Q4 2023" or "January 2024"]
KPI categories: [List the categories of KPIs relevant to your organization, such as Financial, Operational, Customer, Human Resources, and Innovation and Learning]
KPI metrics: [For each category, list the specific KPIs you want to track, along with a brief description and the units of measurement (e.g., percentage, currency)]
Visualizations: [Create visual representations of each KPI, such as bar charts, line charts, or pie charts. Make sure the visualizations are easy to understand and accurately represent the data]
Data tables (optional): [Include tables with raw data and/or additional information related to the KPIs]
Notes/comments (optional): [Include space for any notes, comments, or explanations related to the data or KPIs]
When creating your KPI dashboard template, be sure to customize it to your organization. Keep the design clean, presenting the most important data in an uncluttered format. Update the dashboard regularly with accurate information to help inform decision making.
Balanced scorecard template
A balanced scorecard template is a strategic management tool that helps organizations track their performance across four key perspectives:
Financial

Customer

Internal business processes

Learning and growth
The template should provide a clear and concise overview of these perspectives and their related objectives, measures, targets, and initiatives.
Here's an example of a balanced scorecard template:
Title: [Give your balanced scorecard a descriptive title, such as "Company XYZ Balanced Scorecard"]
Timeframe: [Specify the period for the data displayed, such as "Q4 2023" or "January 2024"]
Perspectives: [List the four perspectives: Financial, Customer, Internal Business Processes, and Learning and Growth]
Objectives: [Under each perspective, list the specific objectives you want to achieve]
Measures: [For each objective, identify the KPIs or measures that will be used to track progress]
Targets: [Set targets for each measure to provide a benchmark for success]
Initiatives: [List the key initiatives or actions that will be undertaken to achieve each objective]
Performance tracking: [Provide a visual representation of performance against each measure, such as a progress bar, graph, or color-coded indicator]
Notes/comments (optional): [Include space for any notes, comments, or explanations related to the objectives, measures, targets, or initiatives]
How to choose the right goal setting template for your needs
Templates are meant to save you time, so you don't want to waste any by picking the wrong one.
When selecting a goal setting template, consider the following factors:
The purpose of the goal:

Is it a personal, professional, or organizational goal?

The complexity of the goal:

Is your goal straightforward, or does it require a more detailed and comprehensive template?

The duration of the goal: Are you planning for long-term goals or short-term goals?
The preferred goal setting methodology: Are you a fan of SMART goals or OKRs?
Customization options: Look for a template that can be easily customized to suit your unique needs and preferences.
Set and visualize goals in one platform

How to customize goal setting templates for your organization
No shoe fits every foot. That is to say, even if you pick the perfect template, you'll still need to customize it to suit your organization's processes. Here are some ideas:
Add your organization's logo or brand colors

Match the language to your organization's communication style

Add sections or fields to capture information specific to your organization or industry

Change the layout or design to improve user experience
Goal setting in one platform with Wrike
Goal setting templates can help organizations and individuals achieve just about anything. By selecting the right template and customizing it to suit your needs, you'll be on the right route for success.
Wrike offers pre-built templates, dashboard views, and real-time collaboration in one powerful platform. When you set your goals with Wrike, you virtually guarantee your success.