How to Track and Measure Goals: Steps to Ensure Success
This article was created with the assistance of an AI engine. It has been reviewed and revised by our team of experts to ensure accuracy and quality.
Tracking and measuring goals
Effective goal setting is vital within organizations, but setting those goals is only the first step to success. To maximize the benefits of goal setting, you must regularly track and measure progress toward those goals, which we'll discuss in this article.
We also present techniques and tools for goal tracking, explain how to measure success, and guide you in adapting your goals as needed.

If you're looking for a powerful tool to track and measure all your goals in one place, you can unlock a free trial with Wrike today.
The importance of tracking and measuring goals
Tracking and measuring goals is crucial because it:
Ensures alignment with and focus on organizational priorities

Reveals progress and helps identify roadblocks

Helps you make timely adjustments to goals or strategies as needed

Enhances accountability and motivation among team members

Provides valuable data for evaluating performance and informing future goal setting
Goal tracker: Choosing the right tool for your organization
You need the right goal tracking tool to monitor progress toward your goals. When choosing a goal tracking system, consider the following factors:
Integration with existing systems:

A good tracking tool should easily integrate with your organization's existing project management, communication, and reporting tools.

Customizability:

It should be customizable enough to accommodate your organization's unique goals, objectives, and performance indicators.

Scalability:

As your organization evolves, your goal tracking tool should be able to scale with you.

Ease of use:

A user-friendly interface lets team members quickly and easily access and update goal information to stay on track.

Reporting capabilities:

Goal tracking requires reporting features that let you analyze progress, identify trends, and make decisions based on sound data.
Whether you prefer a goal tracking app or a work management platform, you'll want to find one that matches the needs of your team and organization.
Goal tracking techniques
Several techniques can be used to track progress toward goals. In this section, you'll learn how to use meetings, reports, and more.
Progress meetings
Regular progress meetings give team members a chance to discuss goal progress, share updates, and address challenges or roadblocks. These meetings can be held daily, weekly, biweekly, or monthly, depending on the nature of your goals and the pace of your organization. Encourage your team to share their thoughts freely during these meetings to promote a culture of shared accountability.
Dashboard reporting
Dashboards provide a visual representation of goal progress and can be a great way to track KPIs and other important metrics. Team members can use dashboard reporting to quickly assess progress and identify areas that require attention. You can even customize your dashboards to display relevant information for different departments, teams, or individuals.
Regular check-ins
One-on-one check-ins between team members and their supervisors can help keep individual goals on track. Check-ins give you a chance to review progress, provide feedback, and discuss any problems in a less public setting. Schedule check-ins consistently to reap the most benefit from them.
Milestones and deadlines
Breaking goals down into smaller milestones with specific deadlines helps maintain momentum. By setting and monitoring milestones, teams can stay focused on achieving their goals while also celebrating those all-important wins along the way.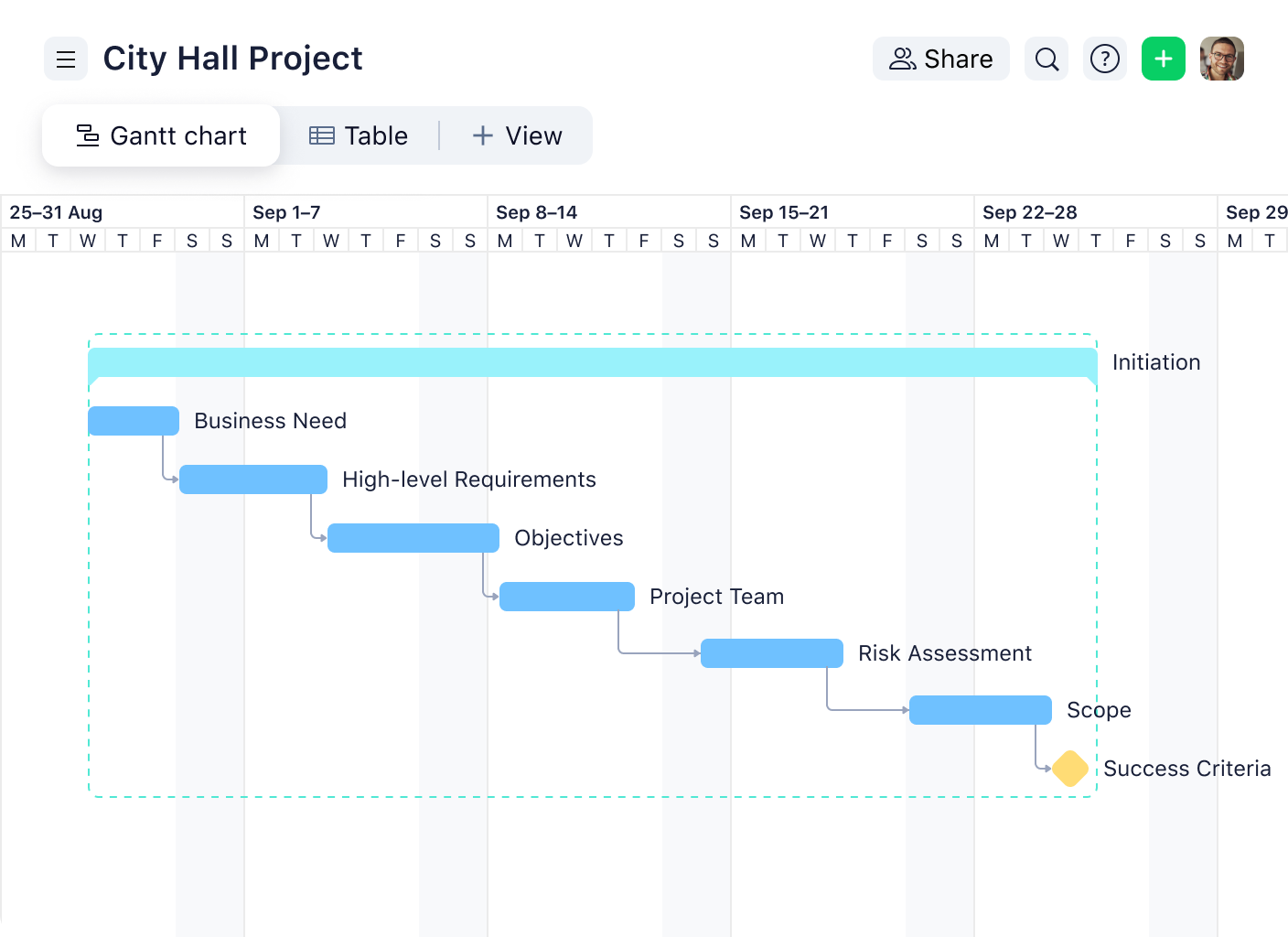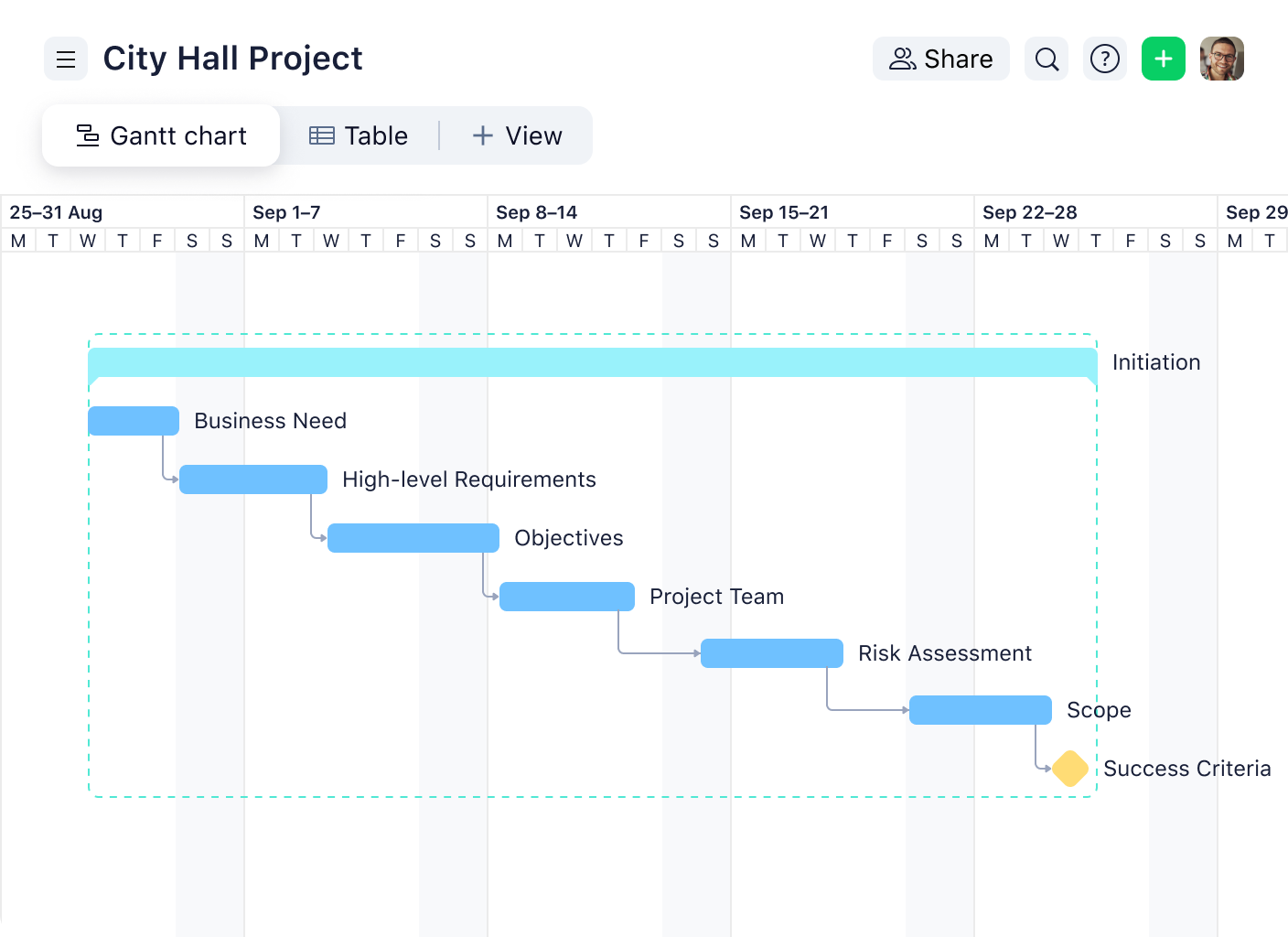 Automated tracking
Automated tracking software does much more than goal tracker apps can. The former can save you time monitoring progress toward goals and provide real-time updates. These tools can also help you spot bottlenecks, streamline workflows, manage tasks, and meet deadlines.
Performance reviews
By incorporating goal tracking into regular performance reviews, you can better assess an individual's progress toward their goals and foster a culture of continuous improvement and development.
The right combination of these goal tracking techniques can help your organization maintain focus, enhance accountability, and achieve its objectives.
Track progress and achieve goals seamlessly

How to measure success
So, now you know how to track your goals in theory. But how can you ensure they're actually successful? Here are some tips and success metrics to consider when measuring goal success.
Success criteria:

Establish clear and quantifiable success criteria for each goal, such as specific KPIs, financial metrics, customer-related metrics, or other measures.

Quantitative metrics:

These are objective, numerical metrics, such as revenue growth, cost reduction, market share, or customer acquisition. Quantitative metrics can be tracked over time to assess the success of your goals.

Qualitative metrics:

These are subjective metrics, such as customer satisfaction, employee morale, or improvements in internal processes. Qualitative metrics can be measured through surveys, interviews, or focus groups.

Leading and lagging indicators:

Leading indicators are proactive measures that predict future performance, such as sales leads or website traffic. Meanwhile, lagging indicators are reactive measures that reflect past performance, such as revenue or profit. By tracking both leading and lagging indicators, you'll get a full picture of your goal success.

Progress reviews:

Continuously assess progress toward your goals and compare it to your success criteria. That way, you can quickly spot potential areas for improvement and tweak your strategies as needed.

Impact:

Analyze the broader impact of achieving your goals on your organization's overall performance, growth, and development.
Adjusting your goals
As you track and measure your goals, you may need to tweak them from time to time. Here are some tips for adjusting your goals as needed.
Be flexible:

Understand that circumstances and priorities may change, requiring you to change your goals accordingly.

Seek feedback:

Ask for regular feedback from team members, peers, and supervisors to identify areas for improvement and make potential adjustments to your goals.

Reassess priorities:

Periodically reassess your organization's priorities to ensure that your goals remain aligned with your strategic objectives.

Refine goals based on data:

Use the data gathered through your goal tracking efforts to identify trends, patterns, and areas for improvement. Refine your goals and strategies based on these insights.
Track and measure goals with Wrike
Tracking and measuring goals keeps your organization focused on priorities and helps you hit your targets. By selecting the right goal tracking software and continually measuring success, you're far more likely to be the bearer of good news rather than the grim reaper of the office.
Wrike's platform lets you create, assign, and monitor goal-related tasks so you can stay on top of progress and make adjustments as needed. With our automated reports and time tracking features, your organization can achieve the goals it sets — and the success it deserves.