How to Set SMART Goals for Marketing
Goal Setting
How to Set SMART Goals for Marketing
Research shows that marketers who set goals are 376% more likely to report success than those who don't. Yes, you read that right.
Goals are an undeniably powerful tool for helping your marketing team do great work. However, not all goals are created equal.
If you want to craft objectives that boost motivation and push your marketing efforts to new heights, SMART marketing goals are your best bet. If you want to go one step further, utilize Wrike's award-winning collaborative work management software to save time, get more work done, and deliver better outcomes.
What are SMART marketing goals?
SMART marketing goals are goals set using the SMART framework. This acronym stands for:
Specific
Measurable
Attainable
Relevant
Time-bound
How to write SMART goals
Now that we understand what the acronym means, how should we go about writing SMART goals? The answer is simpler than you might think. When you use a SMART approach to marketing objectives, it means you're setting goals for projects and campaigns that are:
Specific
The most effective goals are clear and focused on one target. For example, a shoe store might have a general plan to increase sales. But if the shoe store has a goal of selling more boots in the month of December, the team could break that down into an actionable plan to advertise boots, incentivize sales, and achieve their goal by the end of the month.
By drilling down into detail and getting specific about goals, we can develop a roadmap that'll help teams move from planning to implementation, all the way to success.
Example: We're going to increase brand awareness by driving more traffic to our blog
Measurable
If you want to galvanize your team to achieve a goal, make sure it's quantifiable with an attached metric. This is something most of us first experienced in school, when we were taught to aim for 100% in a test. Many modern companies use key performance indicators (KPIs) for a similar reason: to encourage team members to reach a certain goal, whether it's a specific number, a percentage change, or any other defined target.
KPIs that have been proven in practice can become benchmarks for future planning. That way, the organization can expect certain measurable outcomes from its goals.
Example: We're going to boost brand awareness by increasing traffic to our blog by 50% with 10 new articles, 10 refreshed articles, and 20 social media posts
Attainable
The 'a' in SMART stands for attainable, which is a vital part of the planning process. Goals should be realistic and achievable to ensure stakeholder buy-in. If the target is set too high, and simply isn't possible with the resources, time, or budget available, then it may be a waste of everyone's time.
If a goal isn't attainable, the marketing plan will likely fail. In addition, stakeholders or teams may resent expectations they feel are unrealistic, leading to poor morale.
Example: We're going to boost brand awareness by increasing traffic to our blog by 25% with 10 new articles, 10 refreshed articles, and 20 social media posts
Relevant
Every goal should be tied to a broader business or marketing plan, so that it works toward fulfilling organization-wide strategy. These might be high-level, such as plans to increase revenue, expand into new markets, or enhance the company's reputation.
When goals are relevant, they're more easily understood and implemented by teams. This also helps to keep teams collaborating and moving in the same direction towards overall organizational success.
Example: We're going to boost brand awareness by increasing traffic to our blog by 25% with 10 new articles, 10 refreshed articles, and 20 social media posts in order to grow our presence and build a strong reputation as a trusted industry leader
Time-bound
Nothing gets us moving like a little pressure, right? By creating deadlines, planners can focus teams, increase the pace of work, and make sure that goals are hit in a timely manner. Some teams like to visualize these dates and scan for progress using shared calendars or interactive Gantt charts.
Modern work is complex and it's easy to get sidetracked by emails, meetings, and messages.
Specific goals and established deadlines help teams to prioritise the work that really matters.
Example: We're going to boost brand awareness by increasing traffic to our blog by 25% by July 2023. We will have two new articles, two refreshed articles, and four social media posts per month from January to May in order to grow our presence and build a strong reputation as a trusted industry leader
When writing SMART marketing objectives, make sure you work through the letters of the acronym to confirm that the goal you're crafting checks each of those boxes.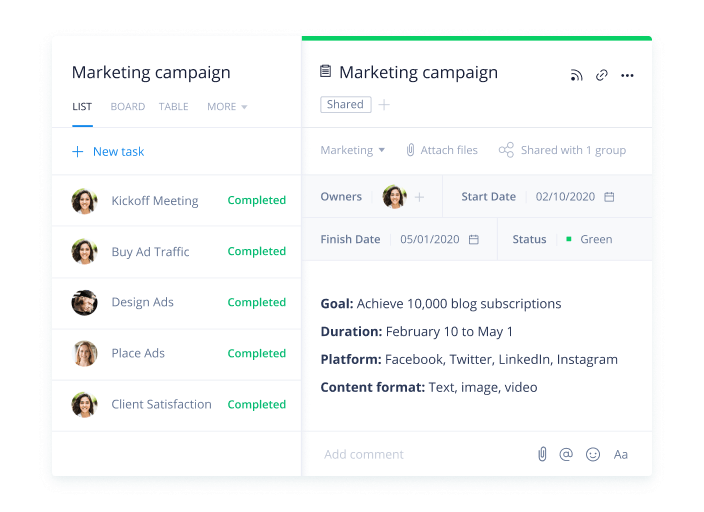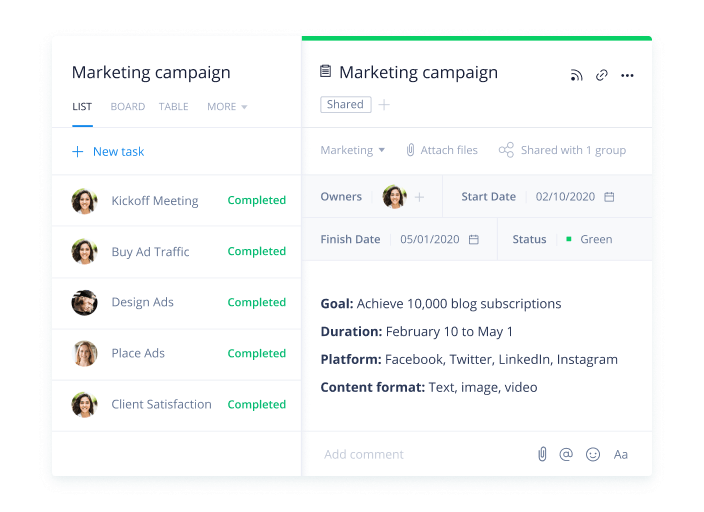 What are the benefits of setting SMART marketing goals?
Setting SMART marketing goals requires a little more thought than simply deciding on a target. Why invest the time in using a SMART framework? It can lead to a number of advantages, including:
Increased clarity
Imagine your content marketing team had stopped with the first goal example above and simply stated that you plan to increase the number of visitors to your blog. Your team is left with a lot of questions:
Why is this goal important
Is there a deadline?
How will they know when they're successful?
Increased transparency and clarity are some of the biggest benefits of SMART goals. When only about half of employees agree they know what's expected of them at work, this level of detail is important.
Boosted motivation
When you and your team have a better grasp on what needs to be accomplished, you will be more likely to feel increased motivation to go after it. When you document these SMART goals, motivation gets an even bigger push. One study found that writing down goals makes you significantly more likely to achieve them.
Better priorities
As you go through the process of setting SMART goals, you need to ensure your objective meets different criteria. This not only helps you craft better goals but also serves as a gut check about which ones are worth pursuing.
For example, if you're struggling to determine how a goal checks the "relevant" box in your marketing plan, then it might not need to be high on your team's list of priorities right now.
In short, setting SMART goals involves a little more elbow grease than throwing an ambiguous finish line at your team, but it's well worth the thought and effort.
Who should set the SMART goals for your team?
Depending on the size of your marketing department, SMART goals should be set by the team's leader or manager. Setting and checking in on these goals involves a lot of research, planning, talking to other team members, and paying close attention to detail.
It's important that whoever is in charge of setting SMART goals keeps their values in mind at all times — they should always be asking themselves if a goal meets the SMART criteria, and if it doesn't, how to work with the team to adjust their objectives.
While a single team lead may take charge in setting SMART goals, it helps if all team members have an understanding of and appreciation for the SMART criteria. If your team is clued into your method of setting goals, it will help them to feel included in the process, giving them more motivation to succeed and thrive within the team.
An understanding of SMART goals helps teammates at every level improve their skills by implementing them in their own personal ways. If they have been looking to grow in a particular area of their role, recommend that they use SMART to set milestones for themselves along that path.
How do you set realistic SMART goals for campaigns?
One of the biggest challenges teams face when setting SMART goals is ensuring they're realistic with each piece — particularly the success metric and the deadline.
You can't predict the future, so how can you feel confident that your objectives are achievable? Your specific goals are a target, not a guarantee, and you'd probably like to feel more certain that you will hit your desired target. Here are a few ways to keep your feet on the ground and make sure you check off that "attainable" piece of the acronym:
Lean on historical data: From past performance metrics and marketing management analytics to timelines from previous projects, you likely have tons of information you can use to inform your upcoming goals — rather than guessing.
Talk to your team members: Instead of setting goals on your own, connect with your marketing team and gather their insights. They're the ones doing the bulk of the work, so they'll be able to give you a reality check about your goals.
Consider stretch goals: There's a fine line between being ambitious and being unrealistic. You want your goal to motivate your team, but it shouldn't be so lofty that it discourages them. Consider having two versions of the same SMART goal: the regular version and the stretch version. A stretch goal is one that seems impossible given your current capabilities. Having that higher-level version might just push your team to surpass the original goal without beating themselves up if they don't hit the stretch target.
Keep in mind that goal-setting is a learning process. As you set more SMART marketing goals, you'll uncover more about what's achievable for your team — and that's information you should use as you set future goals.
How to measure and monitor SMART goals
Setting your marketing goal is only the start. Once you have your objective, you and your marketing team need to work to achieve it.
It's important to regularly monitor your progress toward your goals.
Set regular check-ins: One simple tip is to set a regular meeting where you and your team can connect about your progress. The frequency of this check-in will vary depending on the duration of your goal, but the point is that you shouldn't kick off a campaign and only discuss performance once you've reached the end date.
Establish mini-milestones: If you have a large marketing goal, it's helpful to break it down into smaller milestones — it makes it feel far more manageable and makes it easier to spot if you're getting off course. For example, if you have your sights set on growing your email list by 20,000 by the end of the year, you should be adding about 5,000 subscribers each quarter.
Have the right tools: Monitoring and measuring your goals is easier if you have the right technology on your side. Look for a project management platform (like Wrike) that gives you the insights you need to effectively monitor project performance and progress.
Not only does monitoring give you a chance to step back and celebrate what you've done (which is important for maintaining motivation), but it also provides an opportunity to course-correct if needed.
SMART marketing examples and objectives
Sometimes an example is the best way to clarify what a SMART marketing goal should look like. So, we've rounded up a few SMART marketing objectives examples to serve as inspiration:
Boost the number of free trial signups by increasing the click-through rate on our social media ads to 3% by the end of this month
Improve organic reach to build brand awareness by optimizing our top 10 blog posts for our top five conquest keywords by the end of the year
Redesign the blog to increase the average time spent on each page by 30 seconds by next quarter
Improve existing customer retention by planning and hosting five webinars about usability this calendar year
Create email marketing campaigns for next quarter's product launch that achieve an average open rate of at least 27%
Keep in mind that those are only a few examples to get you started — there are a number of other SMART marketing goals examples you could come up with on your own.
How does Wrike help marketers?
Setting the right business goals can help you and your marketing team do your best work, but achieving those goals requires a bit more support.
That's where Wrike's marketing project management solution comes in. Wrike offers a number of features to help your marketing team reach your most ambitious goals, including:
Real-time performance data to keep a close eye on how your campaigns are doing
Templates for various marketing projects, from content assets to events
Dynamic request forms to ensure your team has the information they need to start projects
Visibility into project status, workloads, and communication to knock down silos and ensure transparency
Accomplishing your marketing goals isn't always easy — but Wrike can take some stress out of the process. Start your free trial today.