Work Plan Template
Kick-start your project plan with Wrike. Our template has everything you need to bring hybrid projects from start to finish.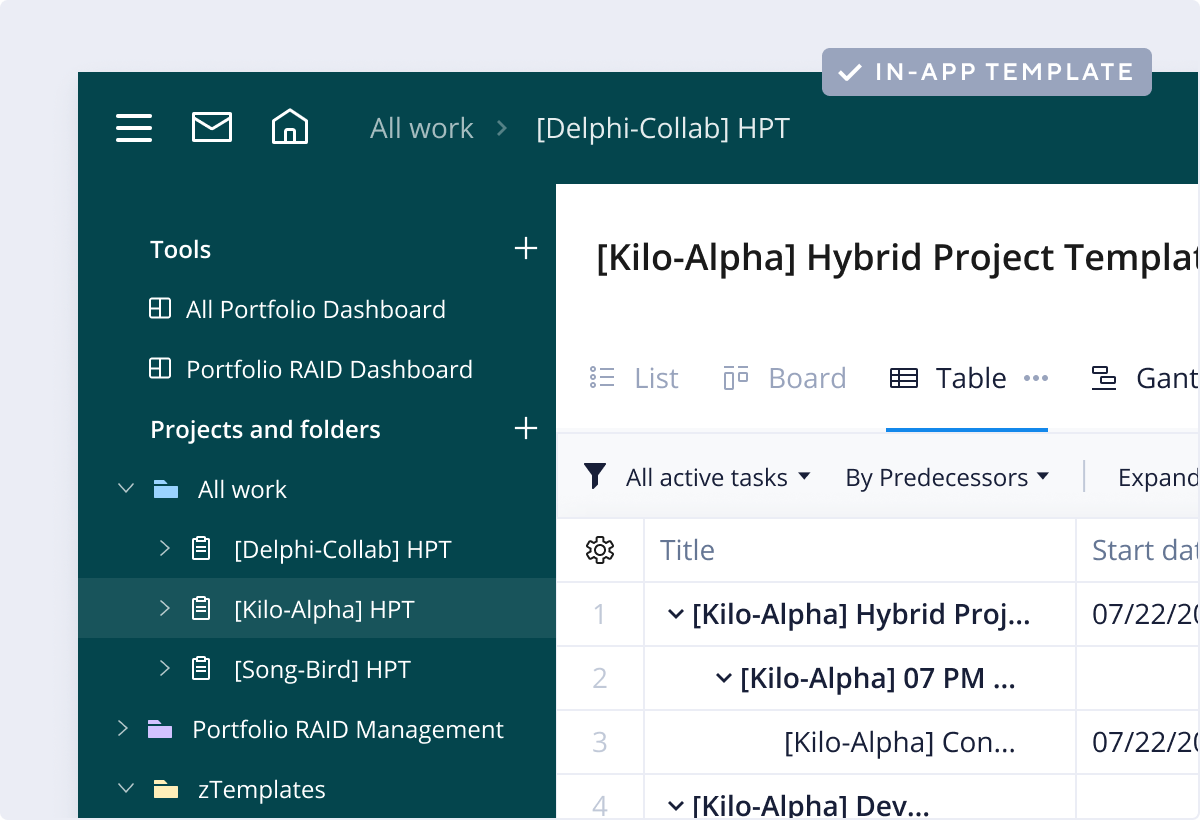 #project management
#project plan
#hybrid
#work management
Streamline your project plans
Planning hybrid projects can be tough. Your teams may use practices from both Agile and Waterfall methodologies, making it difficult to create a consistent project plan. Does this sound familiar?
Your projects are disorganized and lacking information
Tasks aren't assigned to a particular team member, so they get lost in the queue
Managers lose valuable time waiting for updates on project status
Tackle these obstacles head-on with Wrike's hybrid project plan template.
Use a clear folder structure for your projects, with subfolders for extra categorization
Set assigned roles and cross-tag tasks so they appear in the right place
Monitor project status at a glance with portfolio dashboards
Why you need this template
Unclear project vision
Don't know how to create a hybrid project plan? Build a visual roadmap with clearly outlined steps. Tailor phases to your individual project, e.g. Initiation > Development > Testing > Launch.
Disorganized tasks
Tired of losing tasks? Add tags so they appear in the correct folder. In our hybrid project templates, assignment roles appear alongside each phase, so you know who is responsible for what.
Poor status visibility
Are you constantly chasing team members for status updates? Save time with portfolio dashboards. Get a bird's-eye view of multiple projects at once to efficiently track team progress.
Accelerate your project planning
How to take control of your hybrid work plan
Are you new to the world of hybrid project management? Do you need some help getting your work plan up and running?
Luckily, Wrike has a range of features to help you manage tasks, monitor team resources, and meet project deadlines.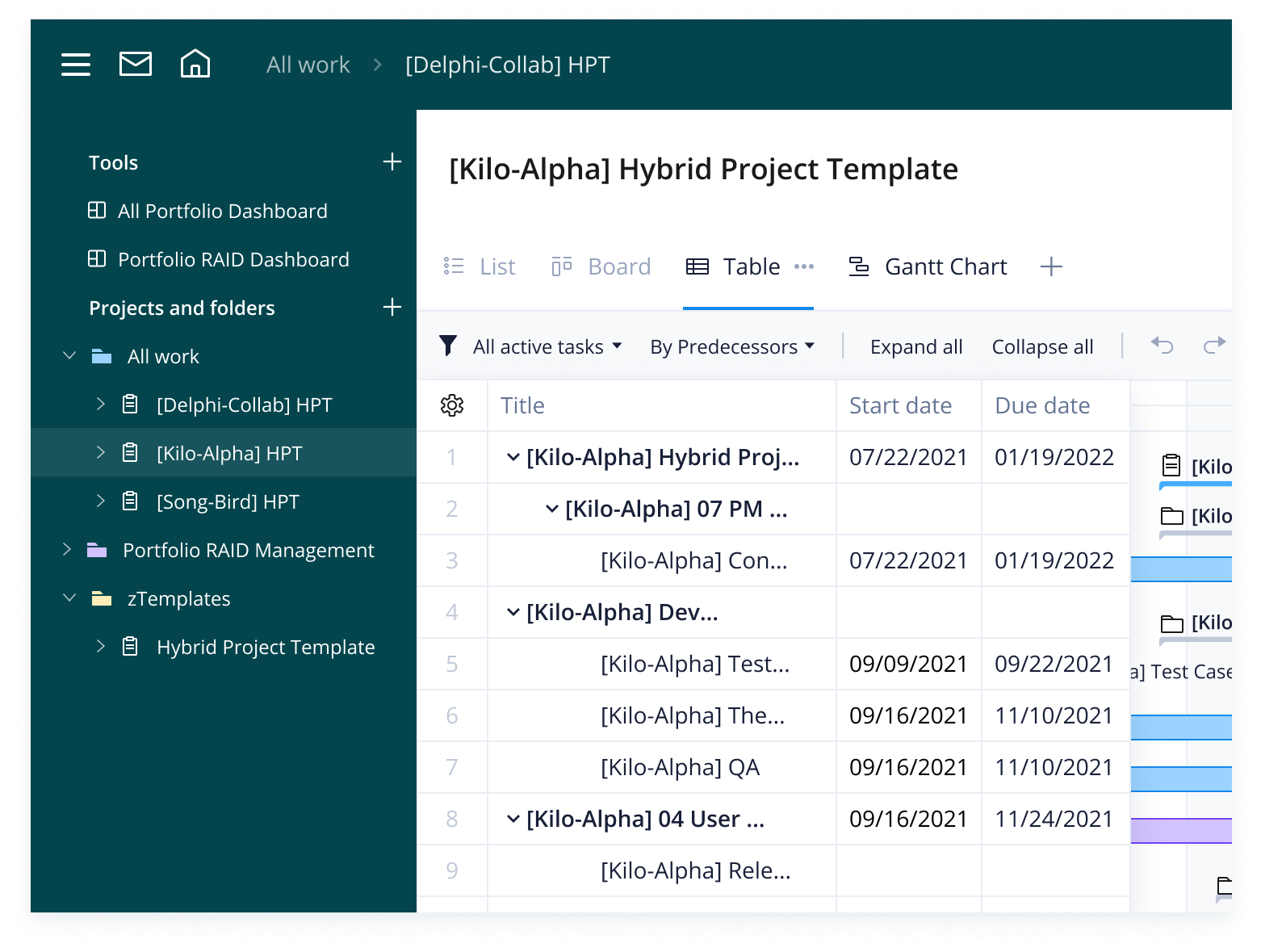 Wrike's hybrid work plan template includes detailed phases that you can adjust to create a unique roadmap for your own project.
Step 1:
Start with the initiation phase. This can include building a suitable environment or workspace. Prepare all relevant documents (e.g., project charter) and build a folder structure to store them appropriately.
Step 2:
Assess your requirements. What do you need to get your project over the line? Make a list of all required resources, including staff and project materials.
Step 3:
Kick-start the development process by assigning tasks to team members. Monitor their progress at a glance with easy-to-view dashboards. Use color-coded statuses to spot potential risks and address them before they escalate.
Working with various methodologies in a single project can be risky. However, with the proper amount of planning, you can reap the benefits of both Agile and Waterfall approaches.
Explore top project management tools
Want to learn more about Wrike's work management platform? Take a tour to find out which features would help you achieve project success. Our customizable tools include:
Wrike's software is designed to suit your needs. Build your own project plans, tailor your templates, and customize your dashboards — work the way you want.
Resources for project managers
Walmart case study
Read all about how Walmart used Wrike to automate processes and align projects to corporate strategies.
Project portfolio eBook
Learn how to assess your use cases and identify the right project portfolio management tools for your team.
Monumental case study
Find out how the Monumental team streamlined its design tasks with Wrike's project management software.
Kick-start your hybrid work plan today
The work plan template enables you to streamline and accelerate the creation of hybrid project plans. Use it to guide you through the various phases of your project.
This template can be tailored to fit any project. It is particularly suitable for hybrid projects, meaning you can use it when combining Agile and Waterfall practices.
Click the button below to add the template automatically to your Wrike workspace. Don't have a Wrike account? Get started with a free two-week trial today.