Business Operations Template
Increase operational speed and excellence with this Wrike template to scale project planning, increase collaboration, and gain real-time visibility. Streamline requests and communications across teams and channels, improve project alignment and prioritization, and track progress for on-target delivery.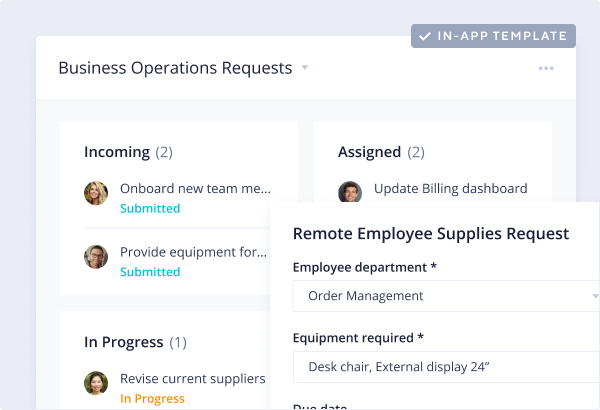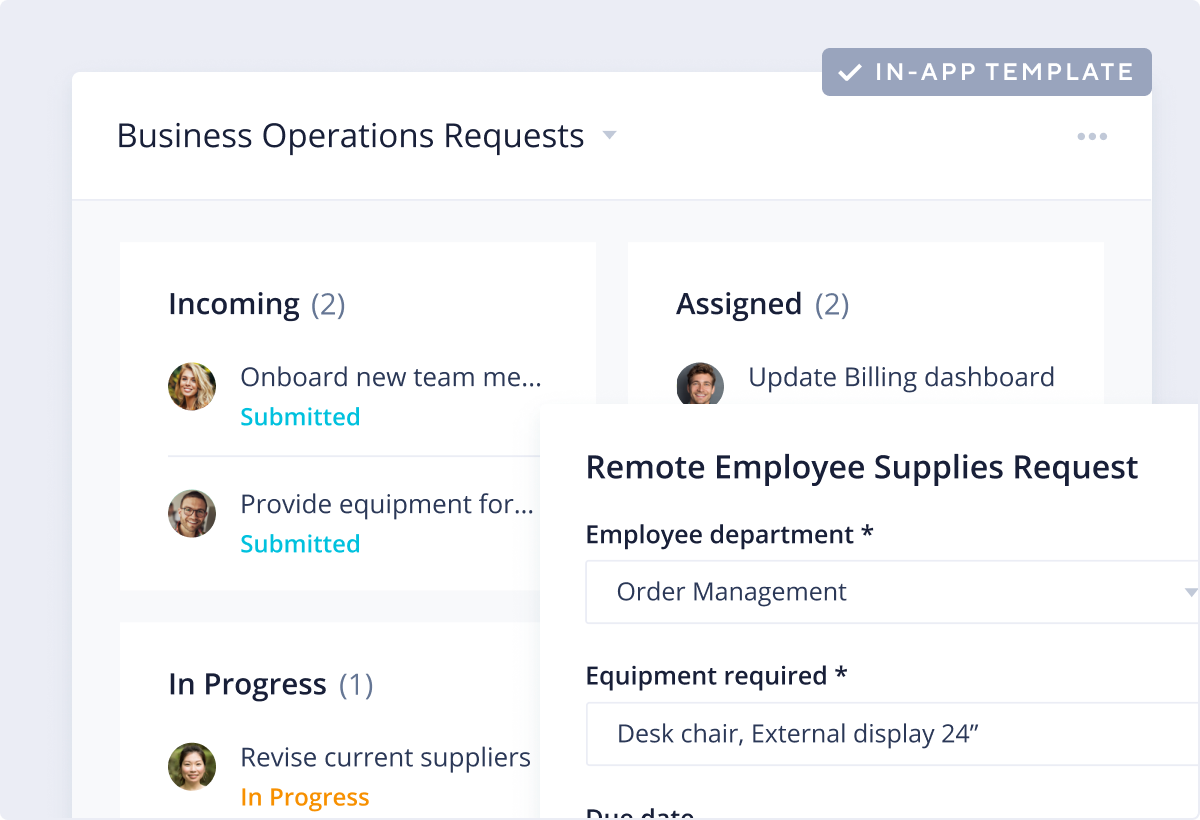 Lead Your Team to Better Outcomes
Operations managers focus on optimizing how work gets done by uncovering the biggest bottlenecks, fine-tuning processes, and solving persistent challenges to maximize efficiency.
Wrike empowers business operations teams to establish, optimize, and automate processes by breaking down silos and addressing bottlenecks. You can accelerate operational efficiency with streamlined workflow processes so that common activities such as work intake are standardized and can be quickly scoped and prioritized. You can also easily monitor, manage, and share real-time work progress with customizable dashboards and reports. With Wrike's business operations workflow template, you can process, prioritize, and track your requests in one place so nothing slips through the cracks, allowing you to achieve new levels of operational efficiency as your organization expands.
Why you need this template
Requests are missing key details
Create a request form in Wrike that has fields for all the relevant information you need to begin your project. With a custom and dynamic request form, you can collect all necessary details upfront and auto-assign projects to the appropriate team member based on the request.
It's difficult to plan, prioritize, and balance workloads
Wrike's dynamic work intake forms provide a clear way to prioritize and manage incoming requests. Dashboards make it easy to check the pulse of all your projects at a glance, with full visibility into what team members are working on at any given time.
Progress is laborious to track and report on
Increase visibility of projects and success metrics, and align teams towards common goals with shared Dashboards and Reports. With complete visibility to status and workflow, nothing slips through the cracks. Highlight dependencies and project milestones with Gantt charts.
Ready to try this template in Wrike?
Free 14-day trial. Easy setup. Cancel any time.