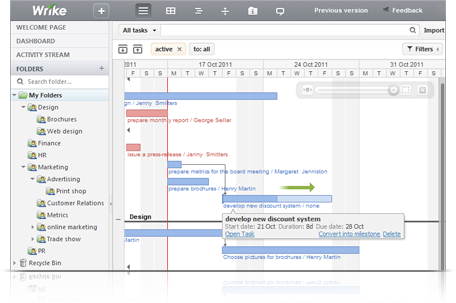 Easy, fast and visual
Timeline Maker loved by thousands of project managers.
Create slick, professional timelines with one mouse motion: drag-and-drop to the schedule, single-click to export, print and share!
Do not limit yourself to creating static plans, as Wrike is much more than just another timeline software. It's a powerful project planning and management tool that will skyrocket your team's productivity.

Reasons to Choose Wrike as Your Timeline Software:
Store and Share Timelines Online

Neat timelines you create are stored in Wrike' timeline creator and can be accessed online at any time. You can selectively share them with teams, contractors and clients.

Bring E-mails
to the Timeline

A lot of project data still goes through e-mail. Don't let important tasks get lost in your inbox. Wrike automatically turns e-mails into tasks and places them on your timeline!

Stay on Top of Things

Wrike is the only product that allows you to view your work as a combo of timelines, spreadsheets, task lists, prioritized backlog and activity stream.

Access All Project
Data from Timeline

Wrike allows you add a description, attach files and Google Docs, and track time in tasks shown on the timeline. It also enables you to delegate tasks and receive instant e-mail notifications when things are done.

Schedule with
Drag-and-Drop Function

Create accurate schedules in one mouse motion with Wrike's online timeline maker: add tasks and milestones, assign and schedule them, build task dependencies – everything right on the chart!

Discuss Plans
in Real Time

If you want your plans to get done, you need an easy way for your team to collaborate on the planned tasks. Wrike's timeline software tool has a built-in Activity Stream, where your team can discuss tasks and issues and keep track of changes in the plan, all in real time.
First-Hand Evidence of Wrike's Timeline Maker Power:
Scott Whigham, Founder | LearnItFirst.com

"The best thing is that I can see a complete and clear picture of my team's work on a timeline. I love this feature."

Ciaran Rogers, marketing manager, UKSA

"Wrike has a fantastic visual timeline element. It makes life so much easier when you want a 10,000-foot view of what you are working on!"

Gunter Hildebrands, Managing Partner, Hildebrands GmbH

"Wrike's neat timeline is perfect for a quick and well-arranged overview of all the projects."

Daniel Schneider, Senior project manager, Secondred Newmedia

"When I reschedule a task on the timeline, all the team members see it in real time. With Wrike, plan changes are no longer a headache."