Best Scrum Software and Tools for 2023
Scrum Guide
Best Scrum Software and Tools for 2023
Under the Scrum framework, teams self-organize and learn through experiences while working through obstacles. Today, many Scrum development teams utilize project management software to manage tasks and increase productivity. Whether it's backlog management or sprint planning, the right software can facilitate Scrum workflows by encouraging transparency and collaboration among teammates.
When deciding what tools and software to use, be mindful of a number of criteria, including ease of use, affordability, and specific features. Here's more on what to look for in the best Scrum software and tools.
Criteria for choosing Scrum software
Project managers are always on the lookout for excellent project management software, especially solutions with versatile features that can be adapted for the Scrum framework. In choosing a Scrum tool, here are some criteria to keep in mind. The list below doesn't serve as an exhaustive one, only as a mini-guide when you make your selection.
Industry fit
An important question to ask when choosing Scrum software is this — Does it fit my industry specification? The ideal Scrum software is customizable and can be adapted for different project teams, types, sizes, and industries.


Ease of use
Some tools for managing Scrum teams can have a steep learning curve. Some features can also be hard to adjust to, something that can impact adoption rates. The Scrum master or project manager's priority is to find a straightforward tool suitable for the development team. Many Scrum software offers free trials so that teams can try out the platform first without significant investment.


External sharing
After ease of use, another important criteria is the ability to share information between the team members and even third parties. This is crucial because external sharing readily makes data available for everyone working on a project — including contractors, vendors, and external stakeholders.


Task management
It's probably evident that the ideal Scrum software should have robust task management features. Task management includes the ability to assign tasks to team members, set deadlines, and track due dates. As a bonus, the software program should have the ability to send out email alerts to team members.


Customizable and real-time reporting
A vital criterion to look out for when considering the Scrum software tool is real-time reporting. Users should be able to pull essential data that reflect the current status of projects and tasks. Such data should be available at a moment's notice, in real-time.
Another essential factor to have in mind is that the tool of your choice should let you set custom fields and export data. A good Scrum software should also offer flexibility in how data can be presented to stakeholders.
While these are some of the more important features to look out for when choosing the right Scrum software tool, there are plenty of other considerations to make based on the project type, size, and use case.
Best Scrum software features
The strategy when selecting Scrum software is to look out for extra features that will improve project outcomes and make teams more efficient. Here are some Scrum software features to prioritize:
Budget, billing, and time tracking features: Your ideal Scrum software should enable expense tracking and provide clear and concise reporting about budget performance. If you usually deal with multiple clients, the Scrum software should also track the time spent on tasks, enabling you to issue invoices based on the work completed. Scrum software with a time tracking feature can save up a chunk of admin time every week.
Documentation: All project information should be accessible in one place. Whether it's upcoming calendar events, completed tasks, customer and project lead, or expenses and bills prepared for clients. The ideal Scrum tool should provide easy access, meaning that team members can easily view and share information in a few clicks.
Planning and scheduling: The ideal Scrum software has features for planning and scheduling tasks, setting priorities and deadlines, and assigning tasks to team members.
Resource management: Time isn't the only thing to manage — tracking other resources that affect results is also necessary. For instance, work materials and meeting rooms are resources to be managed for efficiency and productivity.
The ideal Scrum software lets you outline the tasks ahead, plan for the resources utilized for task completion and anticipate possible conflicts when resources are depleted. Data about resource usage will show a need to set boundaries or limitations around specific resources. The team leaders can assign resources to specific tasks and ensure that team members have everything they need to complete their responsibilities.
The best Scrum software
What is the best Scrum software on the market? The answer to that question can differ depending on your team, product, and project. Here are a few software options to consider when selecting the right Scrum software for your team.
Wrike
20,000+ teams worldwide trust Wrike to do their best work. Whether it's a small team of five to 10 members or a large organization, Wrike is highly customizable and can help Scrum teams track tasks, manage meetings, update stakeholders, execute sprints, and more. With Wrike, users can also customize their workflows, generate reports, store documentation, and build team dashboards.
Users can seamlessly navigate from dashboards to calendars and reports. With 400+ integrations, users can work with the tools and platforms they know and love.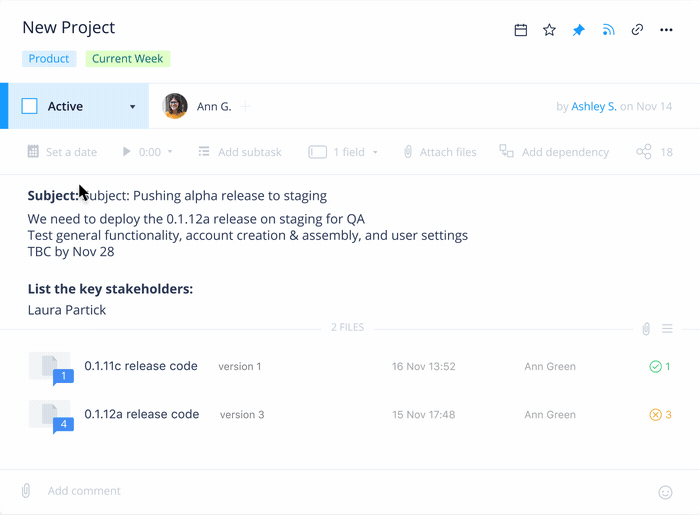 Nutcache
Nutcache is a project management software that enables collaboration, planning, organization, and analysis of tasks — whether it's primary or complex levels of a project.
In addition to visual planning and organization of tasks, with Nutcache, you can easily switch to a Scrum board view and utilize many sprint management features like setting sprint durations, goals, and due dates. The software also helps users stay attuned to the sprint goals by measuring the progress of tasks and using labels to improve the sprint workflows.
Miro
Miro lets teams go from brainstorming with digital sticky notes to digitally outlining and managing Agile workflows.
With Miro, teams can design concepts, map user stories, and outline buyer journeys. With these capabilities, teams can focus on delivering the right products for their customers.

Scrumdo
Scrumdo is an Agile workflow management and collaboration tool that helps teams execute and streamline processes. Scrumdo supports many development frameworks like enterprise Scrum, Kanban, and Scaled Agile.