Have you been tasked with finding the perfect digital tool to navigate these uncertain times? You're not alone — teams in every field and in every country are currently looking at their tech stacks with an increasingly critical eye. If you're looking for a powerful work management platform, you'll know how challenging it is to find the right balance in terms of cost, capabilities, and ease of use.
With so many different project management software solutions available, it might seem impossible to choose just one. Some teams might naturally lean towards a spreadsheet-based option such as Smartsheet, which will feel familiar to those who are keen on Microsoft Excel. It's a good option for anybody looking to create a single source of truth, improve collaboration, and organize tasks, projects, and ongoing strategies.
That said, you might find that you need more — more built-in features, more support while onboarding, and more integration options. If that's the case, you should probably expand your search to include Smartsheet alternatives such as Wrike, Trello, Asana, ClickUp, and Monday.com.
To help you on your way, we've put together an overview of all that each option offers, including their range of features, commonly mentioned limitations, and plan prices. Learn why, when it comes to equipping your team with one simple all-in-one work management solution, Wrike will always turn up at the top of your list.
What is Smartsheet?
The clue is in the name with Smartsheet: It's a work management platform, originally based on Excel-style spreadsheets. Although the interface will still be familiar to those who like cells and tables, Smartsheet has since expanded its capabilities to include project management, automation, and collaboration tools. Users can create, share, and manage various types of sheets that contain tasks, projects, calendars, dashboards, and more. If they have experience with complex spreadsheets, they will find their proficiency with formulas put to good use.
With a strong feature set, Smartsheet allows users to track projects, resources, and deadlines in real time, integrate with other software (including Microsoft Office, Google Workspace, and Salesforce), and leverage automation to increase productivity. This makes it popular with teams, departments, and organizations that might have used spreadsheets to manage their work, but now require a more powerful, if similar, solution.
Smartsheet's use cases now serve a variety of industries and fields, including construction, marketing, higher education, and more. Its pricing structure is relatively simple: it has a basic 'freemium' plan for up to one user, as well as three paid tiers. When billed monthly, the Pro plan is $9 per user per month (max 10 editors), Business is $32 per user per month, and Enterprise is price-on-application.
Key features of Smartsheet
Smartsheet is well suited to managing task lists and workloads related to project management, sales pipeline tracking, inventory management, event planning, and more. It does this through a set of key features, including:
A familiar interface:

Many users are drawn to Smartsheet because it feels similar to Excel, part of the Microsoft Office family. While users less familiar with spreadsheets might find it a little unwieldy, those comfortable in the world of cells and formulas will immediately find themselves at home.

Online Gantt charts:

Visual-oriented users like to see their data displayed on a graph or timeline. Although they're not updated in real time, Smartsheet's

Gantt charts

do include drag-and-drop functionality, subtasks, task dependencies, critical paths, and milestones.

Extra add-ons:

Smartsheet offers a selection of paid add-ons available for teams who want to bring their features up to the range offered by

Smartsheet alternatives

such as Wrike. Examples include the ability to centralize disparate data, dynamically refresh and analyze data, and roll out business strategy at scale.

Time-saving automation:

While it doesn't yet use predictive analytics such as project risk prediction, suggested tasks, or smart search, Smartsheet does offer automated workflows that can send alerts, request approvals, and updates, and lock rows based on sheet changes and preset times.
Reasons to seek a Smartsheet alternative
These days, choosing the right digital tool is more important than ever. We all need to do more with less by optimizing our tech stack and empowering our teams with the right software. If you're looking at project management platforms, you might be comparing features with Smartsheet competitors including Wrike, Asana, Monday.com, and others. If you're thinking about moving to a Smartsheet competitor, here are four reasons why now might be the time:
Limited views: Smartsheet users can visualize their data via grids, Gantt charts, cards, or calendars, but that's all. In Wrike, for example, there are 10 different types of views, including Analytics, Stream, and Board, plus more via custom options.

Lack of real-time communication: Information moves fast and teams need to be kept up to date. Smartsheet users have to refresh sheets, comments, and mentions in order to access the newest data, unlike live platforms such as Wrike.

Costly add-ons: Unlike Wrike, Smartsheet requires expensive plug-ins for advanced capabilities that are often vital for growing organizations, including resource management, blueprints, and its "Control Center."

Steep learning curve: If you're a whiz with all things cell-related, you'll find Smartsheet great. If not, you could have a bit of a learning curve ahead. While there are resources available, you might have to set aside some time to get to grips with the platform.
Best Smartsheet alternatives
Wondering what other Smartsheet alternatives are available? While they'll vary hugely in terms of capabilities and cost, there are quite a few options currently on the market, including:
Wrike

Monday.com

Asana

Trello

ClickUp

Scoro

Basecamp

Microsoft Project

Jira

Redbooth
To help you understand the pros and cons of these alternatives, we've put together a whirlwind tour of the top five Smartsheet competitors: Wrike, Monday.com, Asana, ClickUp, and Trello.
1. Wrike: The perfect alternative to Smartsheet
Wrike is often listed as number one on critics' lists of project management software. That's because it's the most powerful, versatile, and scalable. If you're hoping to strengthen your teams to help them navigate an uncertain future, Wrike is the mission-critical software you need.
Let's look at what makes this award-winning platform so popular.
The flexible choice: While Smartsheet might suit defined requirements and established processes, Wrike offers the flexibility most modern teams need. There are 10 different views, for example, rather than just three or four as standard. You can also completely customize your workspace to reflect the way you work — right down to dashboards, Gantt charts, and a full range of custom item types. It also offers the perfect combination of simple solutions for small teams and complex capabilities for growing enterprises so you won't need to go down the route of expensive add-ons to stay competitive.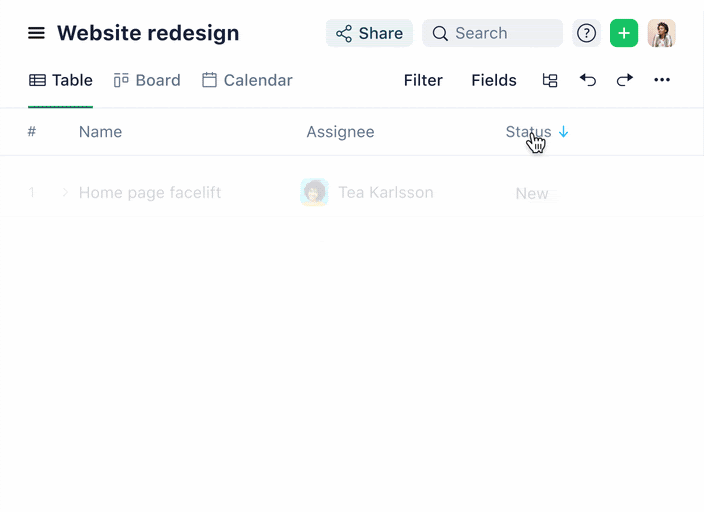 Perfect for marketing teams: Wrike was built with marketing in mind, which is why it's a firm favorite among freelancers, agencies, and marketing departments. It's the complete all-in-one solution for every type of creative team, helping them connect the entire campaign process, from planning to execution. From built-in time tracking tools to powerful analytics, all the way to full Adobe CC and DAM software integrations, Wrike is the one-stop shop for all your marketing needs. You can create, collaborate, and campaign — all directly from Wrike.
An end-to-end solution: If you're looking for a simpler, more streamlined tech stack, Wrike is going to be key. It's packed full of powerful features that can cater to small teams and large, complex enterprise organizations with minimal investment in terms of time. Many of the features that are chargeable extras with Smartsheet — such as Resource Management or Brandfolder — come as standard in Wrike's plans, giving you many more options without having to request additional budget or expenditure sign-off.
Fully integrable in seconds: Wrike has more than 400 ready-made integrations with all the most popular work management apps including Slack, Salesforce, Google, Microsoft Teams, Adobe Creative Cloud, and many more. Most are plug-and-play, meaning no downtime toggling between tools — Wrike works seamlessly with all of its partners. Smartsheet, in comparison, has just over 100 integrations with more available through apps like Zapier.
If you're looking for an all-inclusive, customizable platform that's easy to start and simple to scale, Wrike is the best option by far. It'll grow with you, helping to support your team as it expands, facilitating new products, higher revenue, and exciting new opportunities.
2. Monday.com
If you're looking for an alternative to Smartsheet, Monday.com will probably pop up on your list. A robust, cloud-based platform, it's a comprehensive work management solution that works to help you "run every aspect of your work." Its features include firm favorites such as dashboards, Gantt charts, and Kanban boards, as well as an increasing number of automations.
Monday.com offers a wider range of features, more advanced resource management capabilities, and a higher number of built-in integrations.
However, all this does come with a higher price tag. If you opt to get billed on a monthly basis, Smartsheet has a $9 option that would suit freelancers or small teams, while Monday.com's lowest-paid choice for monthly billing requires a minimum of three seats at $30 — meaning you could be paying for user numbers you don't need.
Both Monday.com and Smartsheet have free plans, although only Wrike's free plan is available for unlimited users, providing a better opportunity for growing teams to scale without adding extra costs. Comparing Wrike's offering to Monday.com's is a great exercise in seeing how two more robust, feature-heavy platforms stack up.
3. ClickUp
ClickUp is usually right up there in search results alongside Monday.com as project management software that's a good alternative to Smartsheet. Its cloud-based platform helps to "simplify work and get more done" using automation, templates, Gantt charts, and Kanban boards.
When comparing ClickUp to Smartsheet and full-suite work management platforms such as Wrike, proofing and approval features tend to come up time and time again — especially for creative and marketing teams.
Both Smartsheet and ClickUp cater to this industry but with certain limitations. Smartsheet's biggest drawback is that proofing needs to be enabled and initiated by admins or owners, which can slow down progress and throw up roadblocks. It's also lacking approval tasks and the ability to prove some popular asset types, including web and HTML pages.
ClickUp users, in contrast, can mark changes or leave comments on six different file types — although, like Smartsheet, it doesn't have approval tasks. Marketing departments, agencies, or freelancers might be interested to know that neither has native integrations with frequently used design tools such as Adobe CC or publishing platforms such as MediaValet. That means you must leave ClickUp or Smartsheet to edit, upload, and publish creative assets.
Wrike, though, has all this and more, united within one marketing-friendly platform. That means that every part of a creative project's life cycle — from conception to publication — can be handled in one secure place.
ClickUp's 'free forever' plan will get teams started with a good selection of features and 100GB of storage. Plus, it's available to unlimited users like Wrike, rather than up to two like Smartsheet. Its first paid tier is $9 per member, per month (billed on a monthly basis), so it's still in the reasonable expense category at that level.
4. Asana
Another common name that'll appear among Smartsheet competitors is Asana. Billed as "the best platform for cross-functional work," it's aimed at boosting collaboration, driving productivity, and delivering good work through a series of features such as reports, dashboards, automation, and smart intelligence.
Users looking for an alternative to Smartsheet will usually have one big item on their wish list: Gantt charts. These visual timelines are invaluable to modern teams, helping them to stay on the same page in terms of deliverables and deadlines. However, Asana requires integration with the paid app Instagantt in order to provide the same level of Gantt chart capabilities as those ready-made in Wrike.
Asana is on a similar par to Smartsheet, in that it does offer proofing and approval features, but not as extensive as Wrike's. It only supports five different file types for proofing (no video or web / HTML pages) and, while it does have an Adobe CC integration, it doesn't have any native DAM integrations, so publishing will involve an extra step.
Similar to Smartsheet, Asana does have a free plan, but edges ahead by allowing up to 15 users. Its Premium plan is billed monthly at $13.49 per user per month, which is more expensive than Wrike and Smartsheet's first paid tiers. It'd be a good idea to compare Wrike to Asana and Smartsheet to see what suits your needs best.
5. Trello
Many of us will have used Trello at one point or another in our lives, whether it was to organize high school projects or keep a personal to-do list. All these years later, it's still great at providing a simple Kanban board-based solution to all our basic task management needs, which keeps it as a contender for an alternative to Smartsheet.
Of course, it's grown over the years and it now encompasses a much wider suite of features including templates, automation, and detailed workflows. @Mentions keep teams collaborating across boards, lists, and cards, while extra views have been added, including calendars and maps.
Where it gets a little more complex, though, is if you find yourself needing to scale up from tasks and projects to developing business plans or strategies. For this, you might be better off looking at a more complete project management software solution such as Wrike. Any comparison between Trello, Wrike, and Smartsheet will involve listing the features you need to meet your teams' needs — without adding yet more tech or incurring ever-higher costs. Wrike will likely come out on top.
Trello has a strong free plan, although it does involve limitations to integrations and attachment size, as well as reporting and privacy settings that aren't as robust as other options. A big plus on Trello's side, though, is that its free plan can cater to as many users as needed, while Smartsheet is limited to one user and two editors.
Final notes
Smartsheet is a great project management tool for users searching for an improved version of traditional spreadsheets, with all their complex capabilities and wide range of applications. However, as one reviewer pointed out, "Smartsheet can feel like a clone of Microsoft Office, especially with 365 being a valuable option for most businesses. In this regard, it is hard to justify the separate cost for it."
This is especially true nowadays, as every business is trying to cut back on unnecessary expenditure and tackle overly stuffed tech stacks. If you'd prefer one complete solution with a wide selection of built-in features that can help you start small and scale big, Wrike is a far better option.
A one-stop shop
Wrike's capabilities are wide-ranging, offering features for teams at every stage of development. For example, Wrike's built-in resource management features include 360° workload views that allow users to drag and drop tasks, monitor budgets, balance workloads, and track project progression. Wrike can also help you summarize and analyze large amounts of data and build shareable calendars with custom details, whereas all this involves extra add-ons with Smartsheet.
Better proofing and approvals
Any organization with a marketing function knows how complex it can be to create assets, achieve sign-off, and launch campaigns. Wrike makes it all so much easier by combining everything you might need in one place, from collaborative proofing to real-time editing, automated approvals, and one-click publication. You can also work on 20+ file types, unlike Smartsheet, which is limited to only the most common. With cross-functional tagging, you can involve anybody in any department, including localization teams or product engineers.
Real-time updates and live changes
Who has time to hit "refresh" over and over again like it's 2004? Not us, which is why Wrike is fully synced for real-time updates across every task, project, or space — no matter where your team is located. It's also one of the smoothest platforms on the market, providing its 2.4m customers with a bug-free experience that keeps work flowing. That means no crossed wires, no missed opportunities, and no waiting around while competitors sail ahead.
You don't need to take our word for it. Start a two-week free trial today to get to grips with Wrike's powerful platform in your own time. Discover how easy it is to get started and how beneficial its features will be to your growing team. No credit card, no commitment, and no downloads needed — just instant access to the all-in-one project management software solution you've been looking for.
Don't set yourself up for an expensive experiment. Choose Wrike to help support your team into the future, with a packed toolbox that'll keep your team one step ahead — no matter how challenging the path.