Does the idea of spreadsheets fill you with joy or dread? Everyone's different: some people use spreadsheets for everything from work projects to grocery shopping. Others would rather climb a mountain bare-footed than figure out a formula or fill in cells.
If you're in the first category, you've probably heard of Smartsheet. Founded in 2005, it was one of the first solutions to combine the familiarity of an Excel spreadsheet with the functionality of a work management tool. It was a great option for individuals and companies who relied on spreadsheets daily but needed a more unified system for the project management process.
Now, though, there are many more options available to customers who need comprehensive project management software. In this blog post, we'll compare Smartsheet with one of the world's leading platforms — Wrike.
If you're working on a Smartsheet vs. Wrike comparison and you want to focus on project management, you'll need to make sure you're comparing like for like. That's why this blog post is going will help you look at the features, benefits, and pricing of both Wrike vs. Smartsheet, and learn why 2.4m people around the world choose Wrike for its powerful project management solutions.
Embracing a project management solution is a big deal for a company, as it involves time, effort, and resources. It's important that you get to grips with each option's ease of use, adaptability, and functionality. Not all platforms are made equally, but we're here to cut through the jargon and show you what you really need to see. Keen to learn more? Keep reading.
What is Wrike?
Wrike is an award-winning work and project management solution that helps teams, organizations, and enterprises plan, collaborate, and execute — all in one platform.
Founded in 2006, its exceptional power, versatility, and flexibility mean that it's consistently ranked number one by industry experts and critics and regularly named a Leader in the prestigious Forrester Wave™ reports.
More than 20,000 companies in over 140 different countries use Wrike daily to manage marketing campaigns, product launches, professional services, IT initiatives, business operations, project management offices, and much more.
With five plans to choose from, Wrike has an option for every sized team, from a single freelancer to a global organization. The Free plan is perfect for those getting started, while growing teams will likely prefer the Team plan ($9.80 per user, per month, max 25 users) or the Business plan ($24.80 per user, per month, max 200 users). Large or multinational companies will benefit from the Enterprise or Pinnacle plans, which are price-on-application.
What is Smartsheet?
Smartsheet is a modern work management platform that "brings together people, processes, and technology to empower anyone to drive meaningful change." It's used by organizations of all sizes to manage projects, collaborate with colleagues, and gain visibility into operations.
Originally designed to enhance and expand the capabilities of Excel-style spreadsheets, Smartsheet has grown to offer a wide range of features and use cases. It now serves many roles and industries, including healthcare and life sciences, public services, higher education, construction, and marketing.
It's particularly preferred by teams and departments that have historically relied on complex spreadsheets, as they find their proficiency and skills can be put to good use in its interface. While it has added many more capabilities over time, it still fundamentally does what says on the tin: provides sheets, except smarter.
Its pricing structure is straightforward: it has a basic free option for up to one user and three paid choices. The Pro plan is $7 per user, per month (max 10 editors), Business is $25 per user, per month, and Enterprise is price-on-application.
What are the main features of Wrike?
Over the years, Wrike has developed dozens of project management tools for every type of team, project, and organization. The key features that customers rave about are: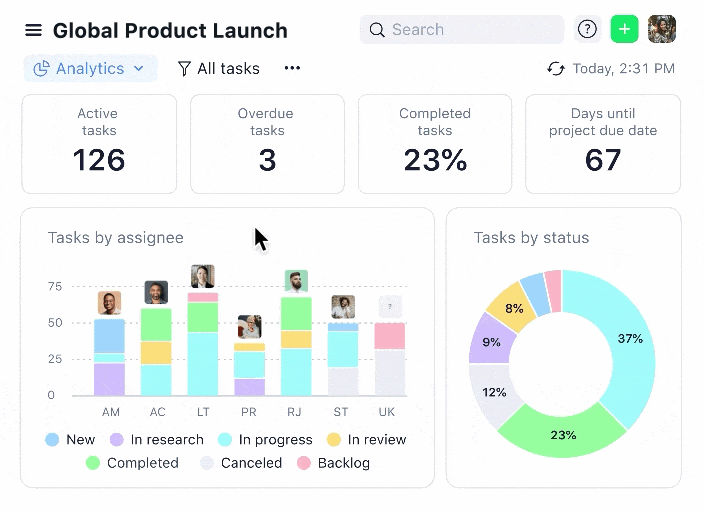 What are the main features of Smartsheet?
Smartsheet has a wide range of task management and project management features that suit teams of all types, from project planning operations to marketing campaign management. The key features highlighted by users include:
Excel-like interface:

One of the big attractions to Smartsheet is its similarity to Microsoft Excel — software that has become ubiquitous in our homes and workplaces. While users less experienced with

spreadsheets

might struggle, those who are used to detailed data displays will find it comfortable (although it can be

buggy

at times.)

Out-of-the-box templates:

Smartsheet has a wide range of pre-built templates, which help to simplify its use for new customers and accelerate workflows for busy teams. The templates are designed for multiple industries, roles, and use cases — and they're available in eight languages.

Premium add-ons:

While many of these

key features

are included for free in Wrike plans, Smartsheet does have a portfolio of paid add-ons available for teams who want to level up their capabilities. These include the ability to centralize disparate data, dynamically refresh and analyze data, and roll out business strategy at scale.

Third-party integrations:

Smartsheet has just over 100 integrations and add-ons to allow users to toggle easily between third-party apps. Although Wrike has more than 400, they both cover the most popular options such as Slack, Salesforce, Google, Microsoft Teams, and Adobe Creative Cloud.
What are the benefits of using Wrike for project management?
Wrike is used by project management offices (PMOs), departments, and teams all around the world because of its all-in-one capabilities. Wrike's platform is packed with everything a project manager could need to align strategy with execution, balance resources, and deliver projects on time, every time. The many benefits of Wrike for PMOs include:
Cross-functional collaboration

: Wrike's cross-tagging feature allows you to instantly connect work across teams, avoiding duplicate tasks and ensuring complete organization-wide visibility. Smartsheet's closest functionality, cell mirroring, does not connect entire subtasks, tasks, projects, and folders across teams. Instead, cell mirroring connects a single cell or data point, removing much of the context needed to manage cross-functional work.

Low cost levels:

We're all under pressure to do more with less these days. Wrike is recognized as the most comprehensive

project management platform

because of its wide range of built-in capabilities. For example, resource management features,

time management tools

, Blueprints, and centralized administration are built into the pricing for Business, Enterprise, and Pinnacle plans.

Easy user interface:

Projects are complex, but your

project management software

shouldn't be. Visibility is key here, so information is front and center, not hosted in cells. Wrike is easy to learn, simple to adapt, and a joy to use on a daily basis — with no spreadsheet experience required.

Dynamic and adaptable:

Remember sifting through multiple

spreadsheets

and racing to the 'save' button ahead of colleagues? Those days are gone with Wrike. Every edit is automatically updated and saved in real time, enabling truly live

collaboration

, even among remote and hybrid teams. Smartsheet

does not have live editing capabilities

.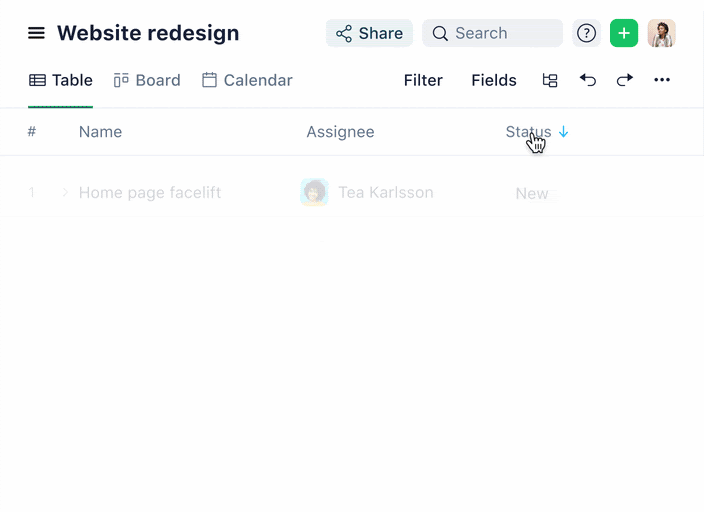 What are the benefits of using Smartsheet for project management?
If anyone likes a good spreadsheet, it's a project manager. For this reason, Smartsheet is still used by many PMOs in multiple industries and fields. Its platform can help to empower individuals and teams, accelerate and ameliorate project planning, and standardize and scale work for success. The main benefits of Smartsheet for PMOs include:
Familiarity:

One of the big benefits of Smartsheet is the fact that it's familiar to project managers who are used to working with

spreadsheets

. While the options have expanded, its core view is still a

flexible grid

that includes customizable column types, rows, formatting, and hierarchies. And of course, there are plenty of formulas too.

Ease of reporting:

Smartsheet has good reporting capabilities that allow users to add external data images and manipulate different data fields to reflect whatever they're looking for. They might be challenging to set up initially, but many PMOs find that the benefits make it worth the investment in terms of time.

Accelerated kickoff:

Smartsheet's extensive list of templates can help a

project team

get started fast on marketing campaigns, HR systems, product launches, and more. They even have a formula handbook set to help "both beginners and formula pros" understand and use the more complex elements of

spreadsheets.

External viewers:

Licensed users have the ability to share sheets and reports with outside collaborators. A licensed admin will need to grant access and permission, which could cause delays, but this feature is still very useful for teams that regularly interact with external stakeholders, clients, or customers.
Wrike vs. Smartsheet: Which is better?
If you're considering Wrike vs. Smartsheet, a lot will depend on how you see your organization's future. If you're comfortable staying with more traditional spreadsheet-based solutions and an Excel-like user experience, Smartsheet might be for you. However, familiarity is one thing, but ease of use is another. Those who found Excel to be clunky, rigid, and slightly old-fashioned might find themselves facing similar challenges with Smartsheet.
If you're keen to future-proof your operations, Wrike might well be a better choice. It has a very user-friendly interface, with natural navigation, enhanced search functionality, and adaptable workspaces. As the most cutting-edge project management platform, it's pioneering the use of AI and automation (including project risk prediction, suggested tasks, work creation, and smart search) to help companies stay competitive in a challenging market.
Collaboration is also going to be a big factor in your comparison: while both platforms offer a centralized space for colleagues to communicate, create, and collaborate together, Wrike may have the edge. Its ability to cross-tag work across multiple teams helps to ensure that teams stay informed and focused on achieving major goals — not burning through time duplicating work and chasing colleagues for updates.
Wrike may also suit companies who prefer Agile project management, as its ease of use and real-time changes make it ideal for fast-pivoting teams.
Manage your projects better with Wrike
Packed with purpose-built project management tools such as time-saving automation, built-in resourcing tools, and a full library of ready-to-go templates, Wrike accelerates and streamlines projects of every type. Customizable dashboards, powerful analytics, and interactive Gantt charts enhance visibility, helping to illuminate projects and portfolios and align strategy with execution. With Wrike, collaboration comes easy — even among distributed teams — with instant communication, in-context proofing, and live updates.
You don't need to be an Excel whiz or an amateur computer programmer either: Wrike users tend to understand the platform out of the box, with minimal training. There's also an array of resources to help you get the most out of the platform, including live chat and phone support. Wrike is available to small teams, large departments, and multinational organizations everywhere, on desktop or mobile apps, from anywhere in the world.
If you want to see for yourself how Wrike compares to Smartsheet, dive into a two-week free Wrike trial today. No credit card, no commitment, no downloads needed — just easy access to the world's most powerful and easy-to-use project management software.
Tired of grappling with formulas, cells, and spreadsheets? Need a comprehensive, all-in-one project management platform? Try Wrike for free.