Advanced Terminology
What is RAID in Project Management?
Before a project gets underway, it's important to identify and understand the risks, assumptions, and challenges associated with it. Monitoring a project's risks and potential issues is crucial to proactive project management. Luckily, there are a number of techniques that can be employed to do just that — including a RAID analysis.
Doing a RAID project management analysis helps teams create a strategy for avoiding events and issues that may harm your project's outcomes.
In this article, we will explore RAID in more depth, including what it is, why it is essential, and how it can be used to manage risks and optimize project outcomes.
Before we begin, you can claim a free trial with Wrike right now to streamline all your projects and track your RAID logs in one platform.
What does RAID stand for in project management?
As with many terms in project management, RAID is an acronym that spells out a specific technique. RAID in project management stands for risks, assumptions, issues, and dependencies. Using the RAID analysis framework allows project managers to be thorough.
Risks
Risks are events that may occur over the course of your project that could have adverse or detrimental effects on its overall success — though there is such a thing as a "positive" risk in project management. When doing a RAID analysis, it is important to assess the risk, note a detailed description of it, and create a plan to address the risk should it become a reality.
Wrike's machine learning is able to identify historical patterns and frequent issues and alert you if the project is at risk.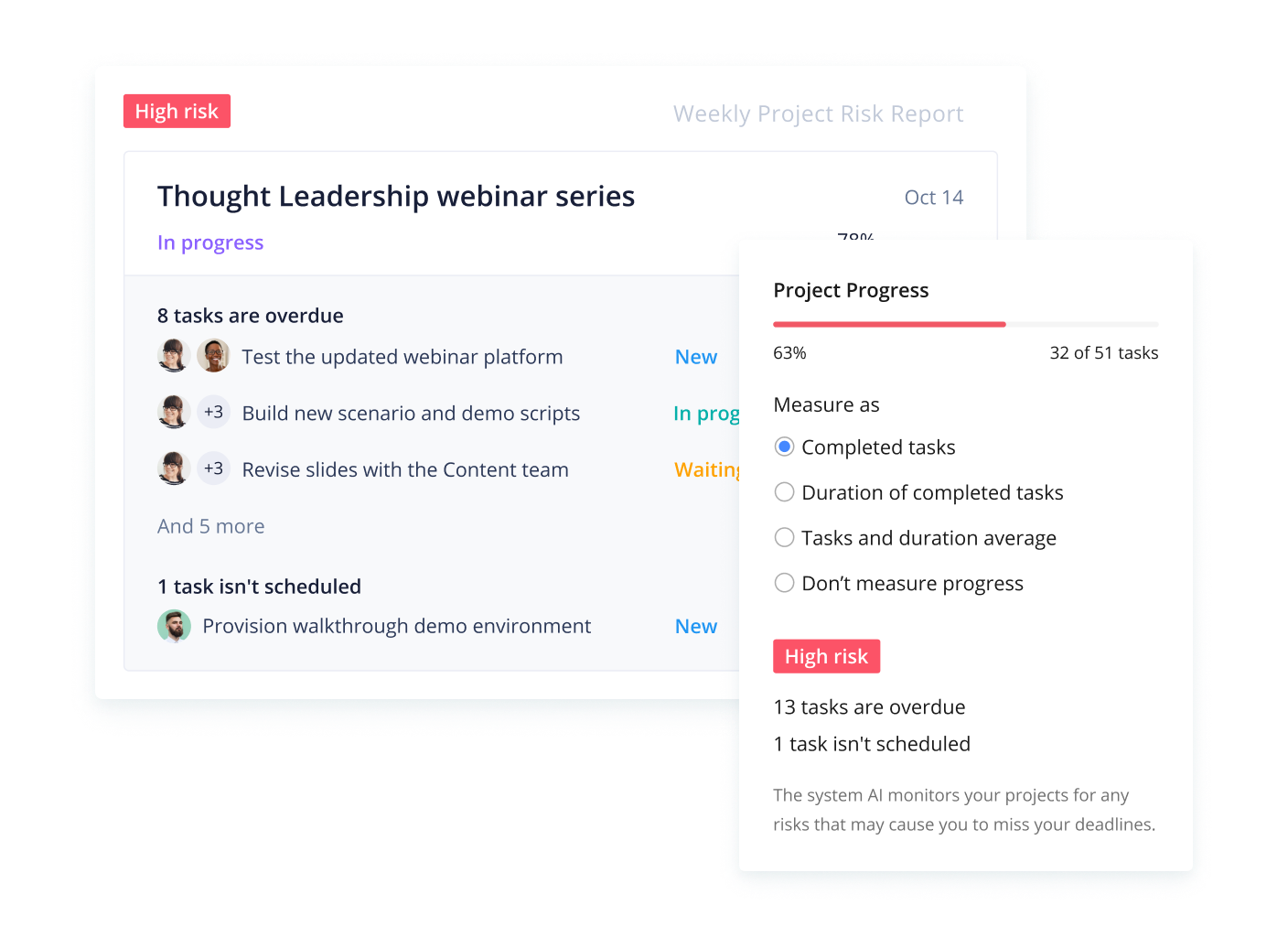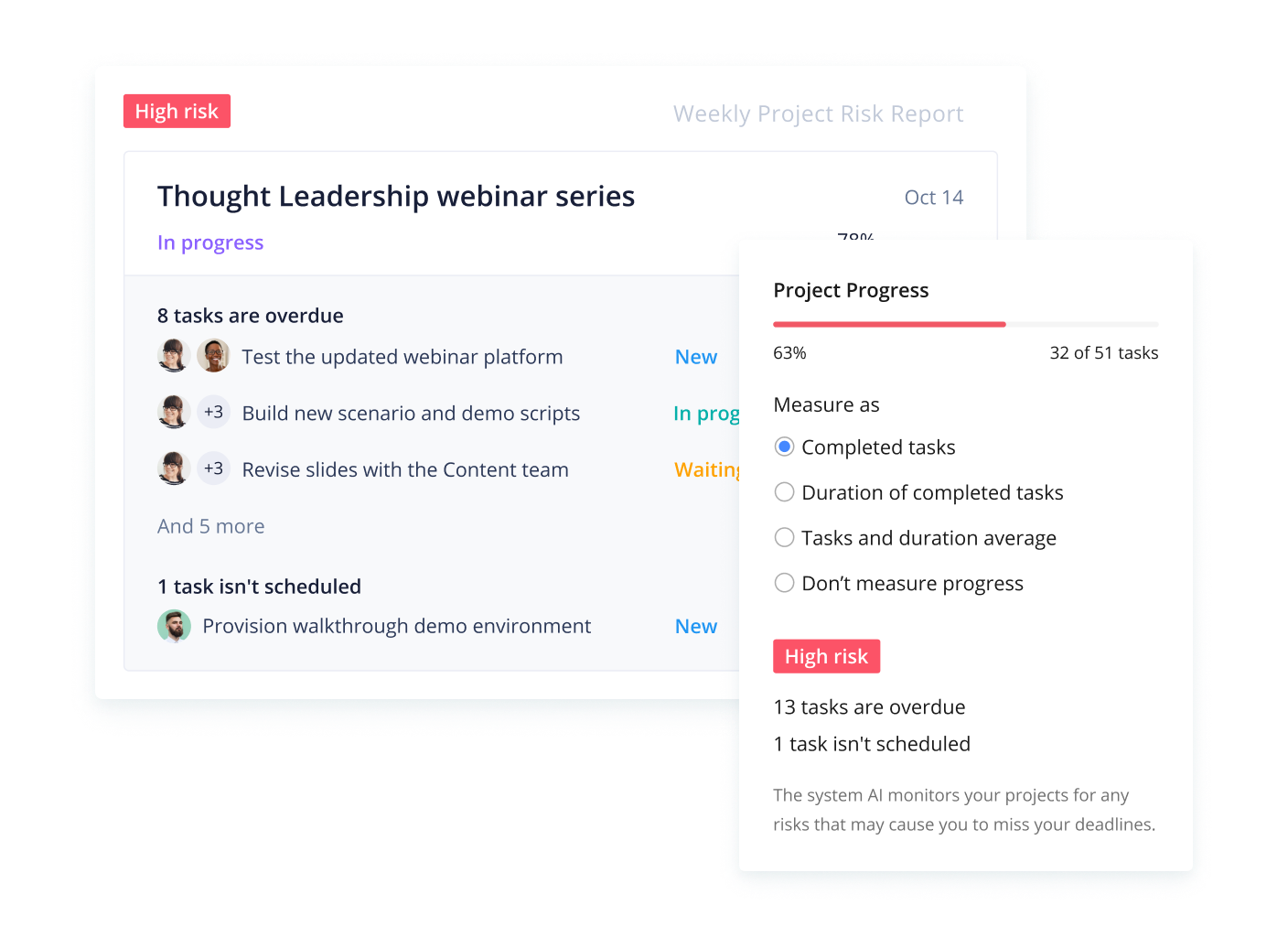 Assumptions
An assumption in project management is essentially anything that you believe to be true without empirical evidence or proof. For example, a common project assumption is that you will have the resources you need to finish your project on time.
Issues
An issue in project management is an event or problem that must be attended to in order to avoid project disruption.
Dependencies
No project task happens in a vacuum. Much of the time, your project tasks are most likely interrelated, meaning that they have some type of logical relationship to one another. A dependency in project management simply refers to that relationship. You may have tasks that need to be completed before another starts or even tasks that need to start before another can be considered complete (though this is rare).
Once you have conducted your RAID analysis, your findings can be compiled and stored using a RAID document. This document is called a RAID log. A RAID log organizes your risks, assumptions, issues, and dependencies so they can be referenced and tracked as needed.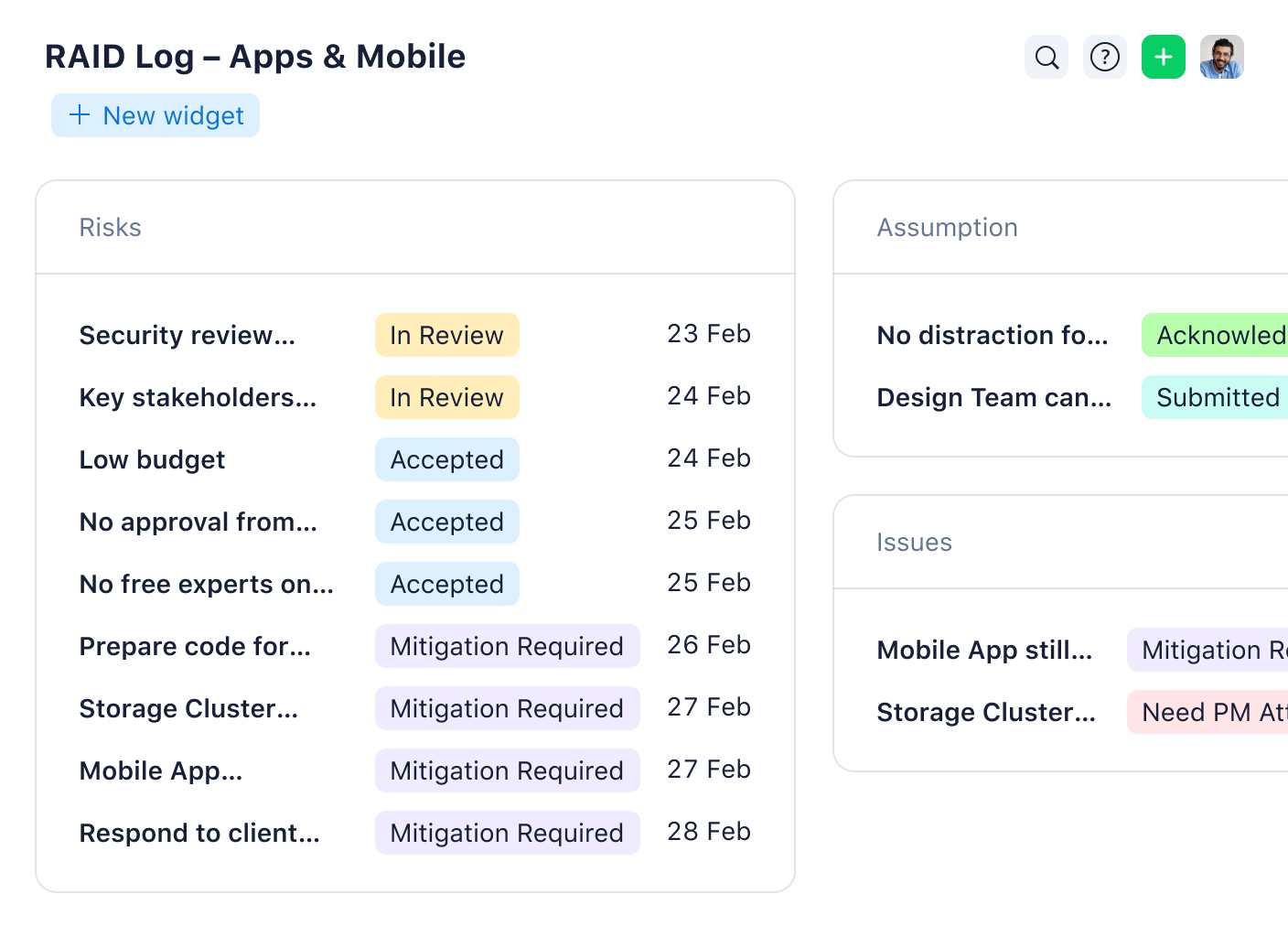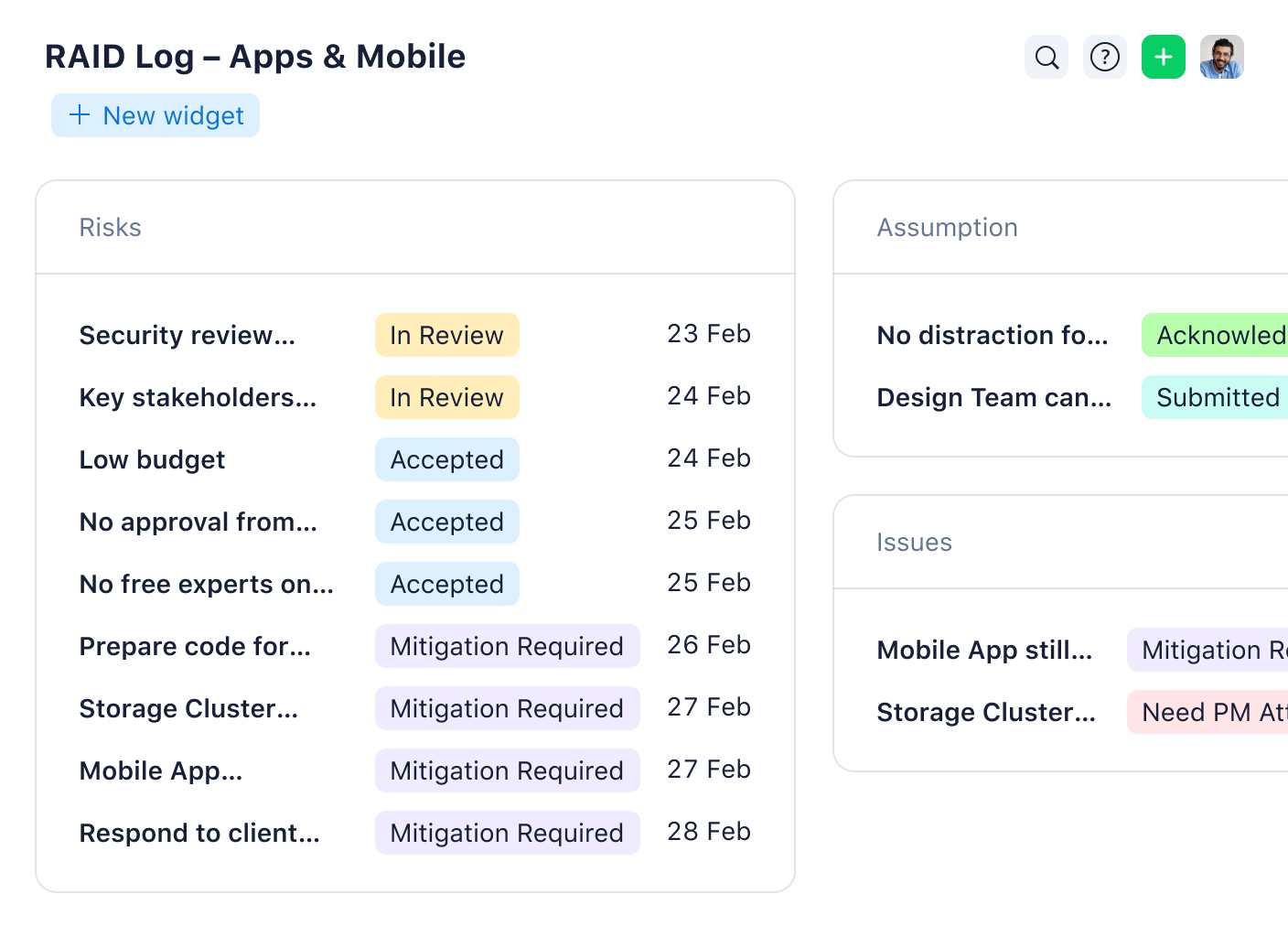 Why is a RAID analysis important?
A RAID project management analysis is important because it helps teams sketch out a full picture of the project's limitations and potential issues from the start.
A RAID log is an essential project management document that is used to keep track of these issues and can be updated as needed throughout the project. An accurate and up-to-date RAID log allows project managers and stakeholders to act in time if potential roadblocks become urgent issues.
How do you create a RAID document?
As a project manager, you may take it upon yourself to compile and store the risks, assumptions, issues, and dependencies associated with your project.
To create a RAID log after your RAID analysis, you can use a basic spreadsheet that notes the risk and priority levels of each entry.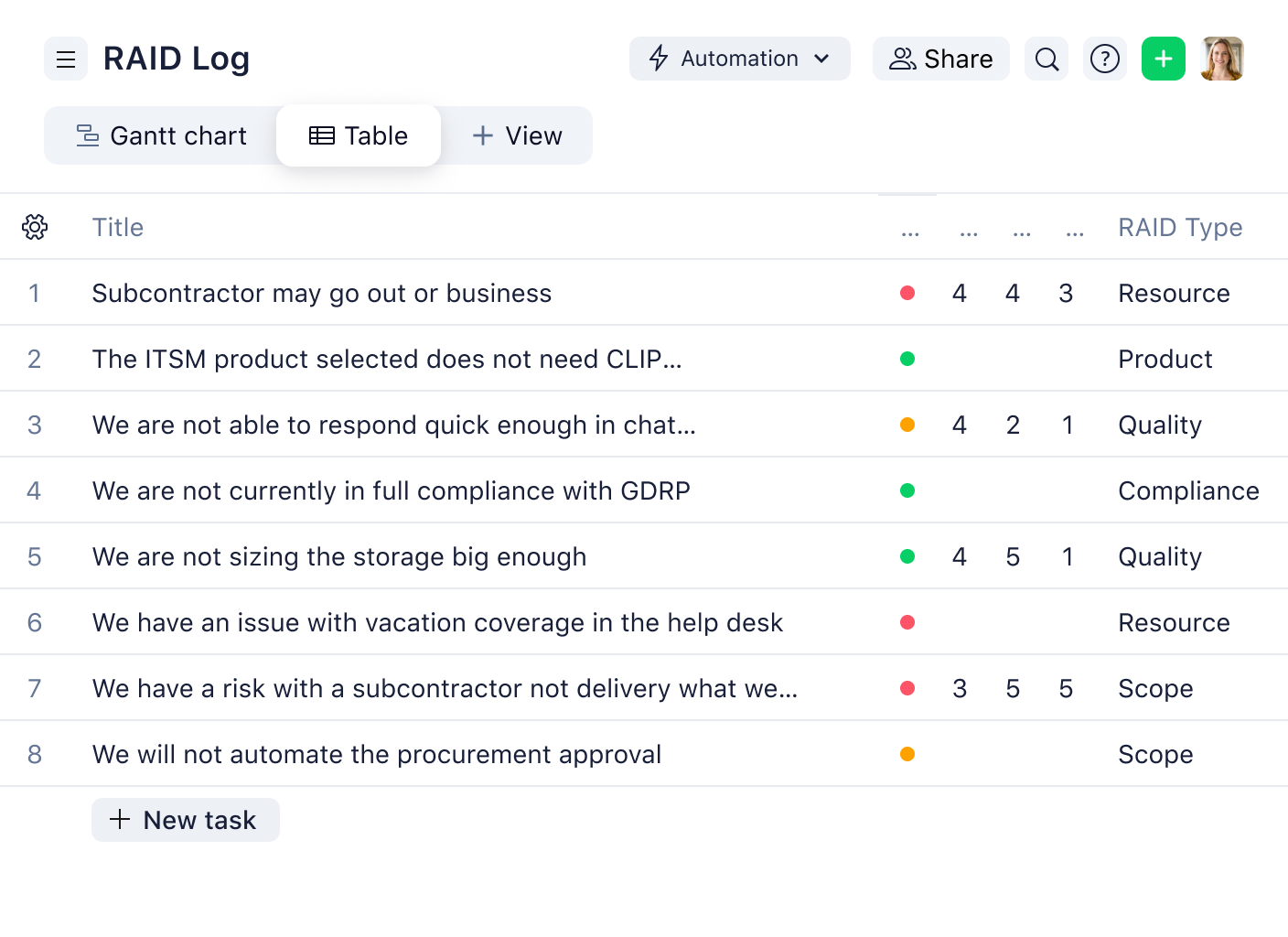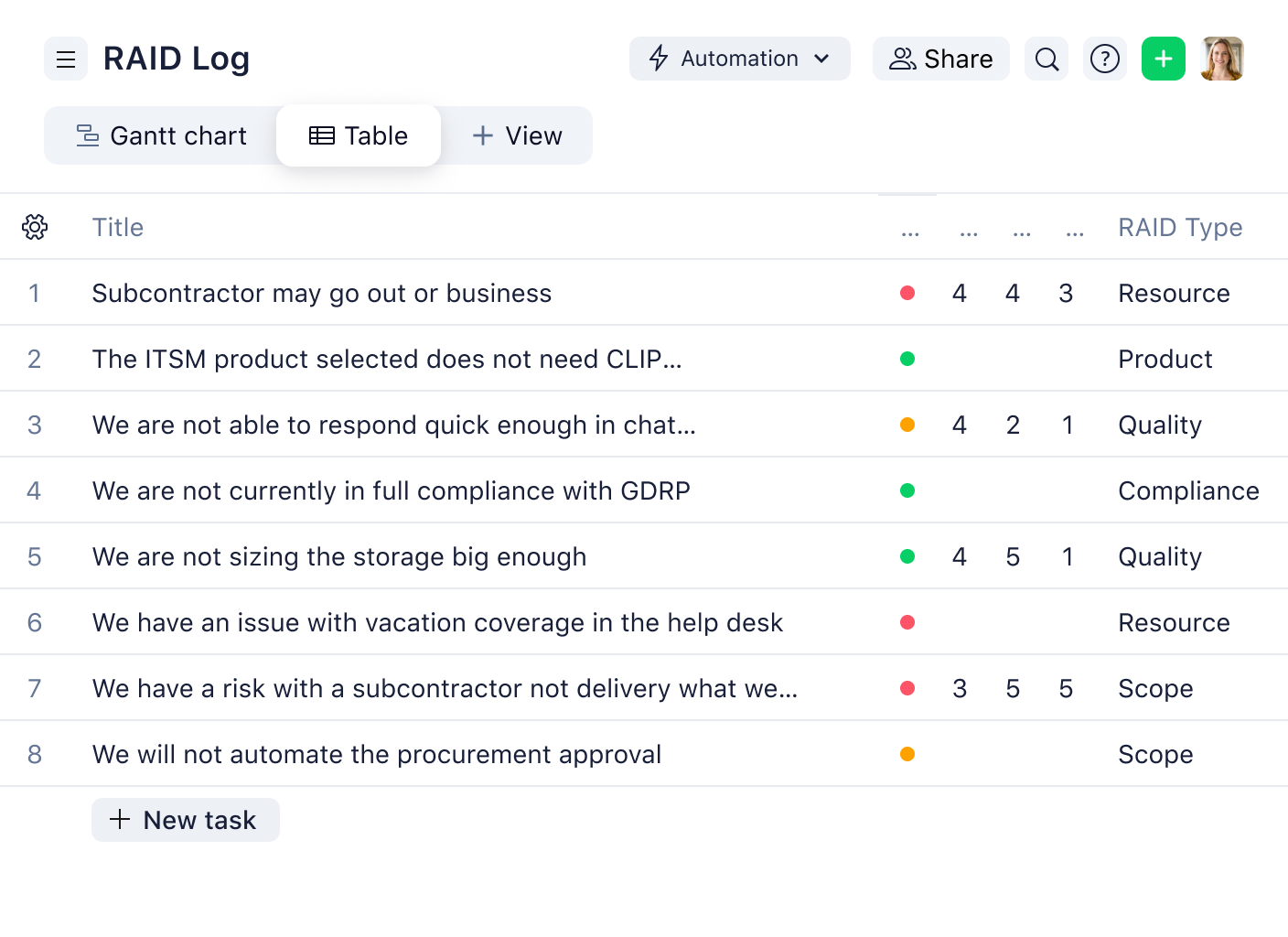 Empower your RAID analysis with a robust tool

Unlock the power of RAID logs with Wrike
With Wrike, there are multiple ways to create RAID logs.
Wrike's custom fields are suitable for logging project risks, assumptions, issues, and decisions.
You can provide a more comprehensive definition of risks and monitor their effect, likelihood, and proximity if relevant.
You can also create a distinct folder for RAID logs, consisting of subfolders for risks, assumptions, issues, and decisions. You can then tag various project elements within those folders for additional monitoring and reporting purposes.
In addition, Wrike's request forms can also be used for RAID logs. You can submit them during every project's roll-out or only for specific or more extensive projects. The request form allows you to define risks and include additional parameters such as probability, impact, and proximity.
With Wrike, it's easy to mitigate risks and keep your project on the road to success. Sign up now and explore all the ways to create RAID logs.