When it comes to planning your very first project, you may not know exactly where to begin. How do you accurately predict how long tasks will take? How do you translate stakeholder expectations into concrete deliverables? What if something goes wrong?
Just because you're a rookie project manager doesn't mean you can't execute like an all-star. Follow these six steps to create a foolproof project plan and lead your team with confidence.
Note: The specifics of how you'll plan your project and the documents you'll create may vary based on the project management methodology you've chosen to follow, but this introduction will get you off to a good start.
Step 1: Identify & Meet with Stakeholders
It's important to remember that stakeholders aren't only the people who hired you to manage the project; a stakeholder is anyone who's affected by the results of your project. That includes your customers and end users, too. Make sure you identify all stakeholders and keep their interests in mind when you create your project plan.
Meet with the project sponsors and key stakeholders to discuss their needs and expectations, and establish baselines for project scope, budget, and timeline. Then create a Scope Statement document to finalize and record the details of the project scope, get everyone on the same page, and reduce the chances of costly miscommunications. Here's a Scope Statement Template to get you started.
Tip: Look beyond the stakeholders' stated needs to identify the desired benefits behind them. These benefits are the objectives your project should try to deliver.
Step 2: Set & Prioritize Goals
Once you have a list of stakeholder needs, prioritize them and set specific project goals. These should outline the objectives of the project — the benefits you hope to accomplish. Write out your goals (and the stakeholder need met by each one) in your project plan so it's clearly communicated and easily shared.
Tip: "But everything's important!" you say. If you're having trouble prioritizing, start ranking based on urgency as well as importance. Or, use an Eisenhower Matrix to help you prioritize. 
Step 3: Define Deliverables
Identify the deliverables you need to produce in order to meet the project's goals. What are the specific products you're expected to complete?
Next, estimate due dates for each deliverable in your project plan. (You can actually finalize dates when you sit down to define your project schedule in the next step.)
Tip: Set firm milestones for essential deadlines and deliverables. You'll be able to track your progress once work begins to ensure you complete key tasks on time (and keep stakeholders happy).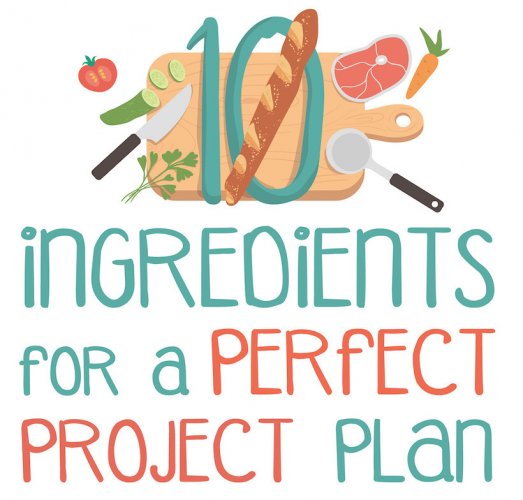 Want to save these tips for easy reference?
Check out our infographic
for a step-by-step guide to successful project planning.
Step 4: Create the Project Schedule
Look at each deliverable and define the series of tasks that need to be completed in order to accomplish each one. For each task, determine the amount of time it will take, the resources necessary, and who will be responsible for its completion.
Next, identify any dependencies. Do certain tasks need to be completed before others can begin? Input deliverables, dependencies, and milestones into your Wrike Gantt chart, or choose from the many online templates and apps available.
Tip: Involve your team in some of the planning process. The people doing the work have important insights into how tasks get done, how long they'll take, and who's the best person to tackle specific tasks. Draw on their knowledge! You'll need them to agree with the project schedule in order for work to run smoothly, so get them on board from the very beginning.
Step 5: Identify Issues and Complete a Risk Assessment
No project is risk-free, and you won't do yourself any favors by crossing your fingers and hoping for the best. Are there any issues that you know of upfront that will affect your project, like a key team member's upcoming vacation? What unforeseen circumstances could create hiccups? (Think cold & flu season, backordered parts, or technical issues.)
Consider the steps you could take to either prevent certain risks from happening, or limit their negative impact. Conduct a risk assessment and develop a risk management strategy to make sure you're prepared.
Tip: Move tasks that involve a high level of risk earlier in your project timeline, if possible. Or, create a small "buffer" of time around the task to help keep your project on track even if a problem does occur.
Step 6: Present the Project Plan to Stakeholders
Explain how your plan addresses stakeholders' expectations, and present your solutions to any conflicts. But make sure your presentation isn't one-sided; it should be a discussion.
You'll need to determine roles: who needs to see which reports, and how often? Which decisions will need to be approved, and by whom?
Communicate clearly. Make sure stakeholders know exactly what's expected of them, and what actions they're responsible for. Just because it's obvious to you, doesn't mean it's obvious to them.
Tip: If your plan or schedule conflicts with stakeholders' original expectations, you'll need to communicate that now so there aren't any nasty surprises or tense conversations down the line.
Instead of telling stakeholders that their expectation or request is unrealistic, tell them what's required to make it happen: how much time, money, or manpower? Let them decide if it's worth dedicating the extra resources.
After You Create Your Project Plan
Congrats, you've completed your project plan! Next step: schedule a project kickoff meeting. Use these encouraging words to energize your team and start your project off right: 10 Phrases That Can Ruin Your Project Kickoff Meeting.
Sources: www.projectsmart.co.uk/, www.projecttimes.com