Project Deliverables Template
Outline clear goals and achieve actionable results with Wrike's project deliverables template.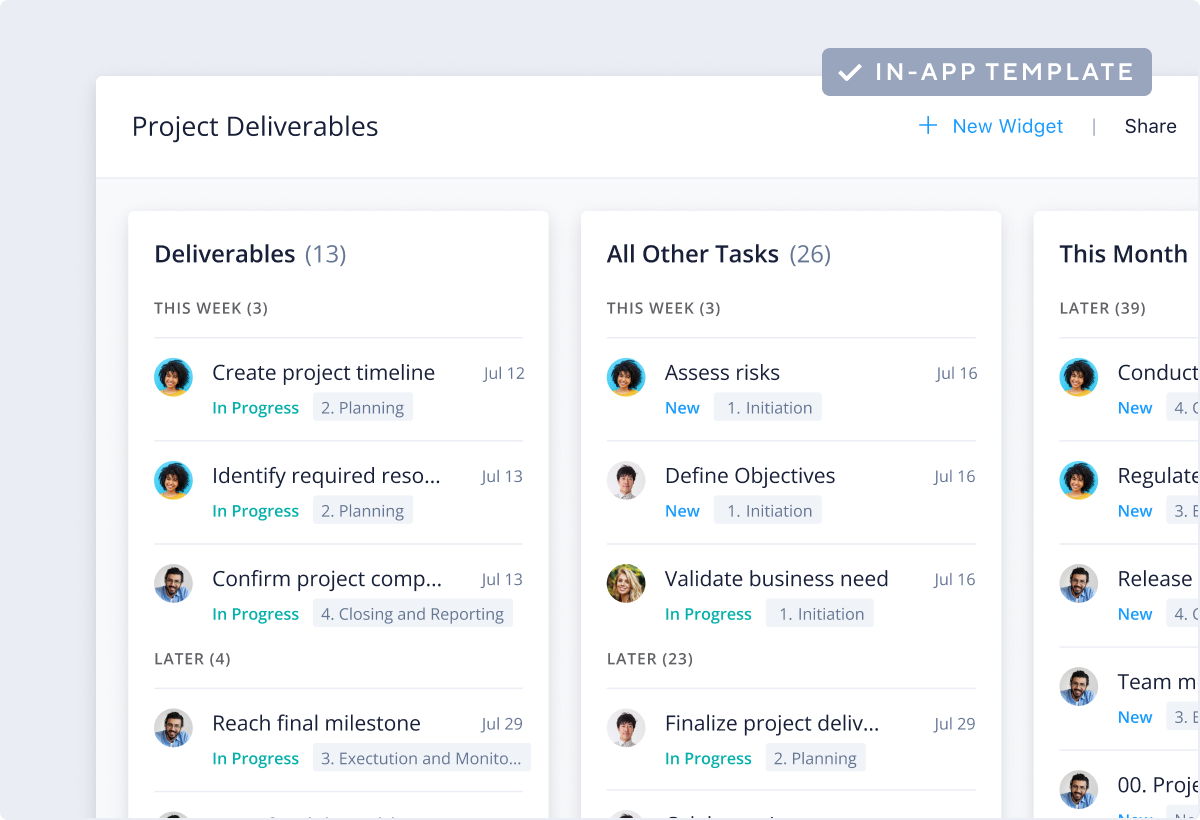 #projectdeliverablestemplate
#deliverablestemplate
#projectmanagementdeliverablestemplate
#projectmilestonesanddeliverablestemplate
Set your projects up for success
For a project to perform well, you need to determine each of your goals from the start and decide what actions need to be completed to achieve them.
However, this is easier said than done. You should consider using a deliverables template if you need some help with the following activities:
Identifying deliverable tasks
Boosting task visibility
Monitoring project updates
Wrike's project deliverables template can overcome these obstacles, enabling you to:

Differentiate between deliverables and non-deliverables
Get a bird's-eye view of your team's workload
Track task status to ensure your projects stay on course
Why you need the project deliverables template
Clearer timelines
Use Wrike's deliverables template to shape your project timeline. Add start and due dates to each of your tasks and monitor their status regularly to ensure on-time delivery.
Better communication
Need to update project stakeholders quickly? Share detailed reports that clearly outline deliverable tasks and their corresponding progress stage.
Seamless collaboration
Stop switching between tabs — Wrike's project deliverables template has multiple features to help your team collaborate in one place and stay aligned on overall goals.
Deliver projects in record time
How to use the project deliverables template in Wrike
Good preparation is key to a successful project outcome. Wrike's project deliverables template has everything you need to get started.
Let's take a look at some of the task management features you'll be using.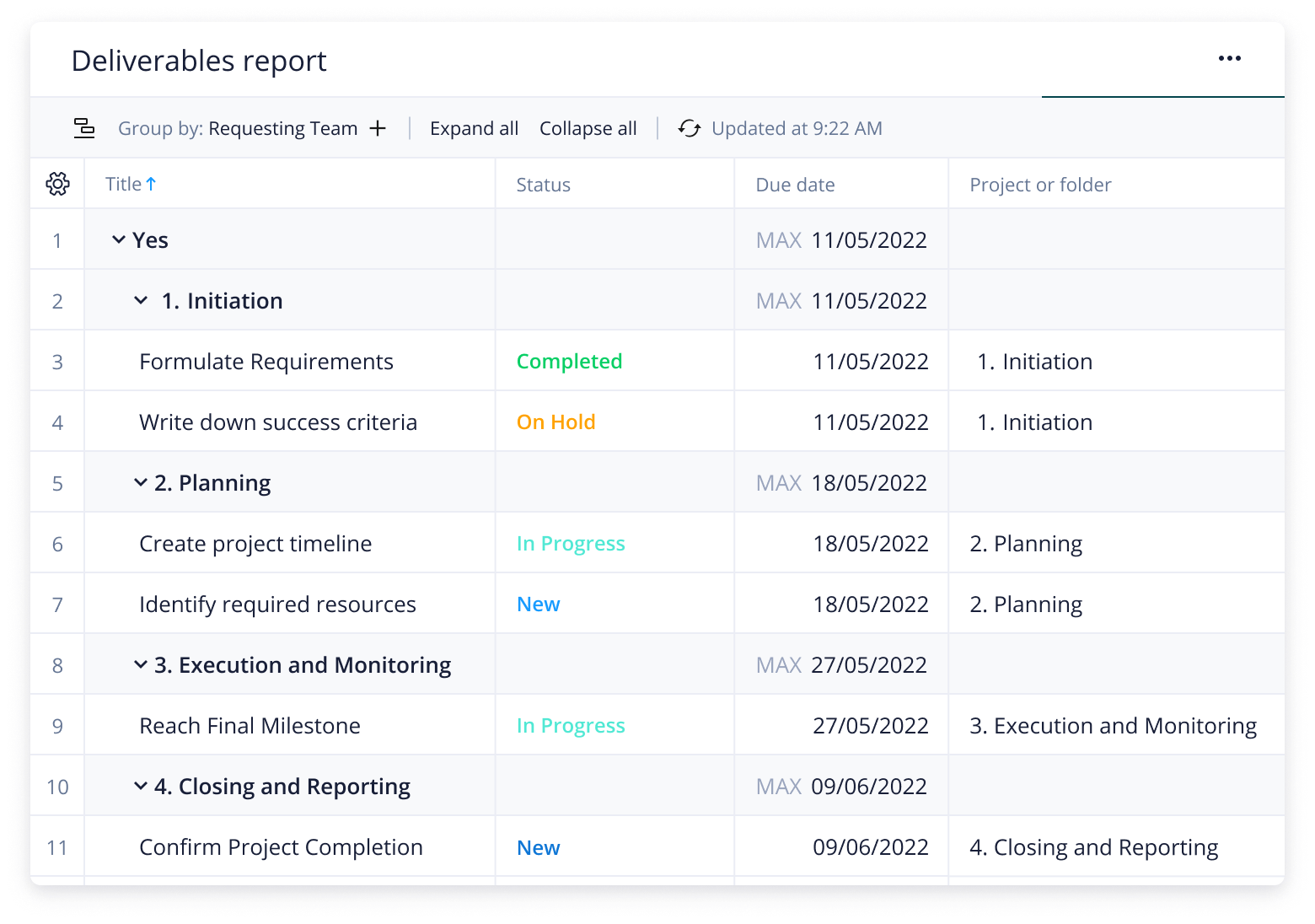 So, how do you actually use the project deliverables template in your Wrike workspace? All you need to do is follow these three steps.
Step 1: Categorize your tasks
From your Wrike homepage, enter the "Project Deliverables" space. Your folder with sample projects will appear on the left-hand side — select one to open it up.
Now you're in the project table view, you can separate your deliverables from non-deliverables. Click the three dots on the top-right of your screen and select "Manage Custom Fields." Select "Deliverable Tasks," which will appear as a checkbox column, enabling you to clearly mark deliverables.
Step 2: Visualize your deliverables
Next, you can head to the pre-built "Project Deliverables" dashboard. Two widgets will appear: "Deliverables" and "All Other Tasks."
If you mark a task as a deliverable, it will automatically appear in the left widget. If not, it will be placed in the right one.
Step 3: Get a full project overview
For a more detailed summary of your tasks, head over to the "Deliverables Report."
Here, you will see the corresponding projects and folders to which the tasks belong, as well as start dates, due dates, and task statuses.
Explore Wrike's versatile platform
Once you've mastered the project milestones and deliverables template, you can start exploring the other benefits Wrike has to offer.
Our award-winning work management platform has plenty of features to help you control your intake, visualize your progress, and tailor your team's processes. These include:
Wrike's flexible software can be adjusted to suit your team's specific needs. Enjoy effortless collaboration and use your extra time to focus on ensuring high-quality output.
Achieve your deliverables, every single time
This template helps service delivery teams to effectively separate their task list into deliverables and non-deliverables so they can accurately assess their project outputs.
Wrike's project management deliverables template includes a pre-built dashboard and report, as well as sample custom fields, folders, and projects.
Yes, the product deliverables template is free and available to existing Wrike Business, Wrike Enterprise, and Wrike Pinnacle customers.
Simply enter your business email to get started. If you don't have a Wrike subscription, you can sign up for a free two-week trial today.