Are you a fan of Silicon Valley? Turns out, HBO's latest hit is good for more than an entertaining half hour. It's also full of good advice for launching a startup in general and software development projects in particular.
(If you've never seen the show, here's a brief synopsis: programmer Richard works at tech giant Hooli by day, and on his side project — a music streaming app called Pied Piper — by night. When it's discovered that the foundation of Richard's app is a supremely powerful compression algorithm, Pied Piper is suddenly worth millions. He turns down Hooli's offer of $10 million to buy the company, and instead accepts a seed investment of $200,000 to develop and run the company himself. He hires his housemates, Dinesh and Gilfoyle, along with former Hooli staffer, Jared, as his team.)
Here are a few lessons we picked up between laughs:
1. Innovation isn't everything.
A cutting-edge program or app is great, but it doesn't guarantee success. As Richard learned the hard way, velocity is key. Hooli was faster to present its reverse-engineered version of Richard's software at TechCrunch Disrupt, making Pied Piper irrelevant before it even launched. It didn't matter that Richard was the original innovator; Hooli executed more efficiently and jumped on market demand.
Takeaway: Speed is vital, so get your project out as soon as you have a minimum viable product. Then add the bells and whistles — and only spend your time and energy on features that you're certain customers want. Resist the gold-plating!
2. Deadlines aren't the enemy.
When Richard first discovers he has to unveil his startup at TechCrunch Disrupt to challenge Hooli, slashing his timeline from 5 months to 8 weeks, he has a panic attack. But instead of collapsing in defeat and raising the white flag, the Pied Piper team rises to the occasion and uses the ambitious deadline to buckle down, make their process as lean as possible, and collaborate efficiently.
Takeaway: Don't dread deadlines — let them motivate you. Keep your work organized, refine your process, and stick to essential tasks.
3. Find creative ways to motivate your team.
Tired of team members dragging their feet, accidental project manager Jared tries to pit coders Dinesh and Gilfoyle against each other so they'll work faster. Even though they both recognize Jared's sly tactic, it works. With their newfound competitive spirits, tasks start moving faster and things get done.
Takeaway: Have fun with work — channel your team's competitive nature, gamify the process, and inject some laughter into your daily routine. Far from distracting your team, it'll boost productivity.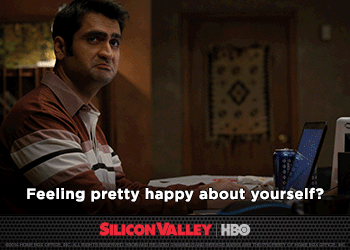 Image found on Giphy.com; Source: HBO.com
4. Always have a Plan C.
You back up your work. You're conservative in setting budgets. But what about employee turnover? Or server failure? Richard's diligent about backing up his code, and yet when contractor "The Carver" is brought in to do Pied Piper's cloud architecture, he ends up trashing everything — including the repository. The Pied Piper team is back to square one, with deadlines looming, and no Plan C to save them.
Takeaway: We've said it once, we'll say it again: there is no such thing as "risk-free." You need a risk management strategy. It's not enough to create a thorough project plan and hope for the best. To cover all your bases, read our Ultimate Guide to Project Risk.
5. A talented team is NOT enough.
Even if you assemble a dream team that includes top talent, it means nothing if they can't work together. You can't assume your team is collaborating effectively, or even that they're on the same page about responsibilities and timelines. To Richard's dismay, Dinesh and Gilfoyle discover they both completed the same set of tasks, duplicating work and wasting their limited time.
Takeaway: Find an online project collaboration tool to help your team delegate tasks and work together. Clear transparency and communication are not optional when it comes to project success, so make sure whatever tool you choose will properly enhance your teamwork.
After battling through these lessons, Richard and the Pied Piper team walk away from TechCrunch Disrupt outshining Hooli with a jaw-dropping compression rate and a buzz-worthy product.
If you've seen the show, what software development advice would you give the Pied Piper team? Any other pop culture-inspired management tips to share?
Image Credits: Silicon Valley on HBO.com