Having a strategic plan is essential to any company, but it's not enough. To ensure that the broader organizational goals are within reach, you need an operational plan for day-to-day work..
In this blog post, we'll explain what an operational plan is, show you how to create one without feeling overwhelmed, and provide you with an example of an operational plan. We'll also share our pre-built templates that you can start with to streamline the process.
What is an operational plan?
An operational plan is a document that outlines the key objectives and goals of an organization and how to reach them.
The document includes short-term or long-term goals in a clear way so that team members know their responsibilities and have a clear understanding of what needs to be done.
Crafting an operational plan keeps teams on track while guiding them in making crucial decisions about the company's long-term strategy.
Operational planning vs strategic planning
Though related to each other, these two planning strategies differ in their focus.
Operational planning is the process of the day-to-day work to execute your strategy. It ensures you have all the resources and staff necessary to get work done efficiently.
On the other hand, strategic planning is about looking ahead into the future, identifying the upcoming pipeline, and figuring out how you can prepare for it.
According to the U.S. Bureau of Labor, nearly 7 million Americans are self-employed, with an additional 10 million employed by small businesses.
If you're working at a large corporation, chances are your company will have some form of strategic goals in place. However, if you're one of the millions who work remotely and independently, your success will rely on operational planning instead.
What are the key elements of an operational plan?
The success of operational planning largely depends on setting realistic expectations for all teams.
Here are the key elements of a functional operational plan:
Clearly define the ultimate vision or objective for the plan
Review and break down the smaller goals for the operating budget, team, and resources required to put the plan into action
Assign budgets, team members, key stakeholders, and resources
Monitor progress with consistent reports
Refine the operational plan and be ready to pivot if needed
Ensure all teams understand the parameters of success. Doing this shows how their work contributes to wider company goals and ensures better decision-making for the business operation.
How to create an operational planning process
Think of an operational plan as a key component in a team puzzle. It provides employees with a manual on how to operate the company.
It should be created in tandem with other foundational documents like an organizational mission statement, vision document, or business strategy. Daily, it can help answer questions such as:
Who should be working on what?
How can we mitigate those risks?
How will resources be assigned for different tasks?
Are there any internal and external risks facing the business?
To create a successful operational plan, it's important to define goals clearly. Here are several steps that will help you develop a functional operating plan:
Start with the strategic plan
Before defining an operational goal, make sure your strategic objectives are in place and relevant.
Prioritize the most critical activities first
Once these goals have been decided on, prioritize the most critical activities required to achieve these aims.
Stop diluting team efforts and let them focus on the most important goals first. Doing this means everyone works on a smaller set of tasks, instead of spreading themselves thin in multiple areas. It also helps in optimizing available resources.
Use predictive indicators
For a robust operational plan, consider using key performance metrics or indicators that can help you determine project progress and lend visibility to team activities.
While lagging indicators look backward, leading indicators look to the future. Think of the plan as a car — the rear-view mirror would be a lagging indicator, while the windshield would be the leading indicator.
A leading indicator could be a new product, higher customer satisfaction levels, or new markets. Examples of lagging indicators include the number of people who attended an event or the monthly operating expenses for specific departments.
Instead of lagging indicators, use leading indicators. Lagging metrics will show that your efforts are falling short only after you execute the operations.
Leading KPIs include predictive measures that allow early identification of problems before they become critical and impact business performance negatively.
Get team buy-in
The key to defining appropriate KPIs is involving the whole team in the process. Meet to discuss the business goals and figure out what measurements are right for the team instead of working independently or outsourcing them.
Ensure consistent communication
Communication is key. By understanding your company's metrics and what they mean, you'll be able to work together more effectively with colleagues to reach common goals.
Operational plan example
Let's say that a company plans to increase production volume by 50% at the end of a fiscal year.
When the company goal is clear, the team will make a strategic plan with three main components: marketing, sales, and operations.
This can be further broken down into an operational plan, which will assign resources, teams, budgets, and timelines for different departments such as manufacturing, sourcing, accounts, finance, and logistics to achieve the increase in production. Such a plan should include a financial summary and financial projections as well.
Operational plan template
Think about the example above. The goals and parties involved are clear as part of the operational plan. At the same time, to remain on track, the plan requires continuous analysis and reviews. An operational plan template can be extremely helpful to achieve that.
An operational template can be a simple document that is reused for different plans by the same organization. However, it is also possible and extremely helpful to make use of project management software tools to create one.
For instance, Gantt charts can serve exactly that purpose. Using a Gantt chart as an operational plan template, it is possible to create and manage plans, track changes and edit project-related activities in real time. The chart allows clear visibility for timelines, tasks, responsibilities, and team members.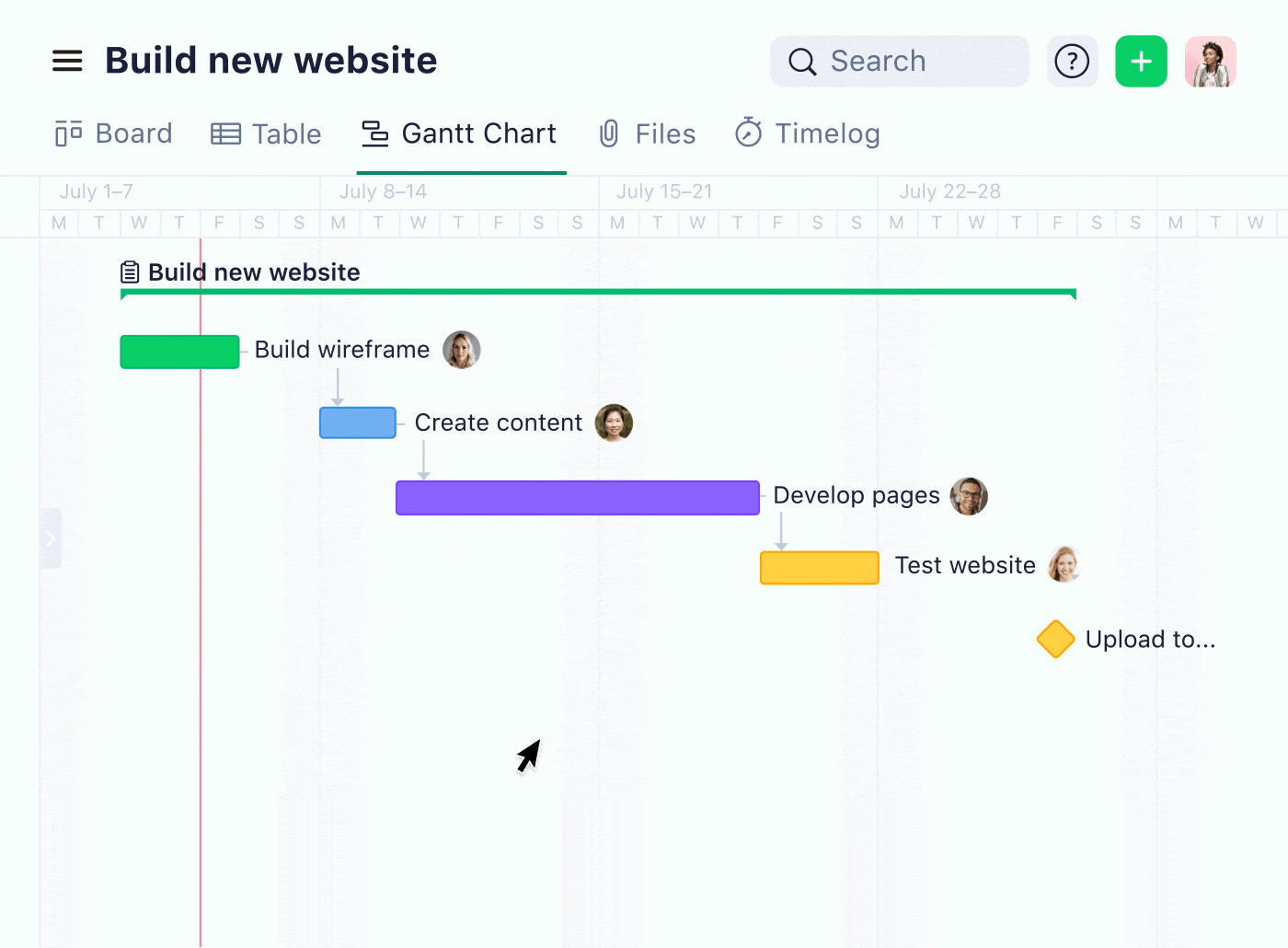 Operational planning advantages and disadvantages
Most businesses utilize an operational plan to keep track of their daily tasks.
The plan outlines the day-to-day activities for running the organization — teams, managers, and employees are then able to visualize their contribution, which is crucial for reaching company goals.
But every process has two sides. Let's review the operational planning advantages and disadvantages in more detail.
Operational planning advantages
Clarifies organizational goals
An operational plan helps managers and department heads define their daily tasks, responsibilities, and activities in detail.
It also illustrates how individual team members contribute to the overall company or department goals. Without a clearly defined plan, managers and employees have no way to measure their daily tasks against predefined outcomes.
Boosts team productivity
Business owners are always looking for ways to increase productivity, which in turn translates into higher profits. One of the best and easiest ways to boost efficiency is through an operational plan.
Employees are more productive when they know their daily objectives and responsibilities. Conversely, if they're unsure of what is required of them, chances are their productivity will suffer.
An operational plan provides this vital information to employees in each department and across the company as a whole.
Enhance organizational profitability
Having a plan helps in keeping projects and teams on track.
When operations are managed properly, teams are able to consistently increase revenue and develop new products.
Innovation pays off. A BCG survey points out that 60% of companies that are committed to innovation report steadily increasing revenues year after year. With an operational plan in place, teams are able to innovate better and faster.
Improves competitive advantages
Competitive advantages are made up of multiple levels and components.
Coordinating the different parts with an operational plan will make your workflows run more smoothly. This allows you to deliver high-quality deliverables on time, creating an outstanding customer experience and keeping you ahead of the competition.
Operational planning disadvantages
Possibility of human error
Human error is a common problem in manufacturing that can often occur when transitioning from production to sale.
Operations management teams will need to coordinate effectively with diverse cross-functional teams such as finance, accounting, engineering, and human resources. In doing so, each team will have a clear understanding of the end goals of each department.
Interdependency amongst parts
One of the main disadvantages of implementing an operations planning process is that its success depends on coordination across parts.
Plans end up failing due to one part not working, which can have an adverse impact on the subsequent process. Disruptions in one process can end up affecting the entire process, making the entire operational plan useless.
Using Wrike for operational planning
Boost your organization by ensuring every project starts off on the right foot. Wrike's award-winning project management tools can help you create and execute operational plans with various pre-built templates.
Establish your plan, monitor progress, and be prepared to pivot if necessary. With Wrike, you can share real-time data, making all milestones crystal clear for your team and helping them stay updated and on track.
Choose the most suitable template and start a free two-week trial of Wrike today!