Website Development
Project Plan Template
Use Wrike's website development template to plan, execute, and monitor projects from ideation to completion.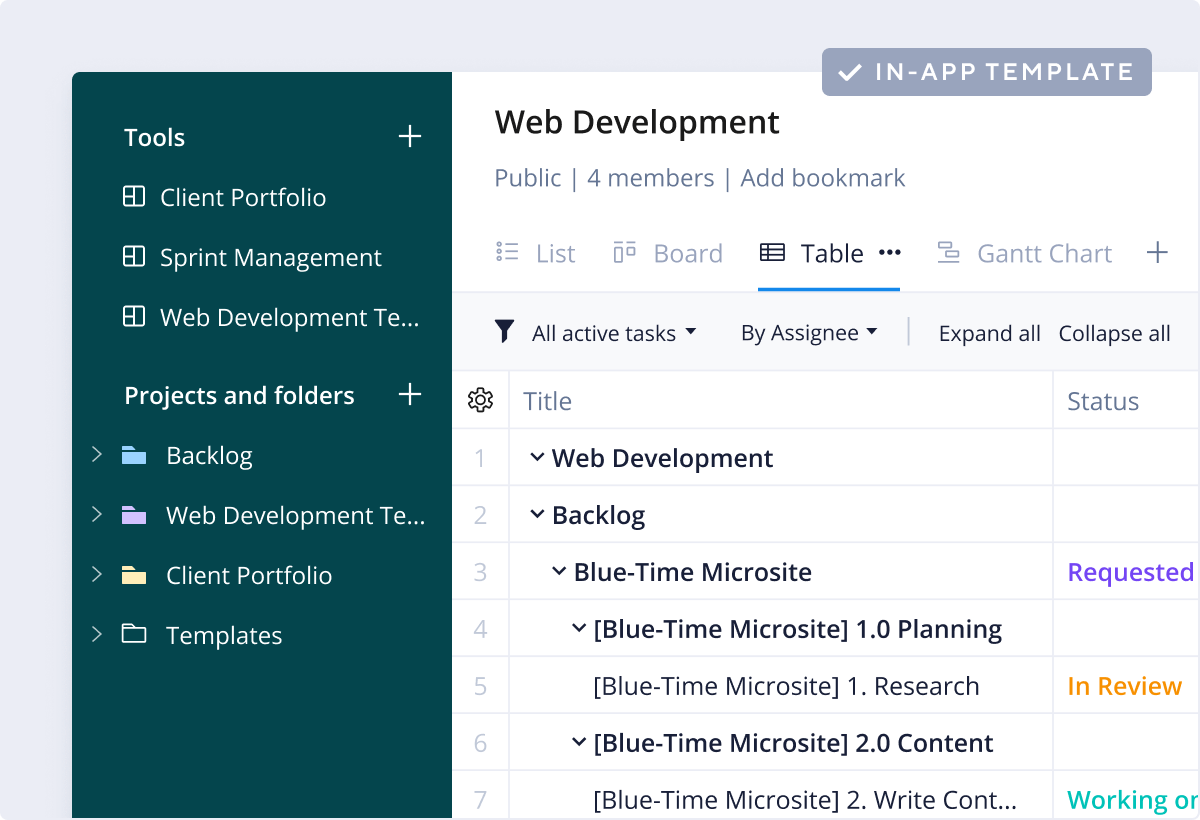 #web development
#website plan
#waterfall
#IT teams
Supercharge website planning and execution
Whether you're building a new website from scratch or coordinating a redesign, it's essential to plan out every step of the project with a web development template. That's because these large-scale projects involve a range of stakeholders, so there is a high possibility of miscommunication.
Information on deadlines can get lost, resulting in delayed deliverables
Action items can be buried in team members' to-do lists, creating further problems in development
Teams can feel overwhelmed if they can't visualize each step in complex processes
Eliminate these obstacles with Wrike's website development project plan template.
Use our pre-built request template to receive vital project information from clients
Ensure due dates are visualized with one-click Gantt charts
Quickly assign tasks and priorities based on retrospective results
Why you need a web development template
Client requests aren't shared
Ensure client priorities are included in the planning process — use the customizable request form in this website development template to gather key details.
Deadlines aren't clear
Map out your project timeline with a Gantt chart. With Wrike's web development template, you can meet every milestone and stay on top of delivery deadlines.
Issues are slowing teams down
Implement regular checks and testing routines into your website development project plan template so you can pick up on any bugs or issues before your site's official release.
Automate your website development
How to use the website development project plan template
Are your website projects subject to information gaps? Is your development team struggling to meet deadlines?
Make sure you have the right data to ensure successful website project planning from the start. Wrike's website development project plan template is the tool you need to avoid losing information and missing deadlines.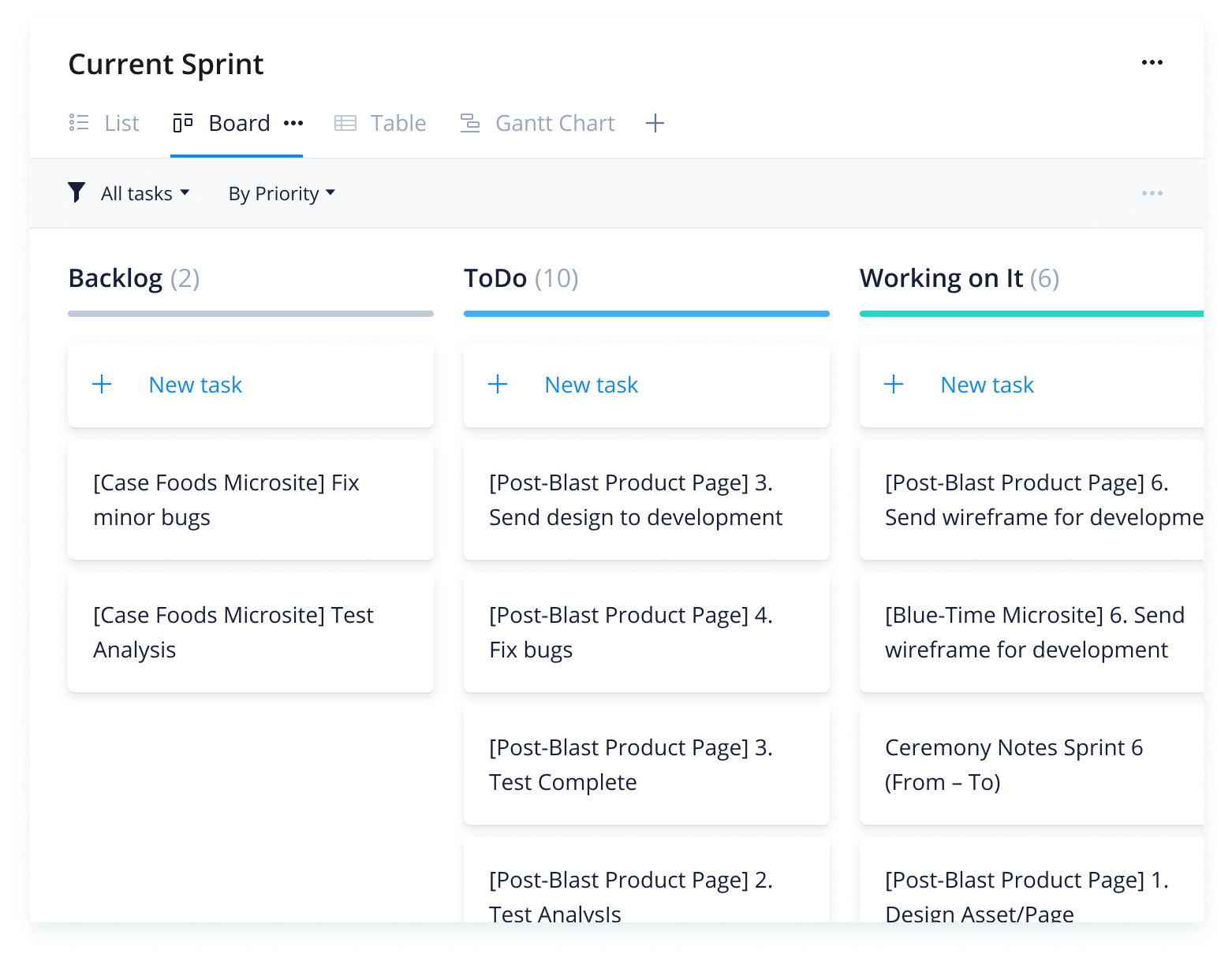 As a development team, you want to ensure your website project planning is as efficient and successful as possible. Missing information or unclear priorities set your team up for failure, delays, and unhappy clients.
That's why you need Wrike's website development project plan template. Being able to visualize every phase of the site creation journey means that every team member can focus on delivering results in their area of expertise. A clear software development website template also gives direction and definitive expectations to different types of web projects, including blogs, podcasts, and display ads.
Ready to get started? Follow these three simple steps to kick-start your project planning.
Step 1: Gather client information
Wrike's web development template includes an easy-to-use request form that gathers information from clients so agencies can meet their needs successfully. This will save developers and project managers time seeking information from clients via email and ensure deadlines are clear from the outset.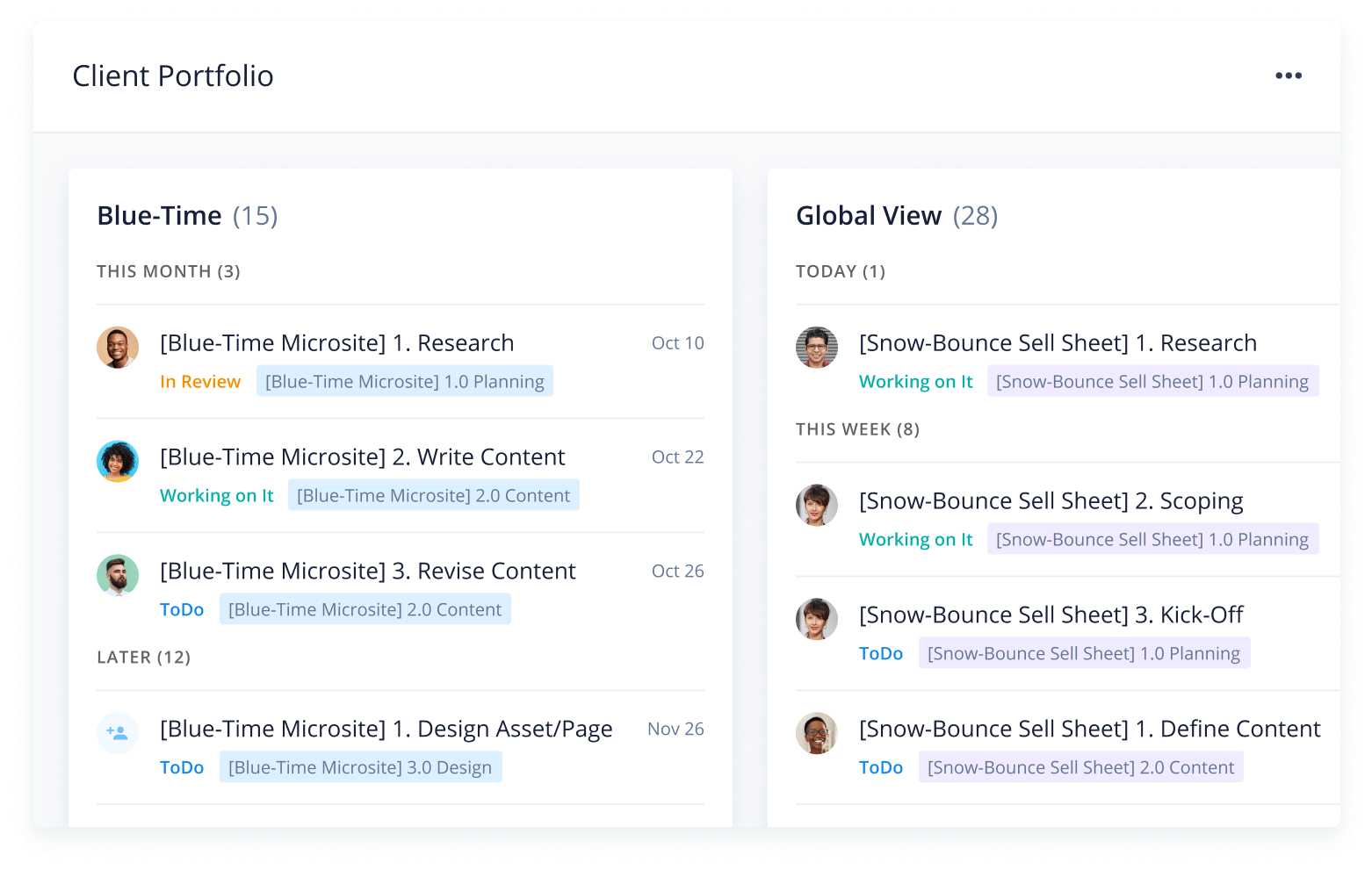 Step 2: Organize your tasks
All client requests made via the form will be automatically added as tasks to your Wrike workspace. As a project/traffic manager, it's your job to organize the backlog folder for the web development team and assign tasks. This website development template comes with pre-built folders to help you manage your intake, client portfolios, and contracts.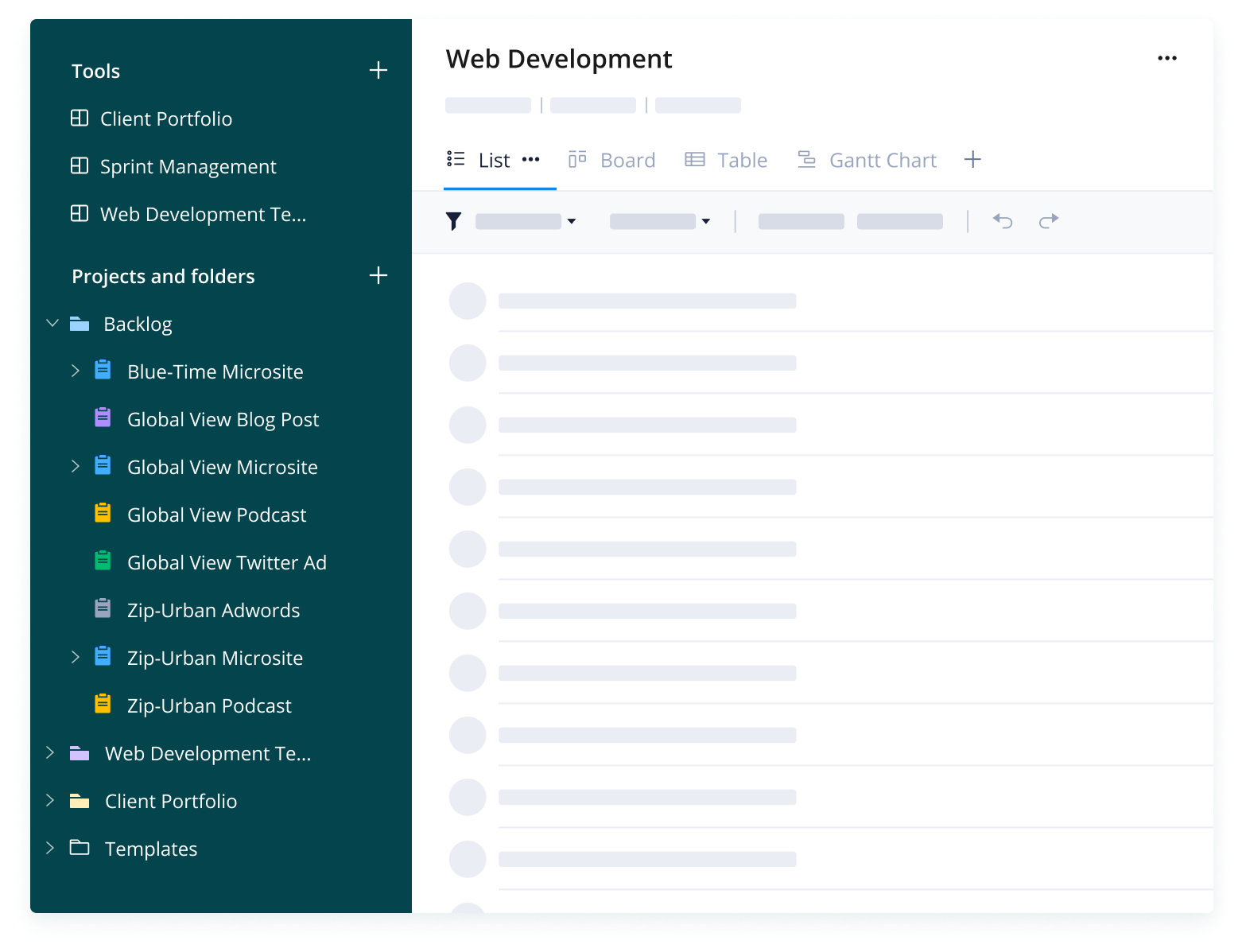 Step 3: Visualize your project plan
Get a bird's-eye view of multiple projects with interactive Gantt charts, shared dashboards, and team workflows. Wrike's website development plan template includes three pre-configured dashboards to help you track client contracts, work sprints, and developer requests. Add custom widgets and statuses to prioritize your updates.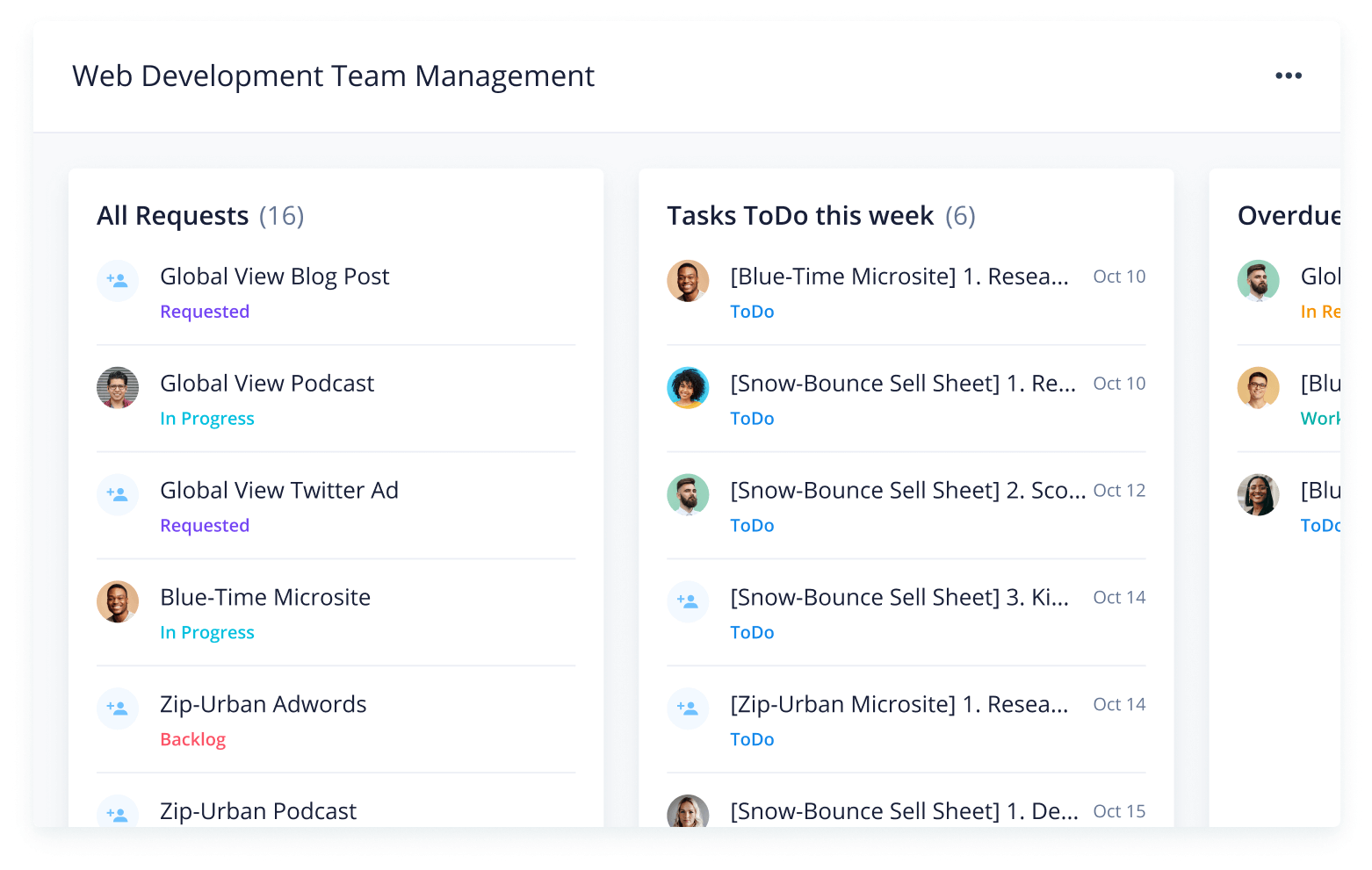 Make Wrike work for you
Keep all your tools in one place so that you can track every action while motivating your team on the project goals outlined in your software development website template. Wrike's powerful work management features are designed to streamline your strategic projects so you can manage your resources and time more efficiently.
Our versatile features include:
Wrike's software is designed to work for you — not the other way around. Use it to streamline your planning process, ensure successful execution, and hit your deadlines, every time.
Plan website projects with ease
Wrike's web development template streamlines the process of creating a website project plan. It helps managers gather information to sequence tasks, capture dependencies, ensure the project is delivered on time, create a project blueprint, and generate a Gantt chart with actionable steps for team members.
Project managers and traffic managers can use the website development plan template to quickly gather client information for web-related projects, automatically distill it into a blueprint, and create an actionable set of sequenced tasks to complete the project on time.
Yes, the website development project plan template includes a customizable request form, as well as automatically generated dashboards, workflows, and folders.