Technology Roadmap Template
Make a clear plan for complex IT projects with Wrike's intuitive technology roadmap template.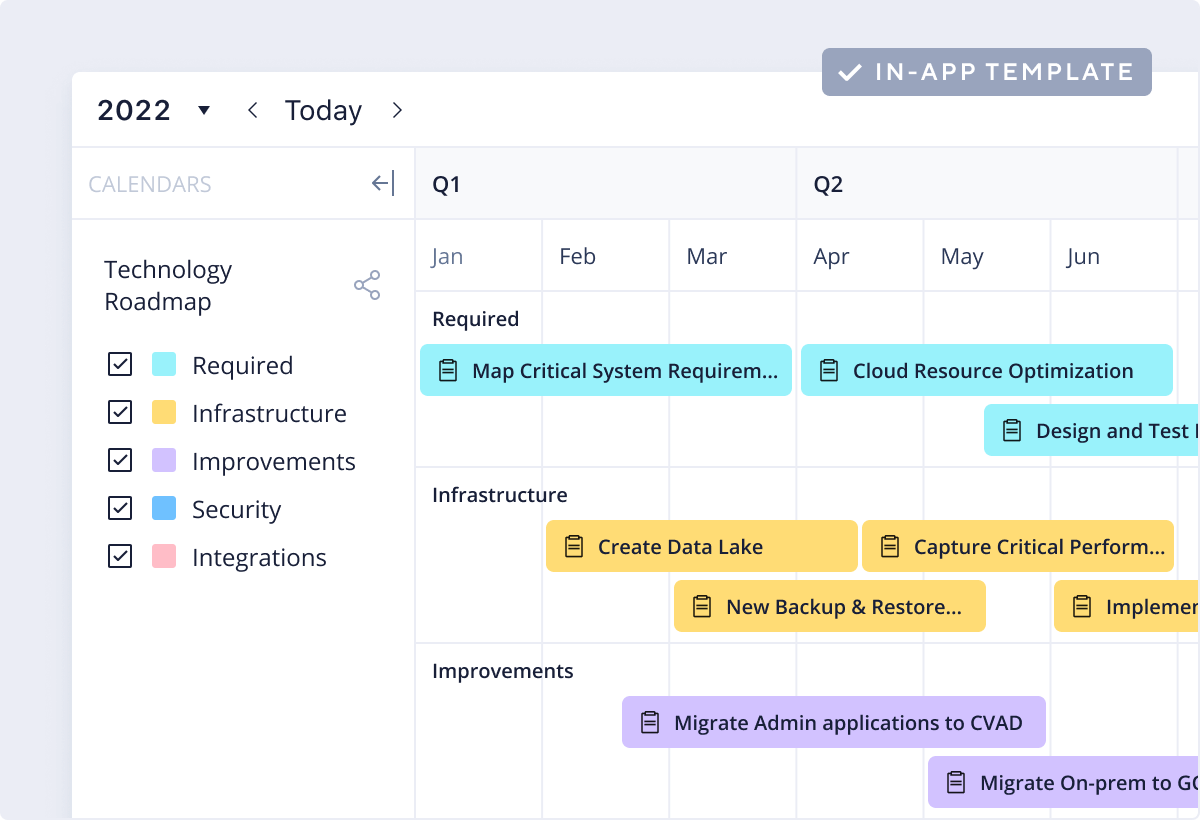 #technology
#it
#project management
Build your technology roadmap
Need to make strategic decisions about your existing infrastructure and future investments? Want to keep up with the rapid pace of innovation in the tech world? Without a technology planning template, you can quickly start to lag behind your competition.
Create a clear picture of your company's current IT abilities with Wrike's IT roadmap template. Use this roadmap to address any existing issues and remove any outdated or rarely used applications. Make a detailed plan for the future that's still flexible enough to adapt to uncertainty.
Why you need this IT roadmap template
Complete end-to-end visibility
A technology roadmap template creates a clear path for scheduled improvements. Oversee compliance audits, cloud updates, and new integrations to keep pace with the ever-changing world of tech.
Enhanced data monitoring
Wrike's technology strategy template is a great tool for gathering project data. Monitor the performance of existing technology as well as team output with automated weekly reports. Store important data in pre-built folders.
Real-time connectivity
Ensure your technology tools are connected to your business objectives. Use our IT roadmap template to spot recurring system issues and communicate with colleagues in real time to discuss potential areas for optimization.
How to use the technology roadmap template in Wrike
A technology roadmap template allows you to understand the technological infrastructure that your business already has in place and what changes you need to implement in the future to support the strategic planning of products, processes, and systems.
Here's how to make the most of Wrike's technology planning template: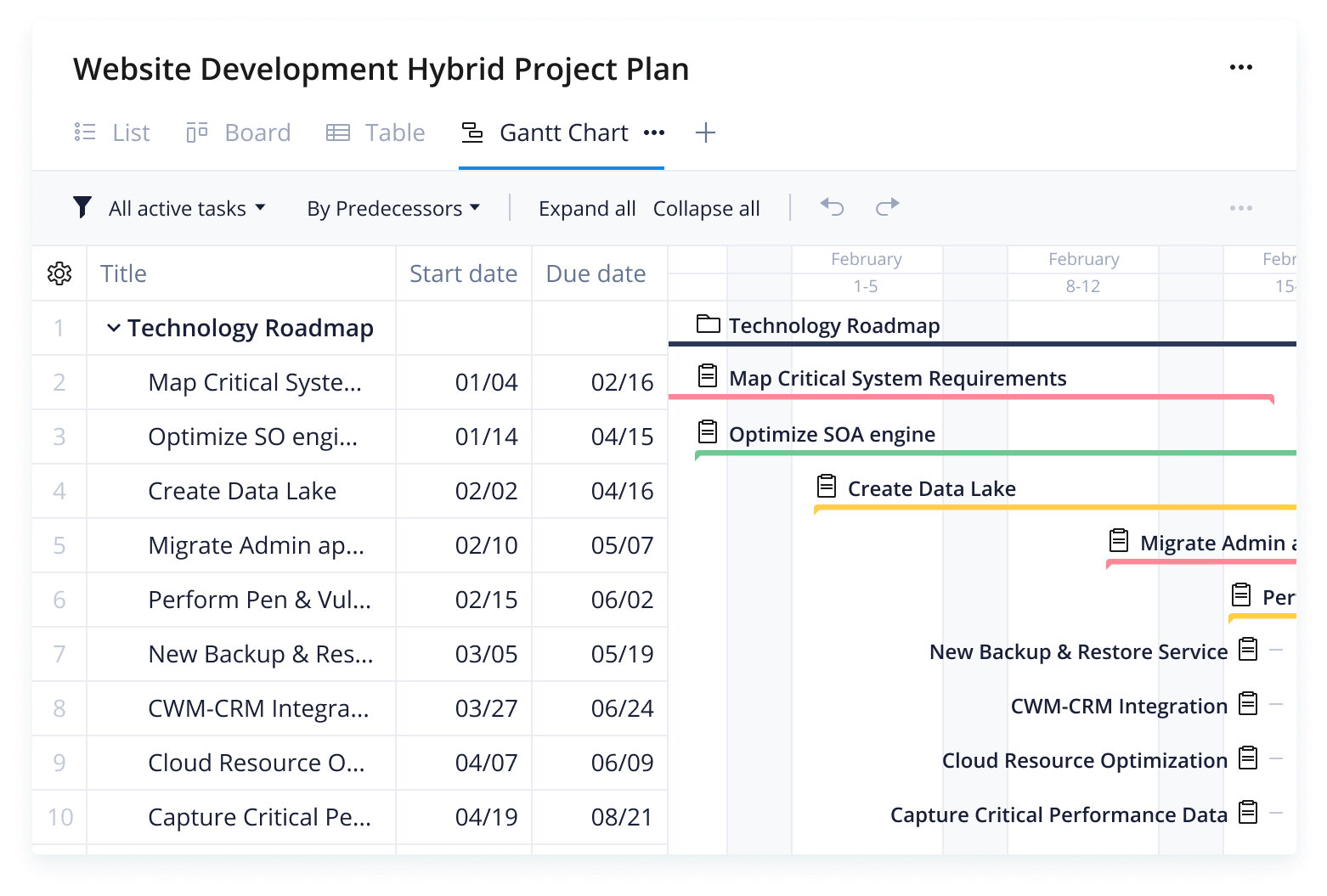 Your IT teams can benefit greatly from the clear outline provided by this technical roadmap template. With an established vision in place, you can decide how to best optimize your IT resources and implement improvements that align with your business goals.
Want to try this template for yourself? Follow these three easy steps to get your IT projects up and running.
Step 1: Organize your IT tasks
Make a to-do list and create a task for each item. Assign tasks to your IT team and add due dates. Next, you can create projects and folders and tag your tasks so they appear in the right place.
This template has two ready-made folders to get you started. Sample projects include Compliance Audit, Performance Data, and Cloud Resource Optimization. Use these examples as a starting point to create your own.
Step 2: Monitor performance
Track performance easily with a bird's-eye view of your programs and projects. Our IT roadmap template includes a pre-built dashboard with project widgets. Edit these widgets or add new ones to customize your workspace.
Also included is a shared calendar with separate sections for each workstream: Required, Infrastructure, Improvements, Security, and Integrations. Use this to oversee progress for multiple projects at a glance.
Step 3: Optimize team workflows
Stop using outdated tools — recharge your team's processes with Wrike's customizable workflows. You can create separate workflows for projects and tasks to track different metrics and get all the information you need.
Add custom statuses for your IT team (e.g., Awaiting Implementation, In Testing, and Updated). Each status is color-coded, so you can easily see if tasks are overdue or projects are on track to be completed.
Explore what Wrike has to offer
With Wrike's technology roadmap template, you get greater insight into your company's IT initiatives, enabling you to address business demands in a cost-effective and impactful manner.
Check out our other project management features to help you secure data, streamline internal processes, and save time.
Wrike's intuitive software can be easily configured to suit your IT team's requirements. Take a tour of our all-in-one work management platform to explore these features for yourself.
Siemens case study
Read about how the Siemens team standardized their processes and automated project delivery with Wrike's all-in-one software.
Digital Transformation eBook
Explore a comprehensive list of collaborative work management tools and learn how to assess the needs of your IT and Ops teams.
TeamViewer case study
Find out how TeamViewer used Wrike to manage new functionalities, reduce emails, and improve transparency in the proofing process.
Build your technology roadmap today
The technology roadmap template helps IT teams to visualize their work plan, monitor task status, and manage multiple projects and programs.
Wrike's IT roadmap template includes a range of easy-to-configure features, including a pre-built dashboard, calendar, folders, and color-coded workflows.
This technology roadmap template is suitable for IT managers, operations executives, and system analysts who want to create a clear plan for their IT teams.