Enterprise Service Management Template
Respond to the unique needs of your organization fast with Wrike's game-changing enterprise service management template.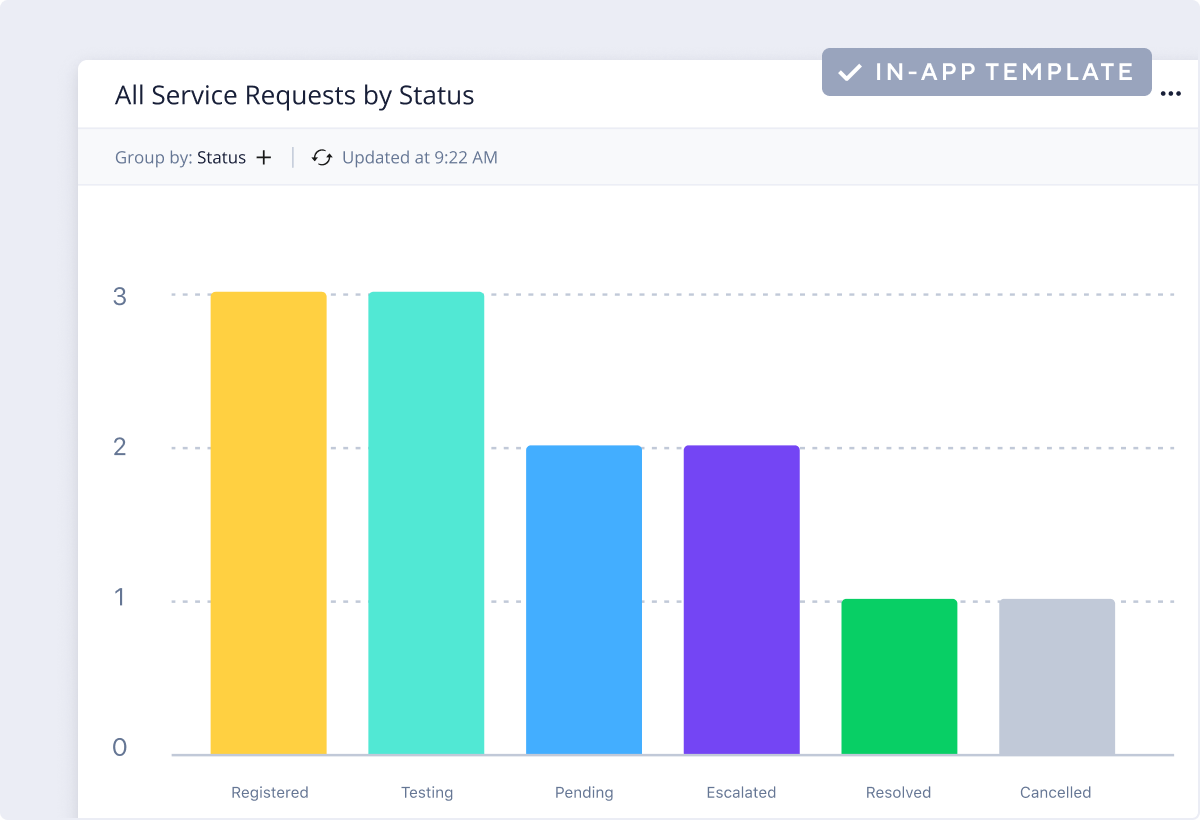 Enterprise service management is about standardizing how teams deal with requests across the whole company. But every organization is different, so a one-size-fits-all method won't meet your unique needs.
Wrike offers the solution you've been looking for. Our enterprise service management template is ideal if you face issues with:
Juggling repetitive tasks
Streamlining multiple requests
Managing ongoing change
Wrike's enterprise service management platform can help you overcome these common challenges, enabling you to:
Automate time-consuming or mundane work
Create custom service requests for departments or teams
Enable and leverage a knowledge base resource to help teams adapt to change
Why you need the enterprise service management template
Consolidated requests
Wrike's enterprise service management template helps streamline your work with a consolidated request and service management process.
Advanced visibility
Get a 360° view of your enterprise service management teams with dashboards to monitor task progress, tracked incidents, and service requests.
Empowered teams
Equip your teams with the ability to solve their own problems by using this template to enable self-service and build a cross-departmental knowledge base.
How to use the enterprise service management template
Wrike's enterprise service management template can help you save work hours, achieve better customer satisfaction, and shorten the road to resolution.
Interested in learning how? Let's look at some of the great features available.
This template has multiple Custom Item Types to get you started, including Service Requests, Incidents, Knowledge Base Articles, Change Requests, Problem Records, Customer Surveys, and Meeting Minutes.
Use Wrike's enterprise service management template to request the services of a team, create incidents to track team resolutions, and leverage a knowledge base to empower your organization.
Want to try transforming your services with Wrike's enterprise service management template? We've outlined four simple steps to help you hit the ground running.
Step 1: Design your services
Enter the "ESM" Space from your Wrike homepage. There you'll find a how-to guide, tutorial video, and several subfolders, including one named "Service Design."
This contains all the steps you need to implement service management across multiple teams. Click to research, build, improve, or expand your organization's services and track the progress using lists, color-coded calendars, or Gantt charts.
Step 2: Build a knowledge base
Easy access to information reduces the number of tickets raised. Build a knowledge article by adding, organizing, and storing articles in the "Knowledge Base Management" subfolder.
Create custom requests to write articles in response to common queries. Use defined workflows and tools to track article progression through submission, approval, and review across different departments and teams.
Step 3: Execute services smoothly
The third folder is called "Service Desks." This is where you can manage and monitor the various teams that handle tickets in your organization.
Click into a team to view the service items, due dates, assignees, and status. Service providers can sort and filter to find the relevant item, saving time and accelerating SLAs. Ensure that items are prioritized efficiently by using custom fields such as impact, source, or urgent.
Step 4: Monitor progress
Use dashboards to get a bird's-eye view of multiple items such as Incidents, Service Requests, and Problem Records.
View tickets based on custom items, such as description, location, or team, to highlight challenging areas.
Submit a change record to give extra stakeholder visibility into additions, modifications, or removals. Automate follow-up surveys to assess customer experiences and improve on future delivery.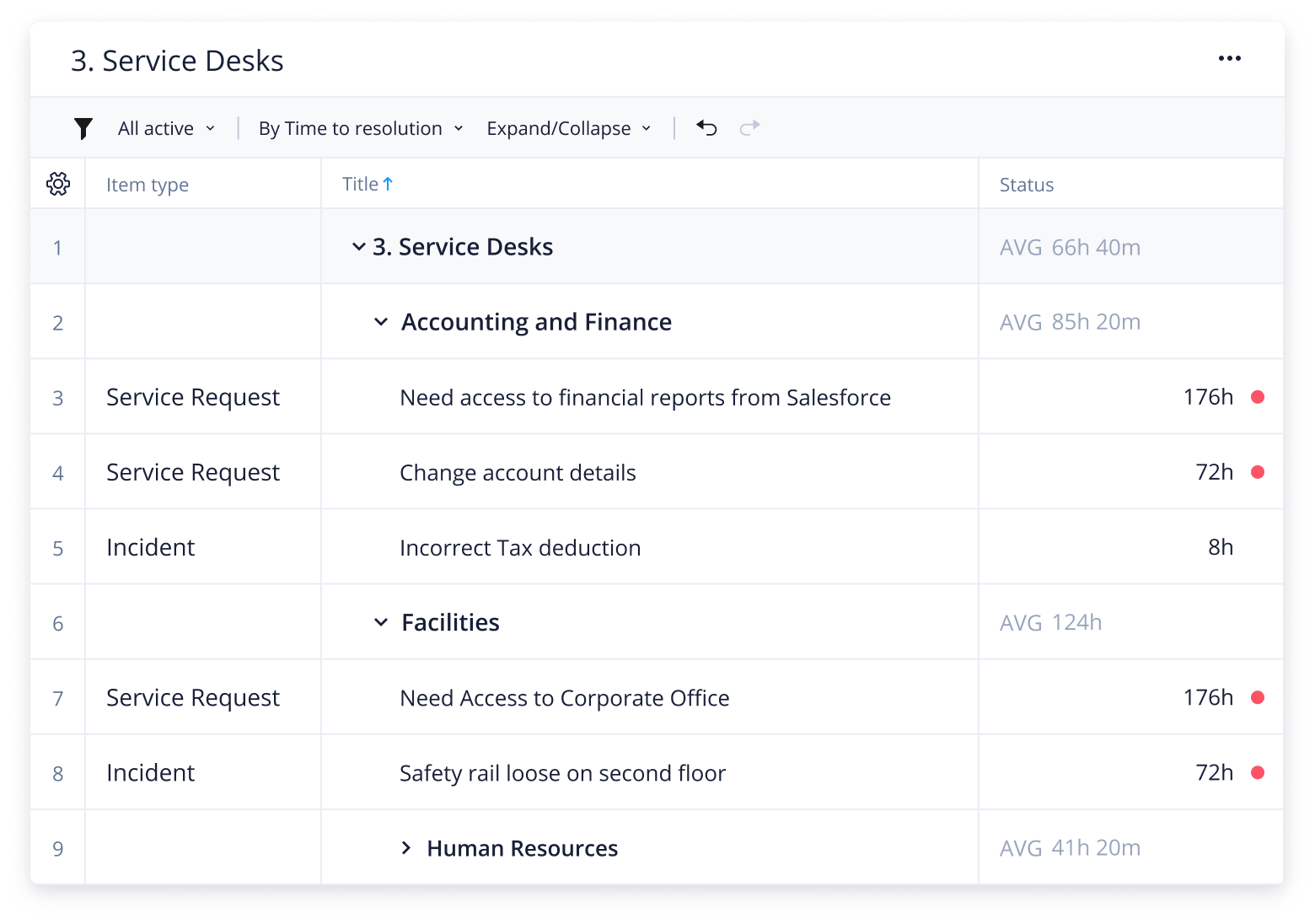 Make Wrike work for you
Once you've got to grips with this easy-to-use template, you can start exploring Wrike's other great enterprise service management solutions.
Our powerful work management platform offers a range of features that'll help you deliver a premium service on time, every time. These include:
The best part about Wrike is that it can be adjusted for different service and support teams. Tailor each process so that it works for you, your team, and your organization.
This template helps you streamline requests, improve SLAs, increase customer satisfaction, save time on tasks, and enable greater visibility across your organization.
All service-related teams can benefit from the Wrike enterprise service management template, including those based in IT, facilities management, and human resources.
If you're a Business plan user (or higher), just enter your business email to get started with our enterprise service management software. If you don't have a Wrike subscription, don't worry — sign up for a free two-week trial today.