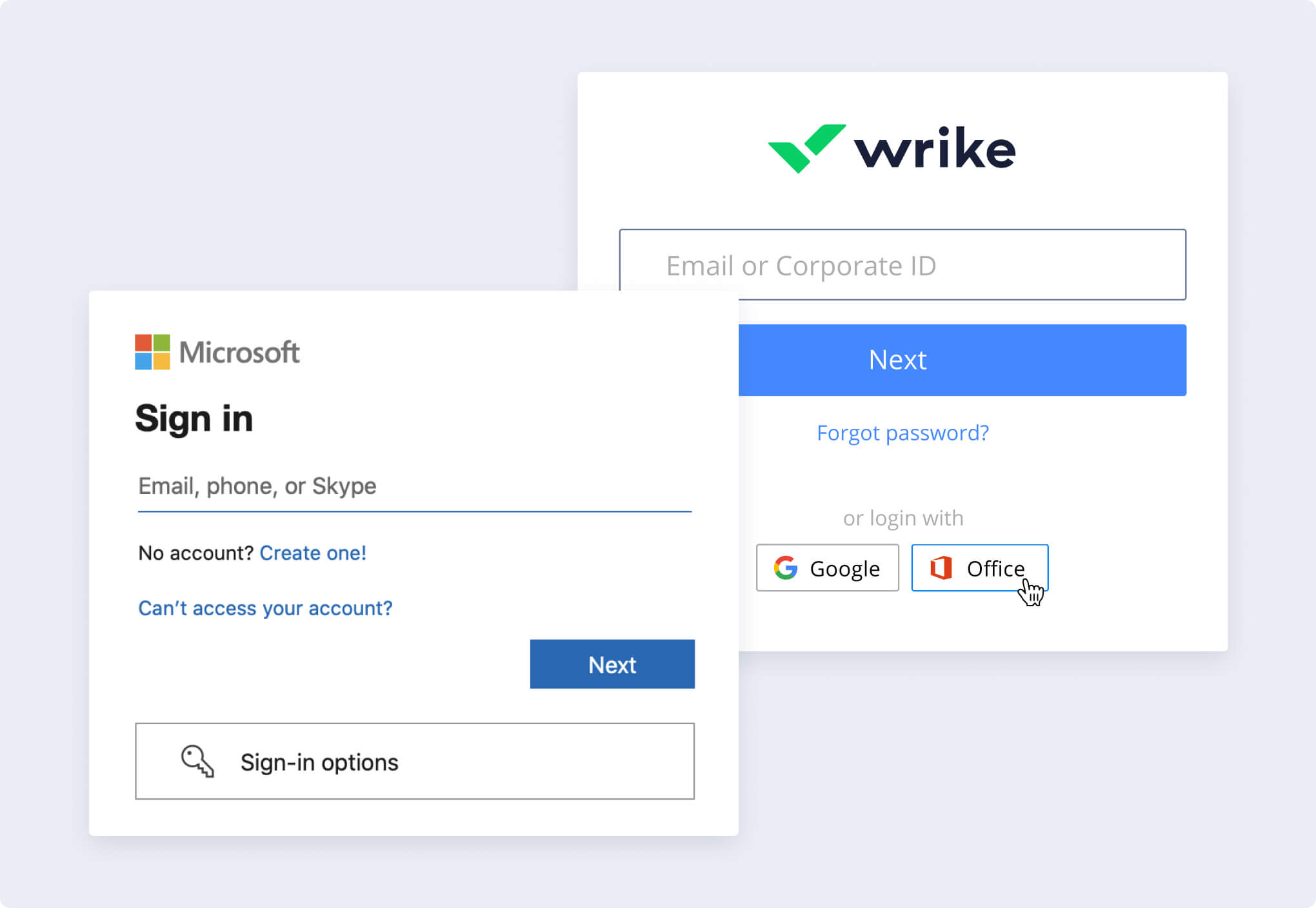 Link Wrike with Office 365 or Azure AD and be able to:
Access Wrike directly from the "My apps" launcher on either Microsoft Office 365 or on Microsoft Azure.
Allow users to quickly create Wrike user accounts.
Add approved email domains and designate who can use their Microsoft credentials to create a Wrike user account from an invitation email.
Implementation guide
The Wrike Microsoft integration allows users to log into their Wrike Workspace using their Microsoft credentials through Azure Active Directory. It also allows users to launch Wrike from the Microsoft "My Apps" launcher and become regular Wrike users if there are seats available in their subscription.
Once your IT admin sets up the link between Wrike and Azure AD, you can sign into Wrike by choosing the Wrike icon in your "My Apps" directory. You can also choose to login via Microsoft on Wrike's login page. You can also create new accounts in Wrike when you use the Microsoft SSO integration. Learn more at the Wrike Help Center.
When you connect Wrike with Microsoft Office 365, you can access Word, Excel, and Powerpoint documents within Wrike. You can also access your Wrike Workspace from the "My Apps" launcher in Microsoft 365.
Just in time provisioning is automatically turned on for this integration. This means that, if there are seats available on your subscription, members of your team can join and create Wrike accounts without invitation. However, admins of Azure Active directory can also limit sign up access for some team members — if they choose. Learn more about the Wrike and Microsoft Azure AD implementation at the Wrike Help Center.
Setting up the Microsoft Wrike integration is simple. If you have linked your 365 account with Wrike, you will be able to log in to your Wrike Workspace with these same credentials. Link your Wrike and Office 365 account by clicking "get it now" on Wrike's Microsoft Apps page.