Services Scoping and Initiation Template
Kick-start your services scoping and initiation with Wrike. Use this template to capture key information and meet scoping objectives.
#scoping
#initiation
#professional services
#project management
Improve your services scoping and initiation
Keeping track of key information in the scoping and initiation process can be overwhelming, but without proper organization and visibility, leads will slip through the cracks.
Critical information about leads and clients is lost in inboxes and not accessible to everyone
Team members spend too much time on lower-value leads and not enough on chasing the contracts that matter to your bottom line
Opportunities are missed because the scoping process isn't laid out clearly
With Wrike's services scoping and initiation template, you can overcome these obstacles easily.
Capture lead data quickly and efficiently with a custom-built request form
Easily schedule projects to push leads through a scoping process workflow
View scoping action items with a calendar or task view for clear visibility
Why you need this scope management template
Poor visibility
Achieve full transparency with a clear scoping workflow to keep all team members on the same page.
Disorganized communication
Keep lead details and deadlines in a single place, so potential clients receive detailed and accurate communications regularly.
Missed opportunities
Ensure each step of the scoping process is completed, so no leads go un-nurtured.
Supercharge your scoping process
How to use the scope management template in Wrike
Need to overhaul your professional services scoping process? The scope management template from Wrike gives you the building blocks to set up a thorough scoping process.
Here are the features you can expect from the scope baseline template.
Capture the information you need with a pre-built request form
Visualize key scoping action items with customizable dashboards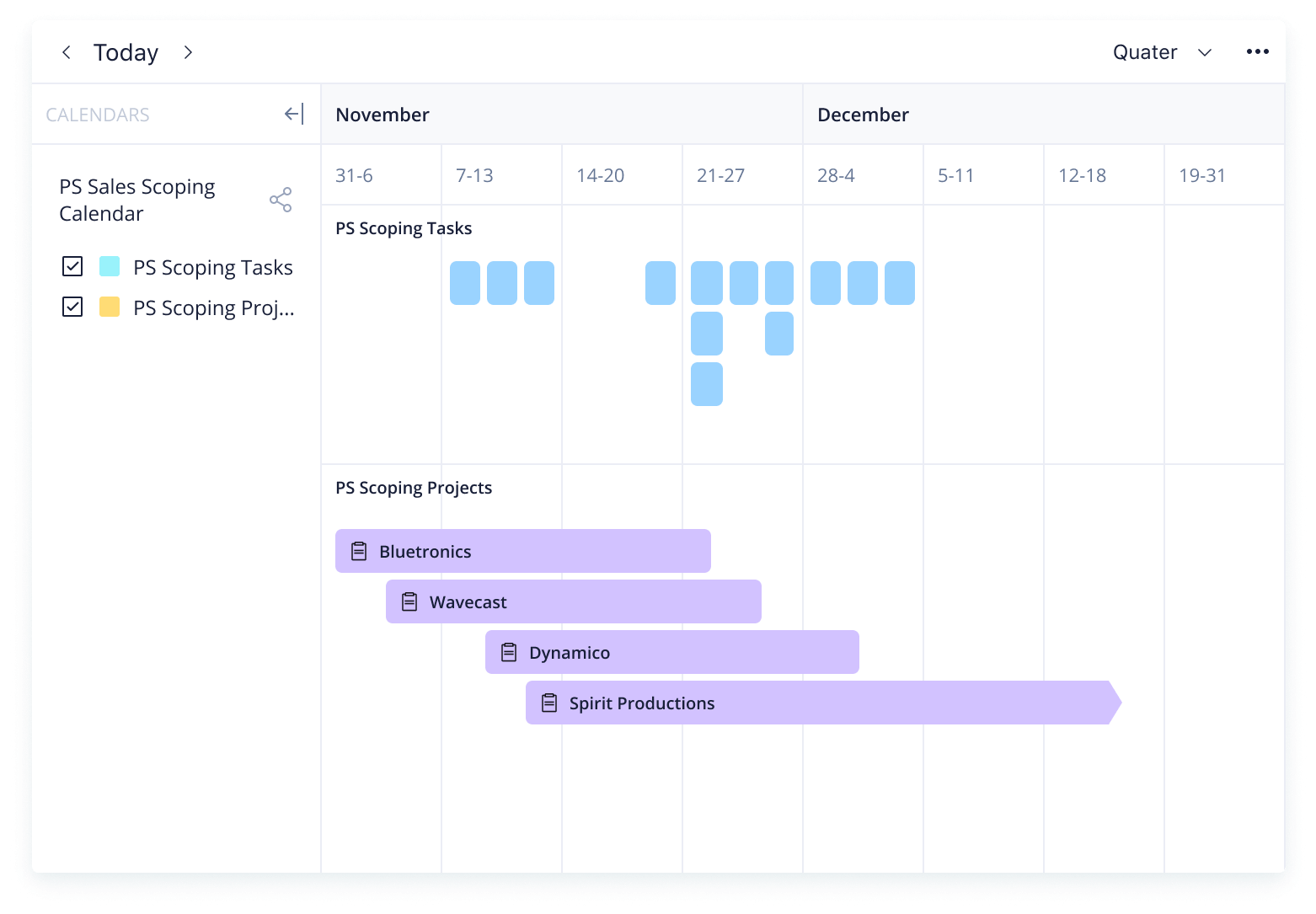 Wrike's scope management plan template is intuitive and simple to set up.
Step 1: Utilize the custom request form
Capture scoping information instantly with a pre-built request form that can be customized to your company's needs.
Filling in company details such as company name, region, and estimated contract value will kick off the project scoping process.
Step 2: Set up your scoping project
Wrike's scope management template provides a project structure to move through the scoping process.
The scoping process will include assigning a team, scheduling a client presentation call, drafting the SOW, and presenting it to the client.
Step 3: Create automated reports
Automated reports on leads won or lost will help team members understand where their efforts are paying off and where they need to be adjusted.
The task view included in the scope management plan example will keep team members and managers apprised of upcoming tasks.
Oversee scoping and initiation with Wrike
Interested in learning what else Wrike can help you with? Wrike's powerful work management software offers a range of features to improve your professional services. Our customizable features include:
Whatever your industry, Wrike can be tailored to suit any project, team, or organization. Personalize your action plans, design your workspace to match your team's processes, and improve the way you work.
Resources for professional services teams
Streamline your scoping process with Wrike
The scope management template is used for creating a successful scoping and initiation process that captures key information and shepherds leads to completion.
Any professional services team member or manager can benefit from the scope management template.
Wrike's scope management template includes a pre-built request form to capture data, an intuitive workflow to ensure the process is followed, customized reports, and calendar views.