Requirements Management Template
Streamline requirements management with Wrike's template for tracking project requirements requests, reviews, approvals, and status.
A streamlined approach to requirements
Without the right process for managing requirements, projects can get off to a shaky start.
No formal method for collecting and reviewing requirements can cause blockers and delays
Lack of visibility into requirement status results in unnecessary work
No end-to-end life cycle of requirements creates a frustrating experience for all team members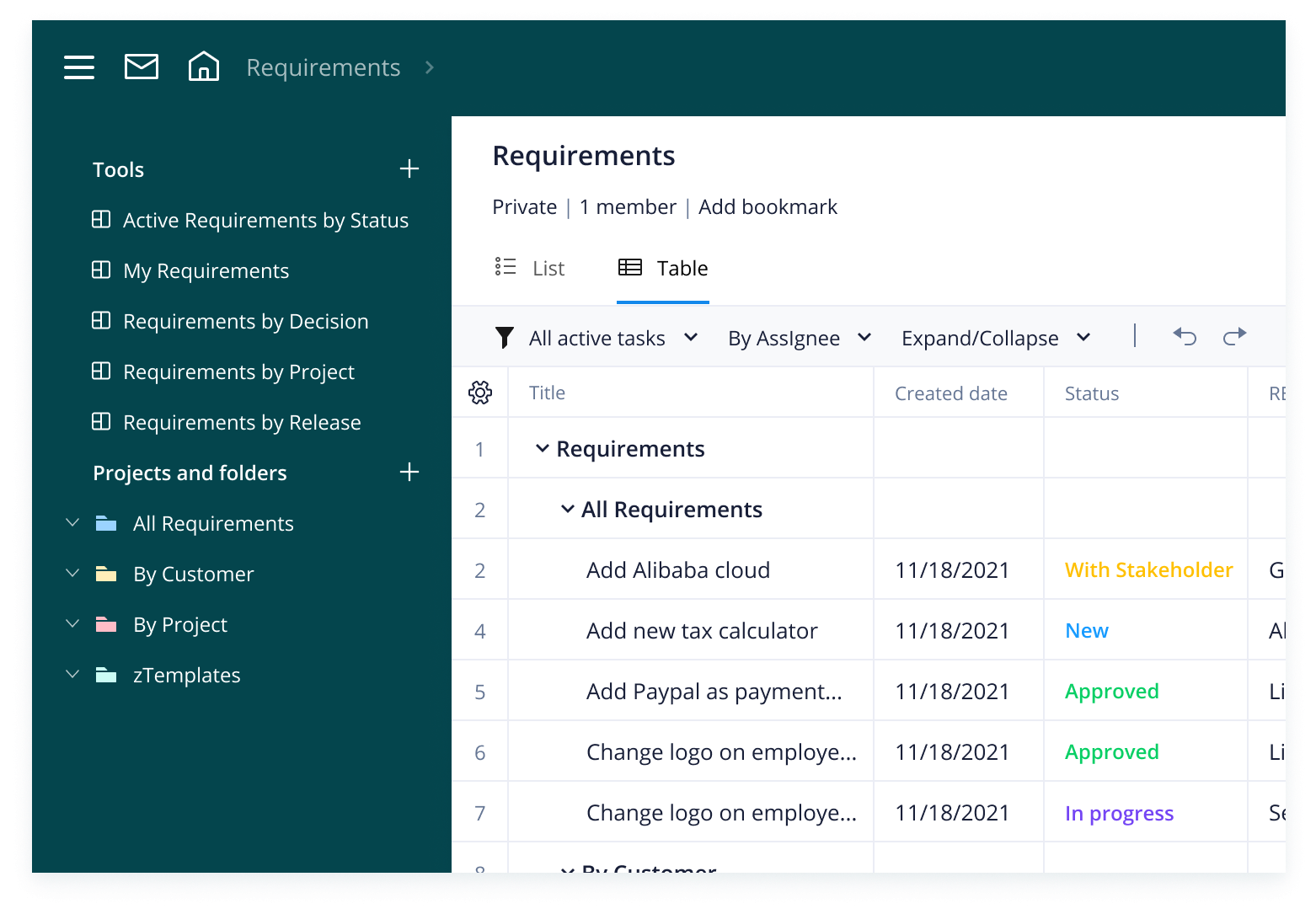 With this template, you can standardize the process of managing requirements throughout their life cycle.
Customizable request forms ensure required data is collected from the get-go
Custom workflows, cross-tagging, dashboards, statuses, and folders provide transparency on where requirements are in the life cycle
Wrike's core capabilities, as well as approvals, facilitate the process of reviewing and approving requirements
Why you need this template
Poor visibility
Enjoy total clarity on the requirements life cycle with custom workflows, dashboards, folders, and statuses.
Added complexity
Simplify the requirements process with a seamless workspace designed to tackle requirements management.
Lengthy approvals process
Get speedy reviews and approvals so you can focus on getting work done and projects over the line.
Take the complexity out of projects
How to optimize requirements management
Ready to transform your requirements process? We've got you. It's time to understand how you can use this Wrike template to implement an effective, end-to-end framework for managing project requirements.
Wrike's requirements management template has a range of features to help you hit the ground running.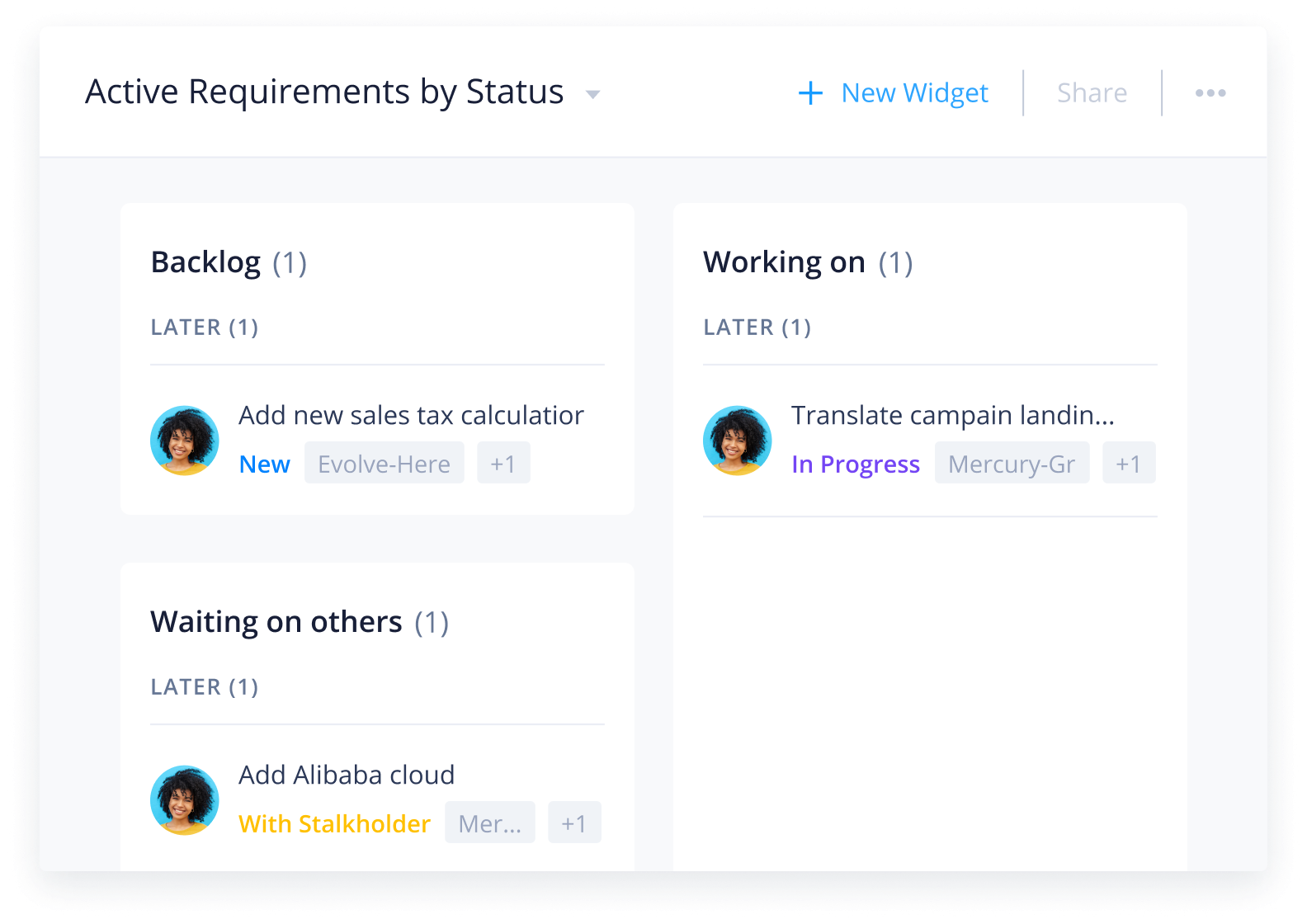 Wrike's templates are designed for seamless implementation, so you can focus on getting requirements over the line, not on setup.
Here's how to kick-start your new requirements process:
Step 1: Collect requirements
How you collect and organize project requirements is the foundation for the rest of your project. Customizable request forms ensure that you collect all the information you need to manage requirements right from the start.
Your request form will automatically add all the necessary data into a Wrike task so you can have everything you need in one place.
Step 2: Manage requirements
Custom workflows and dashboards allow you to keep track of all requirement statuses. Use Wrike features to request review and approvals to keep requirements moving in the right direction.
Cross-tagging and folders allow you to easily categorize file requirements in the right place for easy project coordination.
Step 3: Complete requirements
Wrike facilitates reviewing requirements and approving or rejecting them.
Dashboards and reports provide visibility into the status of requirements, the workload of reviewers, and what needs to be done to complete tasks.
Make Wrike work for you
Interested in Wrike features that allow you to do even more? Wrike's exceptional work management software has a range of tools to suit every team's needs. Our dynamic features include:
Wrike can be tailored to suit any project, team, or organization. Customize your processes and design your workspace to match your team's requirements. Our platform is built to work your way — not the other way around.
Take control of requirements with Wrike
The requirements management template is a valuable tool for any team or manager who wants to transform their requirements process.
Yes, the requirements management template is suitable for any type of project. It includes many dynamic features, which means you can tailor it to fit Agile, Waterfall, Kanban, and hybrid projects.
Use the requirements management template to capture requirements with request forms, review and assess them with statuses and custom fields, monitor progress with dashboards, and get a full audit trail with native approvals.