Release Plan Template
Make your upcoming release a complete success with Wrike's release planning template.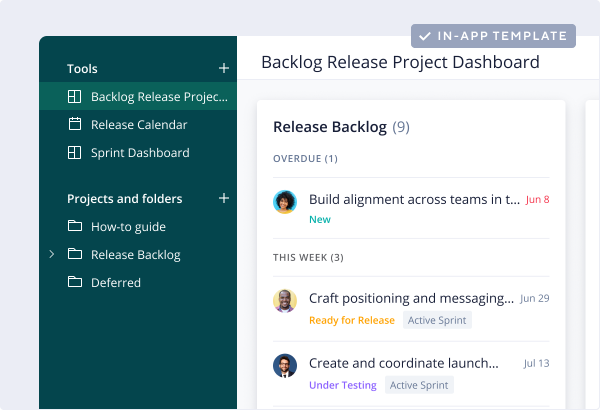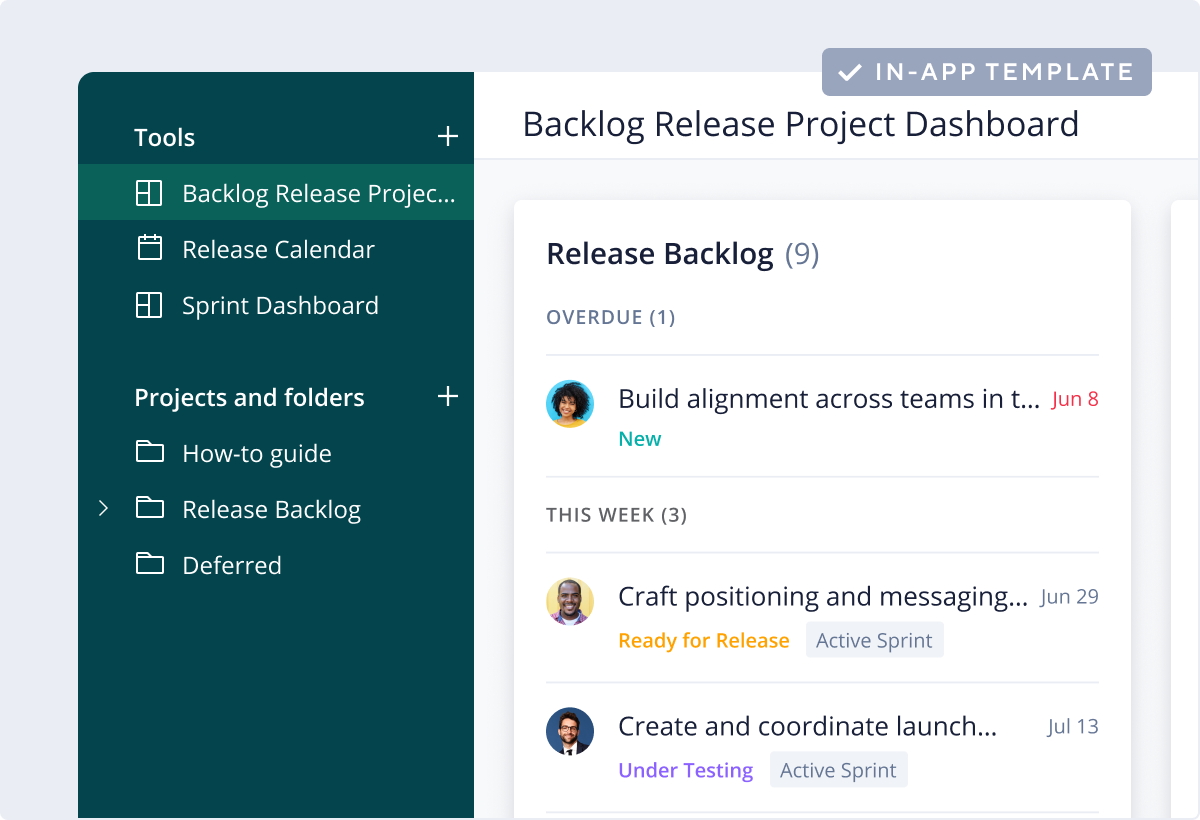 #release plan template
#release planning template
#agile release plan template
#product release plan template
#product release template
Plan every step of your release
If you're planning to release a new product or enhance an existing product with additional features or fixes, you'll need to be prepared and organized. This is where a release planning template can help.
Does your team ever struggle with:
Managing complex releases?
Designing actionable, step-by-step plans?
Tracking a project's progress?
Eliminate these obstacles fast with Wrike's Agile release plan template.
Use the product release plan template to simplify complicated releases
Create a detailed and easy-to-follow roadmap for every phase of your product release
Keep all of your work in one place to monitor the progress of your tasks
Why you need this release planning template
Establish clear timelines

The Wrike product release plan template uses sprints. This allows you to break down your release timeline into smaller, easier-to-manage phases based on your needs.

Streamline communication
Our product release template allows users to add comments and @mentions to share key updates and important information securely with colleagues and stakeholders.

Track ongoing progress

Every task within your release plan template should have designated assignees responsible for completion. Monitor each team member's progress to guarantee deadlines are met.

Execute every product release easily
How to use Wrike's release plan template
Releasing or updating a product can be challenging. Make sure you're organized and on track for success with Wrike's release planning template.
Let's take a look at some of the release planning features at your disposal.
The product release plan template will help you divide complex plans into manageable steps, customize workflows to keep things moving, and track progress on a visual timeline.
Interested in trying Wrike's release plan template for yourself? Just follow these three simple steps to get started.
Step 1: Break down your release plan into phases
From your Wrike homepage, enter the "Release Plan" Space to view your tools. Select the one marked "Backlog Release Project Dashboard" on the left-hand side.
Here, you can break down your release plan into phased projects and tasks, sorted by their due dates. You can also keep your deferred projects separate to prioritize more urgent tasks.
Step 2: Visualize your plan, phases, and sprints
Get a 360° view of your plan with Wrike's product release template. Use the "Release Calendar" tool to display your phases, projects, and scheduled release dates in a calendar format, color-coded for urgency.
Alternatively, select the "Sprint Dashboard" to keep an eye on your active and archived sprint projects.
Step 3: Keep all your work in one safe place
In the "Projects and Folders" section, you'll find a "Release Backlog" folder. There, all the projects that were added to the folder will appear, along with their statuses and additional details.
You can add a new item, too, in case it's not in another space. Archive completed or paused projects in the "Deferred" folder for future use.
Work your way with Wrike
The easy-to-use product release plan template is the key to releasing or updating products successfully. Once you're comfortable with its Spaces, folders, and dashboards, you can take a tour of Wrike's other great benefits.
Our industry-leading work management platform has a range of features designed to help you design, manage, and deliver even your most complex product release plans. These include:
Product release plans often involve multiple teams, varying locations, and shifting requirements. That's why Wrike's software is flexible, adaptable, and fully customizable for your specific needs. Manage your work, your plan, and your release — your way.
Make every release a success
This template helps teams plan product releases or updates easily and effectively by creating phases, projects, and tasks to work towards successful delivery.
Wrike's product release plan template features a dedicated "Release Plan" Space, with key tools including dashboards and calendars to help you manage the different stages of your release.
If you're a Wrike Business Plus user, just enter your business email to access this template for free. No Wrike subscription? No problem — sign up for a free two-week trial in seconds.