Wrike's Ultimate Work Management Conference Promises Productivity and Efficiency Gains

Annual User Conference, Wrike Collaborate, Prepares Organizations for 2023 with Platform Updates, Product Training, Unique Use Cases, and Practical Advice
SAN DIEGO, Calif., October 19, 2022 - Wrike, the most powerful work management platform, today announced that its fifth annual user conference Wrike Collaborate will take place virtually from October 25 – 27, 2022 and feature speakers from Freddie Mac, Tinuiti, Syneos Health, Geotab, Leaf Home, and more. Wrike Collaborate is the ultimate work management conference, offering approximately 5,000 attendees exclusive insights and access to Wrike platform updates, hands-on product sessions, customer-led stories, and product training. Attendees will also be able to network with their peers on the conference platform and share unique use cases, lessons learned, and best practices – an opportunity that many attendees have found invaluable over the years.
"What has struck me the most about the vibe at Collaborate is the spirit of camaraderie and collaboration," says Jeff Hartlieb, Director, Paramount Consumer Products and Experiences Group, Location Based Experiences, Nickelodeon. "Attendees — whether in-person or virtual — truly are interested in sharing how they have solved their challenges using Wrike. Wrikers don't hold anything close to their chest when sharing how their teams work and how they have customized Wrike to achieve their goals."
This year's attendees can expect an action-packed three-day event, including:
A

Founder's keynote

on the future of work and powerful findings from recent research on work complexities

A

product update and roadmap keynote

that will unveil new platform updates designed to provide organizations with the fastest way to productivity

Exclusive customer presentations

on their experience with Wrike and how to establish value and achieve success through a work management platform; Customers include Freddie Mac, Tinuiti, Syneos Health, Geotab, Leaf Home,

Pluralsight

,

Miami Marlins

,

OSF Healthcare

, and

Knute Nelson

Breakout sessions

on how teams across a variety of industries are making the most out of Wrike and the latest trends in the future of work management

Session tracks include:

Wrike essentials

Fun and pragmatic "how-to" sessions will equip teams to work smarter every day and manage work like a pro, both in how individuals work alone and with their teammates

Latest and greatest

Our session leads will show attendees all the latest and most innovative ways our customers and industry experts are using the Wrike platform to work effortlessly using the most advanced features and capabilities

Next-gen work management

The way teams work together will never be the same; Teams can learn all about the work management challenges of today and how the biggest and brightest are using Wrike to focus on their most meaningful work

Inspirational and informative

sessions from influential speakers

, including

James Clear

, Keynote Speaker, Habit Expert & Author;

Erica Dhawan

, Collaboration and Connectional Intelligence Expert; and Julie Mohr, Senior Analyst,

Forrester Research, Inc.

A chance to connect with Wrikers in the virtual expo hall and learn more about Wrike Ambassadors, Wrike certifications, Wrike professional services, and more

Discounted

Wrike training and certification

; Attendees can boost their Wrike knowledge with custom training and certification offers on October 27; The live sessions offer exclusive insights, hands-on support, and unmissable tips on acing certifications
Sponsoring Wrike Collaborate 2022 is MediaValet, a leader in cloud-native digital asset management software that helps enterprise organizations securely manage, collaborate on, and distribute their high-value digital assets. Wrike's MediaValet integration enables users to share and manage digital assets across both platforms. Teams can attach MediaValet files to tasks, search for assets, and upload assets from Wrike back into MediaValet. When assets are decontextualized, changed, and managed on different platforms, it can be difficult to track these changes. This integration cuts down on repeated work and asset inconsistencies. By integrating Wrike and MediaValet, users can manage, update, and share files in the context of their project or campaign.
For more information and to register for Wrike Collaborate – a free, virtual event – visit: https://www.wrike.com/collaborate/2022/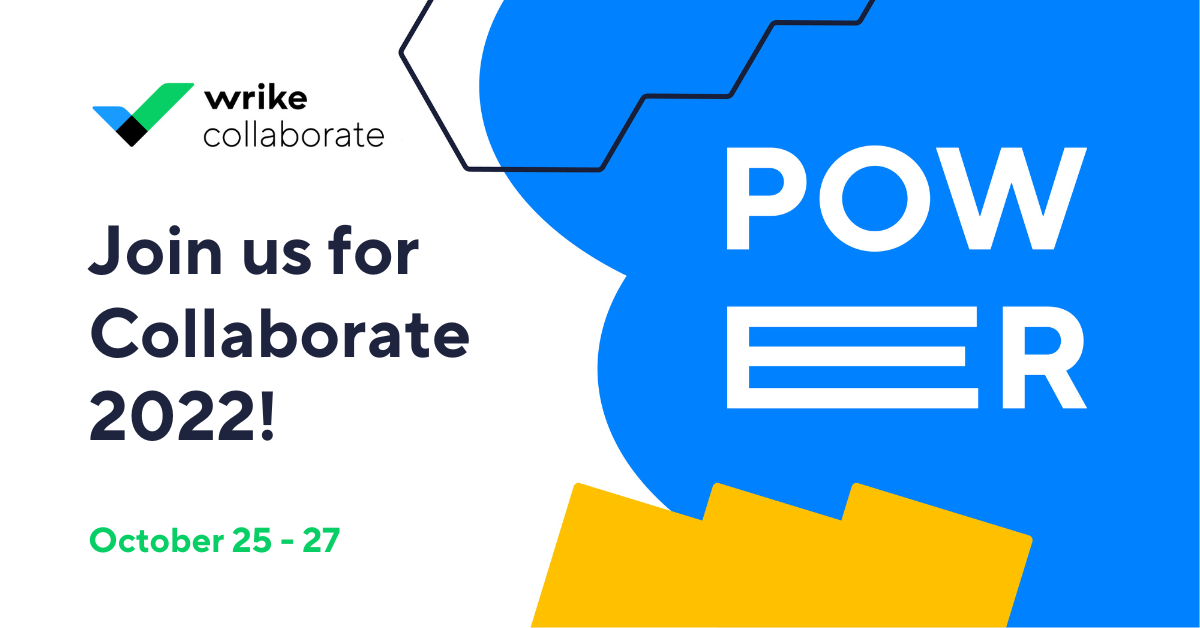 About Wrike
Wrike is the most powerful work management platform. Built for teams and organizations looking to collaborate, create, and exceed every day, Wrike brings everyone and all work into a single place to remove complexity, increase productivity, and free people up to focus on their most purposeful work. With unmatched power, versatility, and intuitiveness, Wrike is the only work management solution an organization will ever need to scale, optimize, and move fast in a competitive world. More than 20,000 happy customers power their future and come together in Wrike, including The Estée Lauder Companies, Hootsuite, Nielsen, Ogilvy, Siemens, and Tiffany & Co. Wrike is headquartered in San Diego, CA. For more information, visit www.wrike.com.