It's all about tech stacks these days. For too long, we've been relying on a wide array of digital tools, third-party apps, and single-purpose platforms to help us work, without realizing that they just add complexity, cost, and inefficiencies.
In fact, 77% of organizations are prioritizing efficiency this year, and they've identified three ways to do it:
The good news is that with the right choice of work management solution, you can achieve all three aims in one fell swoop. But the key here is choosing carefully.
Your options will include Wrike, Jira, Asana, ClickUp, and others, but it's not easy to select the right one. While Jira has its strengths — particularly for software developers — it may not provide the full range of features, integrations, and automation a modern organization requires. And the last thing you want to do is start adding more digital tools and growing that tech stack once again.
In this blog post, we'll look at all the most popular Jira alternatives, analyzing their cost, capabilities, and commonly cited benefits and challenges. By comparing Jira competitors, we hope to help you find the perfect all-in-one platform that will help you consolidate your tech stack to reduce spend, minimize duplicate work, and streamline collaboration. We'll help you learn why Wrike's versatility, flexibility, and power put it at the top of every single comparison list, every time.
What is Jira?
If you've ever been part of a software development team, you've probably heard of Jira. That's because it started as bug tracking software, although it has certainly grown in size and capabilities since. Now part of the Atlassian Group that includes Jira Software, Jira Core, and Confluence, Jira is generally known as a task and project management solution that helps team members organize their work, collaborate with colleagues, and work seamlessly alongside other parts of the Atlassian family.
Jira's range of features still allows users to track issues, bugs, and tasks, as well as projects and tasks, resources, and deadlines. It has several integrations with other software (including Microsoft Office, Google Workspace, and Salesforce), and leverages automation to increase productivity. This makes it popular with teams, departments, and organizations that might have used it for bug tracking in the past, but now find themselves benefiting from its wider range of capabilities.
Rather than just software developers, Jira customers now come from many different industries and fields, including marketing, finance, legal, sales, and human resources. Compared to Jira alternatives, its pricing structure is quite straightforward: it has a basic "freemium" plan for up to 10 users, as well as two paid tiers. When billed monthly, the Standard plan is $5 per user per month while Premium is $10 per user per month.
Key features of Jira
Because of its history as a software development tool, Jira is still very strong on issue tracking, although it can now also manage task lists and workloads related to project management, sales pipeline tracking, inventory management, and more. For this, it uses a set of key features, including:
Easy board view:

Favored for their simplicity, Jira's boards are used to monitor progress, oversee work, and

track projects

and due dates at a glance.

Unique form builder:

Jira has a built-in form builder that allows users to create work requests using drag-and-drop functionality.

Task security:

Jira allows users to protect Individual tasks, keeping them and their sensitive contents safe from non-authorized users.

Simplified import/export:

Data kept in separate tools and spreadsheets can be easily brought into or out of Jira via CSV, Word, XML, and JSON.

Custom search function:

Jira Query Language is a purpose-built method to search for work quickly in the Jira workspace using specific filters.
Why you should look for a Jira alternative
If you're hoping to do more with less using a streamlined tech stack, you'll need a powerful all-in-one work management platform. If you're thinking about moving to any of the major Jira competitors, here are four reasons why now is the ideal time for a change:
Centralization challenges:

Surprisingly, there is limited connectivity between Jira Work Management and other Atlassian products, although third-party connectors do exist. This makes it difficult to build a

single source of truth

, which is vital for success: Wrike research indicates that organizations can save up to

$4.1m

by centralizing their work in this way.

Functionality limitations:

Jira best serves the IT use case. If users want full functionality across diverse departments such as

marketing

and

PMO

, they'll need to purchase or integrate with other platforms that can provide native proofing, budgeting, and resource management tools, among others.
Outdated interface:

The user experience of Jira is somewhat outdated and not as intuitive as some of its competitors.

As one user pointed out

, "Jira interface is less intuitive and visually appealing than other project management tools. The interface can feel crowded and cluttered, especially when dealing with many issues."
Slow onboarding:

Some users have reported that Jira is "

complex to learn and use

" and potentially "

overwhelming, especially for new users

… the abundance of features and customization options may require a learning curve to understand and utilize the tool effectively." This takes valuable time your organization may not be able to spare.

Administrative oversight:

Jira is set up to be managed by admins who control permissions, even down to the granular level at which users can create a project. This can be useful for some organizations, but unnecessarily unwieldy and time-consuming for others.
Best Jira alternatives
Are you curious about what Jira alternatives are available? There are quite a few, although their costs and capabilities vary significantly. The top choices usually include:
Wrike

Monday.com

ClickUp

Asana

Trello

Basecamp

Smartsheet
To help you understand the pros and cons of all of the major Jira competitors, we've provided a more detailed overview of these seven options below.
1. Wrike
Wrike is one of the first names you'll see when searching for alternatives to Jira. There's a reason why it's often awarded the number one place by project management software reviewers. It's because it's an all-in-one solution that's powerful, versatile, and scalable — exactly what you need if you're hoping to future-proof your operations for some challenging years ahead.
Founded in 2006, Wrike was built to help teams, organizations, and enterprises to plan, collaborate, and execute in one versatile work management platform. It's now in use by some 2.4m people and 20,000 companies across 140 different countries. What makes it so popular? Well, let's look at the main reasons here:
A wide appeal: While Jira might be particularly suited to IT or developer teams, Wrike is truly a one-size-fits-all solution. It's a centralized platform that caters to every type of customer, from marketing to retail, manufacturing, and tech. It even supports Agile teams with sprint management, pre-built templates, and more. It's also easily customizable so it can be further adapted for individual use cases or scaling teams without having to resort to expensive add-ons or clunky integrations.
An easier interface: Wrike updated its interface as part of the launch of Wrike Lightspeed, and now it's even more delightfully intuitive with natural navigation, seamless design, and instantly accessible features. This means that Wrike users can be onboarded in minutes, without the need for time-consuming training or administrative oversight. Need to scale up and access more complex features? No problem — there's an array of resources and support to help you on your way.
Fast and efficient reporting: It's never been easier to share insights with stakeholders, pull valuable analytics, and balance resources with Wrike's built-in reporting function. Create your reports from scratch or customize a template so it suits your needs. You can even add organization-wide time tracking to your results (not just time per issue).
A scalable solution: If you're hoping to streamline your tech stack while future-proofing your capabilities, Wrike fits the bill. It's packed full of built-in features that can cater to small teams and large, complex enterprise organizations alike. For example, with Wrike, you can add multiple assignees without having to rely on admins to micromanage the platform. You can also cross-tag different teams and departments to increase visibility and enhance collaboration.
Wrike is the all-in-one software you've been looking for, as it contains everything a modern team needs at one easy-to-understand price point.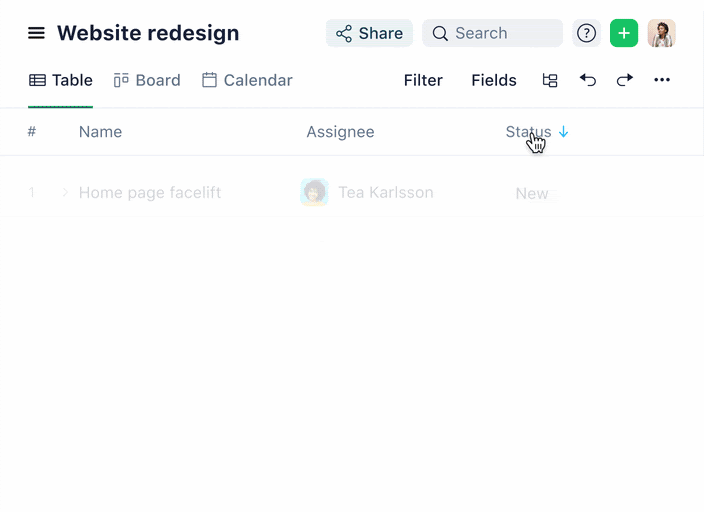 2. Monday.com
If you're looking for an alternative to Jira, Monday.com will invariably pop up in your results. It's a comprehensive, cloud-based solution that will help you "deliver your best work." Its features include the most popular must-haves such as dashboards, Gantt charts, and Kanban boards. It has also recently expanded its automation capabilities, which helps team members save time as well as effort.
While it only has 180,000 customers at present (compared to Wrike's 2.4m), Monday.com does have the benefit of being designed for multiple use cases, with more advanced resource management capabilities and custom workflows.
However, you do have to pay a premium for this added value. Jira has a $5 per month option that would be a good fit for small teams or individual freelancers, while Monday.com's lowest-paid choice requires a minimum of three seats at $30 (billed monthly). The downside of this is that you could be paying for more users than you actually have.
On the plus side, Monday.com and Jira do have free plans, although they're capped at a set number of users, whereas Wrike's is unlimited. This offers a good opportunity to trial Wrike on a team or department-wide basis, without having to level up to a paid plan immediately. Comparing Wrike to Monday.com will help you get a clear picture of how these two feature-heavy platforms look side by side.
3. ClickUp
ClickUp is another project management software option that will usually find its way into your list as a potential alternative to Jira. Its cloud-based platform aims to "plan, track, and manage any type of work with project management that flexes to your team's needs." It does this through a variety of features including templates, integrations, and automation.
When comparing ClickUp to Wrike and Jira and other work management platforms, it's important to look at how many use cases they really serve. Take marketing, for example. Both Jira and ClickUp do include creatives in their audiences but, on closer inspection, some teams might find themselves needing more than these platforms can offer.
Proofing isn't natively available in Jira, which means that you'll be heading to an integration or third-party app to get this done. Files can only be uploaded at a task level and it doesn't yet have the ability to @mention and comment at a project level.
On the other hand, ClickUp users can mark changes or leave comments on six different file types, although it doesn't have approval tasks. It also doesn't have native integrations with popular design or publishing tools such as Adobe CC or MediaValet. Again, that'll mean leaving ClickUp to achieve these routine marketing tasks.
While individually these aren't huge drawbacks, they could become frustrating quickly for busy marketing team members who need this functionality on a daily basis. If that sounds likely for you, you should look at a more marketing-friendly platform like Wrike.
You could trial ClickUp with its "free forever" plan, which comes with 100MB of storage and most of the basic features needed for modern work management. Plus, the free plan is available to unlimited users like Wrike, rather than up to 10 like Jira. If you need more, their paid plans start at $10 per member, per month (billed every month).
4. Asana
Another firm fixture on any list of Jira competitors will be Asana. It describes itself as "the best platform for cross-functional work," and uses a variety of features such as reports, dashboards, and automation to achieve this goal.
In terms of views, both Asana and Jira offer a variety of choices, but it's important to note that neither has out-of-the-box Gantt chart options. Jira recommends using one of its options from the Atlassian marketplace, while Asana relies on integration with the paid app Instagantt. These extra steps are surprising, given how popular Gantt charts are — they're among the most-used native features in Wrike.
Asana and Jira do offer some proofing and approval features but, as mentioned above, they're not as extensive as Wrike's. For example, Asana supports just five different file types for proofing (compared to more than a dozen with Wrike). It also doesn't have any native DAM integrations, sending users to third-party providers for the publishing stage. Asana also only has 200+ native integrations, which is a lot less than both Jira and Wrike.
Similar to Jira, Asana does have a free plan but allows five more users, totaling 15. Its Premium plan is billed monthly at $13.49 per user per month, which is higher than both Wrike and Jira's first paid tiers. Compare Wrike to Asana and Jira to get a proper idea of what each platform offers, and at what price.
5. Trello
Trello is a great alternative to Jira if you're a fan of Kanban boards. One of the earliest work management solutions, it'll be familiar to many of us as the place where we organized high school projects and tasks, personal chores, and to-do lists. In the many years since, it has developed from basic task management to a more comprehensive work management solution.
It now offers a variety of features including templates, automation, and workflows. It's not all about Kanban boards either anymore: users can now use boards, lists, and cards but also calendars and maps too, employing @mentions to keep teams communicating across them all.
Where Trello starts to lose points, though, is if you need to scale in terms of size and requirements. It's very good at managing projects and tasks, but less strong on business plans or strategies. Its reporting is relatively basic, its resource management is limited, and, again, proofing and approvals aren't available natively.
If you feel that your needs are likely to grow, you may need to compare Trello with Wrike to see what a fully comprehensive platform can offer. On the plus side, Trello is easy to onboard and its free plan is a great place to start, although it does include limitations in terms of integrations, privacy, and reporting. Like Wrike, Trello's free plan can be accessed by unlimited users, while Jira's is limited to 10.
6. Basecamp
Much like Jira, Basecamp came from specific origins — design in this instance. That means it still has an attractive, clutter-free interface and commitment to simplicity, even though it has now evolved into a work management and collaboration platform. It has a series of features that help teams to organize their work and track projects, from messages to project schedules, and a "Line-Up" that functions a little like a Gantt chart.
Basecamp prides itself on not inundating users with too many features ("not everything under the sun, just the stuff to get it done") but that does mean scaling teams could quickly find themselves needing a more advanced platform to suit increasingly complex needs. Despite this, Forbes has pointed out that "all-inclusive plans might not be suitable for solopreneurs or small teams," which could leave it falling between two stools.
Basecamp does offer good value plans, though, with upfront pricing that encompasses $15 per user per month or $349 per month (billed monthly) for unlimited users. If you're comparing Basecamp with Wrike or other Jira alternatives, you must analyze what features you need now and in the future.
7. Smartsheet
If you're a fan of spreadsheets and cells, you'll probably be drawn to Smartsheet among the many other Jira alternatives. Smartsheet is a cloud-based project management software that helps teams organize and visualize their work through a "tabular user interface" that will be familiar to Excel users. It includes project management, automation, and collaboration features, allowing users to manage multiple sheets as well as tasks, projects, calendars, and dashboards.
While Smartsheet is similar to Jira in that it can take some time for users to become comfortable using its interface, both have quite an extensive array of features. One place where Smartsheet edges ahead is in analytics and reporting, as it allows users to analyze and create custom reports by grouping and filtering data. Jira, on the other hand, doesn't have native project reporting or built-in advanced analytics. It's important to bear in mind though that Smartsheet's analytics can be a little unwieldy and time-consuming for new users, whereas most people can get started with Wrike's project dashboards, advanced analytics, and instant reports in seconds.
Smartsheet's paid plans start at a cost-effective $9 per month (billed monthly, for up to 10 users) but Wrike's similarly priced plans may offer bigger or scaling teams more bang for their buck.
Final notes
True to its roots, Jira is a great tracking tool and project management platform for IT and developer-heavy teams. However, as one reviewer pointed out, "It seems like the Jira system was designed by IT people for IT people."
Apart from the extra time and effort required for non-IT users to learn its interface, this also means that Jira may not feel like a natural fit for other use cases, such as marketing or project management, which will need integrations for some of their most-needed features. All of this comes at a cost, as noted by another reviewer: "You end up paying A LOT in plugins, if you want functions that aren't included in the basic package … You'll be shopping for plugins to get access to them, and the cost can add up to make expensive software, much more expensive."
This is painful at the best of times, but almost impossible to justify at a time when every business is actively tackling too-high tech stacks. If your organization is seeking one comprehensive solution that can help every department and team to become more efficient, you should be putting Wrike at the top of your list.
Let's look at its many unique benefits:
An all-in-one platform
Over the last 17 years, Wrike has added feature after feature to its platform, building a range of capabilities that is almost unparalleled in the market. It now encompasses resource management features that allow you to track time, monitor budgets, and balance workloads. It also includes marketing features such as collaborative proofing, real-time editing, automated approvals, and in-platform publication of more than 20+ file types. With cross-functional tagging, you can collaborate seamlessly with any department, across any function or location.
Advanced automation
Wrike has been pioneering AI and automation for years, which means it's not playing catch-up like other Jira competitors. Its game-changing Work Intelligence® suite offers AI-led advancements that deliver valuable risk prediction, faster execution, and a more streamlined, efficient, and error-free way of working. Its automated custom workflows can issue reminders, reassign tasks, and flag delays — saving you time, effort, and resources.
Easy onboarding
In terms of a learning curve, Jira might be worth the investment for team members who are already familiar with Atlassian and its associated products. In contrast, Wrike is a dive-right-in kind of software solution for everybody. You can onboard with ease, navigating the interface intuitively. If you need extra guidance, there are plenty of resources such as webinars, community discussions, and how-to guides — as well as human support when you need it.
If you're ready to see how it all works in real life, start a two-week free trial today. You'll quickly find out just how easy it is to get started with Wrike and just how transformative its wide range of features can be. No credit card, no commitment, and no downloads needed — just instant access to the world's most powerful work management platform.
Don't make life hard for your non-IT teams. Choose Wrike as the all-in-one solution your organization will need to curb excessive spending, drive efficiency, and empower your team members to embrace the challenges ahead.