When David Allen published his book Getting Things Done back in 2001, he spawned a movement based around his flexible ideas for organization and productivity. Since then, the concepts behind his GTD system have gone viral, guiding both personal and corporate workflows.  
We were fortunate enough to interview David Allen himself and asked him how best to explain GTD to someone completely new to the world of productivity. His explanation -- a 20-second summary of his method -- is probably the most succinct definition ever. 
Watch the video below then feel free to read more on the nitty-gritty of GTD.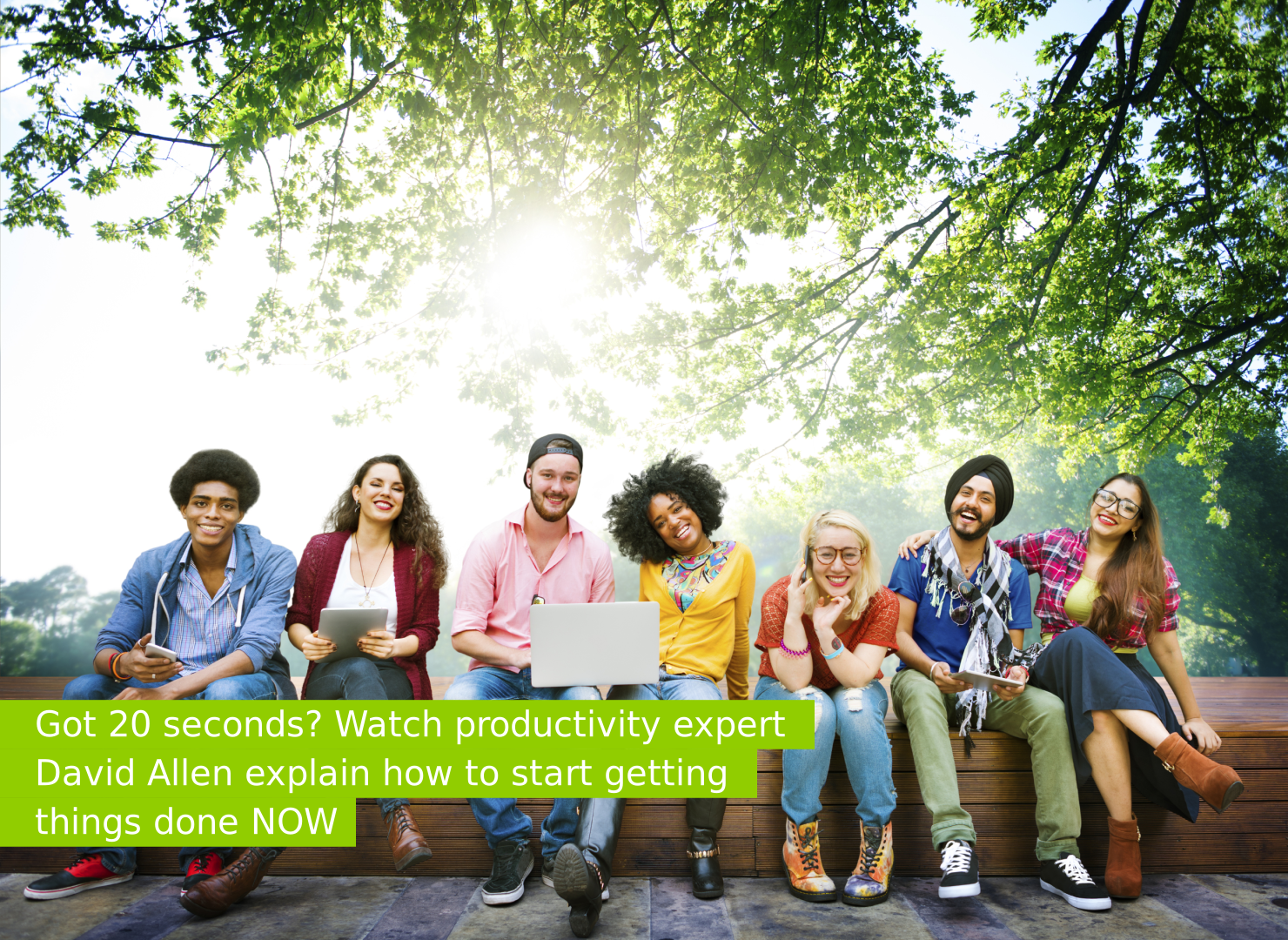 The appeal of GTD lies in its simplicity. At its core are three principles.
1. Don't keep "stuff" in your head. Capture it so you don't lose that great idea and you're not fretting about forgetting a task. Writing it down frees your brain from trying to retain everything, so you can do actual creative problem solving. 
2. List your next action. Transform the "stuff" you capture into concrete outcomes and next steps. This allows you to break down even very large projects into smaller, doable steps. And this keeps you from being overwhelmed by fluffy, undefined "stuff." 
3. Trust your system to maintain the remaining steps for you — and every other idea you've captured.    
These three core principles inform each of the five steps which Allen outlines in the interview.
1. Capture: Get ideas out of your head and onto your system.
2. Process: Decide what you want to do with this idea. What's the goal? What's your next action step?
3. Organize: Park the results in some trusted categories.
4. Reflect: Review your captured actions as frequently as needed.
5. Engage: Execute your plans. Mark tasks as done!
But What is GTD, and How Does One Use It Concretely?
During the interview, Allen took the time to demonstrate how to process a brilliant idea from a random concept in your head into specific organizational buckets that will allow you to work on the idea when you decide it's the right time to do so.
What do you do with a great business idea that appears in your head and keeps you up at night?
First, capture it. Throw it into your in basket so you don't lose the idea.
Second, in order to empty the in basket, you need to process it by asking yourself these questions: What is this? Is it an actionable item? Am I committed to doing something about it right now? Your answers will lead to the next step.
Third, organize it.
• If it's a "3 AM" idea that has no value and isn't worth keeping, trash it.
• If it's an idea worth keeping but has no action attached to it, park it in a reference file.
• If you foresee taking action on it at an undetermined time in the future, keep it in a someday/maybe list that you'll want to review weekly or monthly until you decide to act on it.
• If you want to take action on it at a specific time in the future, park it in a tickler file, or put it on the calendar with a trigger alerting you that it's time to engage.
When you do decide to move an the idea, what would it look like? What's the very next step you need to take? This is your next action. Put that in your list.
If you're interested in our full interview with David Allen, check out the video on YouTube. And watch the blog for all of our upcoming GTD-related posts.
• Full interview with GTD founder, David Allen
• Part 2 of this series: 4 Ways David Allen Applies GTD to Teams
• One of our customers uses Wrike to run GTD in his company• A more comprehensive post outlining how to use GTD in Wrike