We know that your business is unique and you need tools that adapt to the way you work. Today, we're excited to announce our Dynamic Platform Release, which completely changes the way you can use Wrike. Watch this short video of our CEO Andrew Filev sharing his thoughts on this release.
The Dynamic Platform Release consists of many new powerful features that make Wrike more configurable and connected with all the other tools you use.
Personalize Projects with Custom Fields
The new Custom Fields let you configure each project to track exactly what you need. Need to track budgets? Priority? Custom statuses? No problem. Whether you're in Product Development, Marketing, Finance, or any other team, you can now configure your projects with exactly what matters to you. This feature is available to Wrike Enterprise customers.
Meet the new Table View
For all users, we've upgraded the Table View to work more like a spreadsheet, making it easier to use for project planning.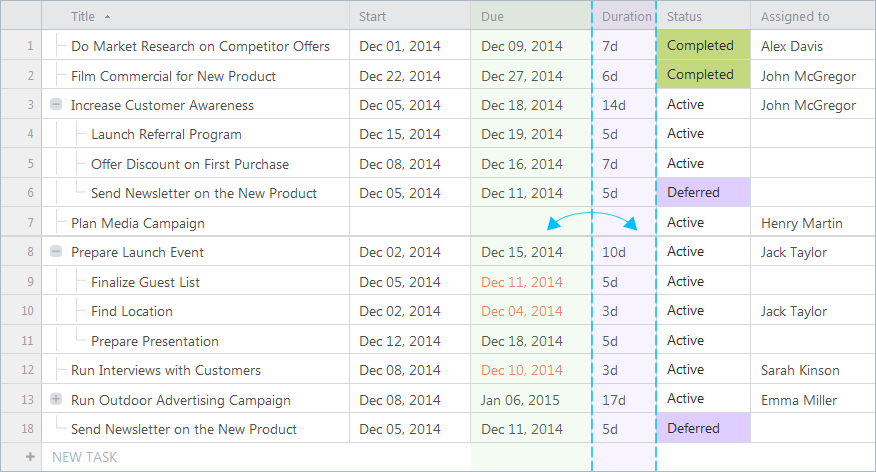 More powerful integrations
During the last several months we've worked hard to deliver more integrations with your favorite tools including:
Salesforce integration. Our new Salesforce integration make collaboration between Salesforce users and cross-functional teams faster, easier, and more accountable. This integration is available to our Enterprise customers.
New App Portal Did you know that Wrike integrates with dozens of apps like Outlook, Gmail, Box, Dropbox, Evernote, Quickbooks, and Slack?  Visit our new App Portal to see how to get more out of Wrike by connecting it with the other tools you use.
Developers rejoice. Integrating with Wrike just got easier
We've made it easier for developers to integrate with Wrike by releasing our new API v.3 and a new Developer site. The functionality of the new API now includes all popular features such as Subtasks, Custom statuses, and account management functions. Visit our new Developer Portal to get API keys and start developing on Wrike.
Wrike's Dynamic Platform release lets you customize Wrike in unique ways so that you can successfully run your business both now and as it grows.