What is Remote Work?
Remote Work Guide
What is Remote Work?
Remote work is changing everything, from how we approach work-life balance to the ways we communicate and even how we measure productivity. The "great remote work experiment" has reshaped many of the rules that once dictated the boundaries of our professional lives.
Companies like Twitter have effectively announced a WFH "forever" policy and 53% of U.S. survey respondents say they plan to continue working from home at least part-time. It's clear that the future of work will involve remote, co-located, distributed, and borderless workforces using digital tools to stay connected and productive.
But what is remote work, really, and what are the benefits and challenges of long-term remote working? In our remote work guide, we'll cover all that and more. Wrike's guide to remote working will also offer tips on how to transition to remote working if you're just starting out — plus ways to optimize your WFH experience. But first, let's start with the basics.
What does it mean to work remotely?
Remote work describes a professional environment in which employees can work from home or any other location outside their company's physical office. Oftentimes, that involves creating a workspace at home. However, working remotely can extend beyond the confines of your living space.
For example, remote work is a popular option for "digital nomads" who spend their time working while also traveling full-time. In this case, instead of working out of a home office, they may instead work out of hotels, beach clubs, coffee shops, or even airport lounges.
Previously, working remotely in this way would have been challenging — mainly because of technology and resource constraints. Now, collaboration tools like Slack, Zoom, and Wrike have helped bridge that technology gap, enabling more people to work remotely and collaborate on the go.
So, what types of jobs can be done remotely?
Broadly speaking, remote working is an option for businesses across many industries. Remote work is often accessible for businesses and job roles where the bulk of the work can be done online or on a local device. Jobs where the majority of the work is done in person (e.g., sales clerk, postal worker, ER doctor, construction worker) are not typically jobs that lend themselves to remote working.
However, some businesses can face other barriers when transitioning to remote work. Companies that handle client data may have to consider significant measures to avoid breaches and remain compliant with laws like GDPR.
Some jobs can also be modified to fit a remote work structure. For example, most HR professionals are used to carrying out their duties in an in-person capacity. However, the quick adoption of widespread virtual interviews and virtual onboarding has meant that this industry can hire remote talent while they themselves are working remotely.
When it comes to the best work from home and remote jobs, Flexjobs has identified the following as the five most popular roles for remote workers:
Accountant
Engineer
Teacher/Tutor/Instructor
Writer
Consultant
What does fully remote mean?
Fully remote means an individual, team, or company that is not based out of a centralized office location. For example, a team may have a "fully remote" member who works remotely all the time while their colleagues work from an office. Conversely, an entire team or company may be fully remote, meaning that no employee attends an in-person office location.
Fully remote companies are on the rise, too. Well-known businesses like Buffer, Zapier, Hubstaff, and GitLab are all examples of how to make 100% remote teams work.
Why are fully remote teams good for companies?
Probably the most compelling argument for fully remote employees and business are the lowered costs. As Forbes points out, American Express saved $15 million in real estate costs by implementing a flexible work program where employees could indicate whether they preferred to be "hub" (office-based), "club" (occasionally office-based), "home" (work from home) or "roam" (traveling) employees.
While American Express is the enterprise example, lower overhead costs are clearly the ideal scenario for startups and small companies with a business model that is amenable to remote-first hiring.
More benefits of fully remote teams include diversity and access to a wider talent pool. Work opportunities based out of large, expensive cities can be a barrier to entry for many who may be qualified and talented but unable to relocate for any number of reasons. Fully remote work opportunities can help break down some of these barriers.
On the other hand, fully remote workers can sometimes struggle with issues like loneliness and burnout. Fully remote teams may also find that they have to be more intentional in their efforts to cultivate a strong workplace culture, especially if employees are working across time zones.
What does hybrid work mean?
Hybrid remote work combines the structure of a traditional office with the flexibility of remote working. In a hybrid work environment, employees are able to work from home multiple days a week while also coming into a physical office when needed. But you may be asking yourself, "Why would someone want to be a hybrid worker?"
At the same time that the global COVID-19 pandemic forced employees into makeshift home offices, it also had the effect of changing the day-to-day responsibilities of many global workers. According to the Brookings Institution, more than 23 million working parents in America do not have an available caregiver for their children. When childcare is not available, working parents can benefit from increased flexibility in the workplace.
A hybrid work environment takes into account both the realities of workers' evolving responsibilities at home, as well as the "Next Normal" of socially distanced offices, staggered work schedules, and advanced hygiene protocols.
For many who face issues around stress and social anxiety, a hybrid work environment may also present a more inclusive approach to work. In fact, Mental Health America found that, in one survey, 77% of respondents said flexible work would make them feel healthier in a work environment.
From an economic standpoint, the benefits of a hybrid work environment are also clear. Staggered schedules mean a lower demand for desk space and a reduced need for expensive, sprawling offices (and the rents that come with them).
Remote work statistics 2020 — hybrid work and the future of the modern office:
62% of Google workers say they want to return to the office at some point but not every day of the week. Meanwhile, 10% say they don't want to return to the office at all.
Global Workplace Analytics estimates that 25–30% of the workforce will be working from home more than one day a week by 2021.
JLL found that office leasing volume in the U.S. dropped by 53.4% in Q2 of 2020.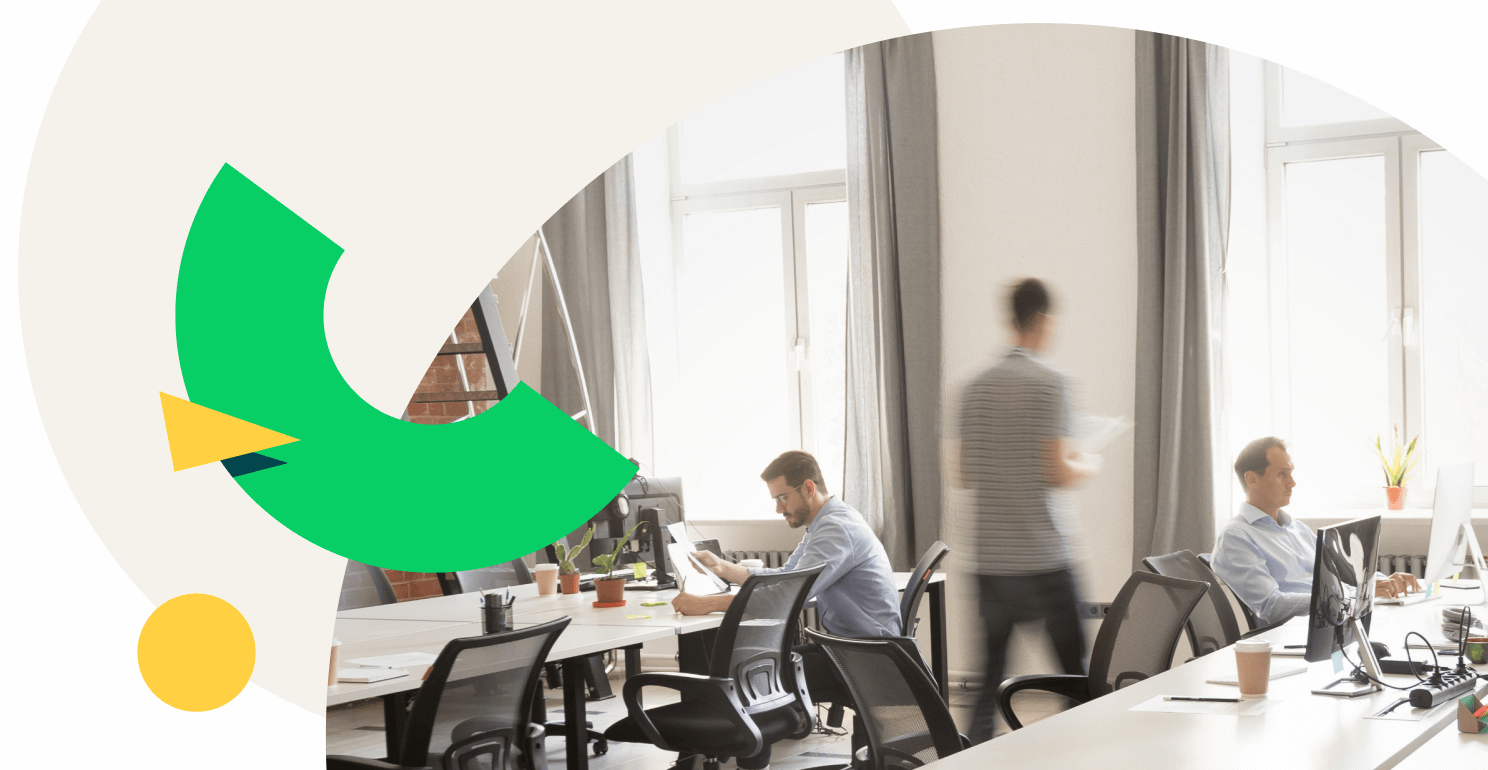 What is a remote worker and how do people work remotely?
People work remotely in many different ways. Some work from home while others work from coffee shops or co-working spaces. Some even work while traveling and on the go.
Generally speaking, it's not necessary to have an elaborate work from home setup to be an effective remote employee, though a designated workspace is recommended. What's more important than ergonomic desk chairs, double monitors, and an HD camera is your approach to remote work. For some, the transition might be an easy one. For others, there may be an element of creating and optimizing new work routines and generally adjusting to life outside of a busy office.
Why is the perception of remote work changing?
The way people view remote work has come a long way in a relatively short amount of time. This is partially due to improvements in technology and tools that allow employees to do their work from anywhere.
Previously, flexible and remote working was seen as more of a "perk." Now, HR leaders recognize that companies with flexible remote work policies can attract and retain top talent. In fact, 80% of workers said that, when faced with two similar job offers, they would turn down the one that didn't offer flexible working opportunities.
The change in perception of remote working may also be attributed to a generational difference between workers. Millennials and Gen Z employees view remote work differently than their older counterparts. This is evidenced by the three-fourths of Millennial and Gen Z managers who say they have members of their team who work from home a significant amount of the time, according to CNBC. A significant amount of workers in this fairly broad age bracket also say they hope to continue working remotely at least some of the time after the pandemic.
Of course, the elephant in the room and a huge factor in why some employers are viewing remote work differently than they once did is because of the Coronavirus. Previously, many workplaces had firm "no work from home" guidance. However, as the pandemic made office work untenable, these companies were forced to revisit their views and create employee work from home policies for the first time ever.
Remote working represents an advancement of the modern workplace. It takes into account the needs of the employee, the reality of local and global events, and the evolving attitudes about wellness and work.
What do employers need to know about remote working?
Firstly, employers need to understand the value of remote and flexible working. Remote working allows employees to skip long, uncomfortable commutes and minimize workplace distractions. It also opens up the talent pool to new and working parents, folks with disabilities, and workers who live outside of expensive metropolitan hubs. As previously mentioned, American Express also experienced significant real estate cost reductions when they implemented their flexible BlueWork program.
From a practical, day-to-day standpoint, employers should also understand that remote workers require efficient ways of communicating, collaborating, and managing their work productively. Tools like Wrike do just that.
Wrike's all-in-one work management solution is the ultimate support system for remote workers. The visibility of tasks, integration with hundreds of tools, team dashboards, and clear custom workflows allow remote workers to manage their duties, even when based outside an office.
When it comes to the overall remote work experience, employers should also be mindful that maintaining workplace culture is still a priority — no matter where an employee is located. Employee retention is still the goal, so know that perks, programs, and other incentives allow employees to feel connected, valued, and included.