How To Create a Marketing Dashboard
Marketing Project Management Guide
How To Create a Marketing Dashboard
Now that you know how marketing analytics and metrics help marketers understand their target market, campaign success metrics, and customer relationship management nuances, it's time to visualize all of those numbers. Instead of digging through spreadsheets or opening up a host of platforms to view each marketing metric individually, you'll want to turn to a marketing dashboard to streamline and process your marketing analytics data.
What is a marketing dashboard?
A marketing dashboard is a single platform you can use to view a selection of marketing analytics and marketing performance data in one place. Marketing dashboards are customizable to show information on any KPIs or project data you need to track and can often include a combination of several different projects, channels, or metrics.
In order to view or create a marketing dashboard of your own, you need to have the right tool in your martech stack. Many comprehensive marketing management software platforms offer dashboard options, as do many free marketing analytics options, like Google Analytics.
What are the benefits of a marketing dashboard?
A marketing dashboard allows marketers of any level to quickly, easily, and succinctly view the metrics and analytics that matter to them. Marketing dashboards save considerable time that marketers would lose if they were switching platforms to view social media analytics, website analytics, or campaign metrics separately.
Marketing dashboards also allow members of a marketing team to view key performance metrics (KPIs) and campaign data in real-time. This is especially important for managers, who can then make quick decisions to adjust marketing tactics or reallocate resources depending on the relative success of one metric or channel over another.
What problems can a marketing dashboard alleviate?
When used correctly, marketing dashboards can alleviate a range of problems your marketing team might face, from siloed communication to misunderstanding customer behavior. Here are a few ways a marketing dashboard can supercharge your marketing department:
Enhanced visibility: Marketing dashboards greatly enhance a marketer's ability to see the status of their team's and their own activities without having to spend time checking in with individual team members.
Increased efficiency: Generating reports and viewing metrics in different platforms sucks up time from any marketer's busy schedule. A marketing dashboard cuts out that inefficiency, displaying metrics from different channels in the same place for easy viewing.
Real-time customer data: Marketing dashboards update constantly, giving marketers a real-time view of customer behavior, website traffic, and even lead generation status.
Better decision-making and forecasting: Having swathes of data at hand and easy to view makes decision-making and forecasting faster and simpler. Managers or CMOs are able to drill down into finer details or get a broad sense of various metrics, informing decisions that can move the team toward achieving department-wide goals.
Enhanced KPI monitoring: Keeping KPIs front and center can greatly improve how well they're met across the entire marketing team. Additionally, marketing dashboards can help marketers get a better understanding of bottlenecks or problems that could be preventing them from reaching KPIs.
How is a marketing dashboard used?
Members of the marketing team will use marketing dashboards in different ways. The way a marketer uses a marketing dashboard varies depending on what metrics they are tracking. Some team members will need to keep a near-constant eye on the metrics they're tracking, while others use a marketing dashboard to get a weekly or monthly sense of campaign or project success.
Marketers can set up bespoke and customized dashboards that incorporate the data they need to see on a regular basis. For instance, a social media specialist would set up a marketing dashboard that could provide analytics produced from an ongoing social media campaign. Viewing engagement, click-through rates, and sharing data regularly can help a social media marketer assess the success of a particular campaign, and allow them to adjust paid advertisements if the campaign has hit a stumbling block.
Who typically uses a marketing dashboard?
Many different members of the marketing department can and should use marketing dashboards. A CMO would use a marketing dashboard to pull in various forms of data in order to get a clear picture of the success of the entire marketing operation. Digital marketers also use marketing dashboards that enable them to track metrics related to website traffic, ad campaign results, and marketing-generated sales.
What should be included in a marketing dashboard?
A marketing dashboard should include any and all metrics a marketer needs to view to better understand and reach his or her own KPIs, or to track the work within their remit. A marketing dashboard would typically include a selection of the following:
Website performance: From bounce rates to time on site, a digital marketing dashboard usually includes website performance analytics.
Traffic sources: You'll especially want to track the traffic sources driving visitors to your website, including from social media, organic search, and paid advertising.
Social media metrics: Instead of focusing solely on social media follower numbers, make sure you have a dashboard widget for tracking the effectiveness of calls to action (CTAs).
Conversion funnel: Most dashboards, including Wrike, include a conversion funnel with data pulled from a platform like Salesforce that can track leads, opportunities, and wins.
Digital ad information: Digital marketers can track paid search engine advertising campaigns, and view the data in real-time. This allows marketers to pick up on trends or successful ads in order to optimize them.
Email marketing information: Marketing dashboards can also include email marketing information, including open, click and unsubscribe rates.
Examples of marketing dashboards
Marketing dashboards can be difficult to envision without examples. This selection of marketing dashboard examples should give you a sense of what's included in different types of marketing dashboards, and how they can help you visualize your own marketing work and hit your goals more efficiently and effectively.
Campaign management dashboard: Marketing campaign dashboards will track metrics related to a particular marketing campaign. For instance, a product launch campaign dashboard would include analytics from any PPC advertising involved, as well as any paid social media ads, website conversion rates for related products, as well as marketing attributed ROI.
Digital marketing dashboard: Digital marketing dashboards include website performance, social media analytics, email marketing, ad performance, and revenue.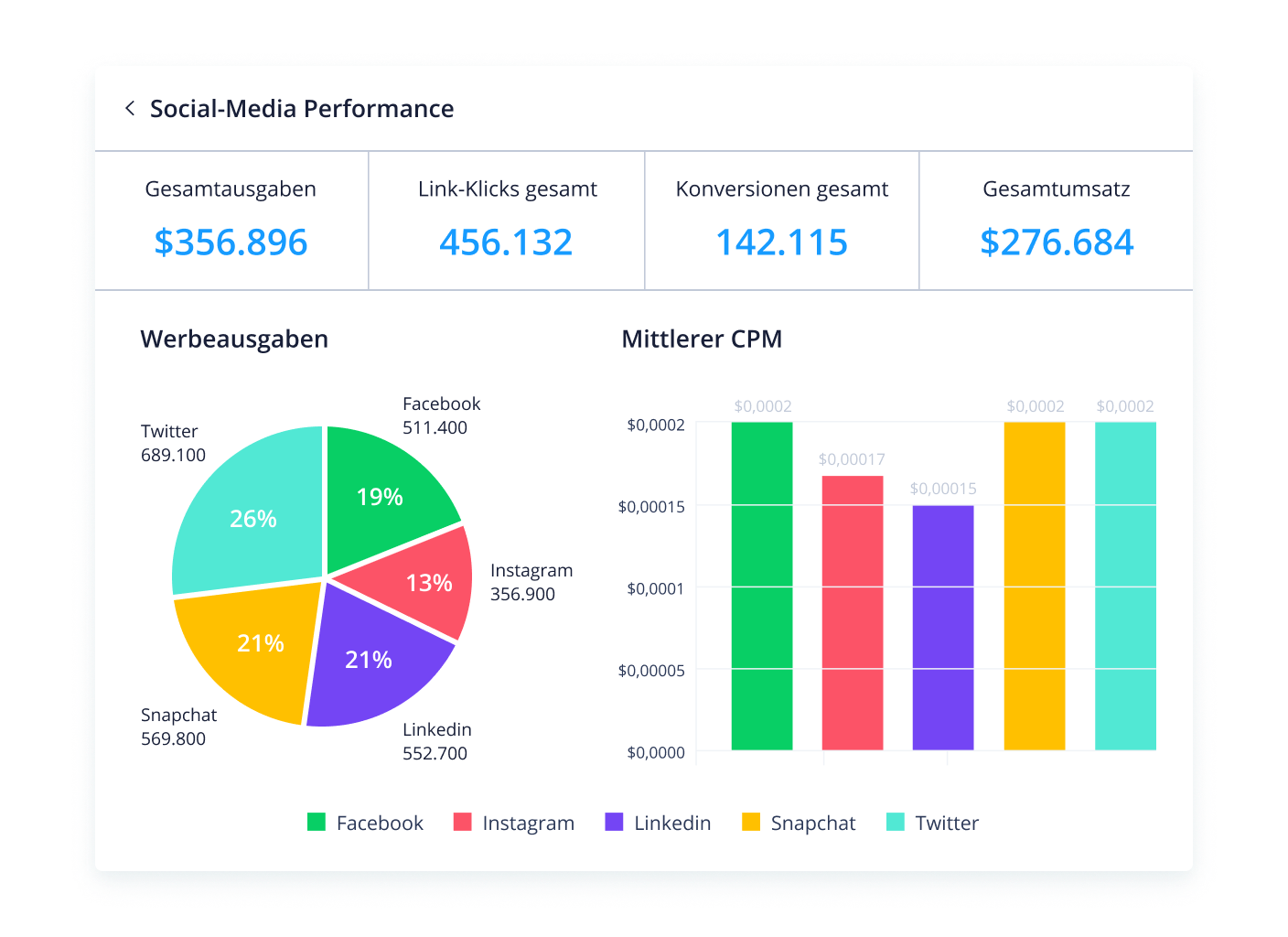 Marketing KPI dashboard: A marketing KPI dashboard tracks key metrics like customer growth, revenue growth, and marketing attributed ROI.
CMO dashboard: A CMO marketing dashboard gives a visual overview of each of the key metrics across the company's marketing activities. This should show lead generation, website performance, social media, and email marketing.
Marketing dashboard tools
Marketing dashboards can make all the difference when it comes to how individual marketers operate. Crucial insights can convey how successful the marketing department is at reaching weekly, monthly, and yearly goals. The right marketing dashboard tool should be easy for any level marketer to use, easily customizable with a variety of metric tracking views, and should integrate easily with data from other sources.
Wrike for Marketers Performance offers a host of marketing dashboard templates to create your own highly functional marketing dashboard. Wrike dashboards allow you to view campaign details at a granular level, analyze team and campaign productivity, and view live updates at a glance.