Headquarters
Vancouver, Canada
Departments Using Wrike
Marketing and Creative
Feature Highlights
Proofing, calendar, and resource management tools
Why Wrike
One consolidated solution to help simplify and manage large scale projects across 16 offices
Hootsuite is a social media solution that allows individuals and businesses to manage all their social media channels in one place.
Their story
As Hootsuite expanded into 16 offices, they experienced an increase in task volume across time zones.
With a global customer base of more than 16 million users in 175 countries, Hootsuite is the most widely used social media platform in the world. Over the last five years, the number of offices and marketing assets it manages, and customers it handles, has grown substantially. This means its marketing operations team has faced a challenge: How to track progress and communicate across regions with an increase in workloads?
"It's very difficult working cross-functionally on dozens of projects with so many people across so many different locations and time zones," says Symon More, Resource Manager at Hootsuite. "We need to make sure that everything's getting delivered at the right time and all the deadlines are met, because I'm often the person chasing people down when they're not."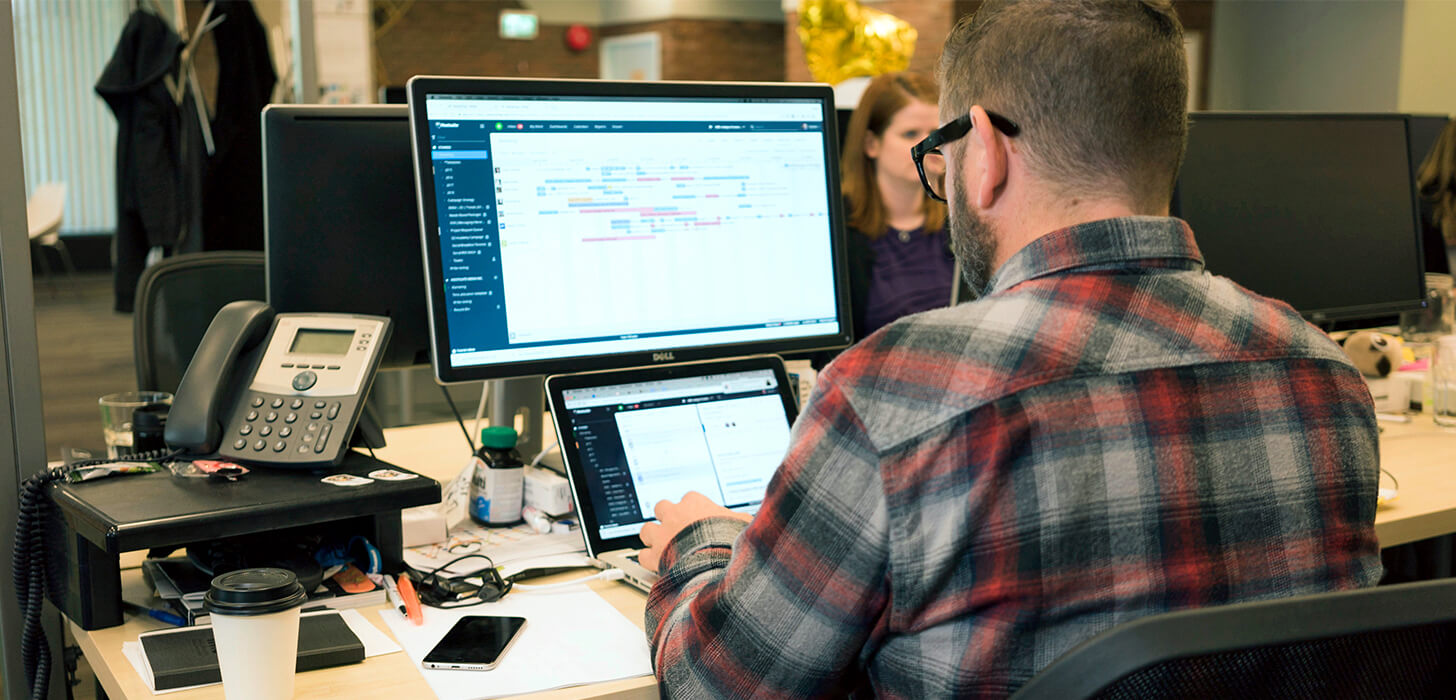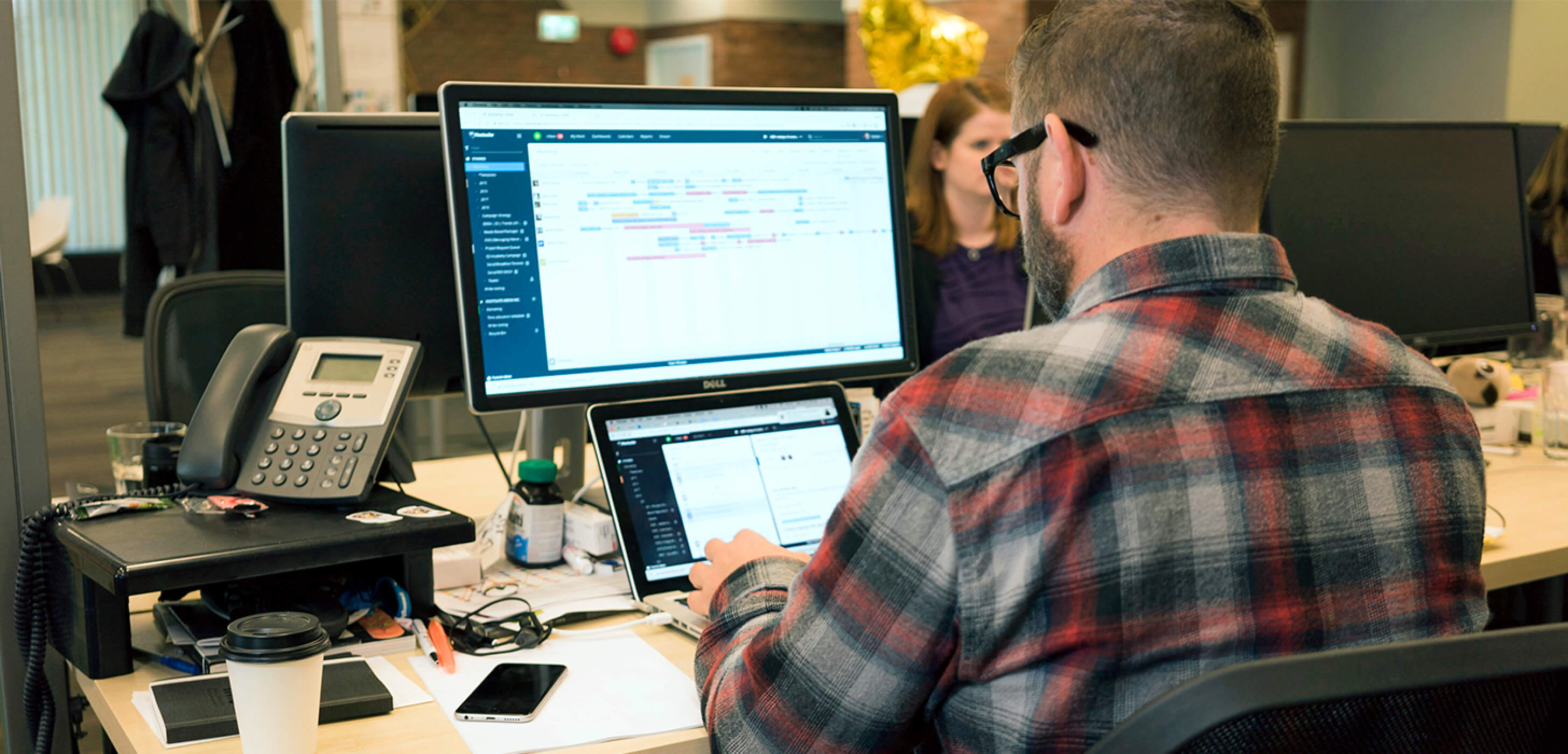 In the early stages of the company's growth, the marketing ops team often found itself chasing emails and enforcing deadlines rather than focusing on sending the right message to the right customer.

"We want our emails to be as tailored as possible and to make sure that the messages we're sending to people actually apply to them," says Emilie Vachon, Lifecycle Marketing Coordinator at Hootsuite. "But our team has to juggle a lot of other priorities and responsibilities. The amount of different requests we get really impacts our day-to-day. And if it's not managed correctly, the customer experience suffers."
Their victory
Wrike bridges the geographical gap and provides easy work visibility — allowing Hootsuite to focus on customer experience.
Wrike provides a centralized location that allows Hootsuite to handle large volumes of tasks and to easily report on productivity. "Wrike is our one source of truth," says Vachon. "It's one consolidated place where we have all the information we need."

Also, the team no longer has to toggle between email and spreadsheets to find important information, Vachon says."If you're going back and forth over email with all the different stakeholders, emails end up getting lost in a thread, never to be seen again," she says. "If you have it in Wrike, everything is there. Everyone's aligned, and everyone can be absolutely positive on the deliverables they need to deliver to your team."

"Some of the historical challenges that marketing operations teams face — and I've definitely faced in the past — is if you don't have a platform that is very holistic, often you'll be left with some people using a spreadsheet and some people using email," adds More. "There was no central place that you could go to easily to get the information that you need, when you need it… until we found Wrike."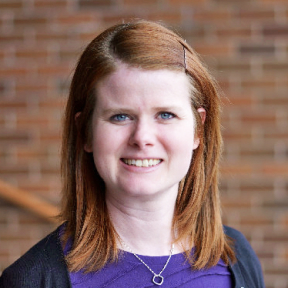 With Wrike, I am able to track and monitor all of my projects in one place. If asked about one of my projects, I can instantly go into Wrike and give them an update within 30 seconds.
Lisa Matthews, Project Manager
Obtaining visibility on all ongoing projects allows the marketing ops team to break down silos created from working across distances. "Wrike really helps us break down those barriers by acting as a central source of truth, so everybody in all the regions has access to everything that we do via Wrike," More says. "So that provides a really easy way for everybody, no matter where they're located, to see what everybody else is doing and helps align our company voice and purpose."
Now that Wrike has helped Hootsuite streamline projects, the marketing ops team no longer has to worry about bridging geographical distances and can focus on refining their customers' experiences. "Hootsuite is a company that is really customer-obsessed. We focus a lot on making sure that we give our customers the best experience," says Vachon. "With Wrike in play, everyone's aligned from the start so our focus can be where it should be: on the customer."
Their superpowers
Share launch plans using calendars
The new Wrike calendars will allow the marketing ops team to coordinate launch plans cross-functionally without leaving Wrike. "We're very excited about Wrike calendars," says More. "They will allow us to align all of our tactics, not only throughout the regions, but also within HQ, from marketing pushes to product releases, feature releases, and partner integrations. Allowing us to align everything makes our messaging a lot clearer for our customers."
Streamline feedback with Proofing tools
The marketing team can quickly and efficiently provide feedback on designs directly in Wrike using Wrike's real-time PDF editor. Now there's never a question around context or due date. "Wrike's proofing functionality is fantastic. The fact that we don't have to go to another platform to give feedback and everything is recorded in Wrike is fantastic. I don't know why everyone doesn't have that," says More.
Manage team capacity using workload view
Wrike's workload view improves resource visibility and prevents individual team members from becoming overloaded and over-stressed. "The workload view makes me better at my job because I can see exactly what every person on my team is working on. And then from there, I can figure out whether they have bandwidth to take on more projects or whether they're at capacity," says Vachon.
Find out how Wrike can help your business