Every creative team faces the same challenge of delivering excellent work under the most rigorous of deadlines, using whatever resources are available. But one important tool they use to organize incoming requests is the famed creative brief. In fact, some creatives say that a complete brief is the single most important indicator of whether a project will be successful or not.
There are plenty of briefs out there that simply aren't optimized to get the job done.. In fact, in a survey of more than 1,200 C-level agency executives, 53% found briefs complete but lacking in focus, 27% found them incomplete and inconsistent, and 20% found them complete and focused most of the time. Having an ineffective creative brief is like having a compass that doesn't point north — it'll take you somewhere, but probably not where you want to be. So who's responsible for making the creative brief a success? A creative brief is typically filled out by your account manager or traffic manager after a face-to-face discussion with the client.
We've laid out all the elements of a truly effective creative brief template so you can customize it to your needs.
Why Do You Need a Creative Brief Template?
The goal of any creative brief is to provide the team the details of the job requested. At the bare minimum, it should contain three things:
Project scope: This outlines both tone and execution.
Context: Useful when the work is part of a greater vision.
Timeline: So you can allocate your resources effectively.
Remember, the creative brief should also inspire the team. It should synthesize all the information from the customer, and distill it in a way that encourages creativity and motivates the team to do their best work.
This creative brief sample template we put together is meant to be a guide. Your team can and should customize it based on your needs and circumstances.
Elements of a Creative Brief Template
1. Contact Details
As with any work intake form, specify who the stakeholders are, list the contact details, and spell out the role they each play in the creative asset. Do the same for your internal team. That way, you can easily reach out with questions at any point in the project.
2. Creative Brief Template Overview
Outline the request at a high level. Paint a picture for your team that answers the who, what, and where of the project. Provide enough context so that your team comprehends how this job affects the bottom line.
Questions to answer:
What is this job about?
Who are the stakeholders?
Who are the assignees?
3. The Objectives
Here's where you summarize the goals of this job. That way, if there's any disagreement over the execution of the project, you can tie it back to the goals.
Questions to answer:
What do the stakeholders wish to achieve?
If it's a customer-facing deliverable, what action do you want the end user to take?
4. The Audience Profile
This section tackles the target audience. If you build a complete picture of the audience that you must persuade, then your creative team can do a better job of tailoring their work to the audience's needs and concerns.
Questions to answer:
Who are they, and where do they live or work?
How will they be reached?
What issues concern them?
What do you want them to feel, think, or do?
5. The Execution Specifics
Here's where the main meat of the creative brief lies. This section should hold all the execution details and creative brief sample questions about the deliverable and how you communicate your message.
Questions to answer:
Tone: What is the tone of your written copy and message? What adjectives describe the feeling or approach? What do these adjectives mean to the customer?
Message: What are you saying with this job? Does messaging need to be developed? What will the audience remember at the end? What similar messages are competitors using?
Visuals: How will visuals help convey the message? Is there a certain visual style the client wants? Are there visuals in place already, or do they need to be created?
Other details: List all deliverables and their formats/sizes.
Timeline, schedule, and budget: When do things need to be done? How much will it cost?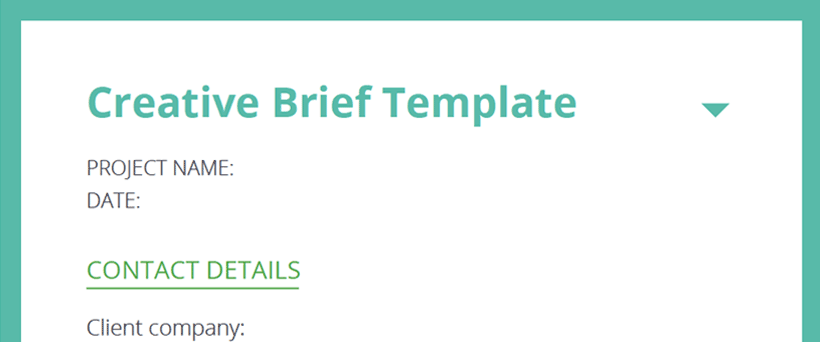 We put together a downloadable creative brief template (PDF) that you can use to get started. 
What the Creative Brief Template Can (and Can't) Do
No matter how you structured your creative brief, the end result will be like a checklist outlining the information and objectives of a campaign. However, never underestimate the value of a comprehensive, well-thought out creative brief — it can guide the work in a specific direction, provide the details of the audience, client, and pain points, and might even inspire the team to generate some groundbreaking ideas.
Jeff Goodby, co-chairman and partner at advertising agency GS&P, once likened the creative brief to a fisherman's guide — that person who takes you to the best place to fish, and even provides you with ideas on which bait and lures to use. He won't fish for you, but he provides the fisherman (the creative talent) with the information and inspiration to be successful.
Build Your Creative Brief With Wrike Dynamic Request Forms
While the template we suggest above is perfectly usable as a PDF, you can further streamline the way you accept incoming work requests and how you manage all ongoing creative jobs.
Wrike is a collaboration tool used by many creatives and marketers to manage the rhythm and organization of all creative work — from intake to execution and delivery. Try out our free Wrike Dynamic Request Forms to manage all the details you need for your creative brief.
Further Reading on Building an Effective Creative Brief
Banner photo: Andrew Slate for Wrike