Ever feel like a worker bee buzzing about your day? You're not alone, which is probably how the good people at Hive came up with their name. It's a cloud-based project management software that offers all the usual tools to help team members boost their productivity, including task management, collaboration, and analytics features.
Suitable for both small and large organizations, it offers teams a centralized place to collaborate on tasks, as well as storing, tracking, and visualizing projects.
Established in 2015, Hive advertises that it's "the only project management platform designed by its users." The reality, of course, is that every work management solution reacts to user suggestions and incorporates feedback into its development, including Wrike, which is one of the leading alternatives to Hive.
If you're comparing Wrike vs. Hive, you might find that the details of platforms, packages, and pricing start to blur after a while. That's where we can help, though, with a detailed comparison of the two options, including the parts you really care about: capabilities and cost.
What is Hive?
Hive classifies itself as a "project management platform for hybrid work." It does this by providing a centrally managed system that helps to streamline operations, enhance collaboration, and accelerate delivery.
It includes a range of task management and communication features, including project maps, Gantt charts, and more than a dozen ready-built templates.
It's useful for teams who need to break complex projects into bite-sized chunks, each accompanied by adjustable status, relevant communications, and attached documents. This strategic approach to task management helps Hive users cultivate a more organized, deadline-oriented workflow.
While Hive does feature more than 1,000 integrations with the most commonly-used apps, many require an additional (paid) tool such as Zapier.
Similarly, other tools such as proofing, analytics, and automations are also paid add-ons. The good thing about this type of pricing model is that growing teams can pay to access extra functionality only when they need it. On the other hand, all those extras can really add up, potentially blowing a predetermined budget.
What are the advantages of using Hive?
There are many reasons why Hive might be a good choice for you and your team members. These include:
Ease of use:

Who has time for month-long onboarding requirements? Hive is one of the easier platforms to adjust to, offering a short learning curve for busy teams.

Great for small teams:

With an affordable entry point and easily navigable interface, Hive suits freelancers and growing organizations very well.

Extensive integrations:

Although most aren't native, Hive does allow users to connect to more than 1,000 popular applications via platforms such as Zapier.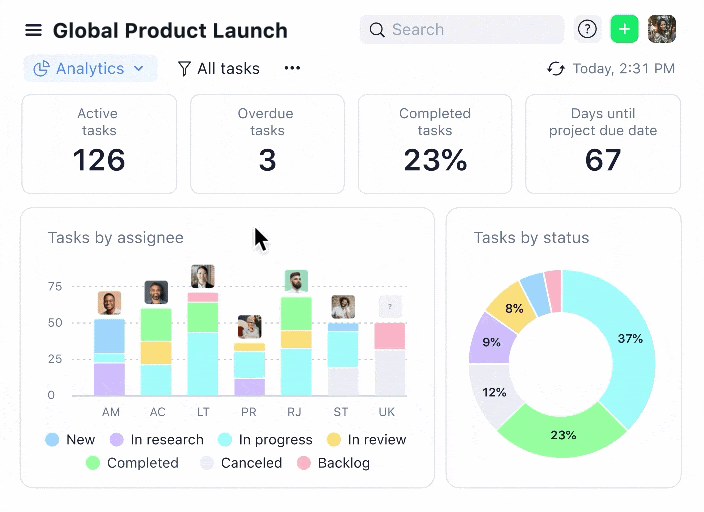 What are the most popular features of Hive?
Multiple project views: Hive has six different work views, which will suit different types of teams and projects. These include project layouts, Gantt charts, Kanban boards, and calendars.
Time tracking:

While this tool is an additional app, many teams will seek it out, particularly if they're trying to maximize resources, monitor budgets, or clarify client billing.

Messenger:

This handy tool allows for direct messaging, group conversations, and even comments on specific tasks. This helps to keep communication in context.

Analytics:

Powered by machine learning and available as a paid add-on, analytics offers insight into working patterns and capabilities, helping to better predict and deliver project outcomes.

HiveMind:

Designed to boost

project planning

, content writing, and everyday correspondence with AI, this feature will help to streamline and accelerate workflows.
What are the disadvantages of using Hive?
Scalability:

While Hive is a good solution for

small businesses

, the lack of folders, spaces, and portfolio-level reporting may frustrate growing teams who need more robust capabilities.
Limited functionality: Users looking for an all-in-one platform may find that Hive doesn't have everything they need, including built-in proofing and resource management tools.
Broad permissions:

With security a main focus for organizations today, Hive users' ability to modify most controls with few limits may pose a challenge.
What is Wrike?
Wrike is the most versatile, powerful, and comprehensive work management platform currently on the market. Offering a wide array of features, benefits, and automations, Wrike enables users to manage and collaborate on their work from a single, consolidated platform. This makes it ideal for teams hoping to consolidate costs and reduce their tech stack — an important point to bear in mind if you're comparing Wrike vs. Hive.
It was designed to suit a wide variety of use cases, helping teams of all sizes to strategize, plan, manage, automate, and execute work efficiently. It does this through powerful features like customizable request forms, detailed dashboards, automated workflows, and interactive Gantt charts. Hybrid and on-site teams can collaborate in real time from anywhere in the world with @mentions, notifications, live editing, in-context proofing, and more.
It also offers the unique ability to fully tailor a user's workspace with custom item types, custom fields, and a wide range of templates that can be adjusted to work your way.
What are the advantages of using Wrike?
The leading industry critics of the world have awarded Wrike numerous awards for its features and capabilities, but the most common advantages of choosing Wrike vs. Hive include:
Natural navigation: Wrike Lightspeed

introduced the platform's fastest, most seamless interface yet. This means that users don't have to waste precious time searching for projects or taking 10 steps to complete a single action.

Multilevel project management: Wrike breaks work down easily into spaces, folders, and contextual subtasks to help users organize their work in a simple, intuitive way. This is crucial for growing teams who are rapidly encountering complexity that needs to be managed carefully.
Industry-leading security: Modern teams need security they can trust, especially while working in the cloud. Wrike offers cutting-edge security features

including AES 256-bit encryption plus Wrike Lock functionality, which gives users the ability to limit and extend access to sensitive data.

Full resource management: Need to do more with less? Wrike has built-in resource management features

that make it a breeze to plan a project's requirements, measure organizational capacity, and

assign tasks

and allocate resources in

real time

to balance workloads.

Powerful automation: Wrike has been a pioneer in AI

and

automation

for years, and it shows. You can now create an automated workflow that can capture requirements, build entire project plans, and

assign tasks

in seconds — cutting out roadblocks and accelerating execution.

Advanced work views: With Wrike, you have more than 10 different work views to choose from, including Board

and

Gantt

view. These don't require integrations or add-ons — they're just ready and waiting within Wrike's one comprehensive platform.

Real-time reporting: Let's show off your hard work. Wrike's one-click reports are packed with valuable analytics and attractive infographics that offer both macro views and micro insights to internal and external stakeholders alike.
Looking to explore Wrike's intuitive and feature-rich platform? Begin your comparison of Wrike vs. Hive with a free 14-day trial of Wrike today.
Who should use Wrike?
Wrike is the most comprehensive work management platform available, with a wide variety of features, benefits, and automations that can help to organize, manage, and accelerate the work of teams in almost every industry. Here are just a few examples of our most popular use cases:
What are the most popular Wrike features?
Wrike is packed full of industry-leading features that have been top-rated by critics time and time again. Instead of expensive add-ons and time-consuming integrations, you can access all of the below and more — within Wrike's one powerful project management solution.
Keep these top Wrike features in mind while you're reviewing Hive vs. Wrike:
Kanban boards:

Visualize complete workflows,

drag and dro

p tasks, and share

Kanban boards

with internal and external stakeholders in seconds.

Gantt charts:

Visualize your project timelines comprehensively with Wrike's user-friendly Gantt charts. Create critical paths, set up dependencies, and easily adjust due dates with the drag-and-drop feature.

Native time tracking:

Balance workloads, optimize resources, and keep client billing accurate with Wrike's built-in time-tracking tools — now manual and automatic.

Custom item types:

Work your way with Wrike's custom item types, which allow you to tailor your workspace to suit your style, language, and business processes.

Automation:

Watch how fast AI can take care of your most mundane tasks. Automate intake, workflows, approvals, and much more.

Templates:

Wrike has far more templates than most competitors, so almost every team can find what they need to kick-start projects, campaigns, and launches fast.

Blueprints:

Accelerate execution by converting repeatable tasks into one-click blueprints that make work uniform, predictable, and fast.

Connected calendars:

Sync your teams' calendars and share them with internal and external stakeholders so everyone is on the same page.

Rapid reports:

Create brand-new reports or customize pre-built templates to generate detailed reports in seconds, including advanced analytics and valuable insights.
Why your team should choose Wrike
With 77% of business leaders prioritizing efficiency this year, the big focus is on consolidating digital tools and investing in comprehensive task management and work management software.
If your team is hoping to achieve greater efficiency, reduced costs, and boosted productivity, Wrike is for you.
Some key features to consider if you're comparing Hive vs. Wrike:
An all-in-one platform
Wrike was cutting tech stacks long before it became popular. It combines a huge range of features like proofing, timesheets, analytics, and team resourcing as standard, whereas these are paid add-ons with Hive. It also has more than 400 native integrations (so you can toggle seamlessly between tools), while Hive has only a fraction of that.
Complete customization
Designed for small, large, and remote organizations in almost every industry and field, Wrike offers unrivaled versatility and customization. Users can tailor their workspaces using custom item types, adapt request forms and briefs to suit their intake, and create automated workflows that can generate projects, assign task holders, and follow up to ensure on-time delivery.
Predictable pricing
Wrike has five different price plans, ranging from a free option for small teams to the Pinnacle package for global organizations. When you join a Wrike plan, you get full access to all its features – without having to pay extra for basic tools as with Hive.
"At first glance, the price point [of Hive] is quite low compared to other tools," points out one reviewer, but added: "The additional extras are for features I would expect to be included in a project management tool, like timesheets, analytics, and resource management."
If you want to see for yourself just how much Wrike could transform your operations, start a two-week free trial today.
No credit card, no commitment, no downloads needed — just easy access to one powerful platform that can take care of all your work management needs.
Still debating Wrike vs. Hive? Make your life easier by choosing a comprehensive solution that can scale seamlessly as you grow.